Bourbon and peaches make a delicious pair in this bourbon peach ice cream recipe. You don't even need an ice cream machine to make it! It's that easy and so good.
(Love making homemade ice cream? Try this blackberry lavender ice cream. So refreshing! And you don't need an ice cream maker to make it either.)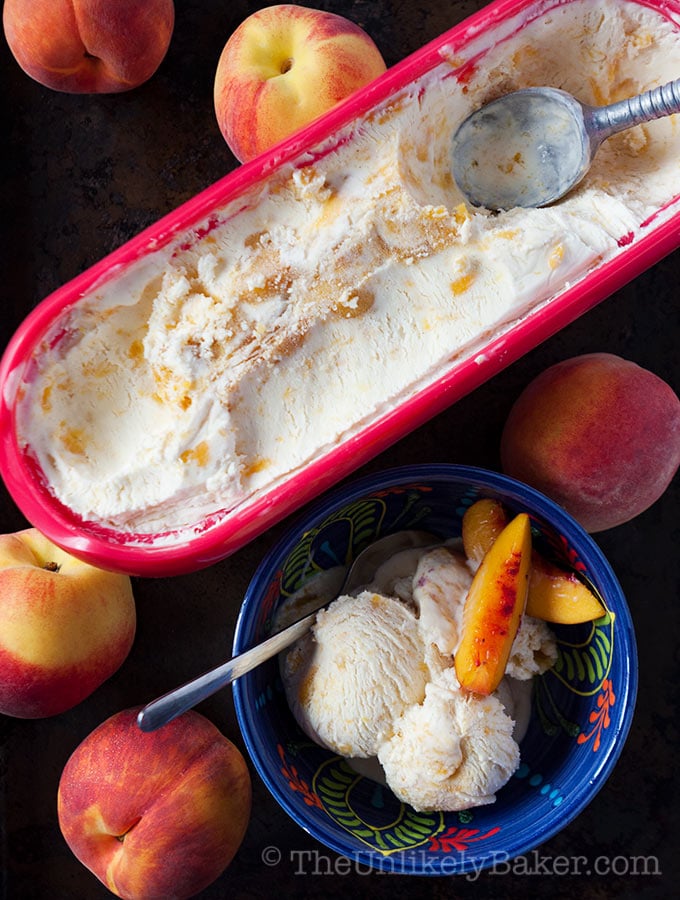 Hi everyone! Happy Canada Day to my Canadian friends and a happy 4th of July to my friends south of the border.
I have just the thing we need for the dog days of summer like today – bourbon peach ice cream. I mean, bourbon + peaches + ice cream. What's not to love? And it's a breeze to make too. Let's get to it!
What is no-churn ice cream?
"No-churn" sounds technical but it simply means no ice cream machine is needed. And it's awesome because for people like us who lack the counter space (or the budget!) for yet another kitchen gadget, no-churn ice cream is a dream!
Ever since I learned how to make no-churn ice cream, I've been experimenting with lots of different flavour combinations. That's the beauty of homemade ice cream – it's really about taking your favourite things and making them into your favourite ice cream flavour.
What does no-churn ice cream taste like?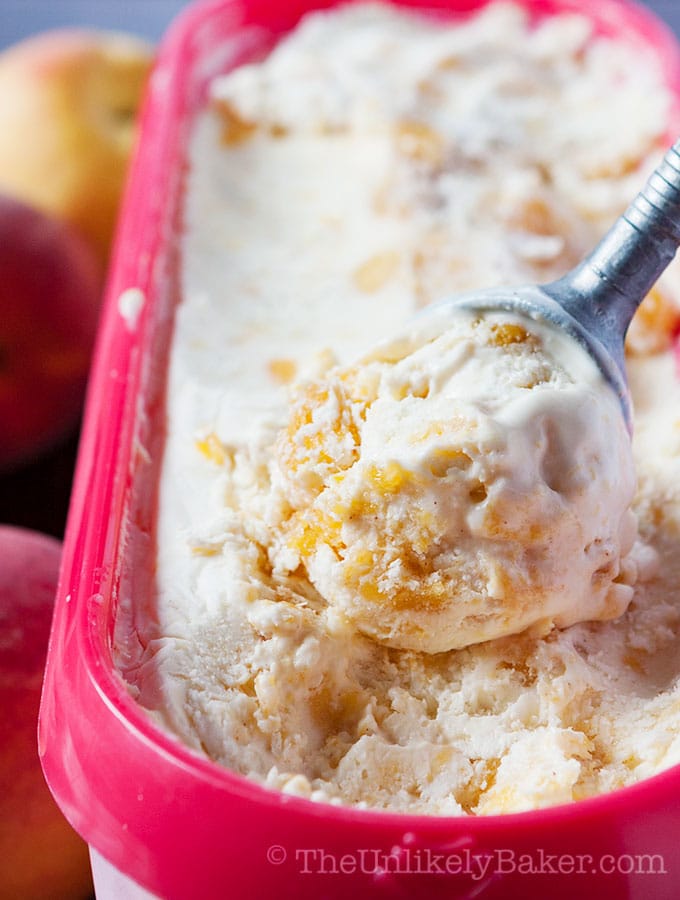 No-churn ice cream tastes exactly like ice cream! And the texture is just as creamy IMO.
Some people say you can't beat the creaminess of ice cream made in an ice cream machine and that may be true but we really have not been able to tell the difference between our no-churn ice cream and store-bought ice cream. That says a lot!
How to make ice cream without an ice cream machine
The steps to making no-churn ice cream are very simple too (and notice how it doesn't involve eggs):
You start with a base – I always use condensed milk – then you add in your flavour.
In this case, I cooked some peaches with cinnamon and brown sugar to break it down. And added bourbon at the end (because why not?).
Next you whip some heavy cream. Put the two together (plus additional goodies like nuts and chocolate chips), freeze, and in a few hours you have homemade ice cream. It's really that easy!
Check out this video of how I made Roasted Cherry Choco Chip Ice Cream if you don't believe me : )
Bourbon peach ice cream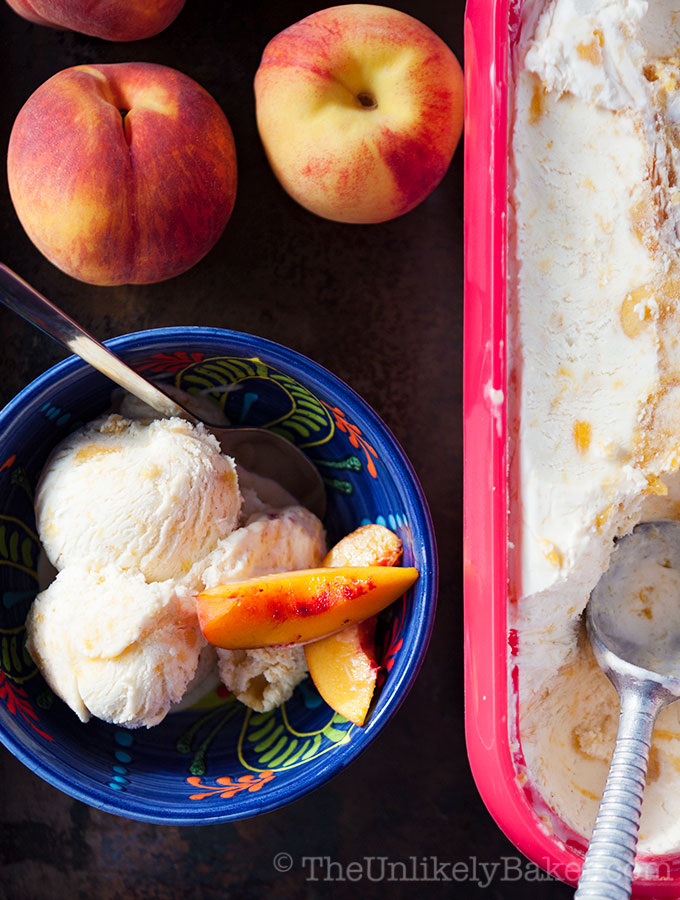 This peach ice cream is a great way to enjoy all the peaches that come with summer. It's one of our favourite summer fruits and although we love to eat it as is, we also love to incorporate it in desserts such as this one.
Can you omit the bourbon? You absolutely can. Then you can enjoy it with the kids too.
You can also choose to add mix-ins like almonds (they are great with peaches) and truly make this recipe your own.
Related: Homemade Ube Ice Cream
Experiment with homemade ice cream this summer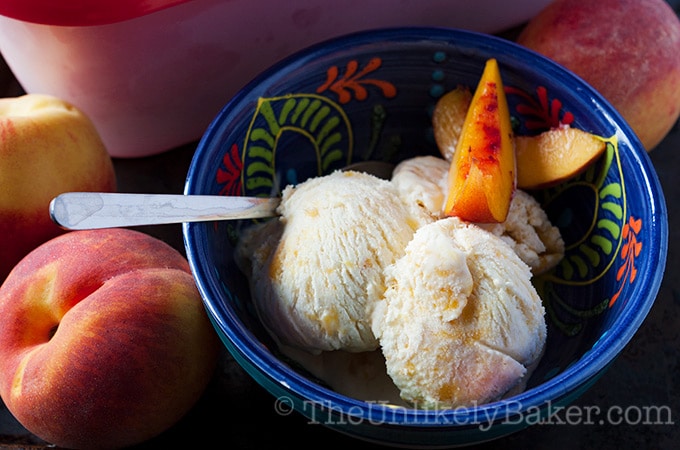 Hope this inspires you to start making your own ice cream this summer (or any season!).
It's fun and easy – involve the kids and make a day of it – and since you only put your favourite things in it, whatever flavour you end up making will be a favourite. Enjoy!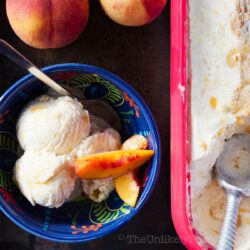 Bourbon Peach Ice Cream (No-Churn!)
Bourbon and peaches make a delicious pair in this bourbon peach ice cream recipe. You don't even need an ice cream machine to make it! It's that easy and so good.
Instructions
In a medium saucepan on low-medium heat, combine peaches, 1 tbsp brown sugar, ¼ tsp cinnamon and a pinch of salt. Cook until the mixture is juicy and mushy (15-20 mins). Stir occasionally to help break down the fruit.

Stir in 1 tsp vanilla and 2-3 tbsp bourbon. Remove from heat and allow to cool completely.

In a large bowl, combine 1 can condensed milk with your peach mixture. Stir until fully incorporated.

Take about a cup of your whipped cream and fold into your condensed milk to lighten it up a bit.

Then fold your lightened condensed milk into your whipped cream.

Transfer the mixture into a freezer-safe container, smoothen the top and cover with plastic wrap to prevent ice from forming. Freeze 6-8 hours, preferably overnight.

Nutrition
Calories:
162
kcal
Carbohydrates:
5
g
Protein:
1
g
Fat:
14
g
Saturated Fat:
9
g
Cholesterol:
54
mg
Sodium:
15
mg
Potassium:
101
mg
Sugar:
4
g
Vitamin A:
705
IU
Vitamin C:
2.7
mg
Calcium:
28
mg
Iron:
0.1
mg
Nutritional information are estimates only.
Happy no-churning!
Did you make bourbon peach ice cream? What's your favourite ice cream flavour? I'd love to hear from you in the comments section below.
Love peaches? Check out these easy and delicious peach recipes: