A buttery, flaky crust envelope plump, juicy, sweet cherries in this quick and easy but exceptionally delectable mini cherry galette recipe.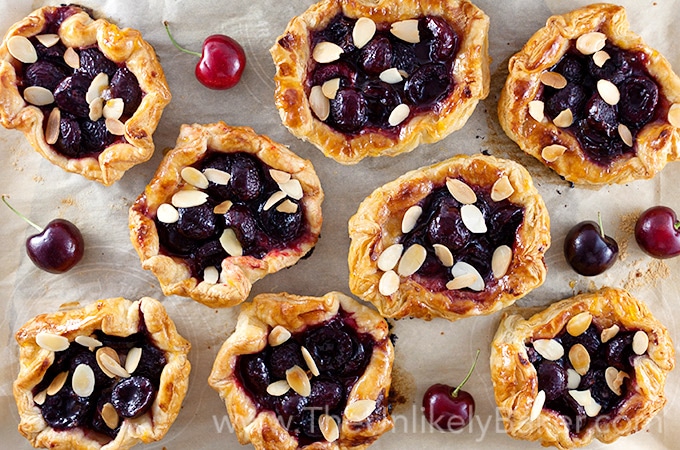 Don't you just love cherries? They're like the unicorns of the fruit world – only appearing for a very small window of time in the year but when they're around, everything is wonderful.
I'd be perfectly happy just eating a whole bag of cherries and be done with it but this year I thought to bake a galette (for, you know, educational purposes). I'd love to say "pie" or "tart" but knowing that dough is my undoing (un-dough-ing?), I am sticking to the easy, rustic and just as lovely galette to enjoy my sweet cherries with.
What's a galette anyway?
According to the always awesome David Lebovitz in an article for Fine Cooking, a galette is a free-form tart that consists of a thin layer of fruit baked on top of a buttery, crisp crust. It's less formal than the French fruit tart; instead of the straight, stiff sides you get from a tart pan, the edges are just folded over the fruit.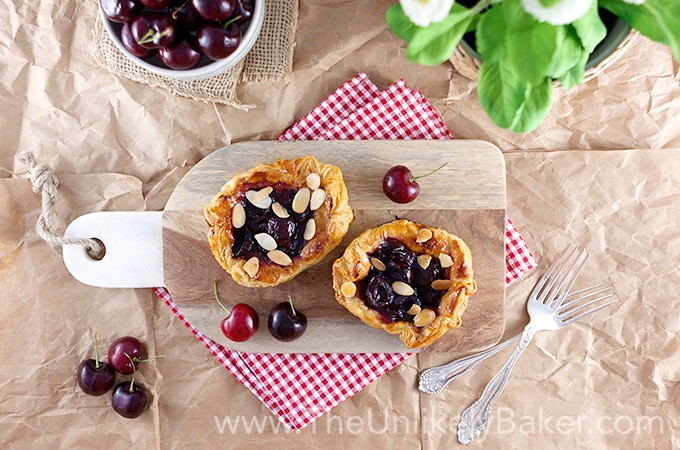 He also said he preferred the look of galettes over the formal tarts so…if it's good enough for David Lebovitz it's sure as heck good enough for me.
Another shortcut
I'm also using store-bought puff pastry. No shame in admitting that I don't know how to make puff pastry (not yet anyway). But well done you if you do! By all means use your favourite puff pastry recipe (I will catch up soon!).
Mini cherry galette
[clickToTweet tweet="Delightful cherry galettes – personalized!" quote="Delightful cherry galettes – personalized!"]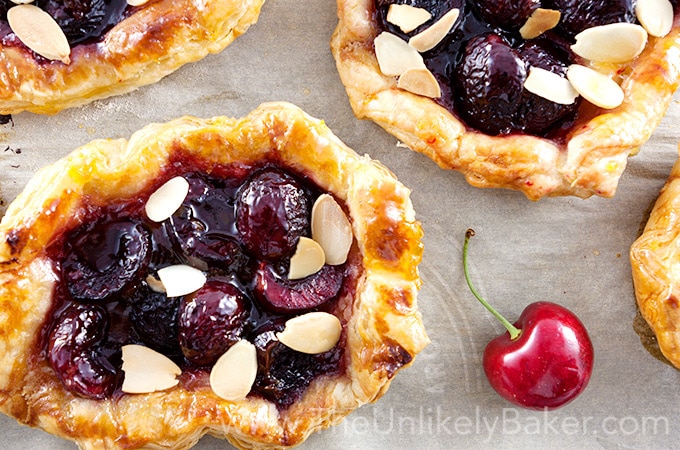 Store-bought puff pastry or not, this recipe is a breeze. Seriously, the hardest part was pitting the cherries. But after that, just a quick half hour in the oven and you have adorable, personalized galettes that look charmingly rustic (imperfections are OK!) and taste outstanding. Nobody would suspect it's an easy recipe at all (aren't those the best?).
Cheery cherries
And you don't lose the cherries in all that pastry at all. I was hesitant to bake with cherries at first because they're already so wonderful. But in this galette, the cherry flavour stands out and the buttery crust simply highlights the cheery cherry we all love.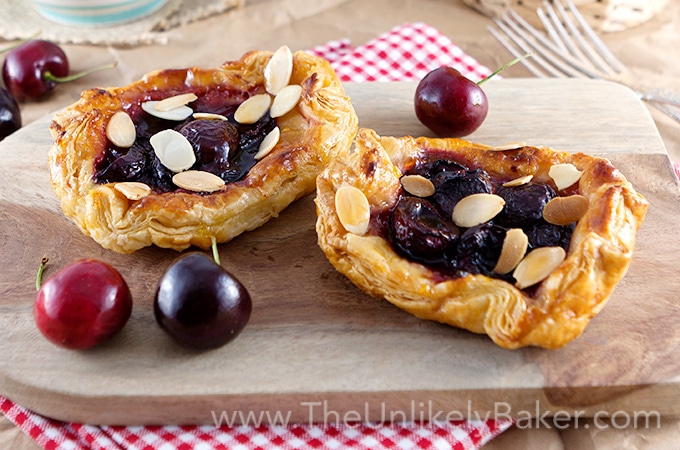 Go after those cherry unicorns!
So hurry and grab a bag of cherries now (or, you know, after reading this). Mini cherry galette or not, savour those wonderful fruits while they last.
Mini Cherry Galette
A buttery, flaky crust envelope plump, juicy, sweet cherries in this quick and easy but exceptionally delectable mini cherry galette recipe.

Notes
Whatever kind of puff pastry you decide to use (whether store-bought or homemade), the thing to remember is you need 2 10x10 inch squares that's about 1/4 inch thick.
If using store-bought, thaw according to package instructions.
Once you mix the cherries with sugar and other liquids, it will start to become very juicy and can get messy when transferring to the pastry. To make my life easier, I spooned the cherries first then followed with the "juice", though I only used minimal liquid - I didn't want my galettes to be soggy.
Galettes are not supposed to be perfect. So if you peek into your oven and see some of your bowls are starting to open up like a flower, it's OK. Don't stress out. Rustic is the way to go.

Ingredients
Butter puff pastry (see notes)
2 cups halved and pitted sweet cherries (about 30 cherries)
1/4 cup granulated sugar
3 tablespoons cornstarch
1/2 teaspoon lemon zest
1 tablespoon lemon juice
2 teaspoons vanilla extract
1/4 teaspoon salt
1 egg, room temperature, lightly beaten with 2 teaspoons water
2 tablespoons apricot jam mixed with 1 tablespoon water
Sliced almonds, toasted, for topping (optional)
Instructions
Preheat oven to 400F. Prep a rimmed baking sheet by lining with lightly floured parchment paper. Set aside.
On a lightly floured surface, gently roll out your puff pastry into a 10x10 inch square (about 1/4 inch thick). You would need two of these. Cut each square into 4 smaller squares so that you would end up with 8 squares of 5x5 inches each. Trim the corners of the smaller squares, cutting about 1/2 inch from each corner to get hexagon shapes (not perfect hexagon shapes but they will have 6 sides).
In a medium sized bowl, stir 2 cups cherries, 1/4 cup sugar, 3 tablespoons cornstarch, 1/2 teaspoon lemon zest, 1 tablespoon lemon juice, 2 teaspoons vanilla extract and 1/4 teaspoon salt until well combined.
Transfer about 1/4 cup of the cherry mixture into each hexagon, making sure to leave about an inch of pastry on each side. Fold the edges of the pastry around the cherry filling to make little cherry bowls. Carefully transfer each cherry bowl into your baking sheet, ensuring the bowls don't touch one another.
Brush the egg/water mixture over the edges of the pastry and bake on the bottom oven rack for 25-30 minutes or until the pastry turns golden brown and the cherries are slightly softened.
Take out of the oven and let cool on the pan.
While the galettes are cooling, microwave your apricot jam/water mixture on high for 30 seconds or until it liquifies into a glaze. Brush this on top and on the sides of the galettes while the galettes are still warm. Top with toasted almonds, if using.
© 2021 This delicious recipe brought to you by www.TheUnlikelyBaker.com | (c) 2016-2017
(Recipe adapted from Canadian Living).
Happy baking!
Did you make mini cherry galettes? Tell me about it in the comments section below. I'd love to hear from you. What's your favourite way to enjoy cherries?
Looking to incorporate fruits in your baking this summer? Check these out:
And let's get social! Find me on Facebook, Pinterest, Instagram, Twitter, Google+ and Flipboard.
Or subscribe so you don't miss a recipe. I promise I don't spam (I hate spam too).
Do you want to improve your food photography, monetize your blog or start your very own food blog? Check out my Blogging Resources.