Soft, fluffy chiffon cupcakes filled with delicate whipped cream. Hokkaido chiffon cupcakes are light as air and so delicious!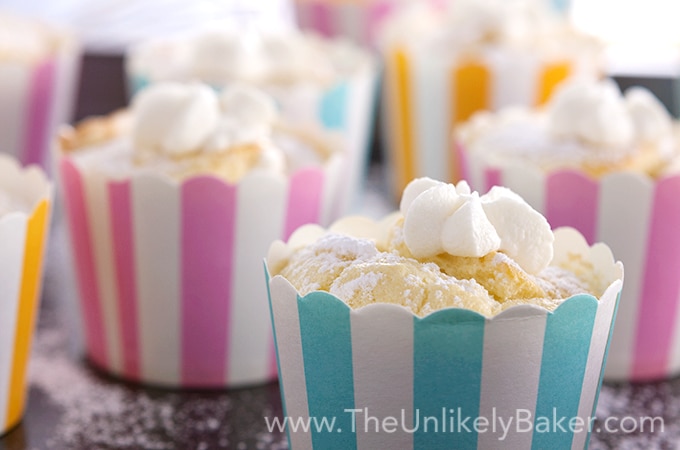 I must admit – in addition to Filipino desserts, I'm also a little obsessed with Japanese desserts (check out my take on Japanese Cheesecake and Baked Lava Cheese Tarts – both of which are Japanese-inspired).
They are always so delicate and not overly sweet. They don't need a whole lot of frosting (if any), don't involve complicated flavours and are just so good!
Just like these Hokkaido chiffon cupcakes. When someone says cupcakes I think cake + a boatload of frosting. But these Hokkaido chiffon cupcakes are anything but.
Hokkaido, anyone?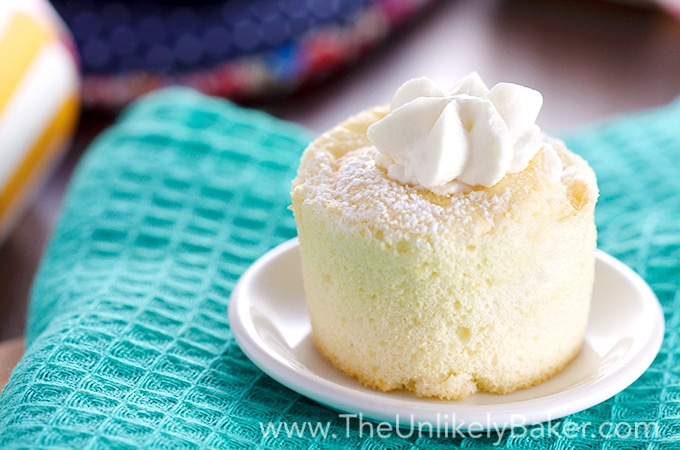 I've never been to Hokkaido and I haven't actually tasted Hokkaido cupcakes before I started making these but if these cupcakes are any indication, then Hokkaido must be my spirit homeland. The cupcakes are light, not overly sweet and just a joy to eat.
And they only get better the longer you refrigerate them (the last batch I baked tasted that much better the next day – and yes it's a mystery why they lasted that long without getting devoured. Maybe someone hid them at the back of the fridge so no one can see them?).
[clickToTweet tweet="These Hokkaido chiffon cupcakes don't need frosting to taste amazing!" quote="These Hokkaido chiffon cupcakes don't need frosting to taste amazing!"]
More whipped cream? Yes please!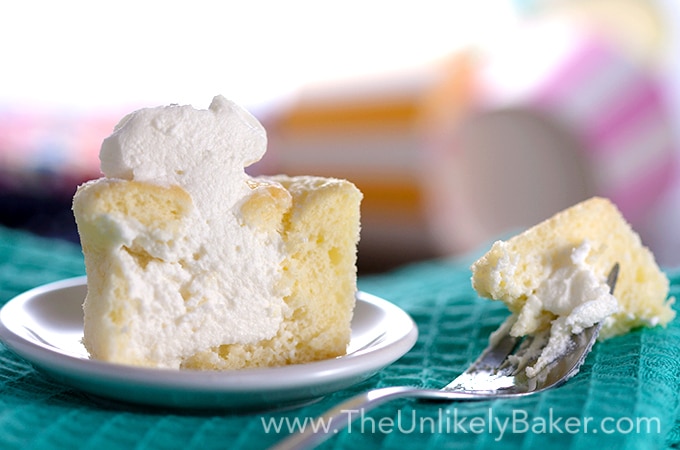 I found the recipe here though I've had to make changes – for one, the whipped cream wasn't nearly enough for someone as heavy-handed as me (and trust me, more is better!). So I adjusted the recipe to make more.
Great for spring, Easter, everyday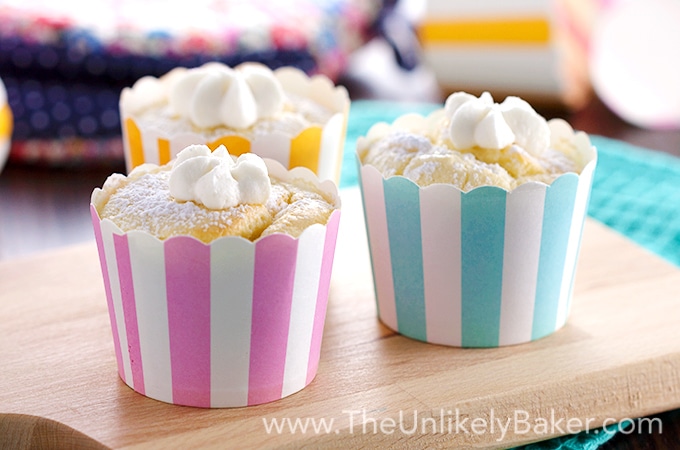 And if you want to make them festive, just get some holiday-themed cups and you're done! Between the whipped cream and the confectioner's sugar, these cupcakes are just waiting to be served (then admired then gobbled up).
Though there's nothing wrong with making them just for you, for today. And in fact I've done that a few times. They are great with coffee in the morning (yes, cupcakes for breakfast!), tea in the afternoon or, you know, the occasional midnight snack.
[clickToTweet tweet="Brighten up your day w/ Hokkaido chiffon cupcakes!Light as air & filled w/ delicate whipped cream" quote="Brighten up your day with Hokkaido chiffon cupcakes! Light as air & filled with delicate whipped cream."]
Bust out that scale
As I bake more I learn that weighing ingredients instead of measuring them using cups and spoons results to more wins and less tears. So little by little I'm adding both weight and volume measurements to my recipes.
Not for this though. No matter how hard I try, there is no accurate way for me to convert 20 grams of sugar into tablespoons. So I really recommend that you invest in a kitchen scale
, it's inexpensive and so useful!
You need Hokkaido chiffon cupcakes
These cupcakes are different and so unlike the cupcakes we're used to and that's why you guys need to try them (here's another unique cupcake for you: Brazo de Mercedes Cupcakes)! You will not be disappointed. They are amazing.
Light and Fluffy Hokkaido Chiffon Cupcakes
Soft, fluffy chiffon cupcakes filled with delicate whipped cream. Hokkaido chiffon cupcakes are light as air and so delicious!
Ingredients
For the Cupcakes:

3 large eggs, whites separated from yolks, room temperature
45 grams granulated sugar, divided into 20 grams and 25 grams
35 ml canola oil
60 ml milk
70 grams cake flour, sifted
For the Whipped Cream:

240 ml heavy cream, chilled
25 grams granulated sugar
1.25 ml vanilla extract
For the Assembly:

Confectioner's sugar for dusting
Instructions
For the Cupcakes:

Preheat oven to 325F. Grab the bowl and whisk you're going to use to whip your cream and chill them in the fridge.
Using a handheld electric mixer or a stand mixer fitted with the whisk attachment, whisk 3 egg yolks and 20 grams sugar until significantly lighter in colour (about 8 minutes on med-high speed).
Add 35 ml canola oil and 60 ml milk and continue whisking until thoroughly incorporated.
Switch to low speed and add 70 grams cake flour. Whisk until just combined. Set aside.
In a separate bowl using a different whisk, beat 3 egg whites until foamy. Gradually add 25 grams sugar until you reach stiff peaks.
Fold your egg whites into your egg yolks until just combined. Be careful not to overdo it so as not to deflate your egg whites.
Transfer your batter into cupcake cups (see notes) until they are 3/4 full and place on baking sheet. Bake for 20 minutes or until the tops start to turn light brown and crack. Set on a wire rack to cool completely (see notes).
For the Whipped Cream:

Get your chilled bowl and whisk from the fridge and whisk all your ingredients until you reach stiff peaks.
For the Assembly:

Ensure your cupcakes have cooled down completely before filling them with whipped cream.
Transfer your cream into a piping bag fitted with your preferred tip. Insert tip in the middle of cupcake and gently press to fill the cakes (you will feel the cakes getting puffy).
Stop the minute you start to see the filling show on top. Dust with confectioner's sugar.
Notes
For best results, use cardboard cupcake cups (the ones that don't need to be put inside a cupcake pan to hold their shape).
The cupcakes are going to be super fluffy freshly baked then will deflate slightly as they cool down. This is normal.
This recipe yields 9-13 cupcakes depending on the size of cupcake cups you use.
https://theunlikelybaker.com/hokkaido-chiffon-cupcakes/
This delicious recipe brought to you by www.TheUnlikelyBaker.com | (c) 2016-2017
(Recipe adapted from Nasi Lemak Lover).
Happy baking!
Did you make Hokkaido chiffon cupcakes? I'd love to hear from you in the comments section below.
Looking for more traditional cupcakes? Here you go!
And let's get social! Find me on Facebook, Pinterest, Instagram, Twitter, Google+ and Flipboard.
Or subscribe so you don't miss a recipe. I promise I don't spam (I hate spam too).
Do you want to improve your food photography, monetize your blog or start your very own food blog? Check out my Blogging Resources.