You in for a unique cupcake experience? Try the Brazo de Mercedes cupcake – soft as cotton meringue filled with rich decadent custard and finished off with a sprinkling of confectioner's sugar. You'll love it!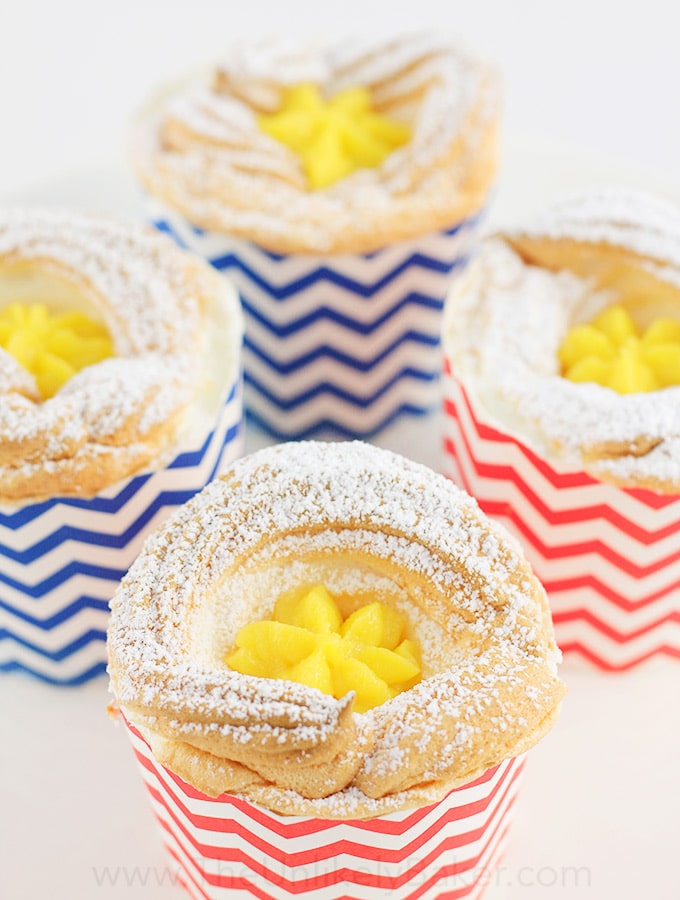 My blog is 3 months old today. I don't know if that's a milestone in the blogging world but I will celebrate nonetheless. Three months, 18 recipes (19 if you include today's), countless hours in the kitchen, frosting in my hair, flour on my face – it's been fun (more work than I expected, but fun). So thought I'd go back to the beginning and re-make the cake that started it all…but make it easier and funner to do, and even funner to eat.
What is Brazo de Mercedes?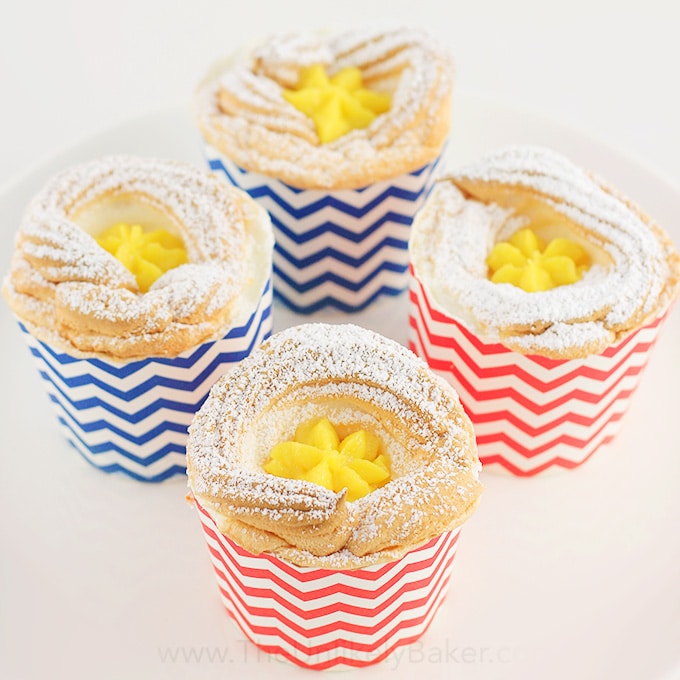 I got a lot of comments from you guys about Brazo de Mercedes. Most of you haven't heard of it but were raring to try. Which is awesome – love it when people give Filipino cuisine a shot.
If the meringue rolling is what's stopping you from making it though, this cupcake version is a great alternative. You just pipe the meringue into the cupcake cup. Then pipe the custard into the meringue. And off you go.
Brazo de Mercedes cupcake tips for success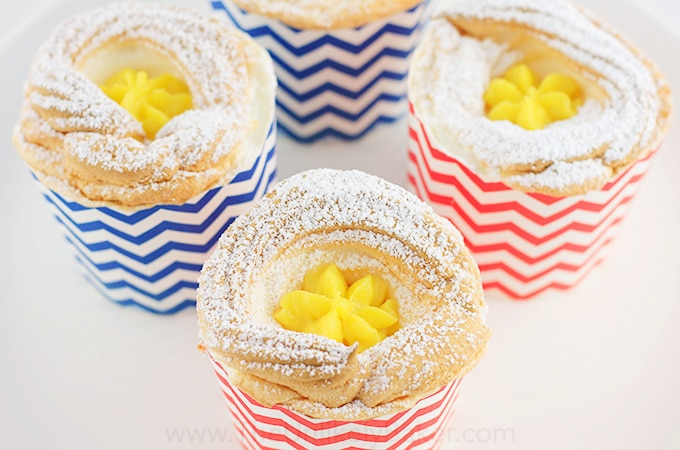 This is not your typical cupcake though so here are several things to keep in mind:
Use those thicker, cardboard cupcake cups (see the bottom of this post for example) instead of the usual paper liners. The meringue needs something a little sturdier to latch on to.
Because you're using those kinds of liners, you don't need to put them in a cupcake pan. You can use a cookie sheet.
The meringue will initially rise then deflate so keep in mind that whatever you pipe on is what you'll more or less get. So if you want a massive soufflé-like brazo, pipe it high (not too high that it will topple over though).
You'd want to leave a slight gap in the middle where the custard can be piped into later. You don't want to poke a hole in the meringue as it will deflate it further. So pipe the meringue in a circular, upward motion leaving space in the center for the custard.
Brazo de Mercedes is usually baked flat on a cookie sheet but since you're piping these, the tops of your cupcakes might brown before the insides are cooked. I'd suggest baking them 1 rack below your middle oven rack (but not the bottom rack – if your oven only has 3 levels, then the middle rack is still your best option).
Scoop it, unwrap it, eat it however way you like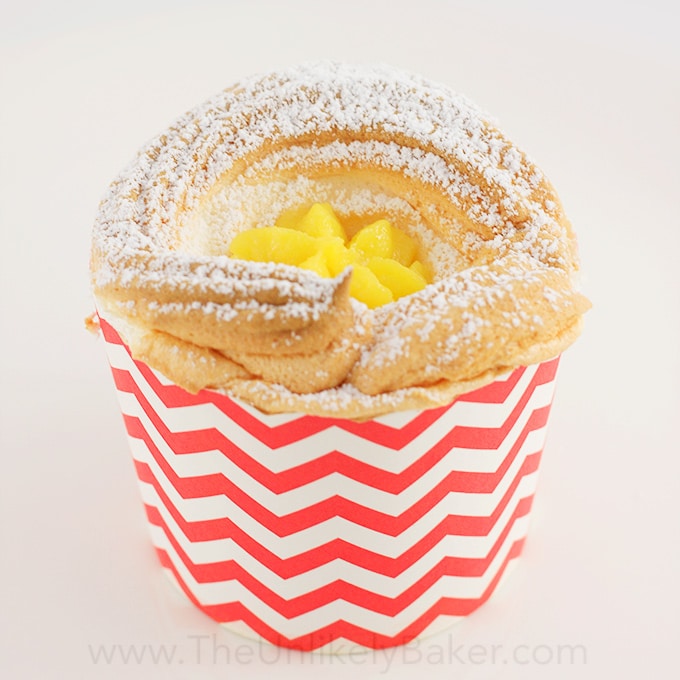 I like to unwrap it, plop it onto a plate and eat it like cake (like a lady) but Red scoops it out of the cup with a spoon like soup. Regardless of how you decide to devour your Brazo de Mercedes cupcake, it's sure to be one delicious bite.
Brazo de Mercedes Cupcake
Brazo de Mercedes cupcake - soft as cotton meringue filled with rich decadent custard and finished off with a sprinkling of confectioner's sugar.
Ingredients
For the Meringue:

10 egg whites, room temperature
1/2 teaspoon cream of tartar
3/4 cup granulated sugar
For the Custard:

10 egg yolks
1 300ml can of condensed milk
1 teaspoon vanilla extract
1 tablespoon lime juice
For Dusting:

1/2 cup confectioner's sugar
Instructions
See Brazo de Mercedes for instructions on how to prepare the meringue and the custard, keeping in mind that instead of spreading the meringue into a baking pan, you will pipe it into cupcake cups.
Prepare 12 cups and place them on a cookie sheet, evenly spaced about 2 inches apart. No need to grease the cups or the cookie sheet.
Once the meringue is ready, transfer it to a piping bag fitted with a large star tip (I used Wilton 1M). Using a circular, upward motion, pipe the meringue into the cups (overflowing by about an inch on top so you can get that soufflé-like height). Remember to leave a slight gap in the middle where you can fill the custard later.
Place the cookie sheet with your cupcakes into your pre-heated oven and bake for about 20-25 minutes or until the tops turn light brown.
Take out of the oven and allow to cool slightly before piping the custard filling.
Finish by sprinkling with confectioner's sugar.
Notes
Depending on how much meringue you put into your cups, you may need more (or less) than 12 standard size cupcake cups.
Every oven is different so I'd suggest you check at the 20-minute mark (not earlier, you don't want to mess with your oven's temperature too much too soon). Take a cupcake and check if the insides are cooked. If it still appears soupy, adjust the time accordingly. My cupcakes are cooked right at 22 minutes.
https://theunlikelybaker.com/brazo-de-mercedes-cupcake/
This delicious recipe brought to you by www.TheUnlikelyBaker.com | (c) 2016-2017
Happy baking! Love cupcakes? Check these out. And if you're curious about other Filipino desserts, they're here.
Did you make Brazo de Mercedes cupcakes? Tell me about it in the comments section below. I'd love to hear all about it.
And let's get social! Find me on Facebook, Pinterest, Instagram, Twitter and Google+. Or subscribe so you don't miss a recipe (if you missed the pop-up form, there's another form at the bottom of this page).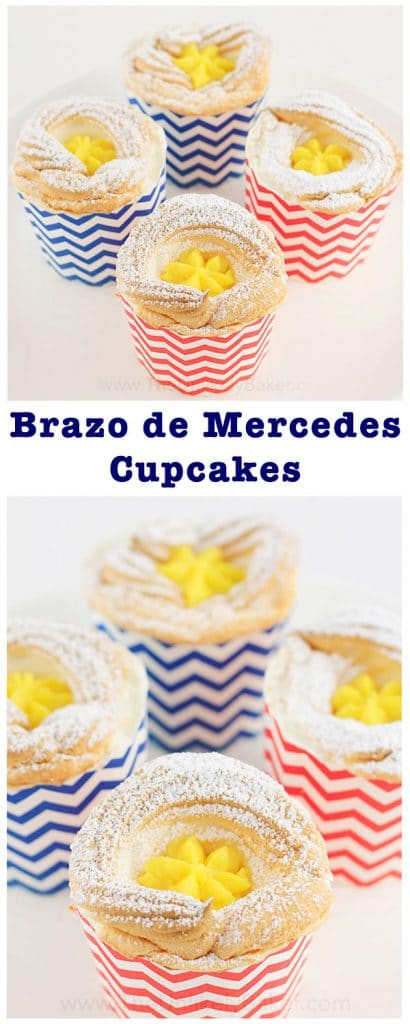 Do you want to improve your food photography, monetize your blog or start your very own food blog? Check out the awesome resources at the bottom of this page (they are affiliate links).
The products below are affiliate links too – these are products that I actually use and/or think are cool. If you click on them and subsequently make a purchase, please know that I will earn a small percentage from Amazon – at no additional cost to you. (See Terms of Use for more info on privacy and how we collect/use collected data on this site.)