Homemade ube ice cream is bright, purple and bursting with delicious ube flavour. Bonus: you don't need an ice cream maker!
(Love making your own ice cream? Try this delicious Roasted Cherry Choco Chip Ice Cream or this Pistachio Chocolate Chip Ice Cream.)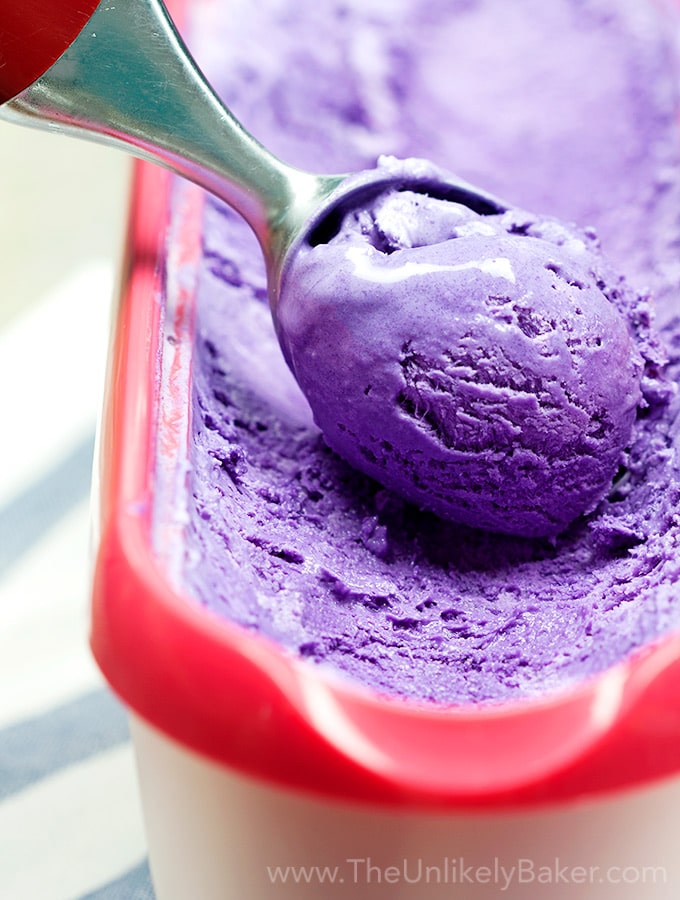 I'm already seeing pumpkin recipes making their appearance everywhere online. Wait! It's not fall yet! We have lots more summer coming our way.
So today I am making a stand…today we are having another delicious summer treat – ice cream! And a really special one too – the purple deliciousness that is ube.
What is ube?
Are you on the ube train yet? When I shared my recipe for Ube Cake I mentioned how difficult it was to describe what ube tastes like. Happily, it's gone relatively mainstream since then.
I see restaurants serving different kinds of ube desserts and even here in town, people are lining up at this place downtown for a taste of their soft serve ube ice cream.
You know me and line-ups though. We don't get along. So I thought why not make ube ice cream myself? It's so easy! No lining up required. And I get a whole tub to myself (maybe I'll share it with Red, we'll see).
How to make ice cream without an ice cream machine
I've said it before – making your own ice cream is ridiculously easy. An ice cream maker used to be on my wish list but not anymore.
Since I learned how to make no-churn ice cream (or ice cream without using an ice cream machine), I realized I don't really need one. My trusty stand mixer is all i need.
And it's really simple – with condensed milk as your base, add your desired flavour, then fold into whipped cream. Overnight in the freezer and you're done.
Homemade ube ice cream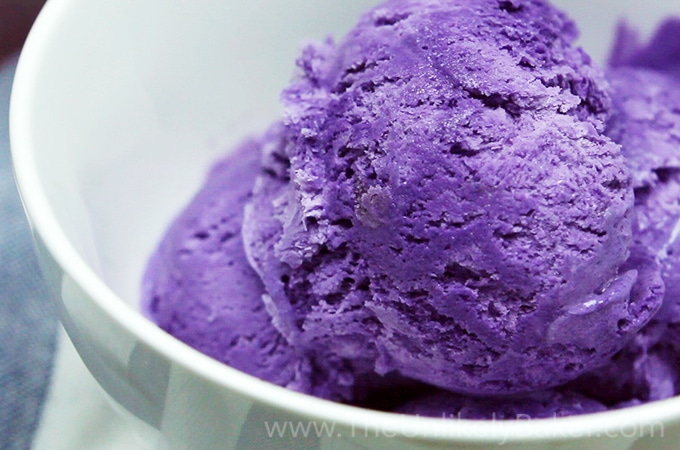 So on to this delicious homemade ube ice cream.
Ube is a popular ice cream flavour in the Philippines, ube capital of the world IMO. There are many variations and I can't wait to experiment and share them with you but I thought I'd start with the basic one.
All you need is ube jam or ube halaya, ube extract, condensed milk, heavy cream and vanilla. That's really all there is to it!
If you break it down like that, homemade ube ice cream doesn't seem so exotic and foreign anymore, right? Well maybe a little exotic lol. It is a bright purple root vegetable after all!
Other ube dessert recipes
Ready to get into all things ube? Check these out: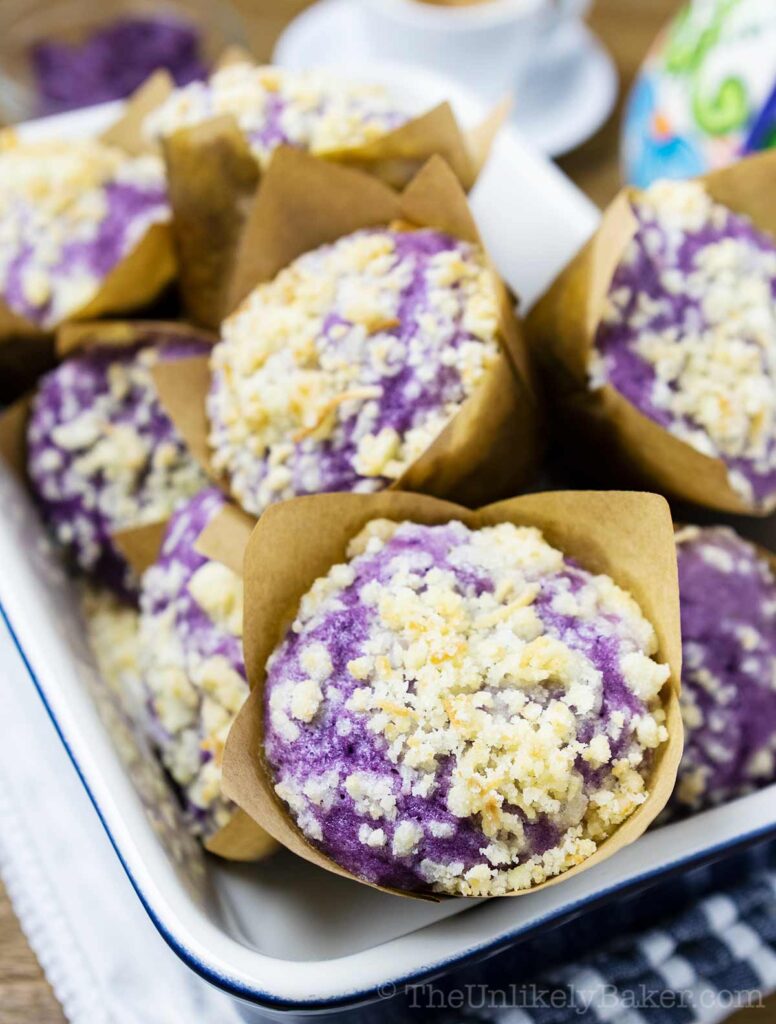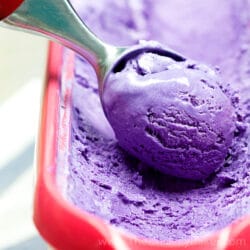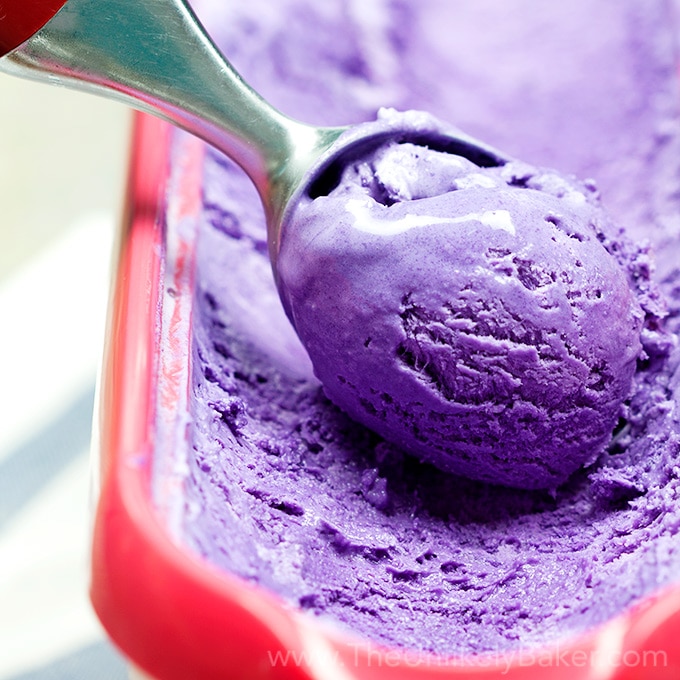 Homemade Ube Ice Cream
Homemade ube ice cream is bright, purple and bursting with delicious ube flavour. Bonus: you don't need an ice cream maker!
Instructions
In a large bowl, stir condensed milk, ube jam, ube extract and vanilla extract until fully incorporated. Take a generous dollop of whipped cream and fold into your ube mixture to lighten it.

Take your lightened ube mixture and fold into your whipped cream until combined.

Transfer into a freezer-safe container, smoothen the top and cover with plastic wrap. Freeze overnight.
Notes
Not all ube jams are created equal. Since this is the base of your ice cream, make sure to use the best you can find. Good Shepherd is my favourite. Alternatively, you can also make homemade ube jam!
Nutrition
Calories:
138
kcal
Carbohydrates:
1
g
Fat:
14
g
Saturated Fat:
9
g
Cholesterol:
54
mg
Sodium:
15
mg
Potassium:
29
mg
Vitamin A:
585
IU
Vitamin C:
0.2
mg
Calcium:
26
mg
Nutritional information are estimates only.
Happy ice cream making!
Did you make homemade ube ice cream? I'd love to hear from you in the comments section below.