Full of cherries and chocolate chips, you will definitely scream for this delicious roasted cherry choco chip ice cream! And it's so easy to make, you don't even need an ice cream machine.
(If you're a fan of roasting fruits, you will love this chocolate strawberry ice cream made with roasted strawberries.)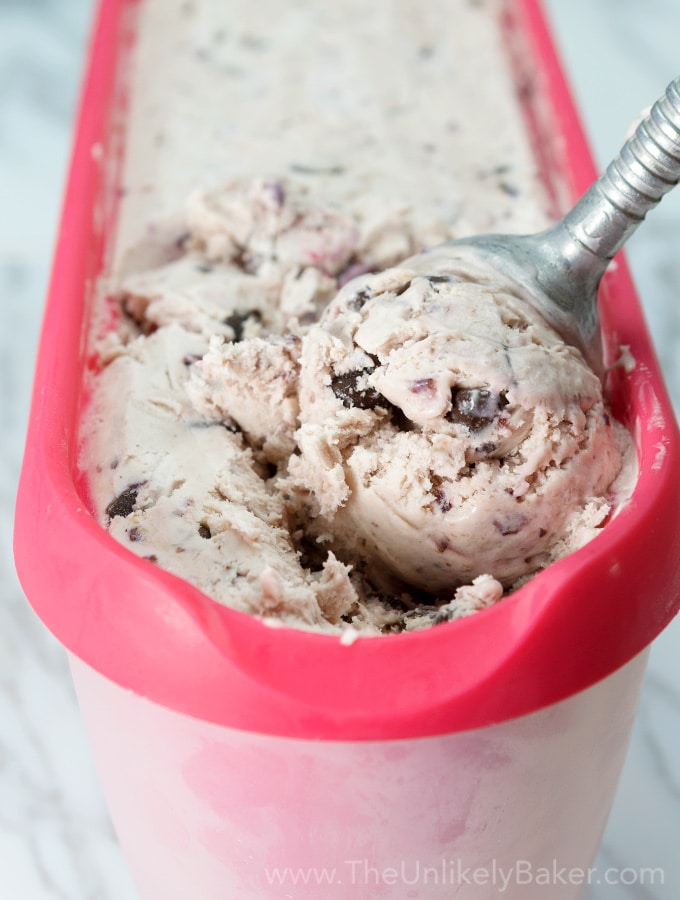 First up, an apology. I know we made a pact to have a no bake summer but in order to roast the cherries for this ice cream recipe, you need to turn the oven on. I can't help it! Roasting just brings out the best in fruits so it's totally worth the hot kitchen.
Good news is it's fairly low maintenance. Put the cherries in the oven, go outside and enjoy a smoothie (or drink of choice). Go inside every 15 minutes or so to refill your drink (and since you're in the kitchen perhaps check on your cherries?). You will be rewarded with sticky, sweet, amazing cherries waiting to be made into the most scrumptious ice cream. You might just decide to roast another batch!
No ice cream machine, no problem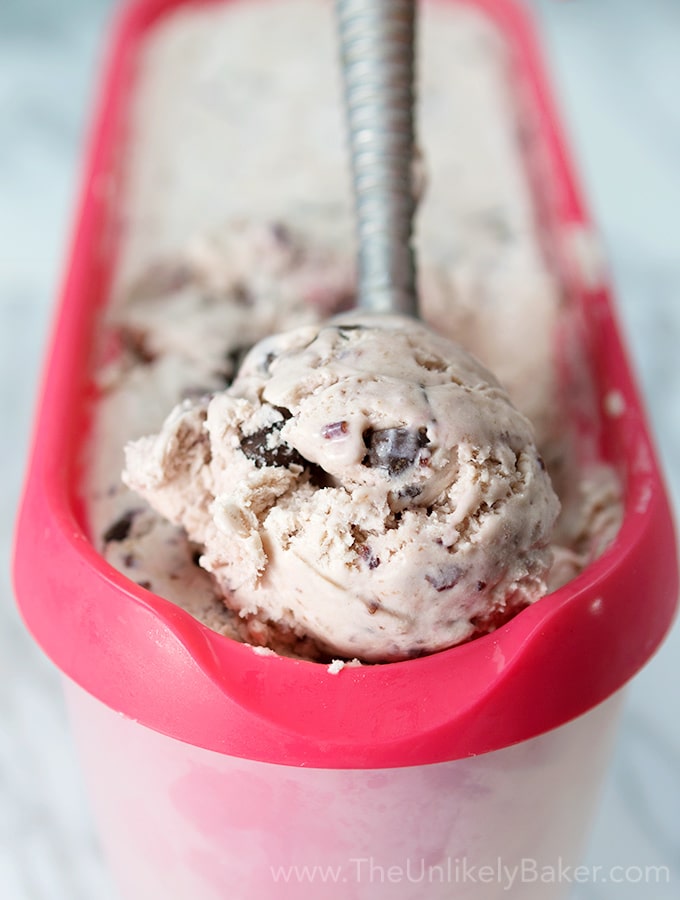 Since I learned how to make no churn ice cream last year, we haven't bought ice cream from the store at all. Those specialty soft serve ice cream from fancy ice cream shoppes, yes (did you see that picture of a chimney cone I posted on Instagram?). But those gallons/litres of ice cream from the supermarket, no.
Why? Making your own ice cream is so easy. I don't own an ice cream machine and I've already experimented on lots of flavours. Which brings me to my second point – it tastes better! Because you put in all your favourite things, every ice cream flavour you come up with will be amazing.
Also, you know exactly what goes into your dream cream. You can be sure there's nothing in there you can't pronounce. And it's just so much fun! I always get a kick the next day when my ice cream is ready and I realize, I made my own ice cream!
Roasted cherry choco chip ice cream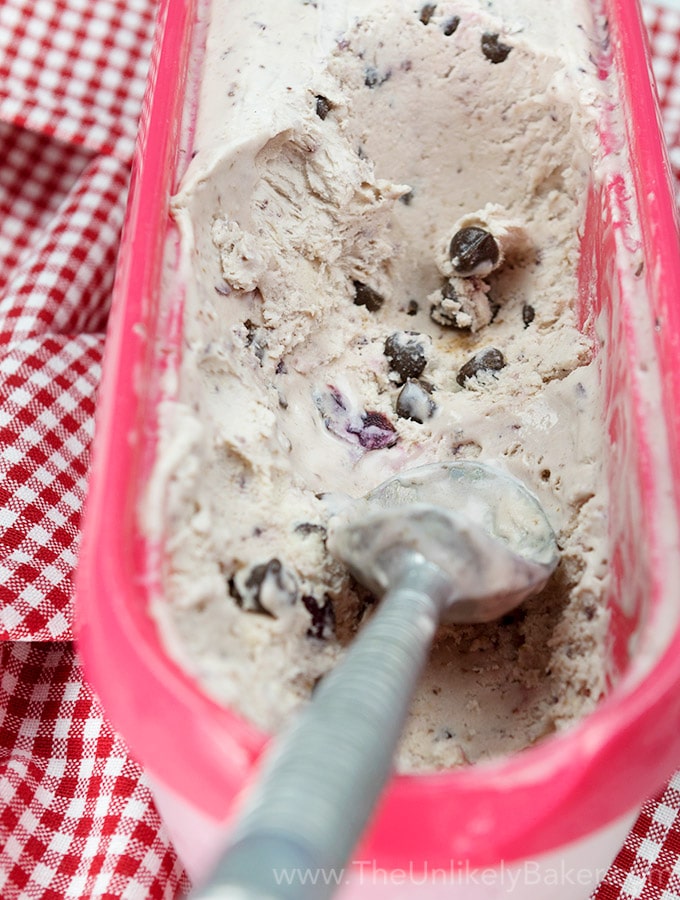 Like this roasted cherry choco chip ice cream. Frankly I wasn't sure about cherries and chocolates (not a big fan of black forest cake, long story) but they came together beautifully here. Every spoonful is filled with creamy cherry and chocolate flavour. It's seriously a summer party in your mouth.
Just stir and fold, stir and fold
And it's so easy to make! Just watch the video below – you'll see that making your own ice cream is really just stirring and folding, stirring and folding. Then some waiting. Then lots of eating.
So what are you waiting for? Take advantage of cherry season and make your own ice cream today. It's fun and absolutely fabulous.
Roasted Cherry Choco Chip Ice Cream (with video)
Ingredients
For the Ice Cream Base:
2 cups (280 grams) pitted and halved fresh sweet cherries
1 300 ml (10 oz) can condensed milk
1 teaspoon vanilla extract
2 cups (500 ml) heavy cream, whipped to medium/stiff peaks
For the Ice Cream Mix-ins:
1 cup (140 grams) pitted and halved fresh sweet cherries
1 cup (175 grams) dark or semi-sweet chocolate chips
Instructions
Place 2 cups of cherries in a baking dish lined with foil. Roast at 400F. Stir the cherries every 15 minutes and take out after 30-40 minutes or when the cherries are soft and juicy.
Let the cherries cool then puree (I used an immersion blender).
In a large bowl, combine condensed milk, vanilla and your cherry puree. Stir until well combined. Take a generous dollop of whipped cream and fold into your cherry mixture to lighten it.
Take your lightened cherry mixture and fold into your whipped cream. Then fold in 1 cup of fresh cherries and 1 cup of chocolate chips.
Transfer into a freezer-safe container, smoothen the top and cover with plastic wrap. Freeze overnight.
© 2021 This delicious recipe brought to you by www.TheUnlikelyBaker.com | (c) 2016-2017
Happy stirring and folding and ice cream making!
Did you make roasted cherry choco chip ice cream? I'd love to hear from you in the comments section below.
Here are the rest of our No Bake Summer Series recipes!
And let's get social! Find me on Facebook, Pinterest, Instagram, Twitter, Google+ and Flipboard.
Or subscribe so you don't miss a recipe. I promise I don't spam (I hate spam too).
Do you want to improve your food photography, monetize your blog or start your very own food blog? Check out my Blogging Resources.