These Baileys chocolate truffles are shots you can munch on! Chocolatey, slightly boozy, and highly customizable, they're the perfect treat on St. Patrick's Day or any day.
(Are you a fan of boozy desserts? Try this Bourbon Peach Ice Cream or this Bourbon Pecan Pie Bars. So good!)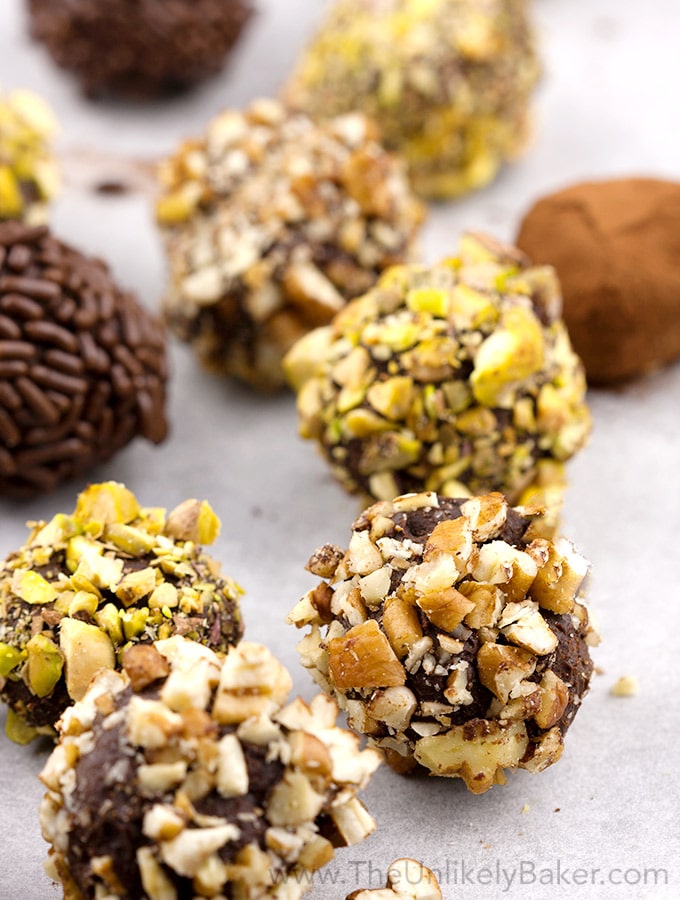 'Tis the most wonderful time of the year. And by that I mean St. Patrick's Day is around the corner lol.
I'm not Irish but my friends and I always join in on the fun.
Last year when I shared my recipe for No Bake Bailey's Chocolate Mousse Pie, I knew I didn't want to go the green route. So I took the boozy route.
And I think I made the right choice! These Irish cream Baileys chocolate truffles are so good and so addicting you'll want to make them any time of the year.
How to make Baileys chocolate truffles – easy, no-bake, fun!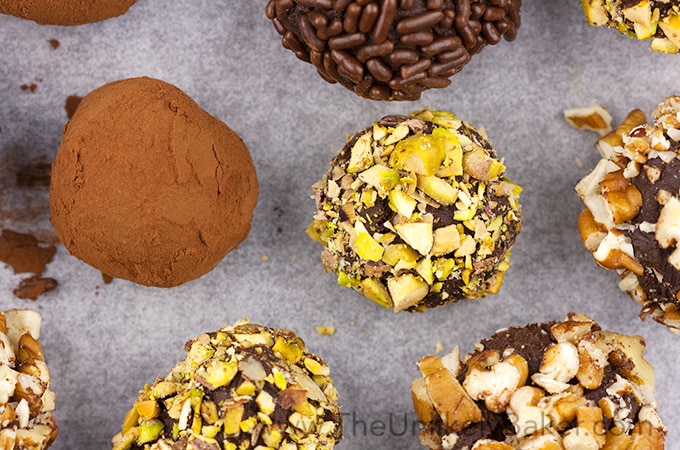 Truffles are so easy to make.
They are essentially cream and melted chocolate, chilled, then rolled into balls.
I must admit, however, that I had rolling….challenges. I couldn't get them perfectly round and the consistent size.
If that happens to you, don't sweat it though. Since you're coating them with all your favourite things the imperfections are not a big deal.
You know what's a big deal?
Rolling with very clean and cold hands. The chocolate will melt as it comes into contact with your skin so I ended up working beside the sink so I can run my hands under cold water after every 2-3 truffles or so.
Chocolate truffles = chocolate and more chocolate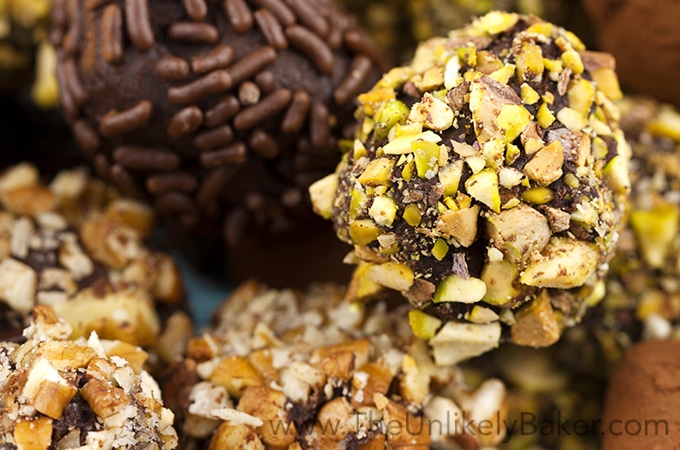 And remember, truffles are essentially just chocolate. There's really nothing to hide behind.
So spring for the best chocolate that's within your budget. You will be able to tell the difference.
Irish cream truffles – 1 shot? 2 shots?
For my version of Irish cream chocolate truffles, I put 3 tablespoons of Baileys (though of course you can use any brand you like, or even make your own!).
I like 'em strong-ish. But you don't have to. You can put less Irish cream if you like.
In fact, you can opt to use Bailey's Non-Alcoholic Coffee Creamer
– you still get the flavour of Baileys without the alcohol. This makes it kid friendly too.
Pick your favourite truffle toppings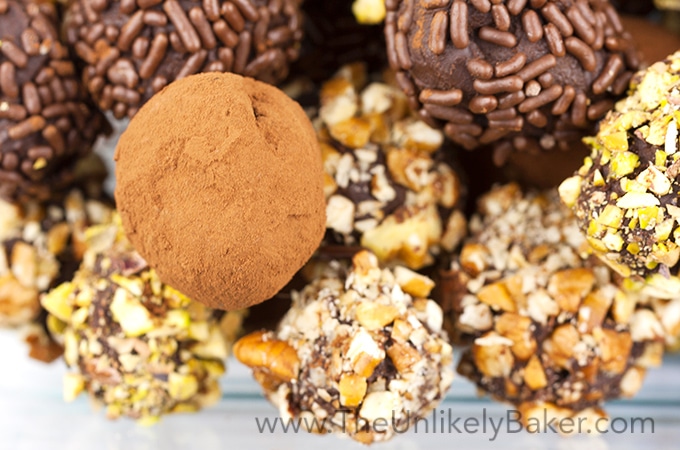 Now this is my favourite part – coating (my somewhat lopsided) truffles with some of my favourite things!
I had to have the classic cocoa powder, but also did pecan, almond, pistachio, and chocolate sprinkles.
The possibilities are endless though – you can do white chocolate, coconut, spices, or green sprinkles to be in theme with St. Patrick's Day, or red and white for the holidays.
Irish cream Baileys chocolate truffles just for you
And what you'll have are Irish cream chocolate truffles customized just for you. Every bite just the way you like it. Awesome isn't it?
So if you're having company over for your epic St. Patrick's Day party or simply want a chocolate treat at the end of the day, make some Irish cream chocolate truffles and bask in its decadent, Irish cream, chocolatey goodness.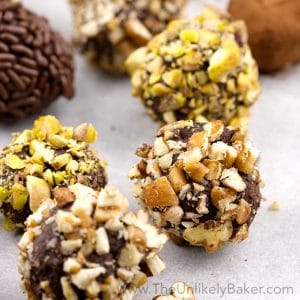 Irish Cream Baileys Chocolate Truffles
These Irish cream Baileys chocolate truffles are shots you can munch on! Chocolatey, boozy, they're the perfect treat on St. Patrick's Day or any day.
Ingredients
For the Truffles:
8

oz

good quality chocolate (semi-sweet or dark)

chopped

½

cup

heavy cream

2-3

tbsp

Baileys or Irish cream

depends on how boozy you want the truffles to be
For the Coating:
Your favourite nuts

chopped into small pieces

Coconut

The possibilities are endless!
Instructions
Put chopped chocolate in a bowl. Set aside.

Combine ½ cup heavy cream and 3 tablespoons Irish cream in a saucepan and bring to a simmer. Occasionally scrape the sides of the pan to avoid any film that may form.

Pour the hot cream over the chopped chocolate and let sit for a couple of minutes. Then stir until smooth.

Cool slightly before chilling in the fridge for 2 hours.

Before you start making your truffles, get your ingredients and tools in place because you would need to work quickly – a baking sheet lined with parchment paper and your coatings in separate bowls.

Use a teaspoon to grab chunks of chocolate and quickly mould into balls with your hands (make sure your hands are clean and cold). Roll the balls into the coating of your choice and place on the baking sheet.

Chill the truffles in the fridge overnight and take out just before serving.
Notes
The yield/number of truffles depend on how big or small you roll them.
See post for more truffle-making tips.
Nutrition
Calories:
69
kcal
Carbohydrates:
6
g
Protein:
1
g
Fat:
5
g
Saturated Fat:
3
g
Cholesterol:
7
mg
Sodium:
3
mg
Potassium:
31
mg
Fiber:
1
g
Sugar:
5
g
Vitamin A:
73
IU
Vitamin C:
1
mg
Calcium:
5
mg
Iron:
1
mg
Nutritional information are estimates only.
Happy truffle-ing!
Did you make Irish cream chocolate truffles? How'd it go? I'd love to hear from you in the comments section below.
Looking for another Irish cream recipe? Try my Irish Cream Creme Brûlée. It's easy and it's fantastic!
And let's get social! Find me on Facebook, Pinterest, Instagram, Twitter and YouTube.