Irish cream truffles are shots you can munch on! Chocolatey, slightly boozy, and highly customizable, they're the perfect treat on St. Patrick's Day or any day.
(Love using Irish cream in desserts? Try making this Irish cream creme brûlée. Simple to make but looks stunning every time.)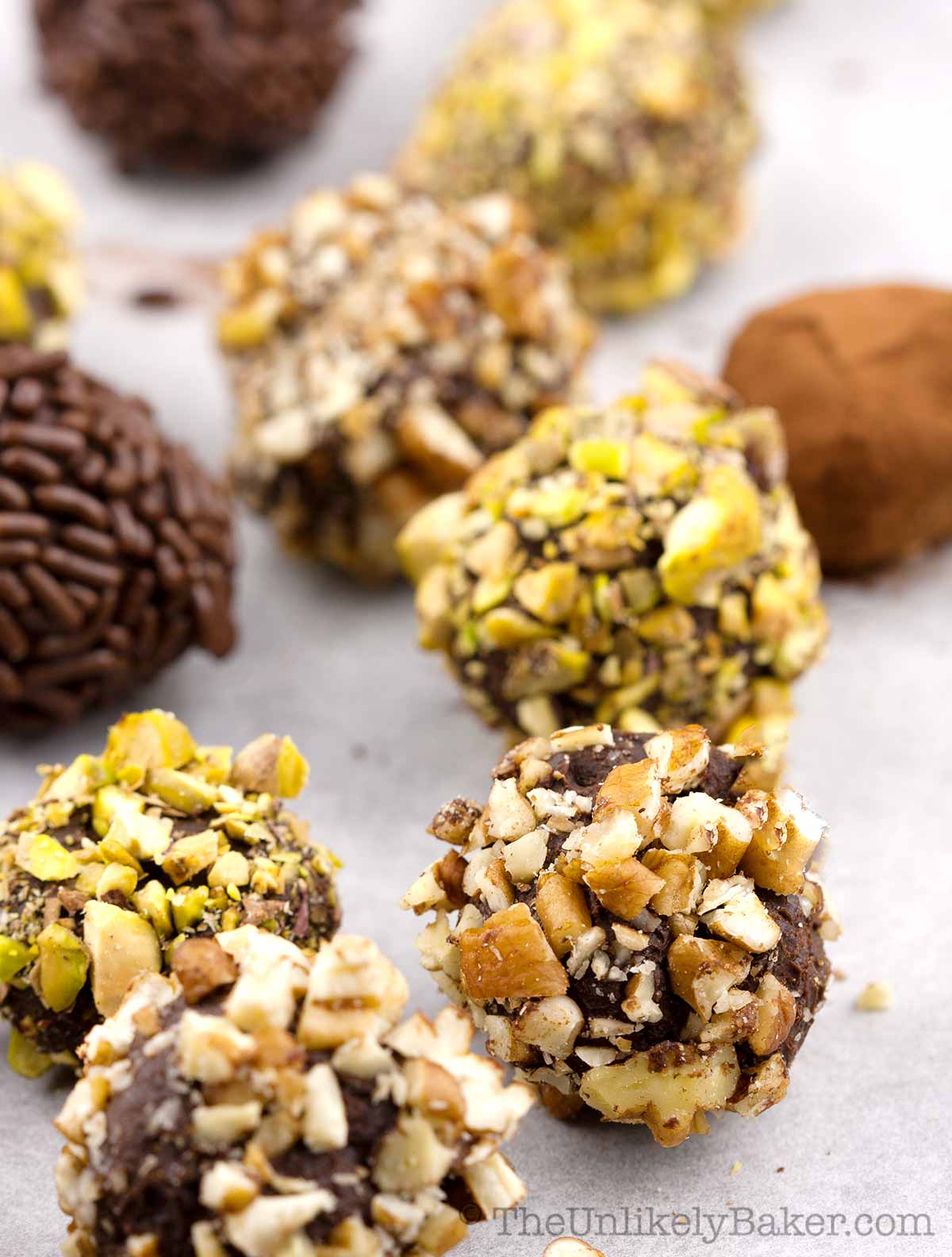 Whenever St. Patrick's Day rolls around, I always go the boozy instead of the green food route. Especially because I love the taste of Baileys and enjoy incorporating it in desserts.
I default to my no bake Bailey's chocolate mousse pie but this year, I thought I'd try something different and make some Baileys truffles.
And I couldn't be happier! Baileys chocolate truffles are so good you'll want to make them all year round.
Why you'll love this Baileys truffles recipe
You'll love making homemade Irish chocolate truffles because:
Simple and easy. You only need 3 ingredients, you don't need special tools, and the recipe is easy and straightforward.
Make-ahead. You can also make them ahead and serve when ready.
Customizable. You can customize your truffles however you like as well. Make a batch without alcohol for the kids. Coat half of the truffles in pistachios and half in almonds. Roll them in sprinkles or chocolate chips. The possibilities are endless.
Not just for St. Patrick's Day. And Irish cream truffles are not just for St. Patrick's Day. You can make them for Christmas, for Valentine's Day, or any day you're craving these little Baileys balls of deliciousness.
What you'll need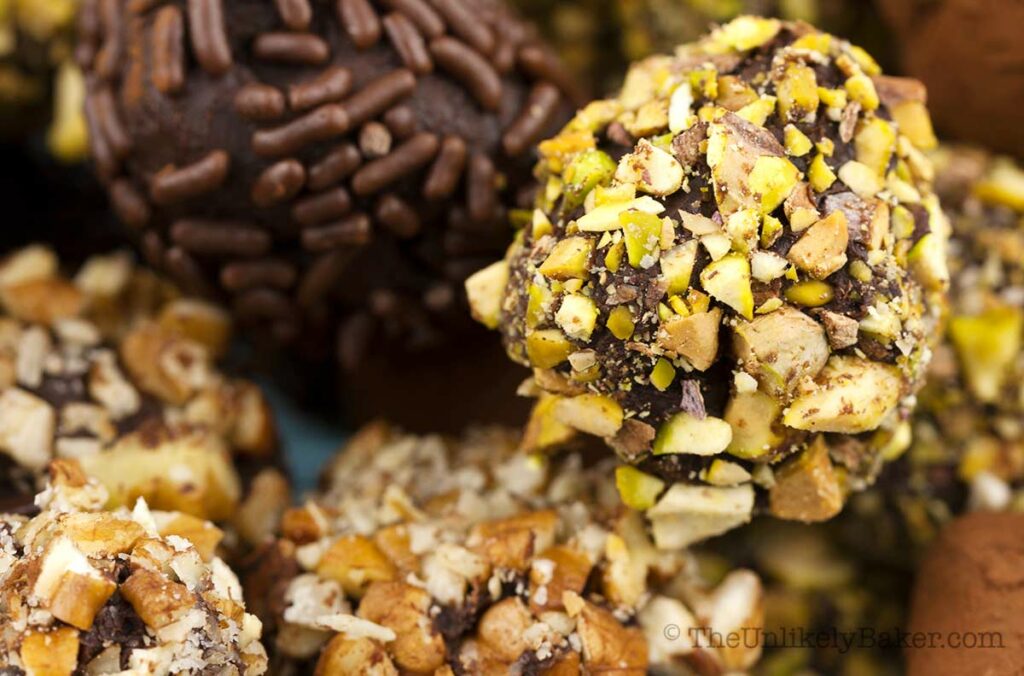 Making Baileys Irish cream truffles is easy, however, you do need to plan ahead because the chocolate ganache needs to chill.
Ingredients
For the truffles, you will need:
Good quality chocolate (semi-sweet or dark) — more on this below
Heavy cream (at least 36% milk fat)
Bailey's or your favourite Irish cream liqueur — options for non-alcoholic truffles below. You can also make homemade irish cream.
And for the coating, just gather your favourite things, like:
Chopped nuts
Cocoa powder
Sprinkles
Shredded coconut
Tools
As far as tools go, you'll need a saucepan to make the chocolate ganache.
When I first started making truffles, I used a regular teaspoon to scoop my chocolate before rolling them into balls — and it's perfectly fine — but I have since invested in a fancy melon baller, which makes scooping a little easier.
You'll also need the usual: mixing bowls, mixing spoons and a baking sheet.
How to make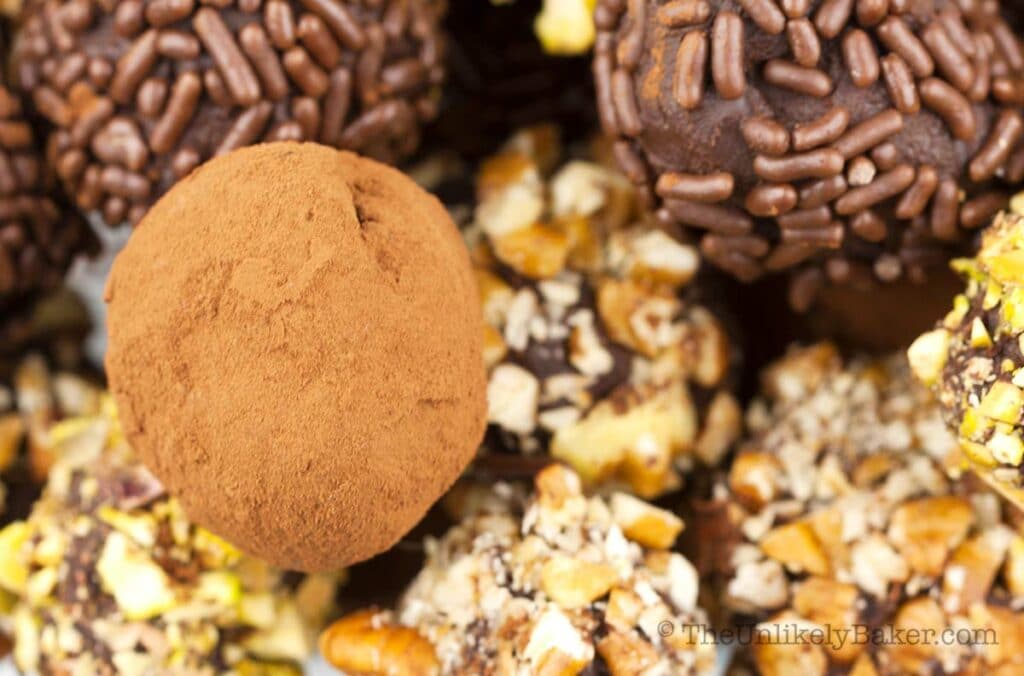 1 CREAM. First, combine heavy cream and Irish cream in a saucepan and bring the mixture to a simmer.
2 CHOCOLATE. Then pour the hot cream over chopped chocolate, let that sit for a few minutes before stirring until smooth.
3 COOL. Cool your truffle mixture slightly before chilling in the fridge for about 2 hours or until firm.
4 ROLL. When ready, scoop about a 1-inch size ball of chocolate and mould into balls with your hands. Then roll the balls into the coating of your choice and place on a baking sheet.
5 CHILL. Chill the truffles in the fridge overnight.
Expert tips
While making truffles is easy, there's a slight learning curve. Here are some tips to help make the process that much easier.
Use good quality chocolate. Remember that truffles are essentially just chocolate. There's really nothing to hide behind. So spring for the best chocolate that's within your budget. You will be able to tell the difference. I usually use semi-sweet, bittersweet or dark chocolate but milk chocolate works great too.
Chop your chocolate into small pieces. Next, make sure to chop your chocolate into small pieces. This makes it easier to melt them. You don't want to end up with a large chunk of unmelted chocolate in there. But if you do find yourself with small pieces of chocolate that aren't melted, you can simply scoop them out.
Roll with clean and cold hands. The chocolate will melt as it comes into contact with your skin so keeping your hands clean and cold is key. I usually work beside the sink when making truffles so I can run my hands under cold water after every 2-3 truffles or so.
Work with cold ganache. Rolling truffles takes time so if you find that your ganache is getting too soft or too warm, place it back in the fridge so it can firm up again.
Truffles don't have to be perfect. Having trouble making your truffles all the same size? Try using a melon baller or even a cookie scoop. If you still can't get them perfectly round, no worries. Since you're coating them with all your favourite things, these minor imperfections aren't a big deal. People won't even notice them!
Recipe FAQs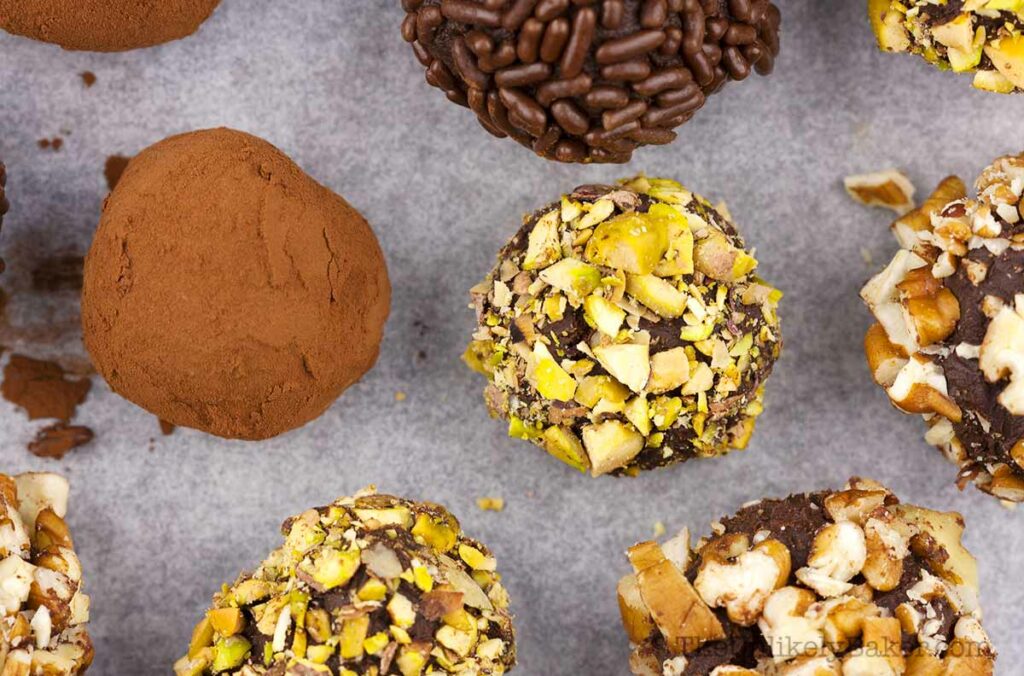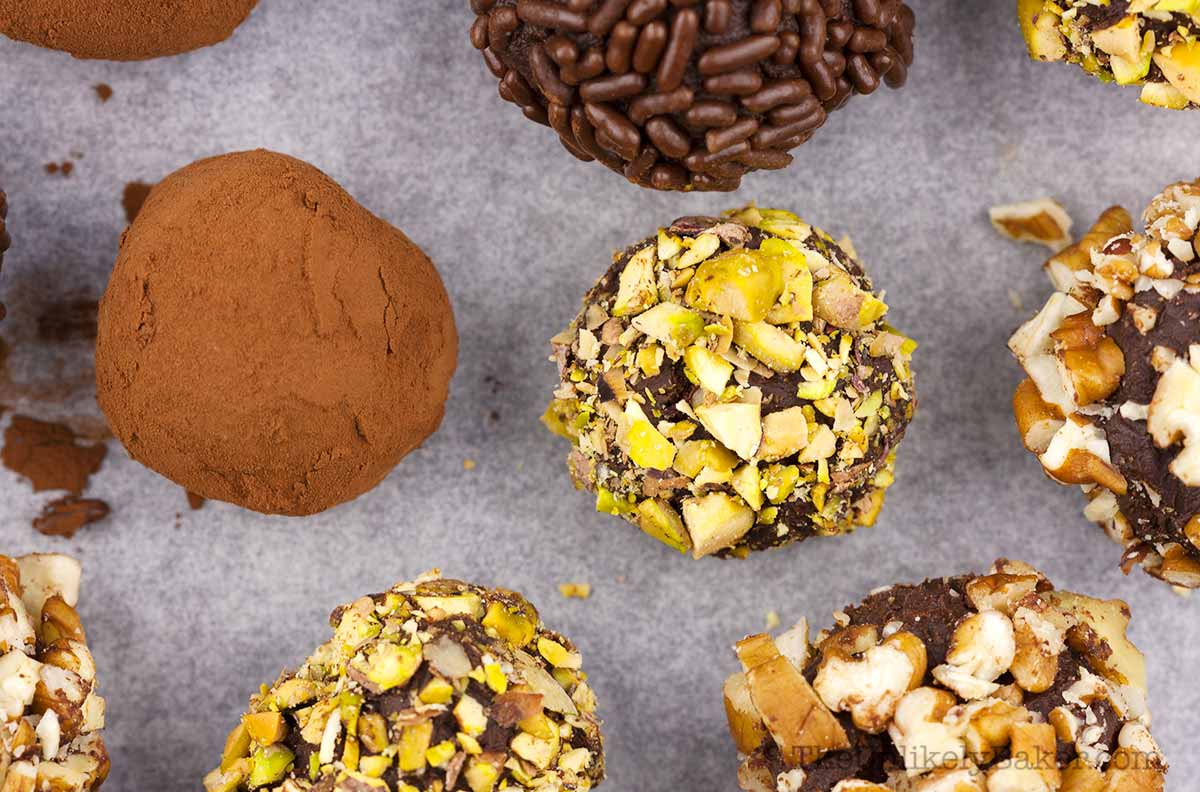 How can I make Irish cream truffles without the alcohol

If you want to make these truffles non-alcoholic but still enjoy the distinct taste of Irish cream, you can try using Irish cream syrups. And if you really don't care for Irish cream at all, you can just leave it out or substitute it with your favourite flavours like vanilla or Kahlua.
Can I use half-and-half or milk instead of heavy cream

You'll want to stick to heavy cream in this recipe so that your ganache achieves a smooth and silky consistency.
How to store homemade truffles

Unlike store-bought truffles that you can usually just leave on your counter, homemade truffles need to be chilled because it has cream in it.
How long do chocolate truffles last

Homemade truffles kept in a covered container in the fridge can last up to a week.
More boozy dessert recipes
Love a little kick in your desserts? Check these out: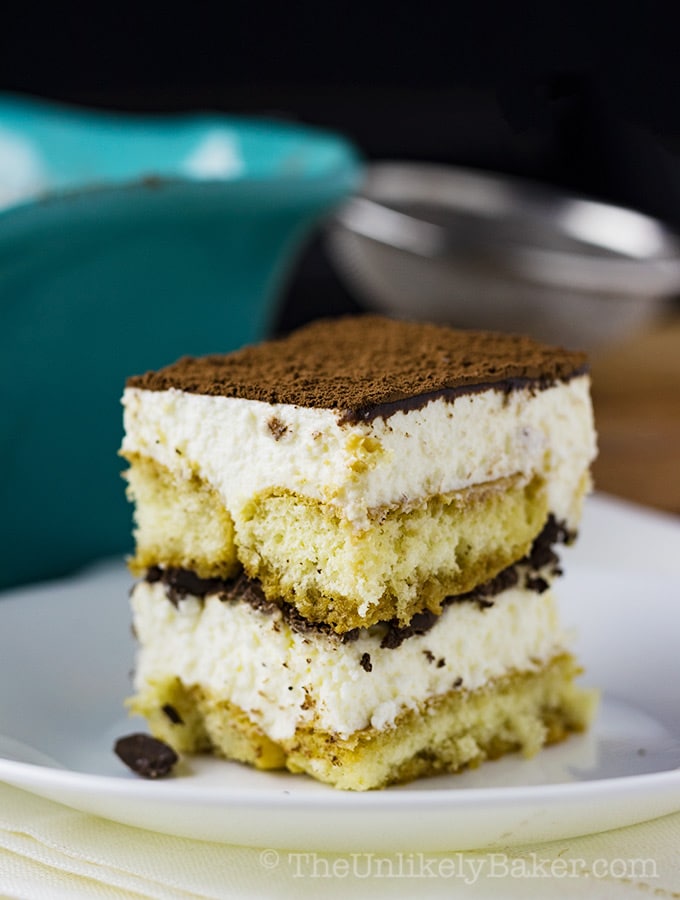 Eggless tiramisu — easy to make, no eggs and no bake, with a hint of kahlua
Bourbon pecan pie bars — bourbon is incorporated right into the pecan filling on top of a delicious shortbread crust
Not in the mood for boozy truffles? Try these delicious and easy brownie truffles instead.
Happy truffle making!
Did you make Irish cream chocolate truffles? I'd love to hear from you in the comments section below.
And let's get social! Find me on Facebook, Pinterest, Instagram, Twitter and YouTube.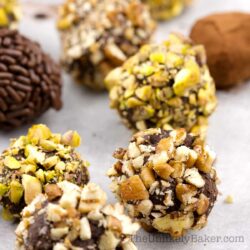 Baileys Irish Cream Chocolate Truffles
Irish cream truffles are shots you can munch on! Chocolatey, slightly boozy, and highly customizable, they're the perfect treat on St. Patrick's Day or any day.
Ingredients
For the Truffles:
8

oz

good quality chocolate (semi-sweet or dark)

chopped

½

cup

heavy cream

2-3

tbsp

Baileys or Irish cream

depends on how boozy you want the truffles to be
For the Coating:
Your favourite nuts

chopped into small pieces

Coconut

The possibilities are endless!
Instructions
Put chopped chocolate in a bowl. Set aside.

Combine ½ cup heavy cream and 3 tablespoons Irish cream in a saucepan and bring to a simmer. Occasionally scrape the sides of the pan to avoid any film that may form.

Pour the hot cream over the chopped chocolate and let sit for a couple of minutes. Then stir until smooth.

Cool slightly before chilling in the fridge for 2 hours.

Before you start making your truffles, get your ingredients and tools in place because you would need to work quickly – a baking sheet lined with parchment paper and your coatings in separate bowls.

Use a teaspoon to grab chunks of chocolate and quickly mould into balls with your hands (make sure your hands are clean and cold). Roll the balls into the coating of your choice and place on the baking sheet.

Chill the truffles in the fridge overnight and take out just before serving.
Notes
The yield/number of truffles depends on how big or small you roll them.
I like my truffles on the boozy side so I put 3 tablespoons of Baileys. The amount of Irish cream you put is totally up to you.
See post for more truffle making tips.
Nutrition
Calories:
69
kcal
Carbohydrates:
6
g
Protein:
1
g
Fat:
5
g
Saturated Fat:
3
g
Cholesterol:
7
mg
Sodium:
3
mg
Potassium:
31
mg
Fiber:
1
g
Sugar:
5
g
Vitamin A:
73
IU
Vitamin C:
1
mg
Calcium:
5
mg
Iron:
1
mg
Nutritional information are estimates only.
Tried this recipe? Leave a star rating today!
Also tag @iamtheunlikelybaker I'd love to see your creations.