Irish cream crème brûlée is stunning and is the perfect holiday dessert – luxuriously smooth and creamy custard, perfectly crunchy caramelized sugar on top, slightly delightfully boozy. What many don't realize is it's surprisingly simple to do too. Serve it at your next get-together and spend more time enjoying the party than being cooped up in the kitchen.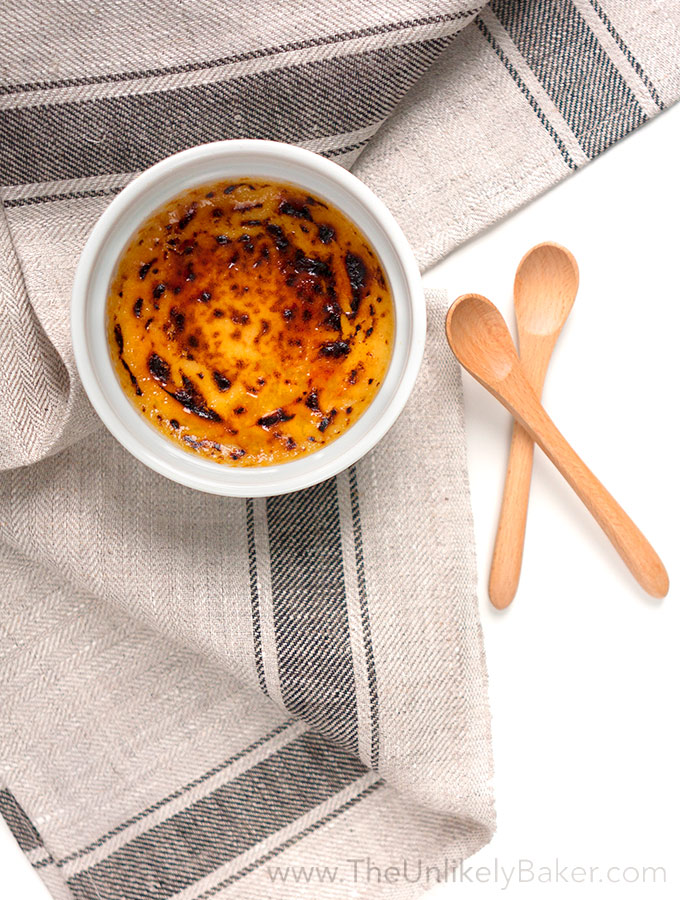 Disclosure: This Irish cream crème brûlée post is sponsored by The Egg Farmers of Canada but all photos, words and opinions are mine. Thank you for supporting the brands and organizations that support me!
I love this time of the year. It can get hectic though with all the parties and the baking and the shopping and did I mention the baking?
Which is why I love recipes that you can make ahead and finish up when you're just about ready to serve. Because there's really nothing sadder than being stuck in the kitchen away from all the fun and festivities (and wine).
This Irish cream crème brûlée is one of those recipes. It's a very simple recipe which you can prep the day before. The best part? It looks and tastes like it took hours and hours to prepare. Ready to impress?
Fresh eggs and baking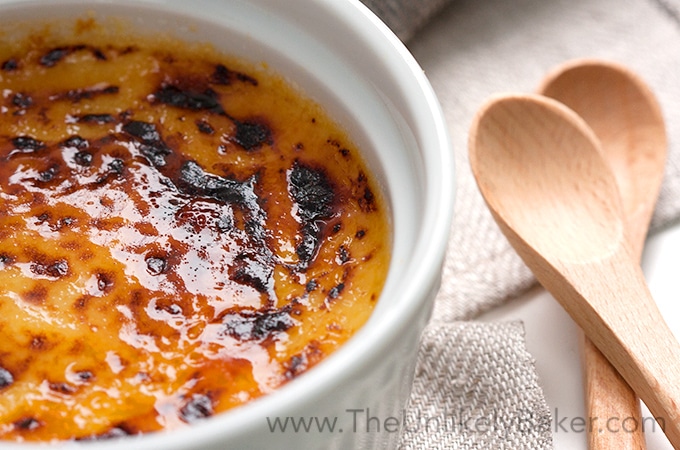 I use a lot of eggs when I'm baking and using grade A, high quality ones are very important. The quality of your baking ingredients can spell the difference between an okay dessert and a remarkable one!
It's great that eggs here in Canada travel from farm to kitchen in less than 5 days (impressive, eh?) so I'm sure they're always fresh and high quality.
This Irish cream crème brûlée is an example of a recipe where high quality ingredients matter.
With only 5 ingredients – eggs, cream, vanilla, Irish cream and sugar – I'd suggest you get the best ingredients you can get your hands on! There is really nothing to hide behind.
Got extra egg yolks?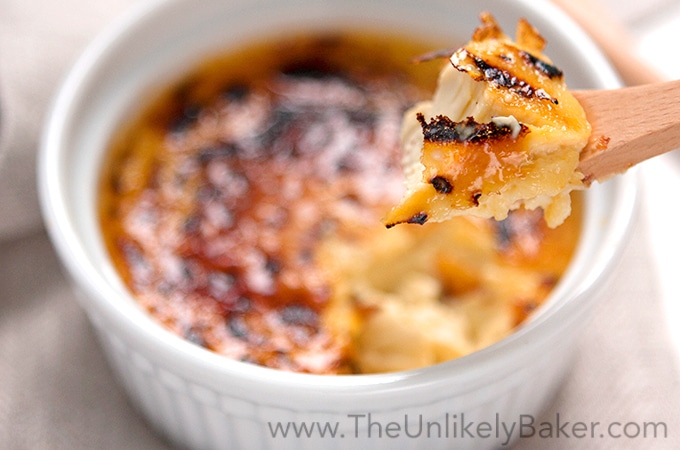 Some recipes don't use the whole egg though. Some just need the whites, some just the yolks. And over time I've built a collection of recipes that only use one or the other (there is no egg wastage in our house!). And this Irish cream crème brûlée is a great way to use those extra egg yolks.
Some of my other egg yolks only recipes include:
And each one has the same kind of richness and decadence that egg yolks bring. Using only egg yolks in this crème brûlée results in a texture to-die for. It's smooth and luxurious and melts in your mouth.
Irish cream crème brûlée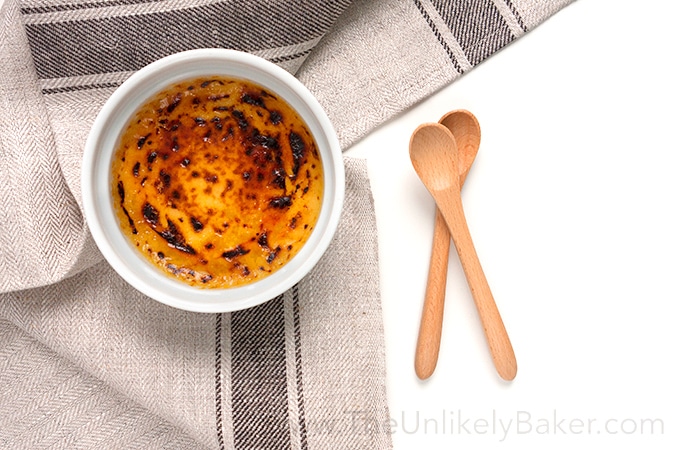 The Irish cream on the other hand gives this crème brûlée a nice subtle boozy kick and a delightful flavour. It's sweet but not too sweet. It's the perfect end to a great holiday meal.
No blow torch? No problem
You can still make crème brûlée at home without a blow torch. Set your oven to broil (high) and put your well chilled custard in the oven (highest shelf) until the tops begin to caramelize (you have to watch carefully, don't walk away!).
The caveat here is your caramelization may not be as even as you'd like. Regardless, it will taste delicious.
Enjoy the holiday season outside the kitchen
So go ahead. Serve this simple but exquisite Irish cream crème brûlée at your next get together and enjoy more of the holidays outside the kitchen.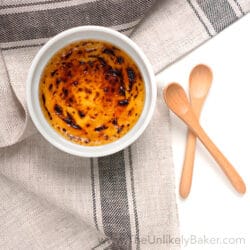 Irish Cream Crème Brûlée
Irish cream crème brûlée is delicately boozy, luxuriously creamy and has crunchy caramelized sugar on top. It's the perfect holiday dessert.
Ingredients
2 ¼

cups

heavy cream

1

tsp

vanilla paste

see notes

5

pcs

egg yolks

from large eggs, room temperature

¼

cup

granulated sugar + more for topping

3

tablespoons

Irish cream

I used Bailey's, see notes
Instructions
Preheat oven to 325F.

Pour 2 ¼ cups heavy cream into a medium sized saucepan and put on low-medium heat for about 5 minutes without stirring. Do not allow the cream to boil.

Once you see small bubbles appearing on the sides of the pan, take the pan off the heat and stir 1 teaspoon vanilla paste until well incorporated. Set this aside.

In a large bowl, whisk 5 egg yolks and ¼ cup sugar until combined. Gradually add the hot cream and whisk continuously to avoid scrambling the eggs. Add 3 tablespoons Irish cream and whisk some more.

Pour your mixture into 4 6-ounce ramekins (see notes). Put the ramekins into a deep baking dish or roasting pan. Pour hot water into the roasting pan until it covers about ¾ up the sides of the ramekins.

Bake for 30-40 minutes or until the custard is set – firm but still wobbly in the centre.

Take out of the oven and cool slightly before refrigerating for at least 3 hours (and up to 3 days).

When you're ready to caramelize, take the ramekins out of the fridge and wipe off any condensation that may have accumulated. Sprinkle about 1 tablespoon of granulated sugar on top and tap around gently to make sure that the sugar is evenly distributed and that you have an even layer.

If using a blow torch, melt the sugar until you get a nice crispy layer on top. Cool slightly before serving. If using the broiler, put your ramekins on a baking sheet and the baking sheet on the highest shelf of your oven. Broil on high until the sugar has caramelized. You may need to refrigerate again to cool the custard before serving.
Notes
You can use smaller-sized ramekins if you plan to serve more people. Just watch your baking time.
You can use the same amount of vanilla extract – you just won't get those nice specks of vanilla beans in the custard. You can also opt to use 1 vanilla bean – cut in half, put in with the cream while you're heating it, then scoop out before you mix the hot cream with the eggs.
If you want a boozier dessert, add a few more teaspoons of Baileys.
Nutrition
Calories:
556
kcal
Carbohydrates:
20
g
Protein:
3
g
Fat:
51
g
Saturated Fat:
32
g
Cholesterol:
197
mg
Sodium:
52
mg
Potassium:
100
mg
Sugar:
16
g
Vitamin A:
1986
IU
Vitamin C:
1
mg
Calcium:
87
mg
Nutritional information are estimates only.
Tried this recipe? Leave a star rating today!
Also tag @iamtheunlikelybaker I'd love to see your creations.
Happy baking!
Did you make Irish cream crème brûlée? What are your favourite recipes that use extra egg yolks? Tell me about it in the comments section below. I'd love to hear all about it.
Got extra egg whites? Here are recipes that only use egg whites:
Let's get social! Find me on Facebook, Pinterest, Instagram, Twitter and YouTube.