This no-bake Baileys chocolate mousse pie is rich and creamy with delightful specks of chocolate all throughout. It's fast and easy to make too. No oven needed!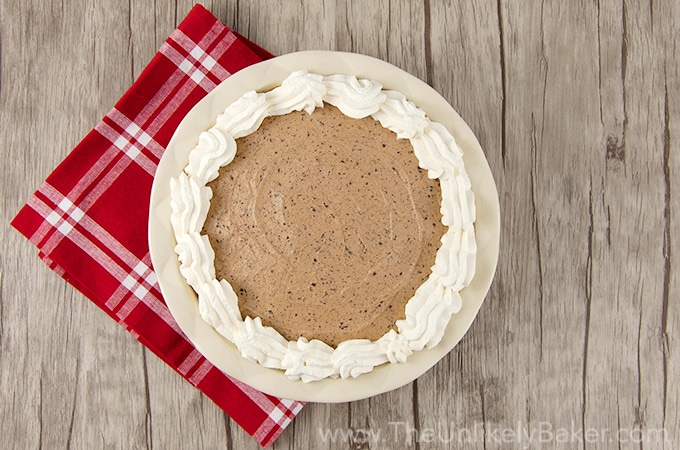 Two things are happening this week: St. Patrick's Day and my brother's birthday. Not saying they are equally important but I have the perfect pie for both – it's chocolatey (for my brother), made with Baileys (hooray for St. Paddy's) and no baking required (this one is for me).
This no-bake Baileys chocolate mousse pie is rich and creamy with delightful pieces of chocolate all throughout. It's very easy to make too. Perfect for St. Patrick's Day if you don't want to go the green dessert route and for brothers who have the sweet tooth (and, uhm, appreciate a good drink).
St. Paddy's doesn't just mean green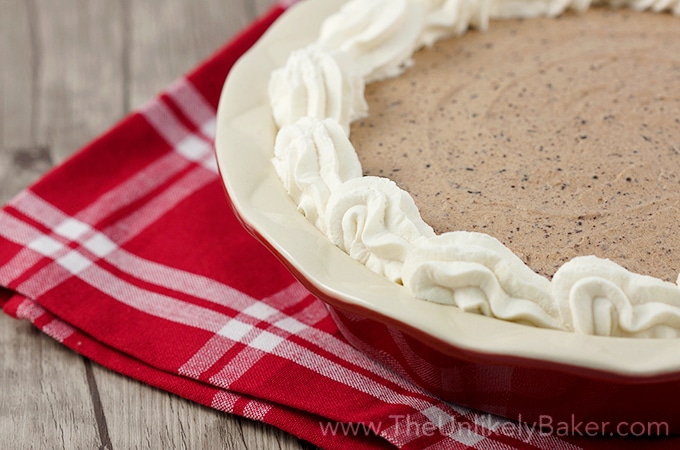 I thought about making something green for St. Paddy's but just didn't have the energy to tint frosting the right shade of green or work with mint. So I thought why not make something with booze in it. That counts too, right (of course it does)? And Baileys is Irish cream. Another plus. So I made this pie with enough Baileys in it that the kitchen smelled of it while I was mixing. That's always a great sign.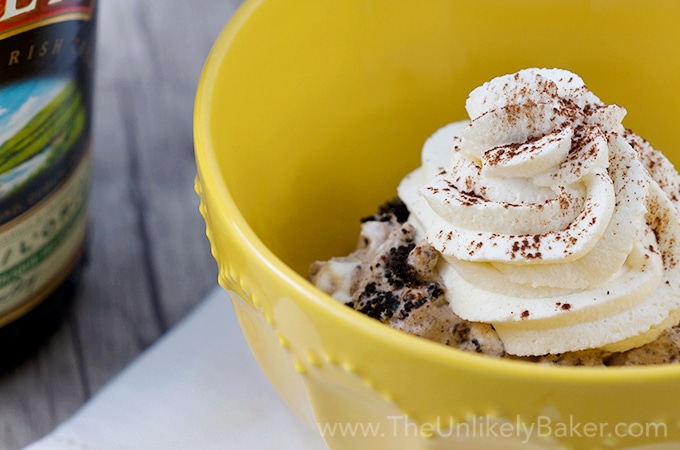 My not so little brother
I also wanted to make something for my brother's birthday. He's 8 years younger than me so growing up, I spoiled doted on him like big sisters tend to do. He was also an incredibly cute and adorable kid so I would bring him with me to school and show him off to my friends. Now he has his own charming and precocious baby boy who reminds me so much of him – this little bundle of joy and energy. Both he and my nephew like chocolate so this pie fits the bill (but maybe my nephew should wait until he's a little older to have a taste, yes?).
No-bake Baileys chocolate mousse pie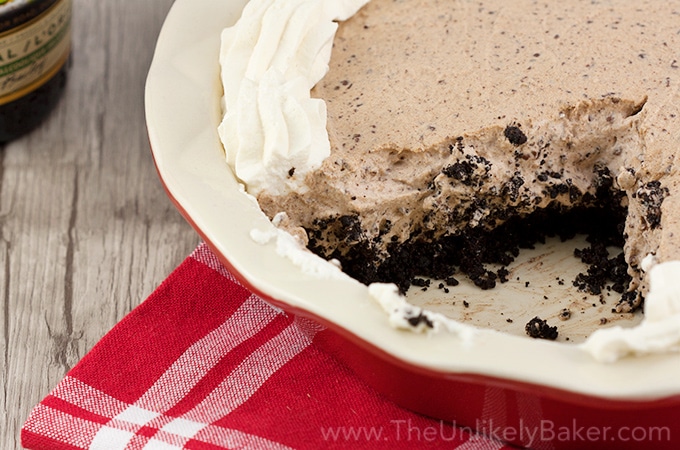 A scoop of this pie is pure Irish cream and chocolate bliss. The cookie crumb lends a slightly bitter dark chocolate taste that balances off the sweetness of the mousse. But my favourite parts are the bits of chocolate you get with every spoonful – they add great texture and flavour. Top it with whipped cream and you're all set! It's indulgent, easy to make and (no lies) might make you a little woozy (which is not a bad thing).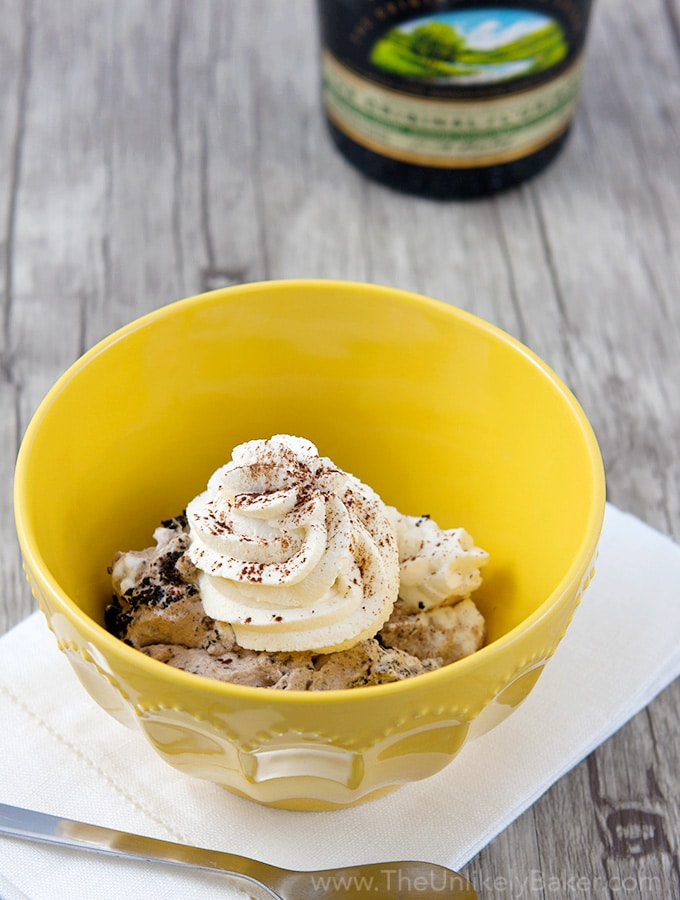 I can't believe this is the first no-bake dessert I've done. But better late than never. And I can already tell this is the start of something new and exciting for me (no-bake desserts are awesome, I can't wait to make more). In the meantime, enjoy! This is perfect not just for St. Patrick Day's but for any day you need a chocolate dessert with a kick.
(And happy birthday J! xoxo)
No-Bake Baileys Chocolate Mousse Pie
Ingredients
Crust:

1 1/4 cups Oreo cookie crumbs
1/4 cup salted butter, melted
Filling:

2 cups heavy cream, chilled
1/2 cup Baileys (I used Baileys because that's what we had but you can use any brand or even your own homemade Irish cream)
1 cup semi-sweet chocolate chips, melted
Instructions
Crust:

Mix 1 1/4 cups cookie crumbs and 1/4 cup melted butter until evenly moist and crumbly.
Press onto the bottom and sides of a 9-inch pie pan. Then put the pan in the fridge to allow it to set a little while you're preparing the filling.
Filling:

Using a handheld electric mixer or a stand mixer with the whisk attachment, whip 2 cups heavy cream on high speed until soft peaks form (this took me a while - about 15-20 minutes using a handheld mixer).
Switch to low speed and gradually pour 1/2 cup Baileys. Mix until incorporated well.
In a separate bowl, mix your cup of melted chocolate (which should still be a little warm) with about 1/2 cup of your whipped cream mixture to temper it. Stir until well combined. You will notice that, since your cream is cold and your chocolate is warm, your chocolate will be harder and harder to mix and will turn a little fudgy. That's ok.
Mix back your chocolate mixture, chunks at a time, into your whipped cream. You'll notice that as you start whipping, the chocolate will break into little pieces. And your mixture will be coarse and grainy - that's ok too. Just mix until everything is fully combined.
Pour into pie crust and refrigerate overnight.
Scoop into a bowl and top with whipped cream to serve (here's a great recipe for homemade whipped cream).
https://theunlikelybaker.com/baileys-chocolate-mousse-pie/
This delicious recipe brought to you by www.TheUnlikelyBaker.com | (c) 2016-2017
(This recipe adapted from She Wears Many Hats)
Happy no-baking!
Did you make this no-bake Baileys chocolate mousse pie? Tell me about it in the comments section below. I'd love to hear all about it. Love chocolate? Try this Chewy Double Chocolate Chunk Cookie recipe. It's lip-smacking good.
And let's get social! Find me on Facebook, Pinterest, Instagram, Twitter and Google+. Or subscribe so you don't miss a recipe (if you missed the pop-up form, there's another form at the bottom of this page).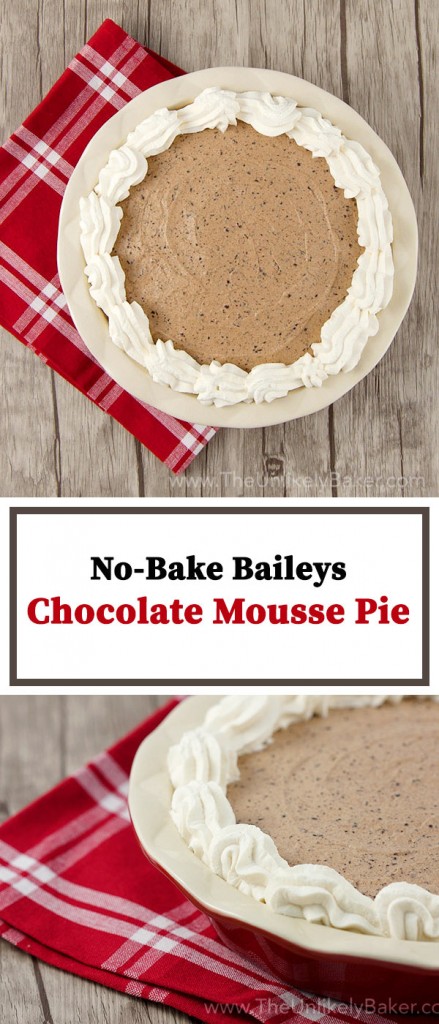 Do you want to improve your food photography, monetize your blog or start your very own food blog? Check out the awesome resources at the bottom of this page (they are affiliate links).
The products below are affiliate links too – these are products that I actually use and/or think are cool. If you click on them and subsequently make a purchase, please know that I will earn a small percentage from Amazon – at no additional cost to you. (See Terms of Use for more info on privacy and how we collect/use collected data on this site.)