A hit at every party, this eggless tiramisu is creamy, chocolatey, slightly boozy and a breeze to make. Watch the video and see how easy!
(If you're looking for another classic dessert made without eggs, you'll love this Eggless Key Lime Pie).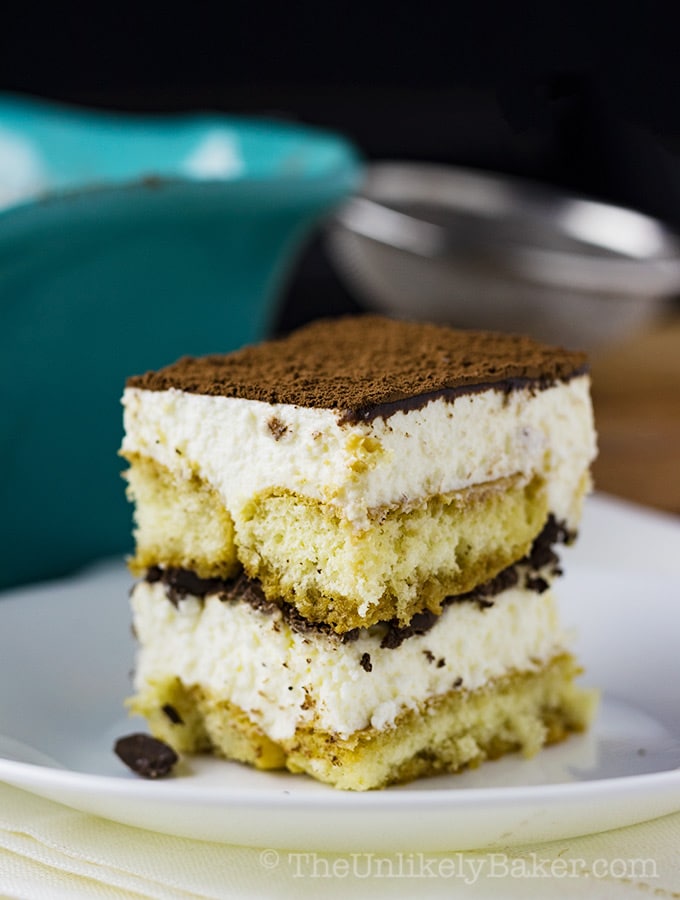 When I discovered that most tiramisu is made with raw eggs, I actually stopped eating it. While some bakers cook the yolks, I really didn't want to take the chance. I mean, I love eggs (I eat eggs everyday!); I just don't want raw anything in my desserts.
So I looked for a way to make eggless tiramisu and I've finally perfected the recipe. We've served this cake many times and our friends and family love it. Hope you do too!
What is tiramisu?
Tiramisu is a coffee-flavoured Italian dessert.
Made of savoiardi (or ladyfingers) dipped in coffee, it is traditionally layered with a whipped mixture of eggs, sugar, and mascarpone cheese, flavoured with cocoa, then chilled before serving.
The coffee is also usually spiked with a splash of either Marsala, rum or coffee liqueur. I like coffee liqueur the best.
Don't worry, you'd only use very little alcohol so there's no danger of getting drunk on a slice (maybe if you ate the whole cake? It can happen, I've had days like that.)
Kahlua substitute
s when making tiramisu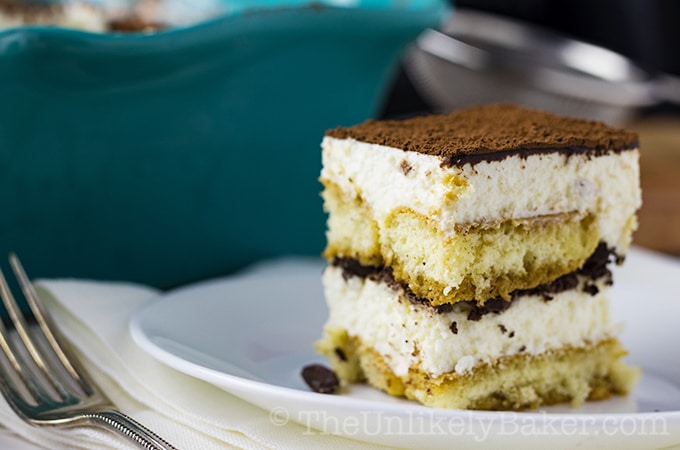 If you plan on making this eggless tiramisu alcohol-free as well, you can substitute kahlua (which is the coffee liqueur that I used here) with non-alcoholic coffee-flavoured syrup
or coffee extract
.
You can also opt to leave out the kahlua altogether (but why lol?). Just make up the lost liquid with extra espresso.
Related: No-Bake Baileys Chocolate Mousse Pie
Can you use regular coffee instead of espresso when making tiramisu?
Speaking of espresso
, if you're wondering if you can make tiramisu with regular coffee, the answer is: you can.
I'd recommend making it extra strong coffee though to mimic espresso as closely as possible. Decaf is fine too.
Related: Salted Caramel Cream Cheese Brownies
How to make eggless tiramisu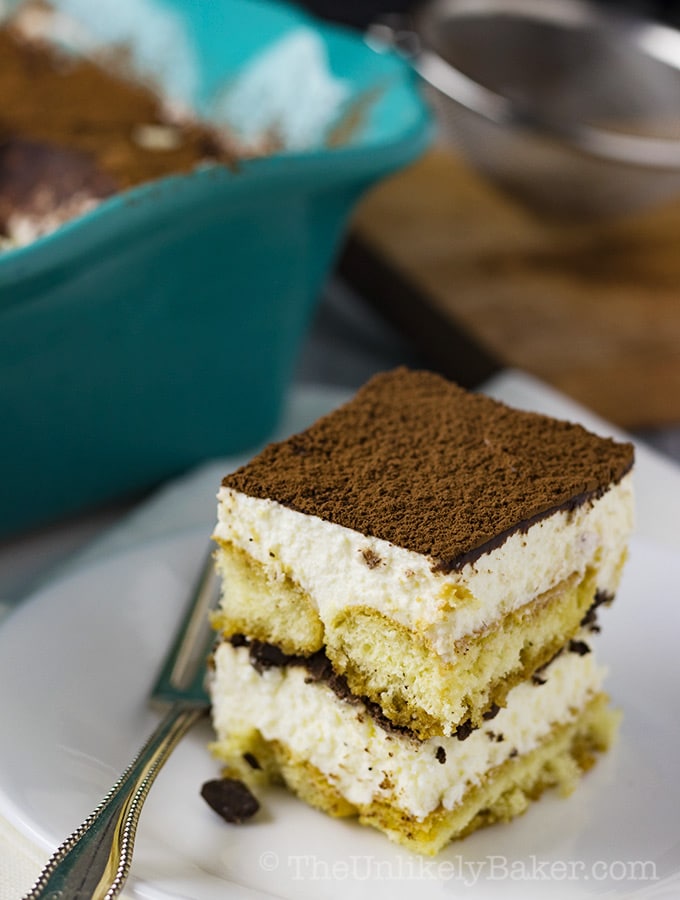 Once you have all your ingredients ready, tiramisu is probably one of the easiest cakes you're ever going to make.
The steps are pretty straightforward (just have a look at the video) though the one tip I will give is about how to dip the savoiardi/ladyfingers
in your espresso/kahlua mixture.
You want the savoiardi to be moist but still firm enough to hold up the cream and mascarpone that go on top of it. So instead of dunking the cookie in espresso, just lightly dip each side.
A quick second is really all it takes. Longer than that and your cookie will absorb too much liquid too quickly and fall apart. We don't want mushy savoiardi in our pretty tiramisu.
Related: 16 Last-Minute New Year's Eve Desserts
Holiday desserts
Tiramisu is a delicious cake to serve this holiday season. Make it up to 2 days ahead, keep it chilled and just take it out when you're ready to serve.
It's so delicious and really easy to make (though don't worry, nobody will ever suspect a thing ha!).
Here are some more desserts you can add to your holiday menu:
Related: How to Take Delicious Food Photos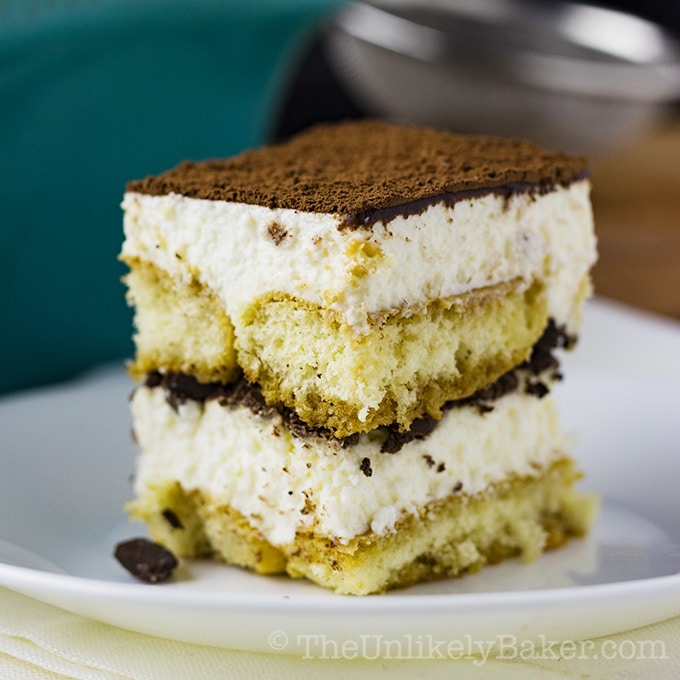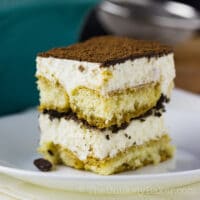 Easy Eggless Tiramisu
A hit at every party, this eggless tiramisu is creamy, chocolatey, slightly boozy and a breeze to make. Watch the video and see how easy!
Print
Pin
Rate
Total Time:
8
hrs
30
mins
Ingredients
2

cups

heavy cream

chilled

5

tbsp

granulated sugar

1/2

tsp

vanilla extract

1

lb

mascarpone cheese

1

cup

espresso

or extra strong coffee

2

tbsp

kahlua

or other coffee-flavoured liqueur

24

pcs

savoiardi or ladyfinger cookies

you may need more depending on the size of your baking dish

5

oz

dark chocolate

roughly chopped

cocoa powder for dusting
Instructions
In a large bowl, whip 2 cups heavy cream, 5 tbsp granulated sugar and 1/2 tsp vanilla extract until combined. Add 1 lb mascarpone cheese and continue whipping to medium peaks. Set aside.

In another bowl, stir 1 cup espresso with 2 tbsp kahlua.

To assemble (see video): dip both sides of each savoiardi/ladyfinger cookie in your coffee mixture. Place on the bottom of a deep baking dish (I used a 3-quart dish) or a 9x13 baking pan. Cut the cookies if needed to fit your dish exactly.

Spread half of the mascarpone mixture on top of the cookies. Sprinkle the chopped chocolate on top of that.

Repeat with another layer of cookies and mascarpone cream. Chill 6-8 hours, preferably overnight. Sprinkle with cocoa powder before serving.
Happy no-baking!
Did you make this eggless tiramisu? I'd love to hear from you in the comments section below.
And let's get social! Find me on Facebook, Pinterest, Instagram, Twitter and Flipboard.
Or subscribe so you don't miss a recipe. I promise I don't spam (I hate spam too).
Do you want to improve your food photography, monetize your blog or start your very own food blog? Check out my Blogging Resources.