Imagine a meringue that's crunchy on the outside but soft and chewy on the inside, slathered with luscious lemon curd and light whipped cream, then sprinkled with toasted almond and coconut. This lemon pavlova is a bright ray of sunshine on a dreary winter day.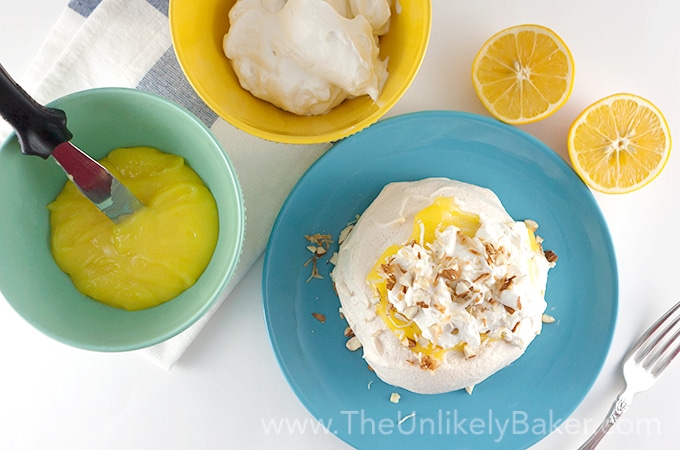 Disclosure: This post is sponsored by JORD Wood Watches but all photos, words and opinions are mine. Thank you for supporting the brands that support me!
It's no secret that I love Christmas.
It's my favourite time of the year (well, apart from my birthday lol). And this year Christmas came extra early.
First, Meyer lemons – one of my favourite things! – started appearing on shelves at our store so I proceeded to hoard them (hey, they're only available for a limited time) and immediately got so overwhelmed with lemon baking thoughts.
Second, I received a lovely gift in the mail – a dark sandalwood and slate Frankie 35 wood watch from JORD Wood Watches. I've never had a wood watch before and this timepiece is exceptional. Looks like I found yet another reason to love the season!
Why you'll love lemon pavlova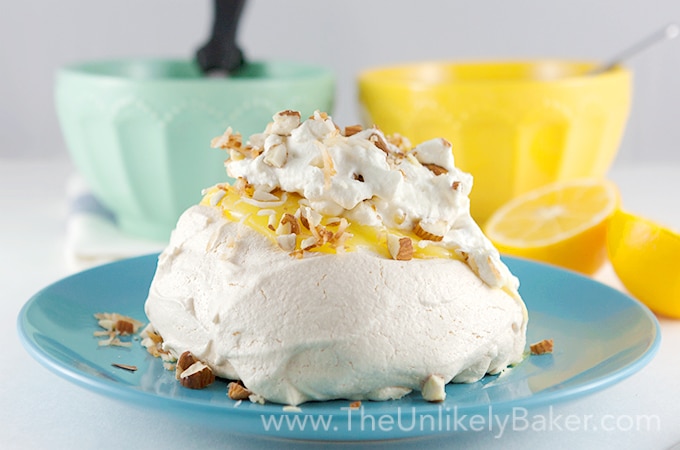 But back to this delicious lemon pavlova.
The meringue was perfectly crunchy outside but sticky and chewy inside.
The homemade lemon curd was sweet and tart.
The homemade whipped cream added freshness to the bite. While the toasted almonds and coconut provided texture.
It was a fantastic treat.
Tips for making the perfect meringue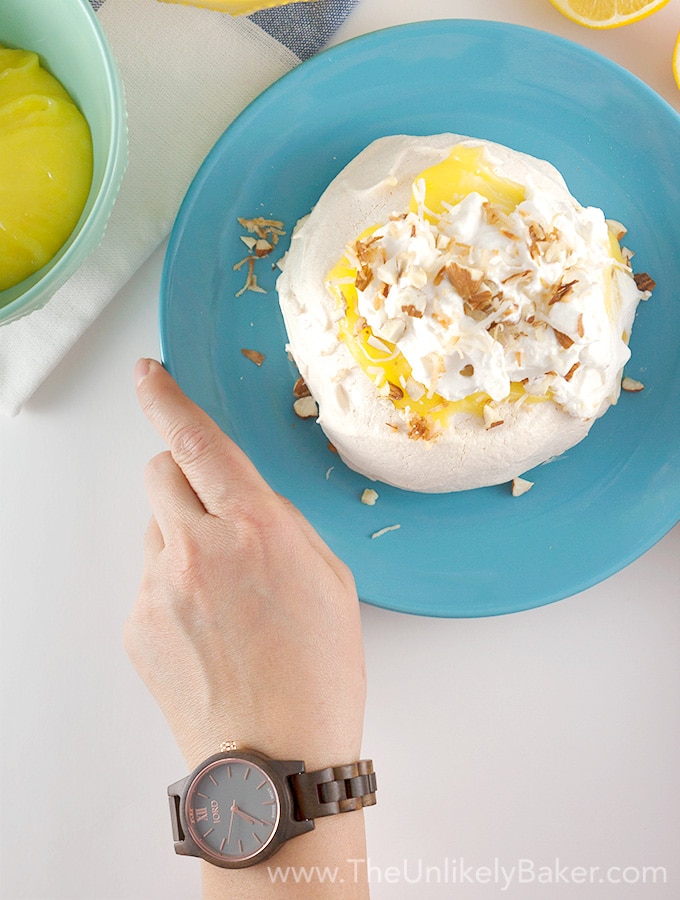 I know a lot of people are wary of making meringue and working with egg whites so here are some things I've learned along the way that I hope will help:
Make sure your egg whites are room temperature. They whip better and you'd get better volume. It's easier to separate egg whites from the yolks when the eggs are cold though so what I do is separate the whites from the yolks while the eggs are cold straight out of the fridge then bring the whites to room temperature in a separate bowl (usually 15-20 minutes, or however long it takes for me to prep everything else).
Speaking of yolks, make sure none of it get to your egg whites. It will spell disaster.
Also make sure your bowl and whisk are dry and grease free. Don't use a plastic bowl because oil tends to stick to them; stainless steel or glass bowls are the best.
When adding sugar, do so gradually (I usually do about a tablespoon at a time). Don't dump a cup of sugar all at once – your meringue might not come together or if it does, it will take longer.
This is optional for some people but I always use cream of tartar or white vinegar to stabilize my meringue. It does not affect the taste – it just makes the meringue firmer and less likely to fall apart.
Assembly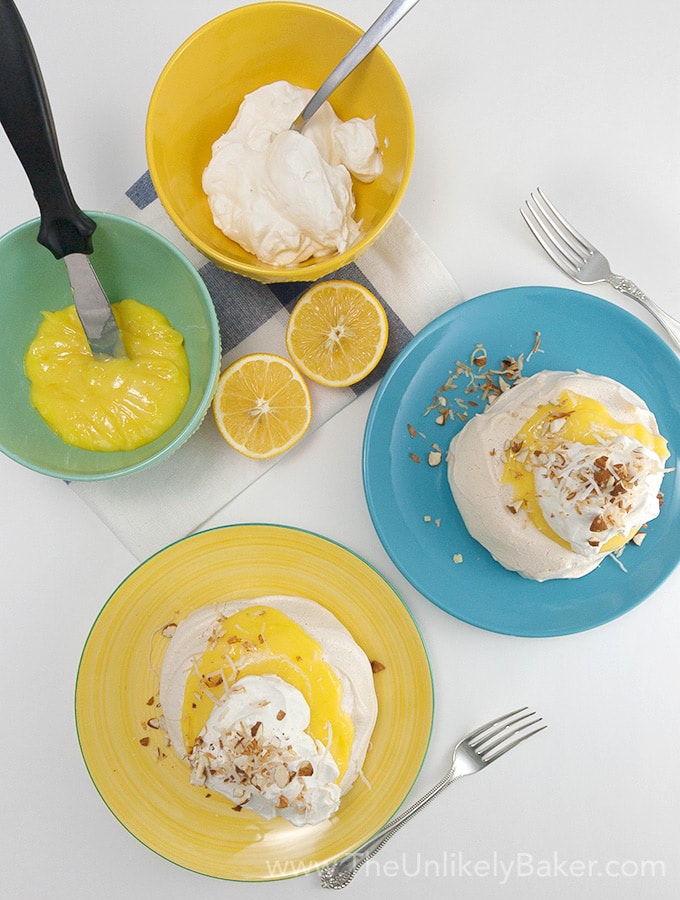 Now that's out of the way, it's time to assemble!
I'm a heavy froster so it follows that I'm also a heavy pavlova-assembler (what can I say, I get carried away). So my first pavlova was way too sweet.
The lesson here is: taste your components first. See how much of each would lead to that perfect bite then start piling them on!
Make a lemon pavlova this holiday season. It's a bright, light holiday dessert. Happy holidays!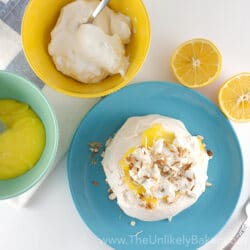 Lemon Pavlova with Toasted Almonds & Coconut
Lemon pavlova – meringue topped with lemon curd and whipped cream then sprinkled with toasted almond and coconut. A bright and delicious dessert!
Ingredients
For the Lemon Curd:
See recipe for homemade lemon curd below. You can also buy a jar of your favourite ready-made brand.
For the Whipped Cream:
See recipe for homemade whipped cream. You can also use ready-made.
Instructions
For the Meringue:
Preheat your oven to 275F.

Line a baking sheet with parchment paper and draw 4 circles on it that's 4 inches in diameter, leaving a space around each circle. Flip the parchment paper so that the marks are on the bottom and and set aside.

Using a handheld electric mixer or a stand mixer with the whisk attachment, beat the egg whites at medium high speed until you reach soft peaks.

Add the sugar a little at a time until you're almost at stiff peaks.

Add vanilla extract and white vinegar and continue beating until your meringue is stiff and shiny.

Transfer your meringue onto your lined baking sheet, scooping it into your 4 circles.

Bake for 45 minutes then turn off the oven and leave the meringues inside the oven overnight to dry.

Carefully lift the meringue off the parchment paper and store in an airtight container until you're ready to serve.
For the Lemon Curd:
See this recipe for homemade lemon curd. You can also buy a jar of your favourite ready-made brand.
Assembly:
Take your meringue and spread a good amount of lemon curd on top.

Put a dollop of whipped cream on top of the lemon curd then sprinkle with toasted almonds and toasted coconuts.
Notes
You can make the meringue and the lemon curd up to 3 days ahead. Just make sure you keep your meringue in an airtight container and your lemon curd in the fridge properly chilled.
Nutrition
Calories:
82
kcal
Carbohydrates:
14
g
Protein:
1
g
Fat:
3
g
Saturated Fat:
1
g
Polyunsaturated Fat:
1
g
Monounsaturated Fat:
1
g
Trans Fat:
1
g
Sodium:
4
mg
Potassium:
37
mg
Fiber:
1
g
Sugar:
13
g
Vitamin A:
1
IU
Vitamin C:
1
mg
Calcium:
12
mg
Iron:
1
mg
Nutritional information are estimates only.
Tried this recipe? Leave a star rating today!
Also tag @iamtheunlikelybaker I'd love to see your creations.
Happy baking!
Did you make lemon pavlova? What are your favourite lemon desserts? Tell me about it in the comments section below. I'd love to hear all about it.