This lemon ricotta muffins recipe is simple, easy to follow, and produces the softest, lightest, most lemony muffins. The toasted almond topping gives the perfect crunch and texture. Perfect with tea!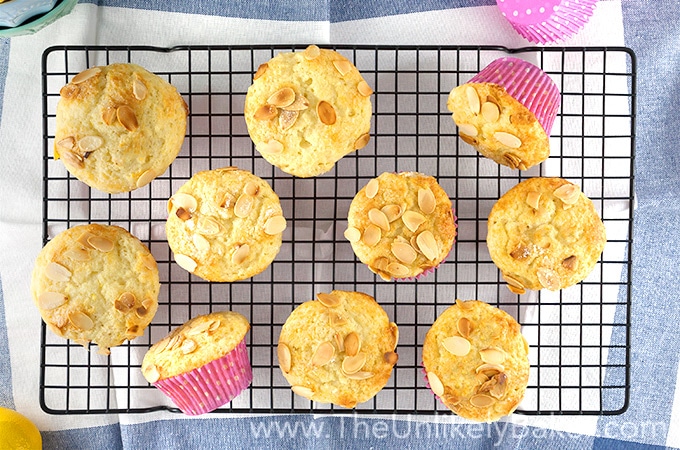 We all love Giada De Laurentiis, yes? I used to watch her show Everyday Italian and would be mesmerized as she made cooking look easy, simple and just so glamorous (unlike the chaos that is me in the kitchen lol).
Giada's lemon ricotta muffins recipe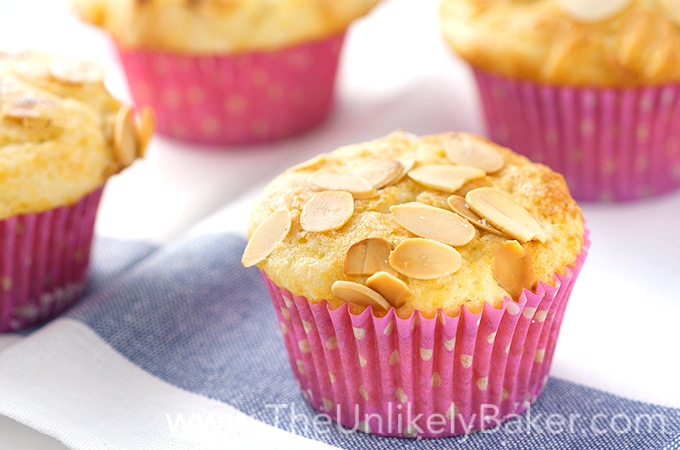 Anyway, I'm excited because this is the first recipe of hers I've attempted to bake (Red cooks off of her cookbooks all the time, to great success).
She actually calls this her Nonna's recipe so you already know it's going to be special. Grandma recipes always are. And it's perfect as expected. I changed very minor things – more as a personal preference. Let's get baking!
Muffins vs. Cupcakes
Before that, did you ever wonder what the difference between a muffin and a cupcake was? I always thought frosting = cupcakes but apparently it goes deeper than that. Muffins are considered healthier and closer to bread; cupcakes are, well, mini-cakes. And it has to do with how they are mixed too. Regardless, we like both!
Lemon and ricotta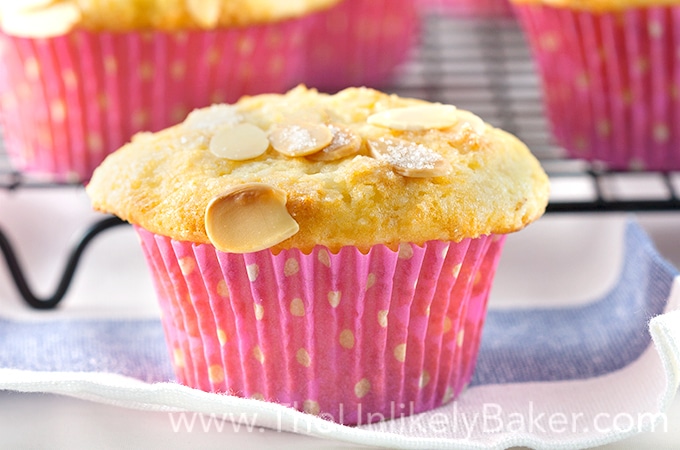 Anyway, back to these muffins. They are a treat for lemon lovers (and even for those who only like lemons a little bit). I consider ricotta as one of my magic baking ingredients (check out this Fresh Blueberry Ricotta Bars) and lemon and ricotta pair beautifully.
A most wonderful lemon ricotta muffins recipe
Click To Tweet
Toasted almonds
The original recipe calls for just sliced almonds but I decided to toast them – toasting brings out this unique flavor that complements the sweet and tangy lemon very well. So spend the extra 5 minutes and toast your almonds – you won't regret it.
I also did not add any almond extract. I'm not a big fan – though you can add it back in if you are. What I did on the other hand was up the lemon flavour by adding more lemon juice and I love how this muffin turned out…hope you do too!
Soft, light, delicious lemon ricotta muffins. Perfect with tea!
Click To Tweet
Lemon Ricotta Muffins Recipe
This lemon ricotta muffins recipe is simple, easy to follow, and produces the softest, lightest, most lemony muffins. Perfect with tea!
Ingredients
For the Cupcake:

2 cups all purpose flour
1/2 teaspoon baking powder
1/2 teaspoon baking soda
1/2 teaspoon salt
1 cup granulated sugar
1/2 cup unsalted butter, room temperature
1 tablespoon lemon zest
1 cup ricotta cheese
1 large egg, room temperature
4 tablespoons fresh lemon juice
For the Topping:

1/2 teaspoon granulated sugar
1/4 cup sliced almonds, toasted
Instructions
Preheat your oven to 350F. Prep a muffin pan by lining with paper liners (this recipe yields 12 muffins).
In a medium bowl, whisk 2 cups flour, 1/2 teaspoon baking powder, 1/2 teaspoon baking soda and 1/2 teaspoon salt. Set aside.
Using a handheld electric mixer or a stand mixer fitted with the paddle attachment, beat 1 cup sugar, 1/2 cup butter and 1 tablespoon lemon zest until pale and creamy (about 3 minutes on medium high speed). Scrape the bottom and sides of your bowl and add 1 cup ricotta cheese. Beat until combined.
Add the egg and 4 tablespoons fresh lemon juice until well incorporated. Again remember to scrape your bowl.
Add your flour mixture about a third at a time and stir on low speed until just blended (the batter will be thick and sticky).
Transfer and evenly divide your batter into your 12 muffin cups. Sprinkle with sugar and toasted almonds. Bake for 20 minutes or until the muffins turn a light golden brown and a toothpick inserted in the centre comes out with minimal crumbs.
Cool in the pan for 5 minutes then transfer to a wire rack to cool completely (or you can serve them warm).
https://theunlikelybaker.com/lemon-ricotta-muffins-recipe/
This delicious recipe brought to you by www.TheUnlikelyBaker.com | (c) 2016-2017
(Recipe adapted from The Food Network)
Happy baking!
Did you give this lemon ricotta muffins recipe a go? Tell me about it in the comments section below. I'd love to hear all about it. Check back in on Wednesday – a chocolate muffin recipe is on tap.
In the meantime, lemon lovers rejoice! There are more lemony goodness to be had:
And let's get social! Find me on Facebook, Pinterest, Instagram, Twitter, Google+ and Flipboard. Or subscribe so you don't miss a recipe. I promise I don't spam (I hate spam too).
Do you want to improve your food photography, monetize your blog or start your very own food blog? Check out my Blogging Resources.