Whip up a batch of these light fluffy lemon ricotta pancakes and start the day with sunshine on a plate! Bright lemon flavour, not too sweet, soft as a cloud.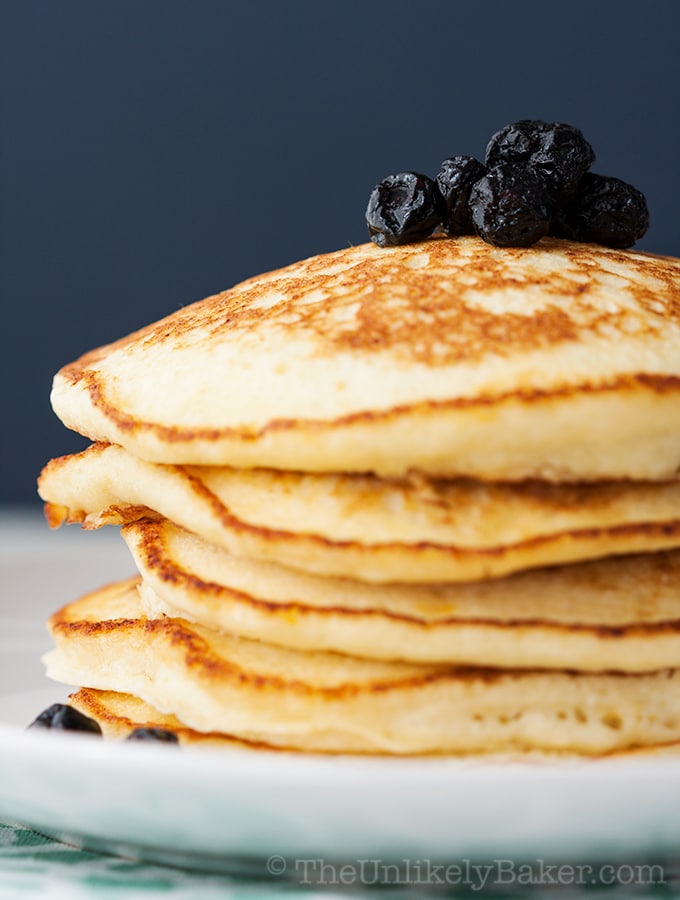 Hi! How are you? We're a week away from Christmas…are you all set?
As of today, we've already gone to three holiday parties. And have done zero minimal workouts. I think of it as Santa's gift to me lol.
If you're looking for a break from all the rich, decadent holiday food (all that glorious food), you've come to the right place!
I have these fantastic lemon ricotta pancakes for you. Light, bright flavours. Soft and airy. A most wonderful way to start the day.
So whether it's Christmas morning or just your regular Saturday, make a batch of these pancakes and start the day happy.
Official Pancake Maker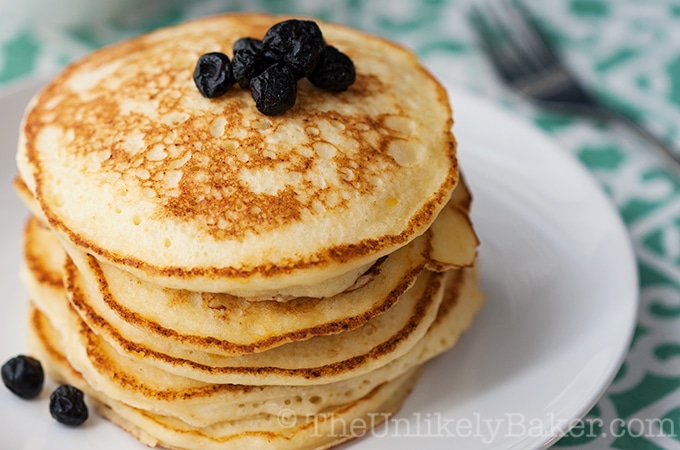 I want a proper Belgian waffle maker
for Christmas (Red, are you reading this?). We've owned a few over the years, each of which we returned to the store because, well, they suck.
I've been asking around so that our next one will be The One (do you have a recommendation?) but in the meantime, I've been busy experimenting with all kinds of pancakes, earning me the much coveted title of Official Pancake Maker.
Have you tried these?
While I love both of them, these light fluffy lemon pancakes are my favourite.
Light fluffy lemon ricotta pancakes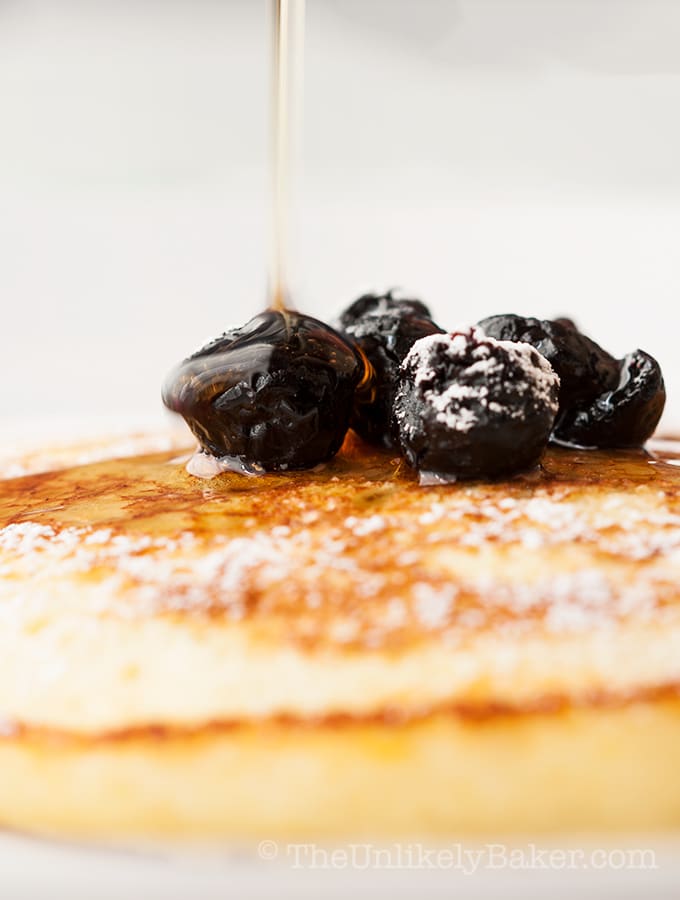 First because it's lemon. Those of you who've been with me since the start of TUB (thanks xoxo!) know I'm Team Lemon all the way (I have a whole category dedicated to lemons!).
But more than that, these pancakes are super soft and fluffy. You'd need to work the egg whites separately to give the pancakes their height and fluffiness but it's totally worth it.
Third, it's light and bright.
Pancakes are usually rich and decadent but these are not overly sweet and I find that I prefer not to drown them in maple syrup (don't judge me).
It's really a great recipe if you don't feel like eating dessert for breakfast (let's get real for a moment…I say no to dessert for breakfast too…sometimes…ok not very often…but it happens!).
Lemons > winter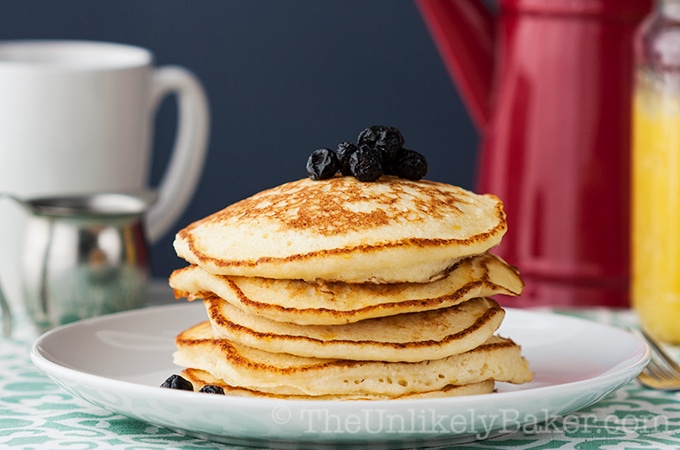 Most people bake and cook with lemons in the spring and summer but I really love working with them in the winter. Citrus fruits are at their best in the winter and how can you say no to cheerful yellow things in the midst of a snow storm?
Hope you try these lemon ricotta pancakes one weekend soon. They are happy dance-worthy.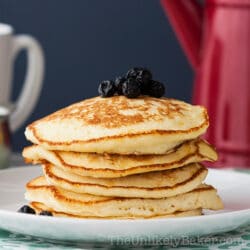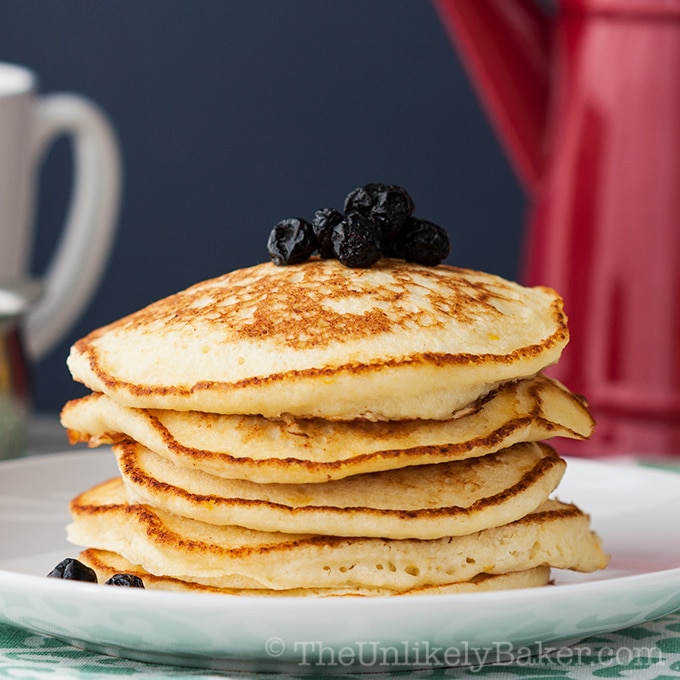 Light Fluffy Lemon Ricotta Pancakes
Whip up a batch of these light fluffy lemon ricotta pancakes and start the day with sunshine on a plate! Bright lemon flavour, not too sweet, soft as a cloud.
Instructions
In a large bowl, whisk 1 cup ricotta cheese, 1 cup milk, 3 egg yolks, ¼ cup sugar, 3 tbsp lemon juice and 1 tbsp lemon zest until smooth and fully incorporated. Set aside.

Using a handheld electric mixer, a stand mixer fitted with the whisk attachment or a large bowl and a balloon whisk, beat the 3 egg whites until foamy. Add ⅛ teaspoon salt and continue whisking until you reach soft peaks.

Prep your pan by placing it on the stove on medium heat so it's ready as soon as you mix your wet and dry ingredients. In the meantime, go back to your ricotta cheese mixture and sift 1 ½ cups cake flour, 1 tbsp baking powder, and the rest of the salt over it. Stir until just combined (see note 1).

Then gently fold your egg white mixture into your batter a third at a time. What you're looking for is a light, fluffy mixture.

Put some oil or butter (or a combination) into your pan and pour the pancakes ⅓ cup at a time. Cook until golden brown at the bottom (2-3 minutes) then flip. Cook another 1-2 minutes (see note 2).

Serve warm topped with maple syrup and your favourite toppings like dried blueberries.
Notes
Do not over stir the batter. At this stage, you're not looking for a smooth and creamy mixture. Little lumps of flour is OK.
Every stove is different so time and watch your first couple of pancakes to see what the right cook time is for you.
These pancakes freeze really well. Just put them in a Ziploc bag (separated with parchment paper so they don't stick together) and freeze. Then just microwave each pancake for about a minute (no need to thaw) and you'll have good-as-new lemon ricotta pancakes!
Nutrition
Calories:
141
kcal
Carbohydrates:
18
g
Protein:
6
g
Fat:
4
g
Saturated Fat:
2
g
Cholesterol:
61
mg
Sodium:
90
mg
Potassium:
185
mg
Sugar:
5
g
Vitamin A:
190
IU
Vitamin C:
2.1
mg
Calcium:
117
mg
Iron:
0.4
mg
Nutritional information are estimates only.
Tried this recipe? Leave a star rating today!
Also tag @iamtheunlikelybaker I'd love to see your creations.
Happy cooking!
Did you make lemon ricotta pancakes? What's your favourite kind of pancakes? I'd love to hear from you in the comments section below.
And let's get social! Find me on Facebook, Pinterest, Instagram or Twitter.