Mango graham cake is a popular dessert in the Philippines. Also called mango float, it's cold, sweet and so easy to make. Just layer graham crackers, sweetened cream, mangoes and enjoy.
(Are you a fan of refrigerator cakes like this one? They are the perfect summer dessert! Try strawberry refrigerator cake or, if you prefer peaches, try this peach icebox cake which is a peaches and cream dream.)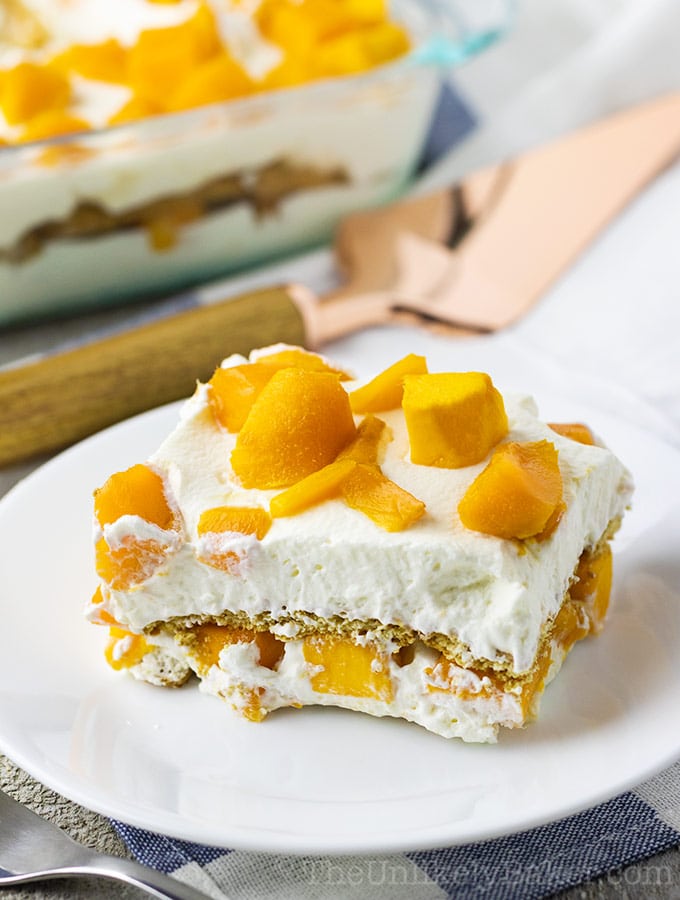 We have 4 different kinds of heat warnings as I'm writing this (seriously, they're saying to expect humidex values of 40C/104F and higher); I am so happy we're doing our No Bake Summer Series!
I cannot imagine prepping and baking a cake in this heat. Happy to report though – we can still have cake without turning our ovens on. Enter: this delicious mango graham cake.
What is mango graham cake?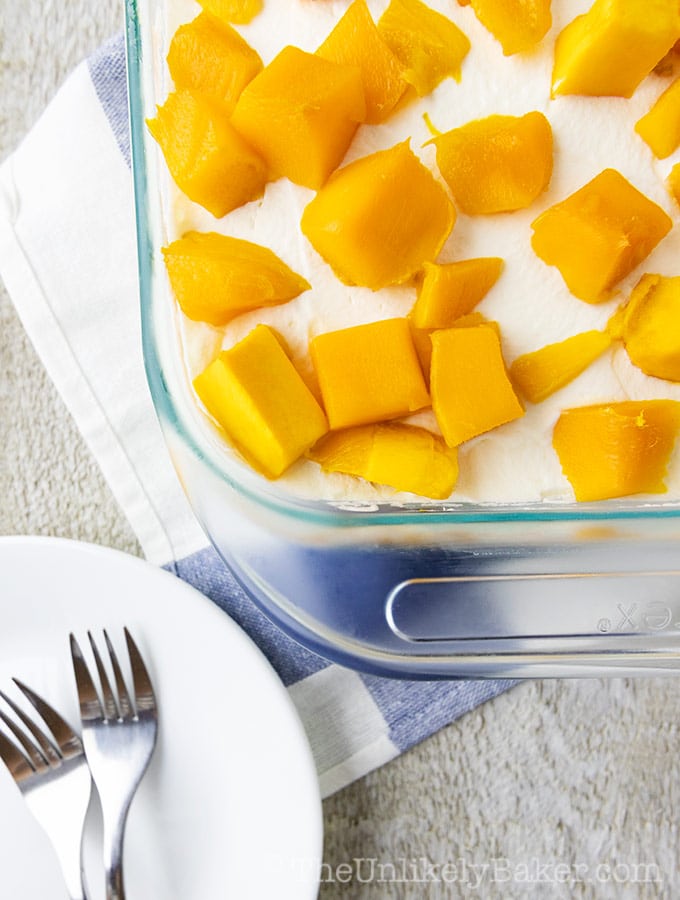 First of all, what is mango graham cake? It's simply a mango refrigerator cake or an icebox cake.
It's also sometimes called a mango float in the Philippines. Don't ask why. I tried to find the answer and there is nothing definitive.
Is it because the mangoes are floating in cream that look like clouds? I really have no idea.
Bottomline, graham cake just means no cooking or baking. Just refrigerating!
How do you make mango float?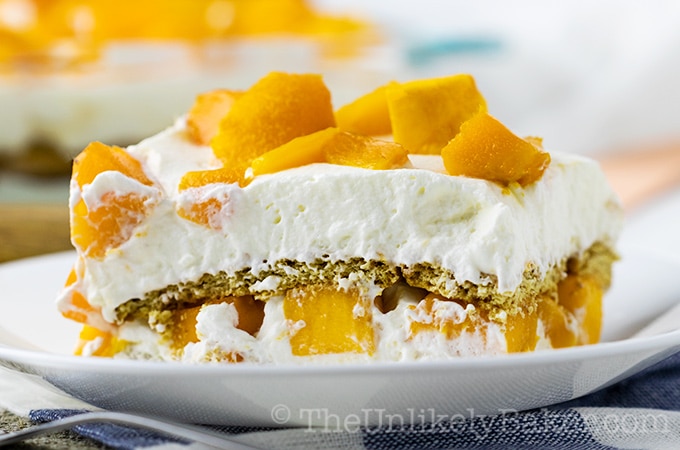 Whatever you decide to call this dessert, it's very easy to make.
It's all about the layers.
First you place graham cracker cookies on the bottom of your baking dish. It's important to cover the entire area so cut your cookies to fit the dish, if necessary.
Then you add your sweetened whipped cream. I like using an offset spatula
to even it out.
The diced mangoes come next (scroll below for step-by-step photos of how to dice mangoes). The key in this step is to properly estimate the amount of fruit – you don't want to run out. You want to have enough for the first and second layers.
Repeat. Chill. Devour.
Ingredients for this mango float recipe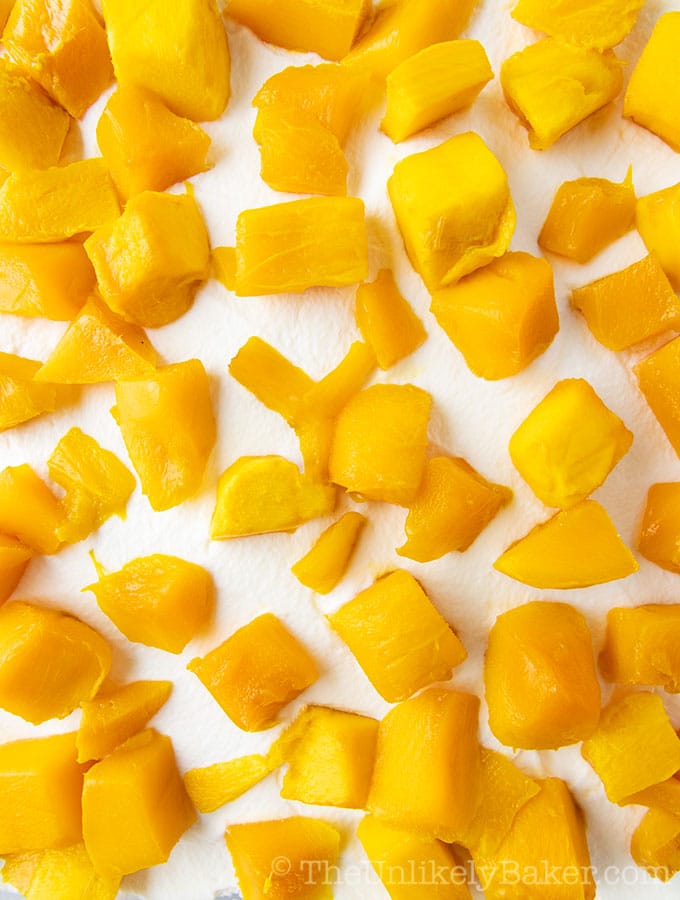 The ingredients for mango graham cake are simple too:
Heavy cream or whipping cream – you want to go with full fat (this means has fat content of at least 36%) because it whips better

Sweetened condensed milk
Graham cracker cookies – I like using whole wheat because it has a nutty taste but you can use regular ones if you like

Fresh, ripe mangoes
Tools you need to make mango refrigerator cake
You don't need special tools to make this cake either.
Just an 8×8 baking dish, an electric handheld mixer (a stand mixer works nicely as well), some bowls and spatulas.
Recipe FAQs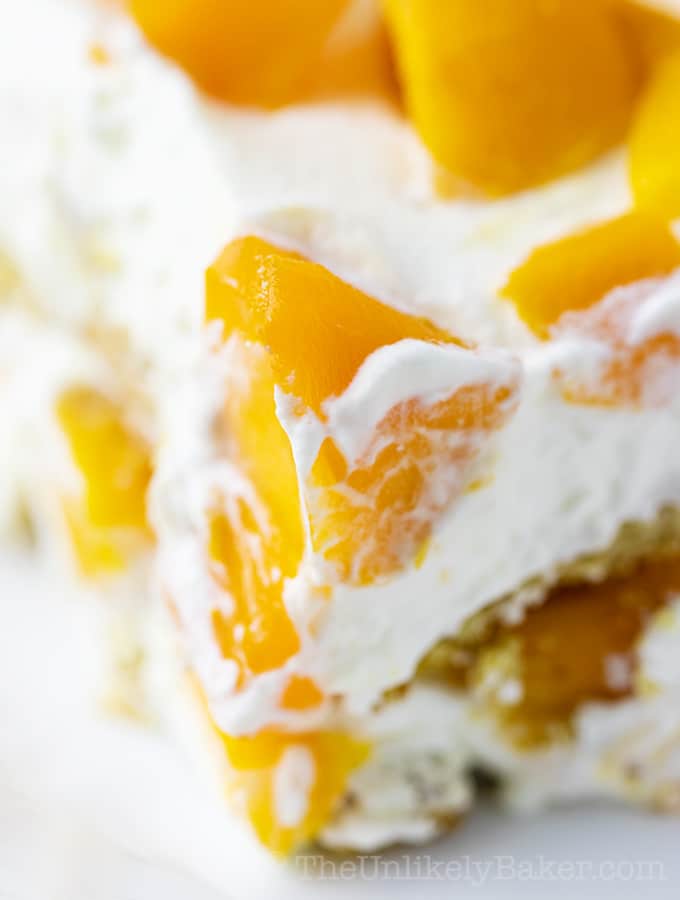 Mangoes and cream are fantastic together and this is a wonderful summer dessert. Perfect for impromptu BBQ parties or just your good old regular summer day snack.
The hardest part is the waiting! You have to allow it to set properly.
Here are more tips for you.
What is the best kind of mango to use for mango graham cake?
We Filipinos are mighty proud of our mangoes (they're the carabao mango variety). They are perfectly sweet and their meat is smooth and buttery. So if you can get hold of them, use those.
Sadly we don't get carabao mangoes here but we've found ataulfo mangoes come close in terms of sweetness and texture. It's the kind I always use in this mango graham cake recipe.
If you can't find either, just pick a mango that is sweet, ripe and whose flesh is soft not firm.
How to tell if a mango is ripe
The best way to tell if a mango is ripe is to smell the stem end of the fruit. If it smells aromatic and fruity, you're good to go. If you smell nothing, you may need to wait a few more days.
Also try to gently squeeze the mango. A ripe mango is going to give a little. If it doesn't, it's not ready.
How to cut a mango
Different people cut mangoes differently. And this has always been how we did it. Specifically, this is how my dad does it.
It not only gives you an easy way to get the most mango meat and an easy way to dice it, it's also fun! Which is I think the main reason my dad started doing it this way – us kids had a blast looking at it and eating it.
Step 1: Wash and dry the mango. Position the mango stem side up and cut each cheek as close to the pit as possible.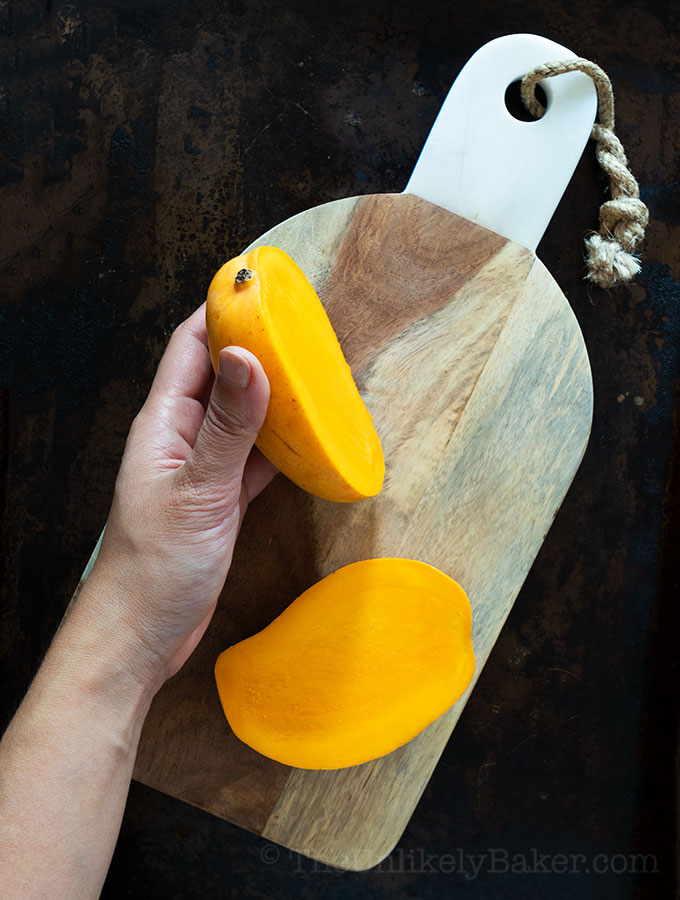 Step 2: Make horizontal (or vertical, start whichever way you prefer) slices on each piece without cutting through the skin.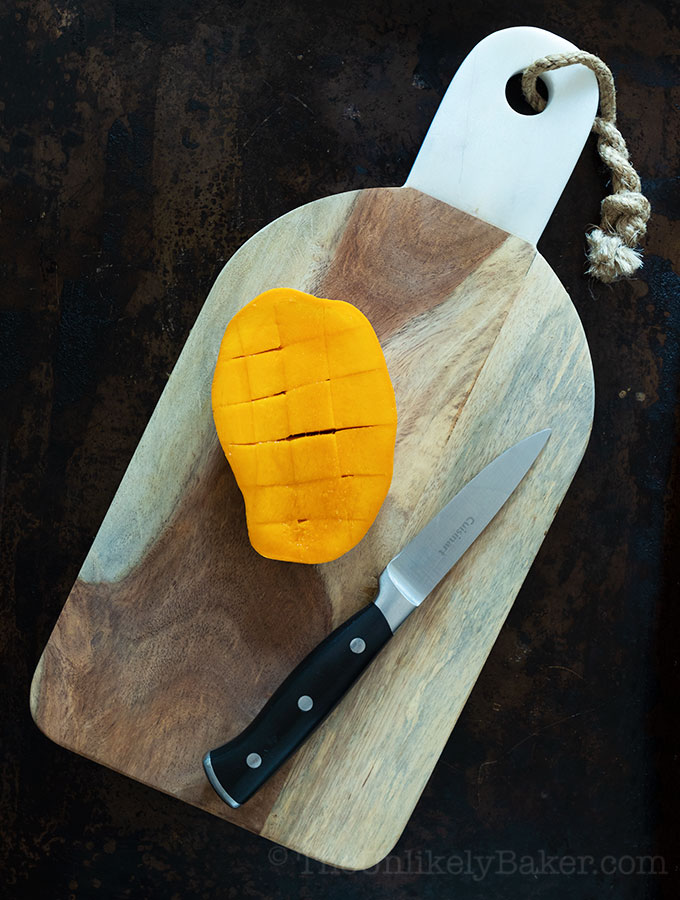 Step 3: You can scoop the flesh from the skin at this point but we like to open the mango up like a flower (pretty!).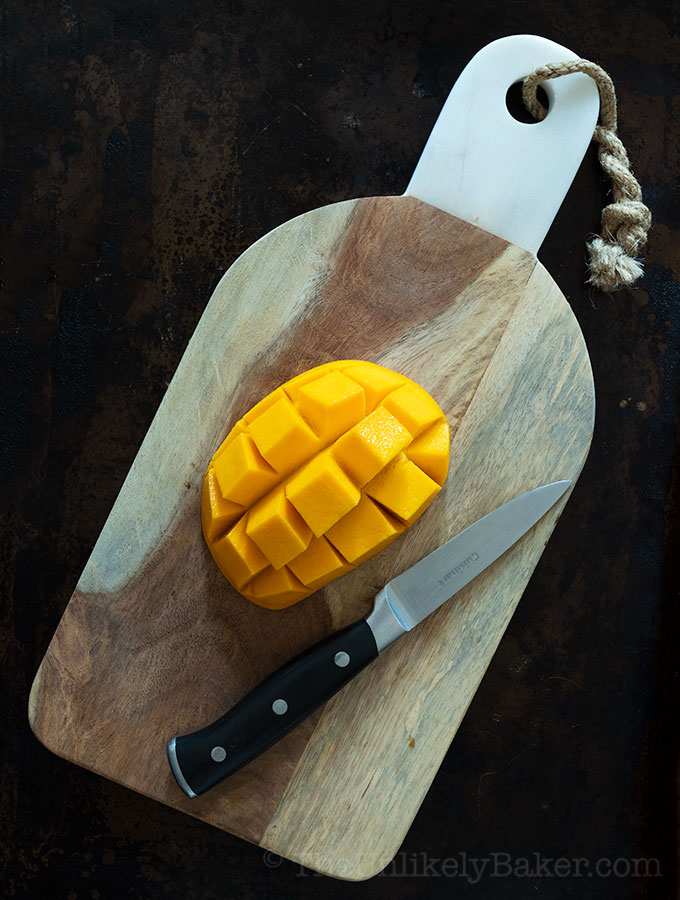 Step 4: And then we scoop the diced pieces. We normally just peel and slurp on the pits but you can also slice some of the meat remaining there.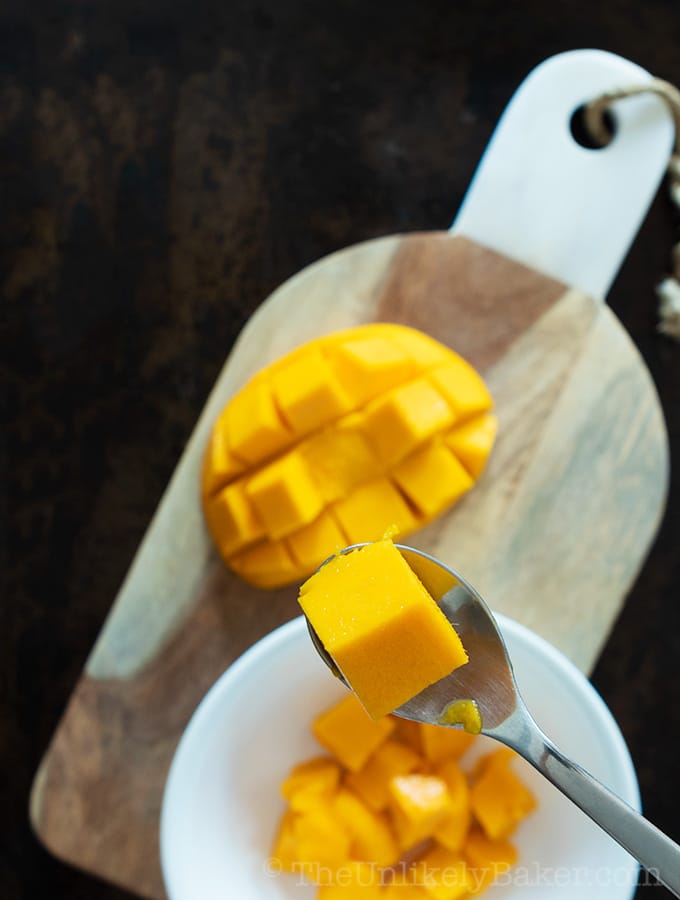 Can I use ready-made whipped cream?
Yes, you can use ready-made whipped cream to make mango float. I personally like the taste and texture of homemade whipped cream though so I always make my own.
Also note that ready-made whipped cream is already sweetened so you may not need to add as much condensed milk. Taste as you go.
Can I use frozen mangoes?
When making mango graham cake or any kind of icebox cake, use fresh fruit as much as possible. Frozen fruit has too much moisture in them and you don't want all that extra water seeping into your beautiful cake.
If fresh fruit is not an option, try canned, like peaches. Just make sure to drain properly and remember that canned fruit is already swimming in sweet syrup. Adjust the recipe accordingly.
Can I freeze the mango float instead of chilling it?
I usually just chill my mango float in the fridge overnight. When I'm ready to serve, I just bring it out and slice. The cake slices are not perfect but the cake is creamy and delicious.
However, feel free to freeze them. Just note that if you do: treat it like how you would ice cream cake – thaw a little before serving. And note that the mangoes will be frozen too.
Other delicious mango dessert recipes
I love mangoes. If you do too, you will love these delicious mango desserts.
This no-bake mango cheesecake is another delightful mango dessert that doesn't require any baking. It's bright, light and so summery!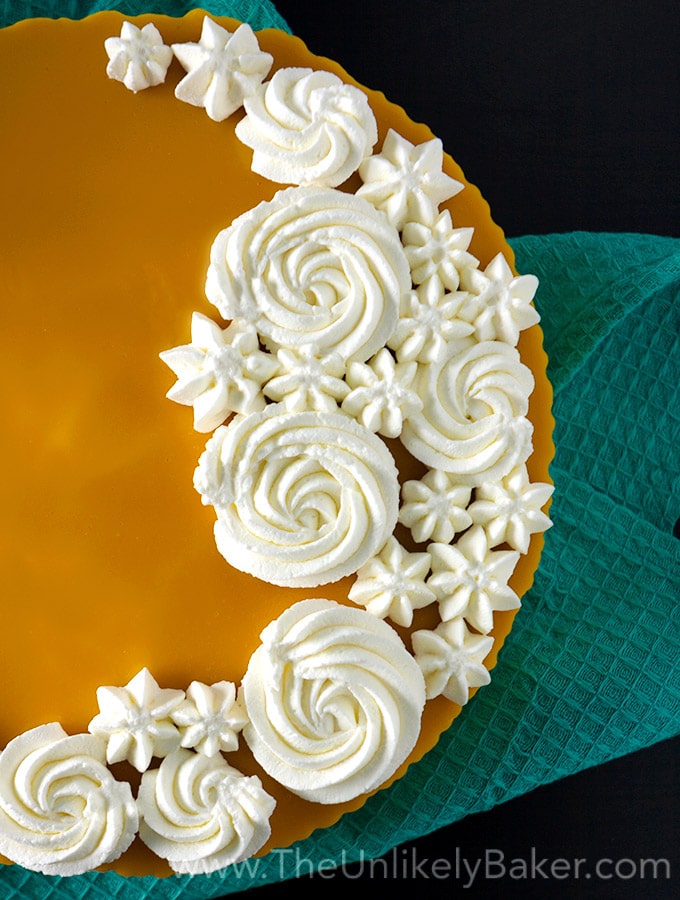 If you're looking for something even simpler, nothing can get any easier than this 2-ingredient fresh mango mousse. Two ingredients, 30 minutes in the fridge, done!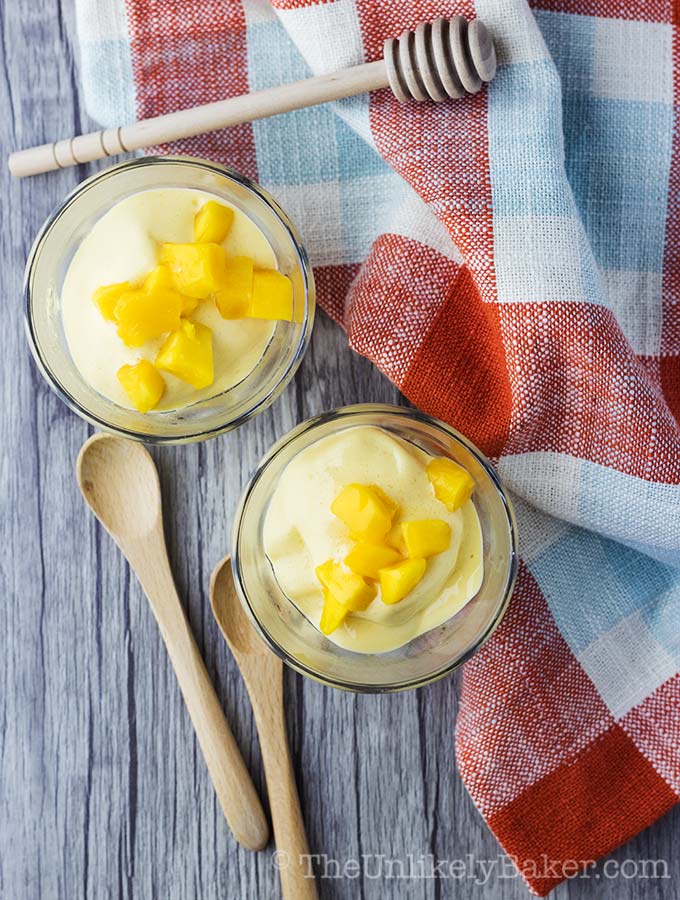 These mango bars are perfect for picnics, everyday snacking and even holiday baking!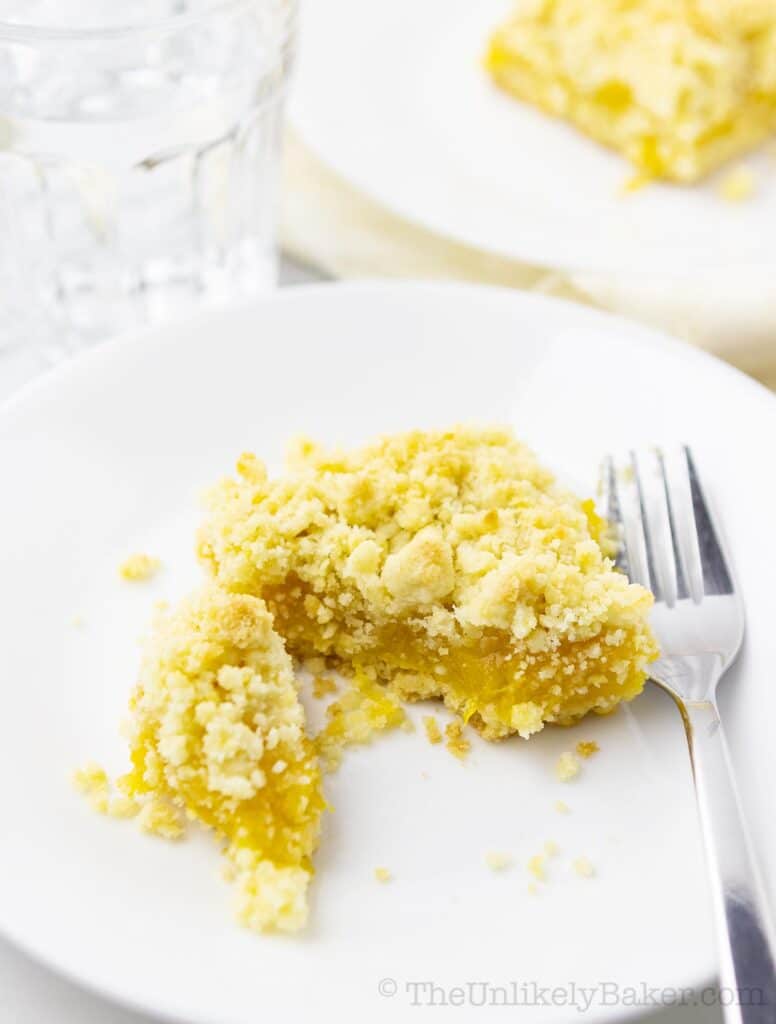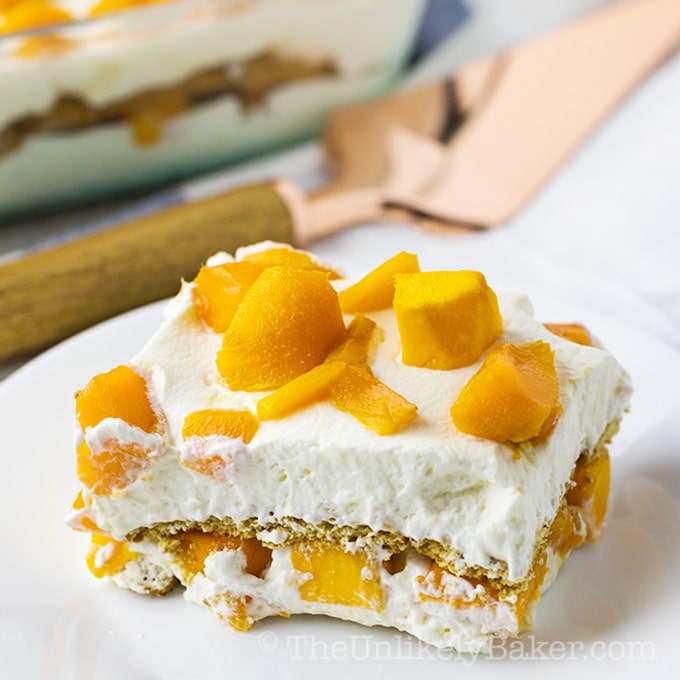 Mango Graham Cake – Filipino Mango Float Recipe
Mango graham cake or mango float is a popular dessert in the Philippines. It's cold, sweet and so easy to make. Just layer graham crackers, sweetened cream, mangoes and enjoy.
Ingredients
2

cups

heavy cream

see notes

2-4

tbsp

condensed milk

to taste, see notes

Graham crackers

see notes

flesh from 3-4 ripe mangoes

cubed, see post to see how to cut mangoes
Instructions
Switch to low-medium speed and drizzle the condensed milk a little at a time. Add more until you get the sweetness you want. Once you're satisfied, switch back to medium-high speed and beat until smooth and stiff.

Place a layer of graham crackers at the bottom of a deep 8×8 baking dish. Evenly spread a heaping cup of cream on top of your graham crackers. Then put a layer of diced mangoes on top of that.

Repeat by covering the mangoes with graham cracker cookies. Be sure to cover the entire layer; cut the cookies to fit. Then cover with another layer of cream and top with more mangoes.

You now have two options: you can either (1) freeze or (2) chill the cake in the fridge overnight. Freezing will result to a more ice cream cake-like end product which you would have to thaw several minutes before serving. Chilling will result to a creamy, ready-to-eat cake out of the fridge (see notes).
Notes
Tip for whipping the cream – put the bowl and the whisk you're going to use in the fridge for about 15 minutes before you plan to start whipping. This way your cream stays cold longer and easier to work with.
How much condensed milk you use depends largely on how sweet your mangoes are and how sweet you want your cake to be. Adjust to taste.
The graham crackers I use are squares (see video). I used a total of 21 cookies to fill my 8×8 inch baking dish.
If you choose to freeze the cake: treat it like how you would ice cream cake – thaw before serving. And note that the fruit will be frozen too.
Nutrition
Calories:
111
kcal
Carbohydrates:
2
g
Protein:
1
g
Fat:
11
g
Saturated Fat:
7
g
Cholesterol:
42
mg
Sodium:
14
mg
Potassium:
32
mg
Sugar:
1
g
Vitamin A:
444
IU
Vitamin C:
1
mg
Calcium:
26
mg
Nutritional information are estimates only.
Tried this recipe? Leave a star rating today!
Also tag @iamtheunlikelybaker I'd love to see your creations.
Happy no-baking!
Did you make mango graham cake? I'd love to hear from you in the comments section below.