Chewy M&M cookies are the best kind of chocolate cookies — soft and chewy, so chocolatey and a breeze to make! Use holiday M&Ms and you'll have cookies that will be the star of your Christmas cookie tray.
(Love M&Ms? Check out this recipe for M&M cookie bars. Quick and easy to make, they're perfect last-minute holiday treats.)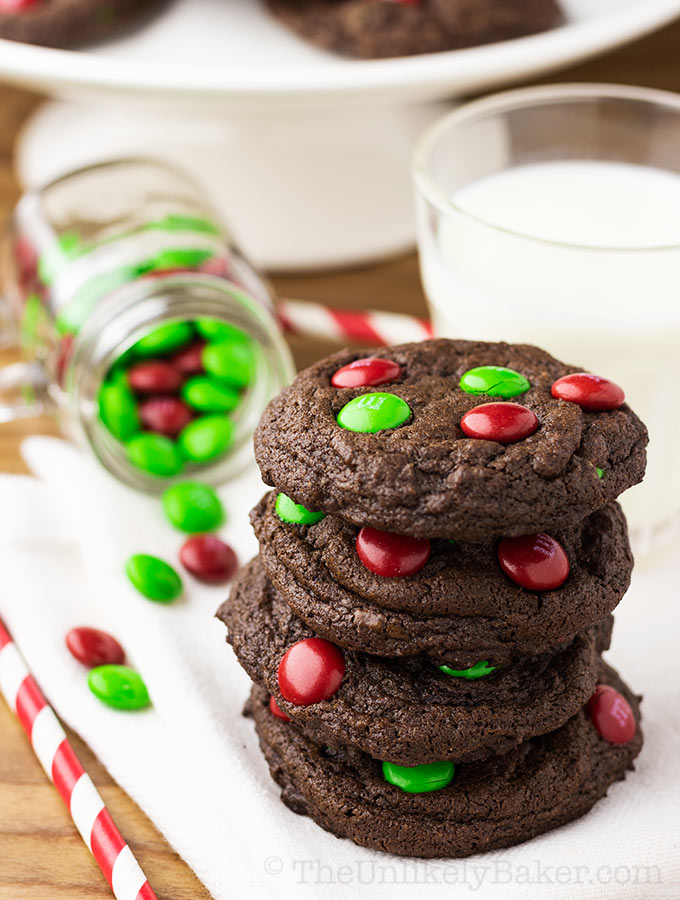 'Tis the most wonderful time of the year — cookie season! Cookies are an awesome treat to have on a normal day but something about the holidays makes baking and eating them extra special.
So for the next little while, we're going to be busy baking cookies, cookies and more cookies! We start with soft and chewy M&M cookies. Made with Christmas M&Ms, they are fun, festive and so good.
They're so easy to make too! Just watch the video or go through the step-by-step photos. They will become your new cookie favourites.
What makes chocolate chip cookies chewy?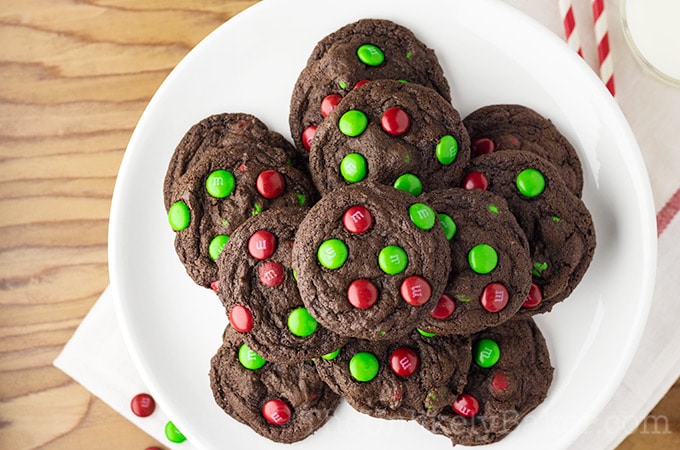 There are two kinds of cookie monsters in the world: the crunchy cookie fans and the chewy cookie lovers. I've always been Team Soft and Chewy Cookies myself; to me, crunchy cookies are crackers. Weird? LOL!
Anyway, if we're on the same team, have you ever wondered what makes our favourite cookies soft and delightful?
You will get different answers from different bakers and I'm sure everyone has that one single tip or trick from their grandma that works for them.
My personal experience has been: 1) use brown sugar 2) always use room temperature ingredients and 3) err on the side of under-baking the cookie.
I share more tips in my recipe for chewy double chocolate chunk cookies. And if you want to read up on the science behind it, check out this article and this cookie chemistry experiment.
How to make soft and chewy M&M cookies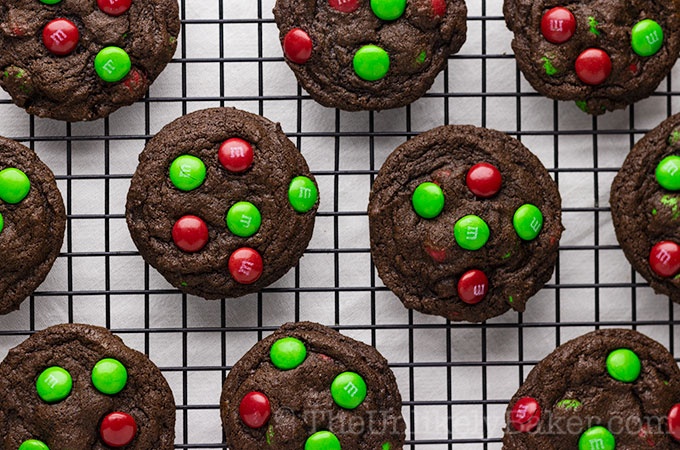 Don't worry though, these M&M chocolate cookies don't require any experiments or further study. I've already tested the recipe for you!
And the resulting cookie is packed with chocolate flavour, has just the right amount of chewiness without falling apart, not too sweet, and pretty besides. Let's get to it. (For the detailed recipe, scroll to the bottom of the page to find a printable recipe card.)
1. PREP YOU PAN. Preheat your oven to 350F. Line a cookie sheet with parchment paper and set aside.

2. MIX DRY INGREDIENTS. In a large bowl, whisk flour, cocoa powder, baking soda, baking powder and a pinch of salt until incorporated. Set aside.

3. MIX WET INGREDIENTS. Using an electric handheld mixer (like in the video) or a stand mixer fitted with the paddle attachment (like in the step-by-step photos), beat butter, brown sugar, egg and vanilla extract until combined. The mixture will look a little grainy and that's OK.

4. COMBINE WET AND DRY INGREDIENTS. Pour your flour mixture into your butter mixture and gently stir until combined.
5. ADD M&M CHOCOLATE. Add your M&M's to the cookie dough and gently fold until evenly distributed.

6. TRANSFER TO COOKIE SHEET. Scoop a heaping tablespoon of cookie dough batter and place on your prepared cookie sheet, making sure there's at least 1-2 inches of space around each cookie. Take a few pieces of M&M's and place them on top of each cookie, careful not to flatten the cookie too much (the cookies will spread on their own).

7. BAKE AND COOL. Bake for 8-10 minutes or until just set. Cool your cookies on the cookie sheet until they are sturdy enough to move to a cooling rack to cool completely.
Ingredients for double chocolate M&M cookies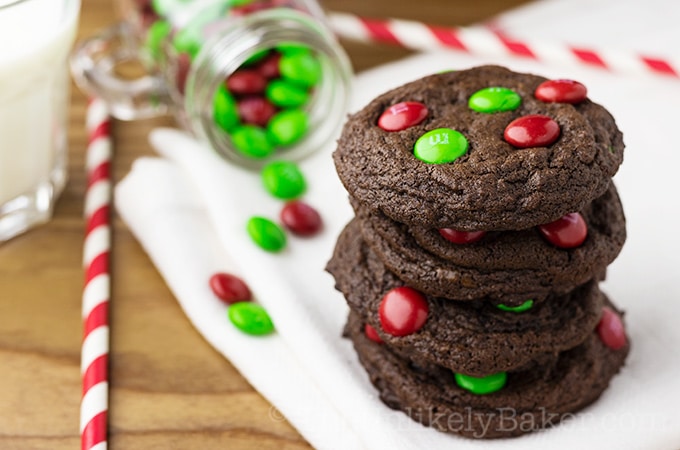 This site contains affiliate links. As an Amazon Affiliate, I earn commission from qualifying purchases. See Terms of Use for more information.
To make cookies with M&M's, you'd need:
You can use any variety of milk chocolate M&M's.
Buy holiday M&M's
if you're baking these for Christmas, pastel M&M's
if you're making a batch for Easter (like the ones I used for these fun Easter dessert for kids), or just everybody's favourite regular M&M's.
Tools you need to make M&M chocolate cookies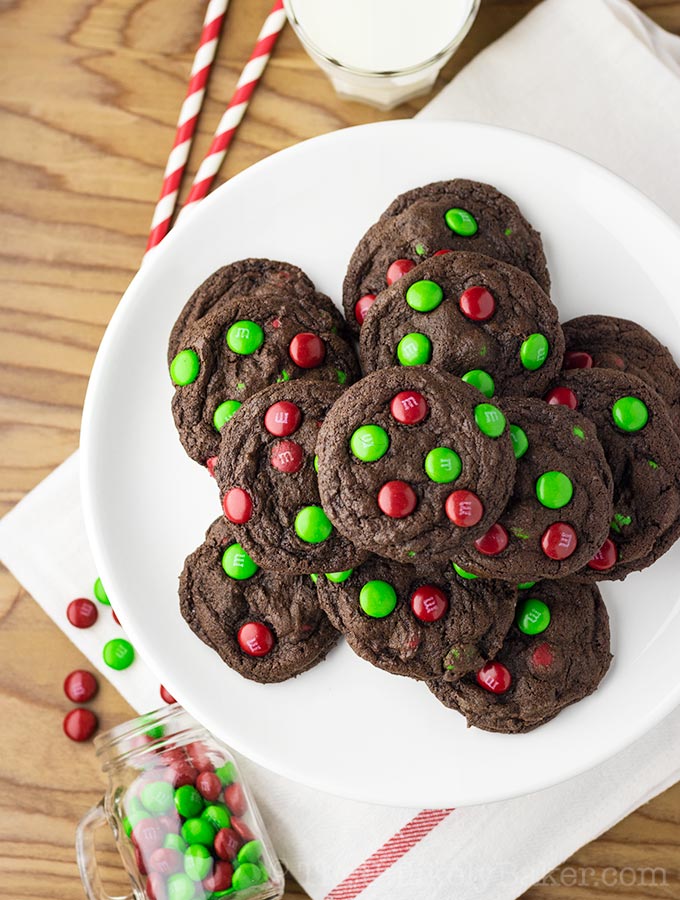 This site contains affiliate links. As an Amazon Affiliate, I earn commission from qualifying purchases. See Terms of Use for more information.
You don't really need special tools to make these cookies. Although if you're wondering about what I use, I'm happy to share!
What is the best way to store cookies?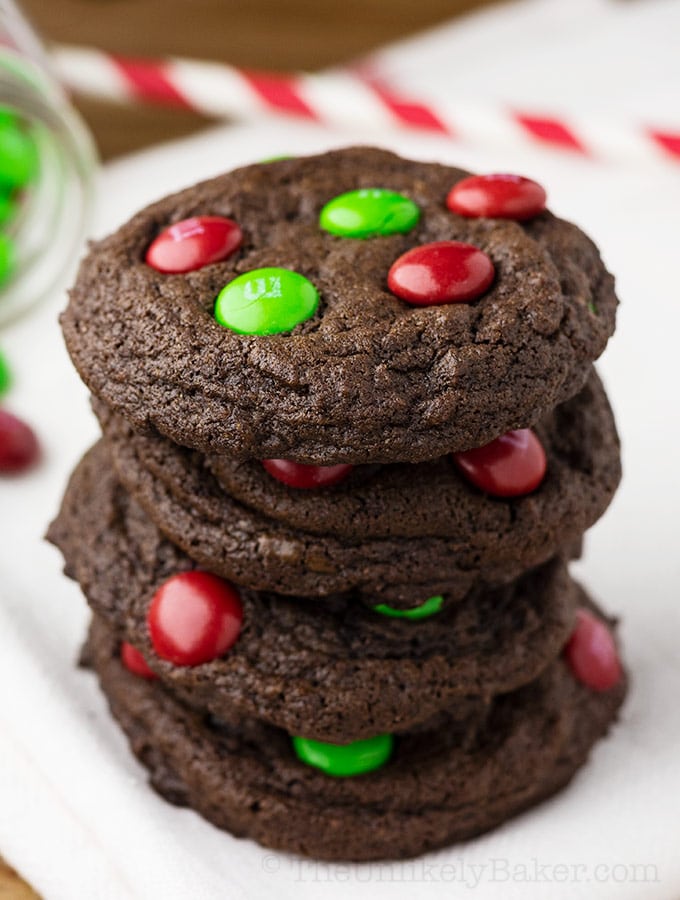 I usually keep my cookies in an airtight cookie jar and to keep that perfect texture, I place a piece of white bread in there with them. The cookies absorb the moisture from the bread, helping keep them chewy longer.
For these M&M cookies though, I've found that the best way to store them is in the fridge. We love to eat them chilled!
Other Christmas cookie recipes
Looking for other cookie recipes for your Christmas cookie tray or holiday cookie swaps? Here are some favourites:
Hope you enjoy baking these M&M cookies. Get the kids involved and make a day of it! They're fun to make, fun to give away, even funner to eat.
Happy baking!
Did you make chewy M&M cookies? I'd love to hear from you in the comments section below.
And let's get social! Find me on Facebook, Pinterest, Instagram, Twitter and Flipboard.