This peach icebox cake is a peaches and cream dream. Buttery graham crackers, cool whipped cream, and sweet cinnamon peaches make this a fabulous, no bake treat.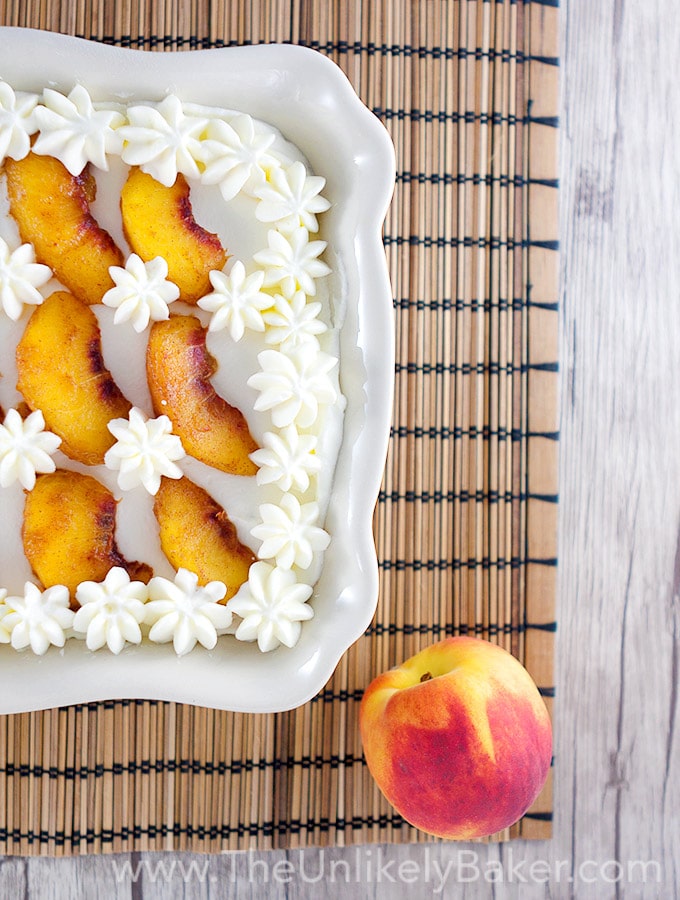 Welcome to week 3 of our No-Bake August (can you believe it's mid-August already? I think I'm going to cry).
We went on a peach rampage this summer. We were so afraid they're suddenly going to disappear that we keep buying them and forgetting that we still had some at home. So what to do when you're overrun? Peach icebox cake.
Peach icebox cake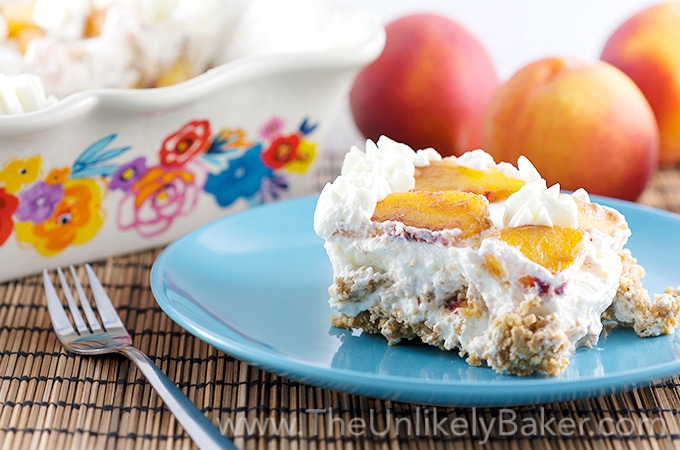 I shared my mom's recipe for a traditional Filipino refrigerator cake a while back. That was made with strawberries but can easily be subbed with whatever was in season, like peaches.
Though I love my mom's recipe, I do like a more substantial graham cracker crust so for this peach icebox cake, I made the crust thicker. And I've been on a peaches + cinnamon kick lately so I added that too.
For a more traditional, straightforward route check that recipe. For a slightly different version of peaches and cream, this is the recipe for you.
Dreamy, creamy, delicious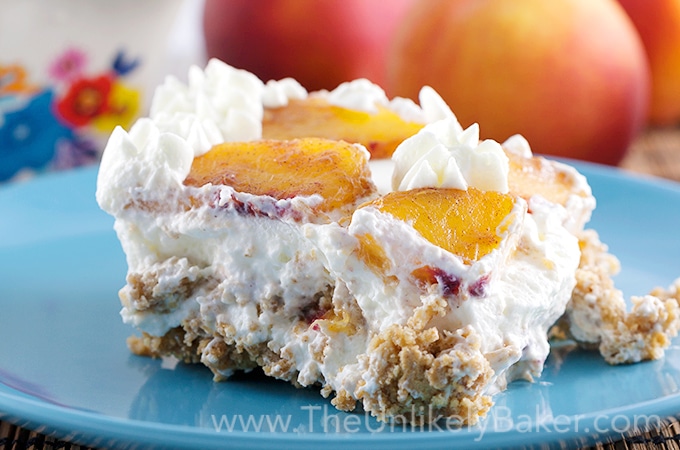 This peach icebox cake is a peaches and cream dream. A fabulous no-bake treat!
Click To Tweet
Peaches and cream is a match made in kitchen heaven. They just go so well together. Add graham crackers to the mix and you have an icebox cake that's so easy to put together and so good. It looks nice too so it's always a great dessert to serve when you have company.
Quick, easy, delicious, no-bake. What else can you ask for? Enjoy! Hope you're having a fantastic summer.
No Bake Fresh Peach Icebox Cake
This peach icebox cake is a dream. Buttery graham crackers, cool whipped cream, and sweet cinnamon peaches make this a fabulous, no bake treat.
Ingredients
2 cups graham cracker crumbs
1/2 cup unsalted butter, melted
2 cups heavy cream, chilled
Condensed milk, to taste
2 pounds ripe but firm peaches, peeled and sliced into wedges
1/4 teaspoon ground cinnamon
Graham cracker cookies
Instructions
Combine 2 cups graham cracker crumbs with 1/2 cup melted butter until the crumbs are evenly moist. Spread and press evenly onto the bottom of your freezer-safe dish (I used a 2L baking dish) and freeze while preparing the rest of your ingredients.
With the mixer on medium-high speed, beat 2 cups heavy cream to medium peaks. Switch to low speed and drizzle your condensed milk. Start with 1/4 cup and taste - add more if needed.
Just before assembling your cake, toss your peaches with 1/4 teaspoon cinnamon and set aside.
Bring out your dish from the freezer and start assembling: spread cream on top of your graham crust, top with peaches, then top with graham cracker cookies. Repeat for another layer.
Chill overnight or until set.
Notes
To make whipping your cream easier and quicker, chill the bowl and whisk you're going to use at least 15 minutes before you plan to use them.
https://theunlikelybaker.com/peach-icebox-cake/
This delicious recipe brought to you by www.TheUnlikelyBaker.com | (c) 2016-2017
Happy no-baking!
Did you make peach icebox cake? Tell me about it in the comments section below. I'd love to hear all about it. What's your favourite icebox cake?
Other no-bake treats for you:
And let's get social! Find me on Facebook, Pinterest, Instagram, Twitter, Google+ and Flipboard.
Or subscribe so you don't miss a recipe. I promise I don't spam (I hate spam too).
Do you want to improve your food photography, monetize your blog or start your very own food blog? Check out my Blogging Resources.