You can make any cake a rainbow cake – you just need a basic white or yellow cake, lots of bowls, a little patience, and the colours of the rainbow. A happy disposition is recommended (but optional).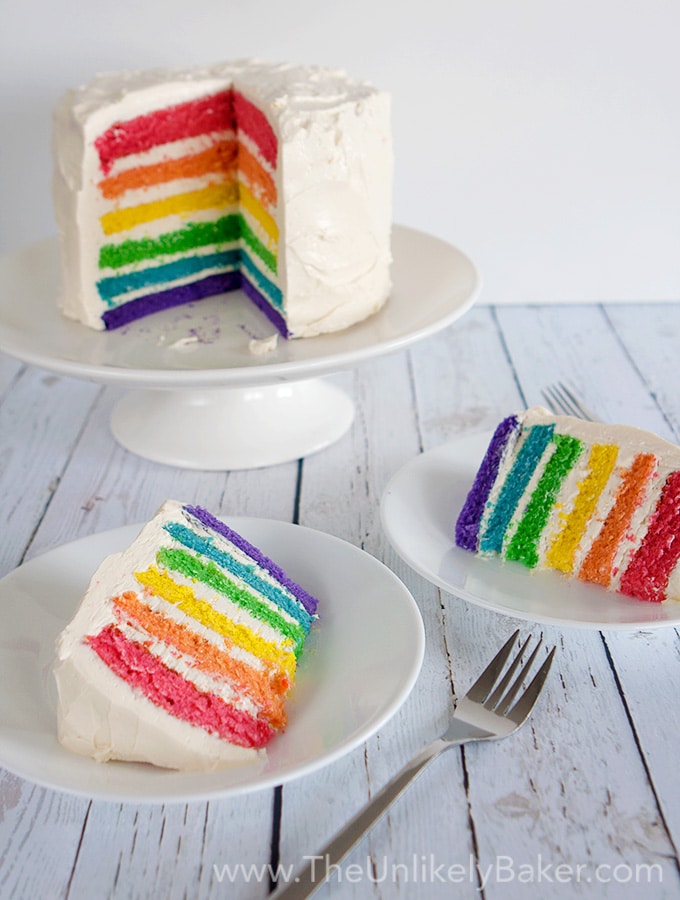 Toronto is a remarkable city.
If you haven't been to visit, let me tell you, the things you hear about it are true – it's clean, it's safe, people are polite.
It is such a welcoming city, too – no matter the colour of your skin, no matter your religion (or lack thereof), no matter your ethnicity or sexual orientation, Torontonians accept you for who you are.
Happy Pride!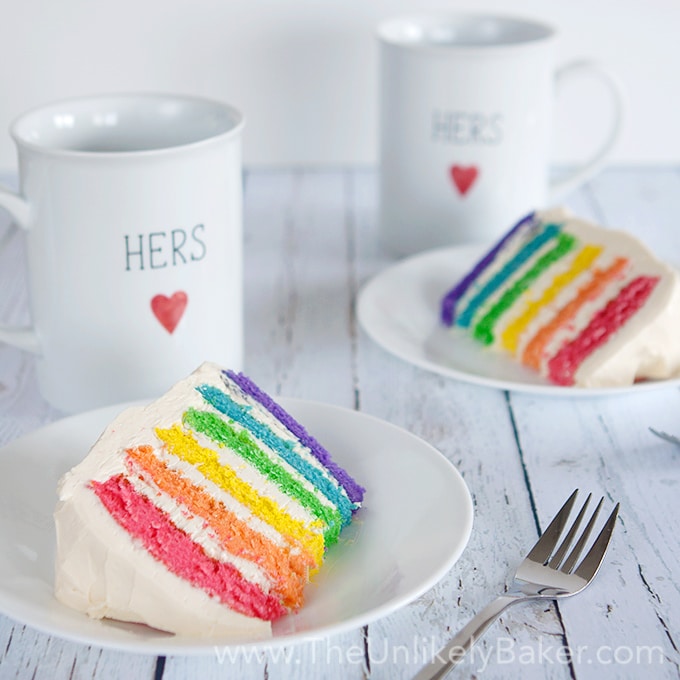 In fact, we celebrate our diversity, it's what makes our city unique. And this is most apparent during Pride Week.
Pride used to be just about LGBTQ (and it still is) but it's evolved to become even more inclusive. And it culminates in a Pride Parade where a million people are out on the streets, just being themselves, having a grand time.
This year though, they've decided to make it Pride Month, starting today. And what better way to kick off celebrations than with cake? (Cake is always the answer).
And what better cake to celebrate with than a rainbow cake?
Your favourite cake, rainbow-fied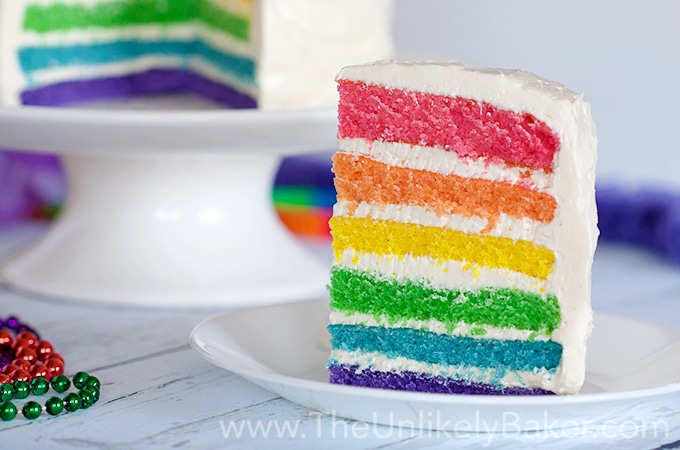 A rainbow cake looks intimidating (6 layers!) but it's really just your favourite white or yellow cake (in my case, I used my favourite vanilla cake) that's divided into 6 layers and tinted the colours of the rainbow.
It takes time and patience but the end result is worth it.
Rainbow cake tips and tricks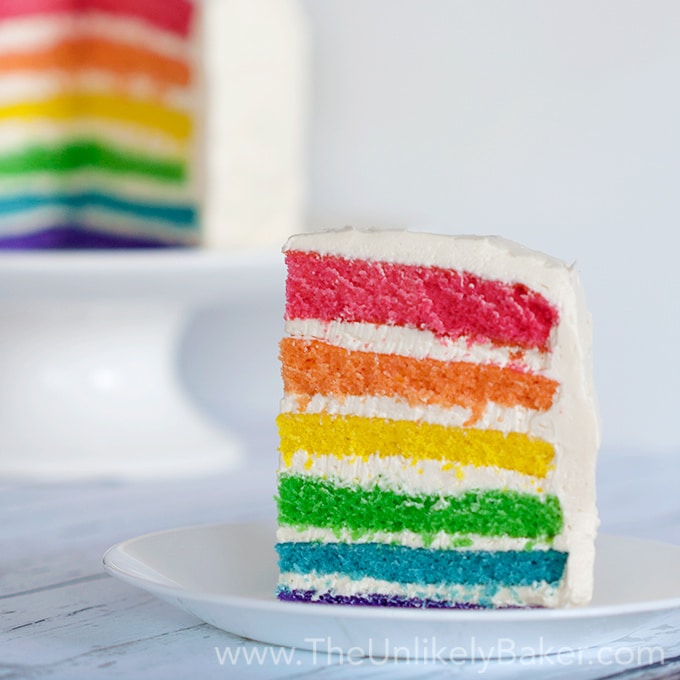 You can't just take any cake and tint it though. There are some things you need to keep in mind:
Since this is going to be a 6-layer cake, the cake you pick has to be dense. Stay away from the soft and too moist cakes because after the 4th layer, your cake might not be able to support any more and either sink, sag or just collapse.
Pick a cake that has enough batter to be divided into 6. You want layers, not pancakes.
When dividing the batter, use a kitchen scale. You can eyeball it but do you really want to take the chance and end up with uneven layers? A kitchen scale is very useful here. You can get one for less than $20.
When dividing your batter, remember that there will be residue batter left on the bowl or the cup you're using to transfer or the spatula you're using to scrape. So if you have a total batter of 1300g / 6 = 216.67, don't transfer exactly 216.67 to each bowl because you won't have enough for your last one. Transfer a gram or two under to account for rogue batter.
If you don't have enough pans, don't be tempted to use different sizes and plop them into the oven all at once. And you can't let the batter sit in the bowl waiting for the first batch to bake because the ingredients are reacting to one another more than they should. You'd need to divide the recipe and make only enough for the pans you have (i.e. if you only have 2 8-inch pans, you will have to divide the recipe into 3 so you'll make it 3 times).
You need to use gel food colour. The liquid kind just won't be vibrant enough and you'll need to use a lot, which will put too much unnecessary liquid into your batter.
Once your cakes are baked, trim the top as well as the sides. Not only to ensure they are even, but also to ensure you get the burnt/brown spots out of there.
Rainbow cake frosting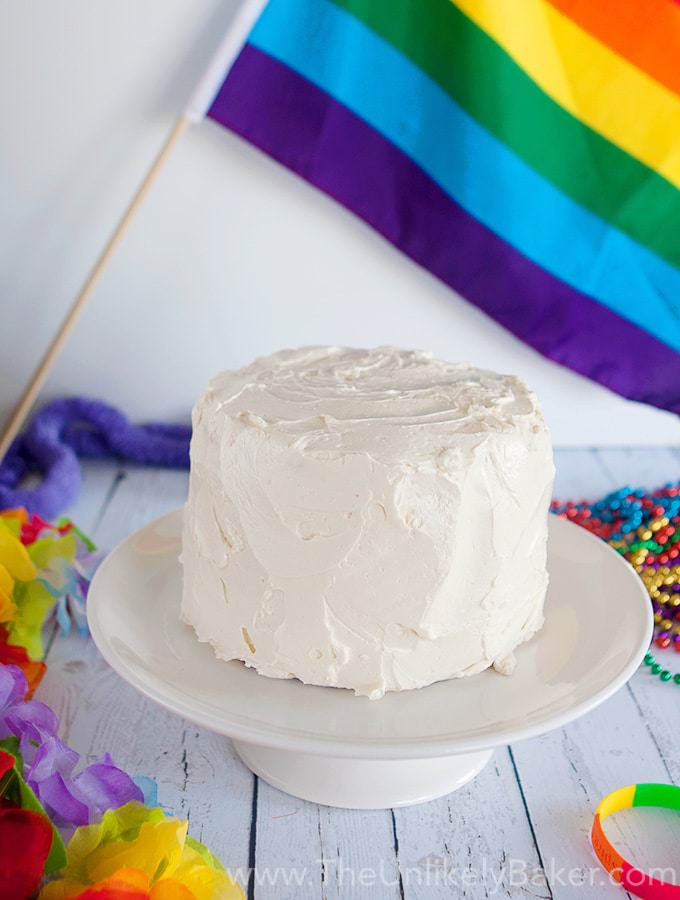 Now what to frost your cake with. I say pick your favourite frosting and go with it!
White is always stunning with the rainbow colours but hey, it's your rainbow cake and it's all about celebrating who you are and what makes you happy. Just make sure you have enough frosting to frost between and all over your cake.
In my case, I used my go-to Swiss Meringue Buttercream and it went perfectly with my vanilla rainbow cake. It was delicious.
Step back and bask in the colours of the rainbow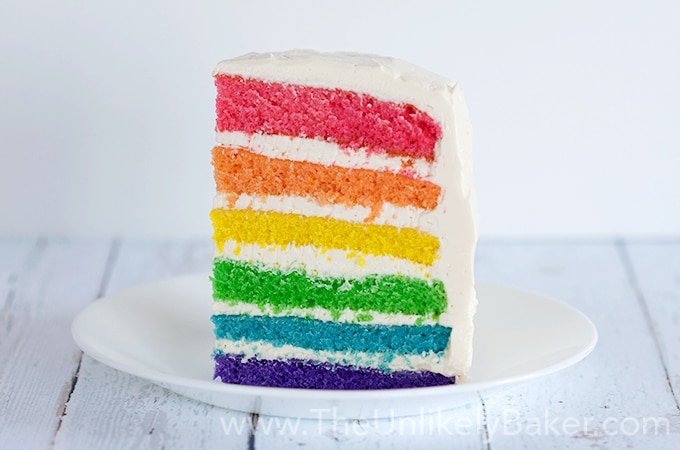 I know it looks like a lot of work but when you get into it, it's really not that difficult.
And the moment you cut into the cake and your exquisite layers look right back at you – take a moment and pat yourself in the back. Well done you.
So do your planning, bake this cake and wow your guests, birthday celebrant, yourself.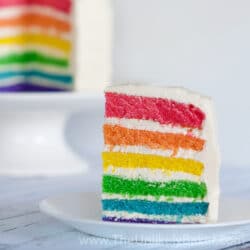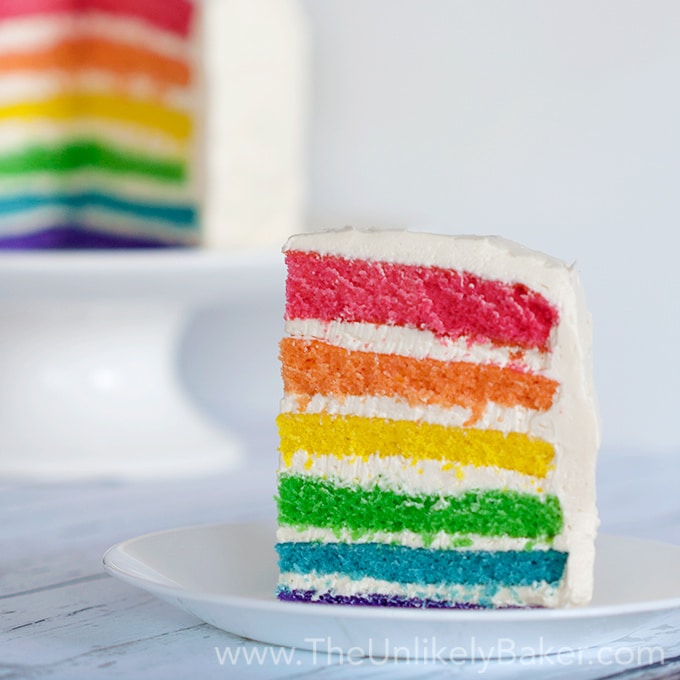 You Can Make Any Cake a Rainbow Cake
You can make any cake a rainbow cake – you just need a basic white or yellow cake, lots of bowls, a little patience, and the colours of the rainbow.
Ingredients
For the Frosting:
You can use your favourite frosting or see below for Swiss Meringue Buttercream
Instructions
For the Cake:
Preheat oven to 350F and grease the sides and the bottoms of 6 8-inch pans (see my tips on what to do when you don't have 6 pans). Line the bottom with parchment paper for easy release. Set aside.

In a medium bowl, combine 3 cups flour, 1 tablespoon baking powder and ½ teaspoon salt. Set aside.

Using a handheld electric mixer or a stand mixer fitted with the paddle attachment, beat the 4 eggs, 2 cups sugar and 1 tablespoon vanilla until light and triple in volume (about 10 minutes). Start on low speed then gradually move up to medium-high speed. Drizzle the ¾ cup canola oil while beating.

Switch to low speed and add a third of your flour then half your milk. Another third of your flour, the rest of your milk and finally the rest of your flour. Make sure each addition is incorporated well. Beat the batter until smooth (about 5 minutes).

Weigh your batter and divide the total weight into 6. Transfer the corresponding weight into separate bowls (see my tips on how to correctly divide and transfer the batter). Tint each bowl in red, orange, yellow, green, blue and purple. Then transfer into prepared pans and bake for 20 minutes (see notes) or until a toothpick inserted in the middle comes out clean or with minimal crumbs.

Let cool in the pans for 10 minutes before transferring to a rack to cool completely.
For the Assembly:
Trim the tops of the cake to ensure they are level. Also trim the sides to remove any burnt spots. The important thing to remember is all your cakes must be of equal width and height.

Put the purple cake on a cake turntable first and evenly spread frosting on top. Do the same for the blue, green, yellow, orange and red layers. Then proceed to cover the rest of the cake with frosting and decorate as desired.
Notes
You can also use 6 6-inch pans. Just remember that you will end up with a smaller width cake but thicker layers, and therefore a taller cake.
If you have 6 pans, they won't all fit on the middle oven rack position. So at 10 minutes, switch the bottom pans with the top pans for an even bake.
You can cook the cakes the day before and make the frosting the day you're serving the cake. Just leave the cakes on the counter and loosely cover with a tea towel.
You'll notice that my red layer is more pink/coral than red. I used the red gel colour but it turned pink. Any tips?
Nutrition
Calories:
406
kcal
Carbohydrates:
59
g
Protein:
6
g
Fat:
17
g
Saturated Fat:
2
g
Polyunsaturated Fat:
4
g
Monounsaturated Fat:
10
g
Trans Fat:
1
g
Cholesterol:
58
mg
Sodium:
129
mg
Potassium:
195
mg
Fiber:
1
g
Sugar:
35
g
Vitamin A:
120
IU
Calcium:
88
mg
Iron:
2
mg
Nutritional information are estimates only.
Tried this recipe? Leave a star rating today!
Also tag @iamtheunlikelybaker I'd love to see your creations.
(Vanilla cake recipe adapted from Ricardo).
Happy baking! (And Happy Pride Toronto!)
Did you make this rainbow cake? Tell me about it in the comments section below. I'd love to hear all about it.
Want another fun cake? Check out this Funfetti Cake.