Rhubarb chia pudding is such a refreshing spring and summer treat. Sweet and tart, light but filling, delicious. It's so easy to make too.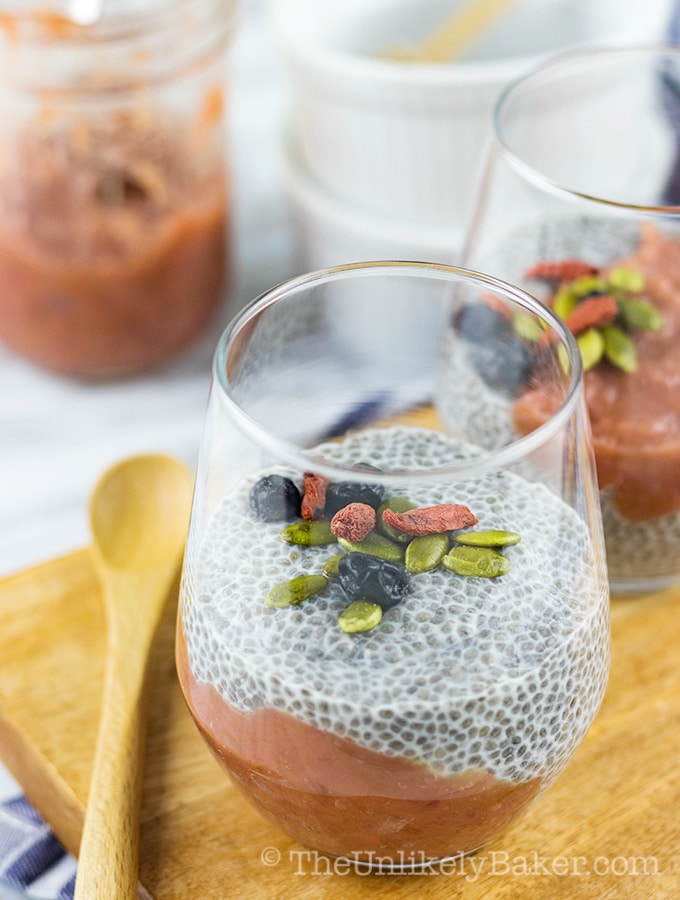 Welcome to June! How are we mid-way into the year?
In any case, I am not complaining because this happens to be my favourite month. Sunshine, sunshine and more sunshine!
It's also my birthday month. I turn 22 (give or take a few decades lol!) this month. It's also Red's birthday. And my grandpa's birthday. And let's not forget Father's Day.
It's really like mid-year Christmas for me.
Anyway, have you had your fill of rhubarb yet? Rhubarb appears on shelves mid-spring and throughout the summer, but I read prime season is now so let's get our rhubarb on!
I'm sure you've seen rhubarb crisps and rhubarb muffins and other delectable rhubarb creations but today I have a really easy, really delicious, and really refreshing rhubarb treat for you – rhubarb chia pudding.
No baking required, just a little cooking, overnight chilling and lots of eating!
Small batch rhubarb compote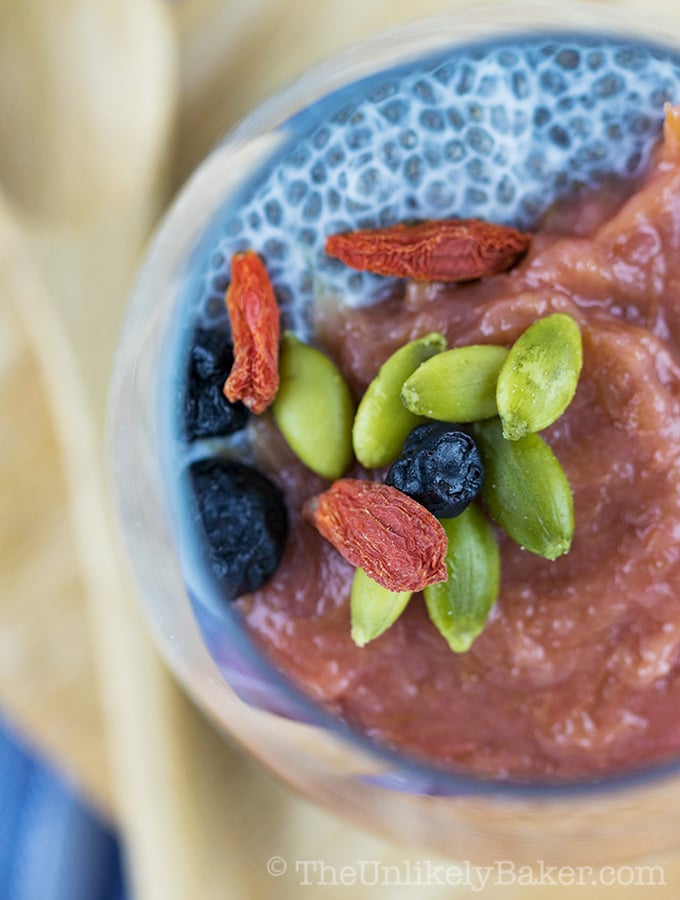 There are two main components to this dessert – the rhubarb compote and the chia pudding.
The compote recipe I got from here; I just made a smaller batch and used frozen rhubarb instead of fresh because that's what I had.
Rhubarb is tart so be sure to taste your compote (careful, it's hot!) and adjust the sweetness to your liking.
Bear in mind you will mix it in with chia pudding though, which has honey in it, so you want some tartness to complement that sweetness.
Related: Strawberry Rhubarb Galette (with video)
Basic chia pudding recipe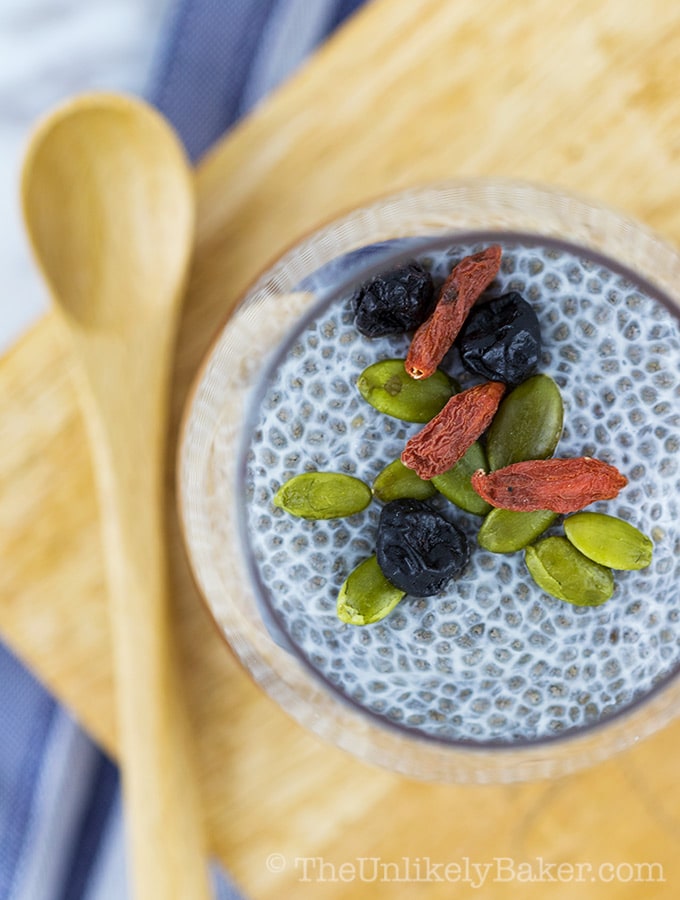 The chia pudding is the same basic recipe I used in my mango chia pudding (have you tried it? Yum!).
It's really very simple – chia + almond milk + honey then mix. Chia pudding is such a versatile – and healthy! – dessert alternative.
Related: 25 Best Rhubarb Recipes
Delicious and healthy snack
Put them together and what you have is a lovely treat for those warm days when all you want to do is sit outside and soak in all that lovely sun.
No hot ovens to deal with. No mixers to wash.
This rhubarb chia pudding is the simplest recipe ever. Enjoy! Hope you're having a fantastic day!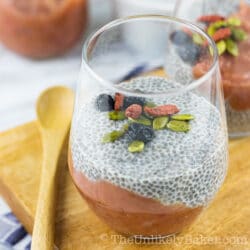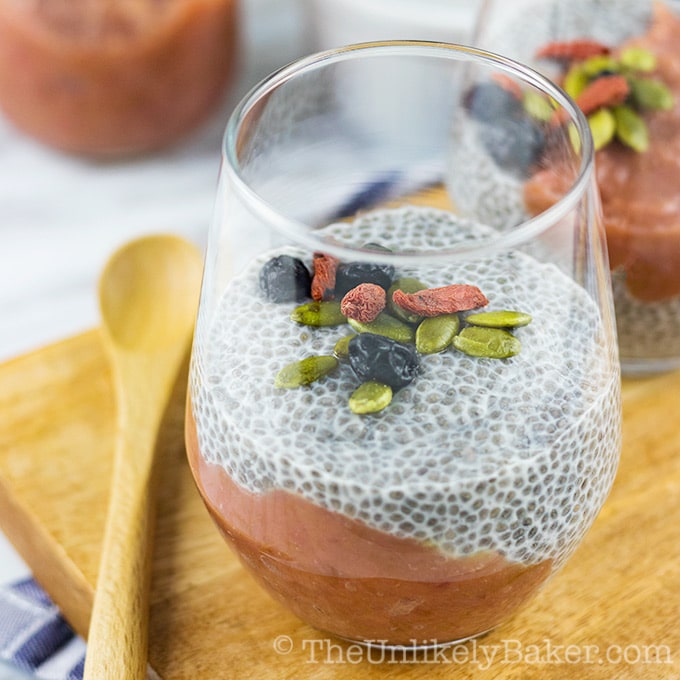 Rhubarb Chia Pudding
Rhubarb chia pudding is such a refreshing spring and summer treat. Sweet and tart, light but filling, delicious. It's so easy to make too.
Ingredients
For the rhubarb compote:
½

lb

chopped rhubarb (cut ½ to ¾ inch thick)

if frozen, don't thaw

¼

cup

granulated sugar

1

tbsp

unsalted butter

1

tbsp

orange liqueur

pinch

salt
Instructions
For the rhubarb compote:
Put all the ingredients in a small saucepan on medium heat. Stir until the butter melts.

Continue cooking until the fruit breaks down and the compote thickens (about 8-10 minutes), stirring occasionally.

Remove from heat and allow to cool slightly before transferring to an airtight container. Store in the fridge.
For the chia pudding:
In a small bowl, stir all ingredients until combined. Let it sit for 10 minutes.

Go back to your mixture and break apart any clumps that may have formed with a fork. Stir again. Transfer to an airtight container and chill overnight.
For the assembly:
When you're ready to serve, take a small glass or bowl and layer chia pudding with rhubarb compote (I usually do 80% pudding, 20% compote).

Top with your favourite toppings like pepitas, goji berries or dried blueberries. Best served cold.
Nutrition
Calories:
418
kcal
Carbohydrates:
50
g
Protein:
8
g
Fat:
20
g
Saturated Fat:
5
g
Cholesterol:
15
mg
Sodium:
175
mg
Potassium:
499
mg
Fiber:
17
g
Sugar:
28
g
Vitamin A:
295
IU
Vitamin C:
9.7
mg
Calcium:
516
mg
Iron:
3.5
mg
Nutritional information are estimates only.
Tried this recipe? Leave a star rating today!
Also tag @iamtheunlikelybaker I'd love to see your creations.
Happy eating!
Did you make rhubarb chia pudding? I'd love to hear from you in the comments section below.
And let's get social! Find me on Facebook, Pinterest, Instagram or Twitter.