Here are 25 of the best rhubarb recipes to help you take advantage of spring's favourite produce. Bake it, cook it, drink it, spread it!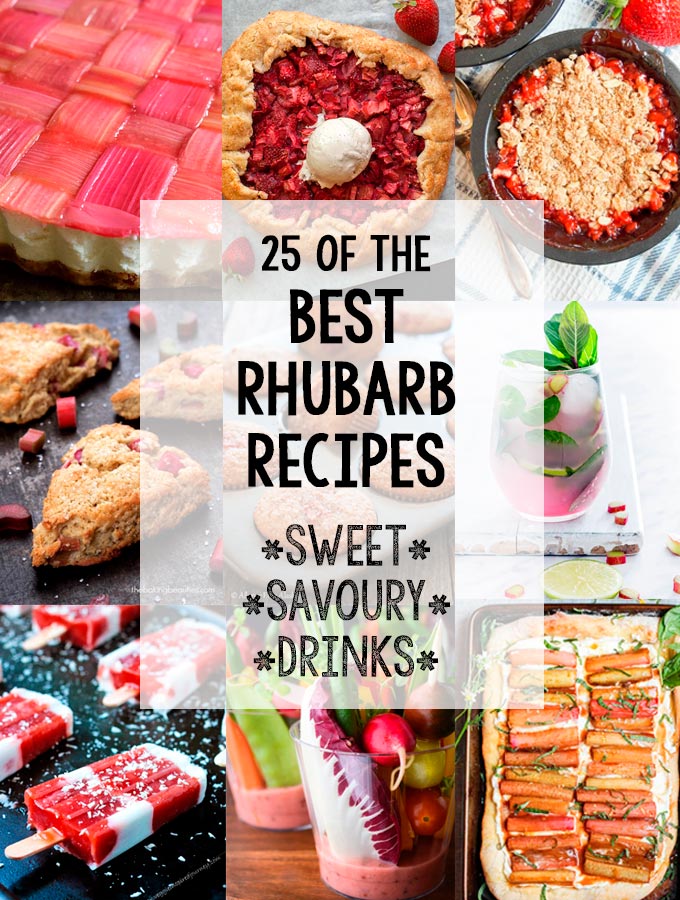 Hello spring. Finally.
Though it's still a little chilly where we are (who am I kidding, it's always chilly where I am lol), we welcome the longer days and the bright sunshine!
Rhubarb is one of the best things about spring. In fact I read several articles calling it "spring's darling". How wonderful! Not everyone is familiar with it though.
When I shared my recipe for Strawberry Rhubarb Galette (it has video!), I had to do a little bit of research to make sure I was handling rhubarb right. Check it out and save yourself some google time. Most important thing to remember: don't eat the leaves!
Anyway, since rhubarb is available for a very short time, thought we'd get a head start and start planning for all the delicious rhubarb dishes we're going to make this season.
From desserts to drinks to savoury dishes, this collection has a recipe for all your rhubarb cravings. Enjoy!
Best Rhubarb Recipes: Rhubarb Crisps
Crisps are so easy to make and so delicious. It's no wonder they are a favourite.
As you can see rhubarb is traditionally paired with strawberry but it's also delicious on its own.
Galettes and Pies
Rhubarb galettes are popular too.
Here are some recipes you can try (galettes are "rustic pies" which means they are super easy to make!).
And here are a couple of (mini) pie recipes for you.
Rhubarb Cakes
Lately we've been seeing lots of rhubarb cakes too. And they are delicious!
Others Baked Goods
You can use rhubarb in other baked goods like scones and muffins as well.
Rhubarb Drinks
And didn't I promise you recipes for rhubarb drinks? Here they are! And they are a fantastic way to get your rhubarb on.
No alcohol? No problem:
Other rhubarb recipes
To show you just how versatile rhubarb is, here are more recipes that are unique and unexpected. From jams to pops to salads to burgers!
There's good reason rhubarb is a spring favourite. Hope this collection inspires you to create some amazing rhubarb dishes this spring!
Did you make any of these best rhubarb recipes? I'd love to hear from you in the comments section below.
Here are our other recipe collections.
And let's get social! Find me on Facebook, Pinterest, Instagram, Twitter and Flipboard.
Or subscribe so you don't miss a recipe. I promise I don't spam (I hate spam too).
Do you want to improve your food photography, monetize your blog or start your very own food blog? Check out my Blogging Resources.