Light, refreshing and a breeze to make, this mango chia pudding is the perfect breakfast, snack or dessert for those hot summer days when lazy is the only way to be.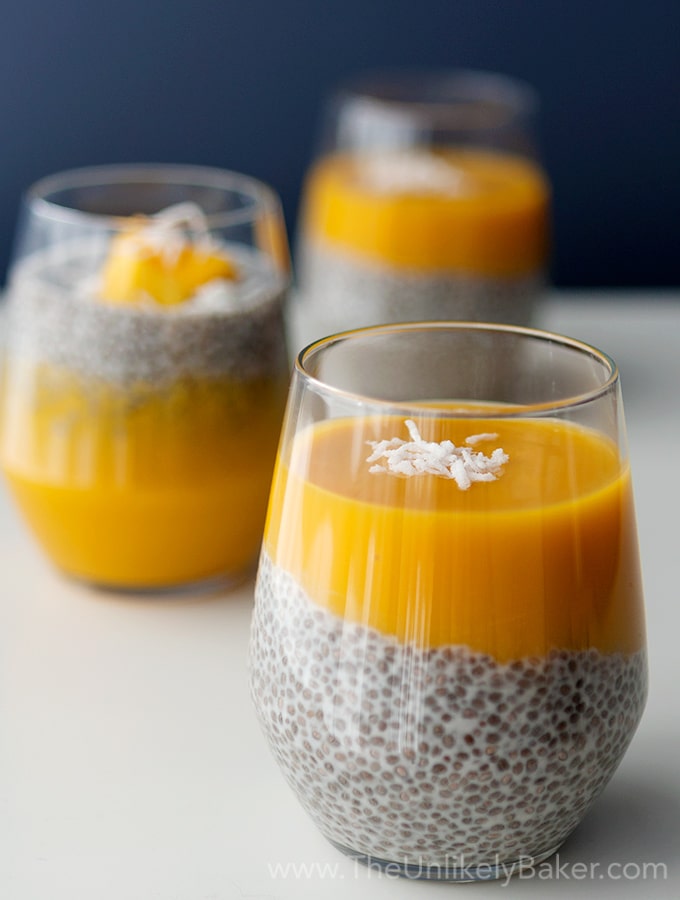 Just like that it's mid-July! How are you? We are having a fantastic summer so far.
We try (very hard) to get up and go out in the summer to make up for all the couch potato-ing we do in the winter but let's face it, there are days when it's just too dang hot to be outside doing something that requires movement.
There are days when it's perfectly acceptable to just lie down in the shade and sleep or read a book or sit in your balcony or patio and do nothing.
This mango chia pudding is just the thing for those days. With only 4 ingredients, nothing can be easier to make! Just stir, let sit, layer and enjoy. So delicious. It's good for you too!
Bring on all the fruits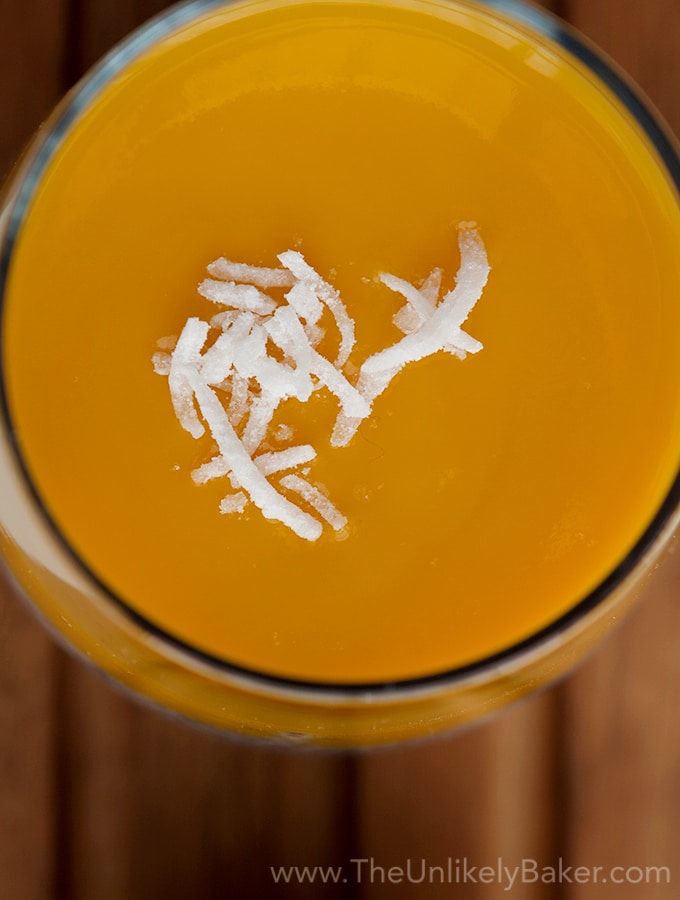 Summer heralds the arrival of all things fruity and fabulous. We try to eat as much fresh fruit as we can (like squirrels getting ready for hibernation ha!), especially mangoes (have you seen my video recipe for No-Bake Mango Cheesecake?).
Though I must say I'm loving this all-fruit mango puree I discovered at the Asian store – made from Philippine carabao mangoes no less! And that's what I used here. You can of course make your own puree – just take your mangoes to the blender
or food processor
, strain and sweeten to your liking.
Let's talk chia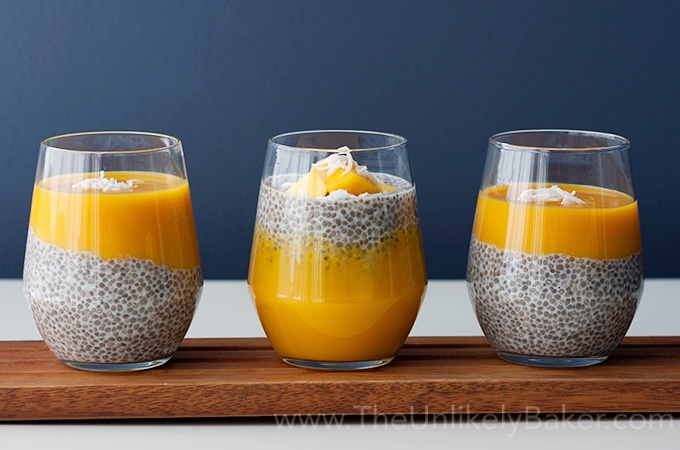 We're relatively late to the chia game but now we can't get enough of it. We put it on everything and this pudding is nothing but chia goodness.
And it's healthy too. A superfood chockfull of health benefits (try my Turmeric Golden Milk – it's good for you too!).
With only 4 ingredients, nothing can be easier to make than this delicious mango chia pudding!
Click To Tweet
Mango chia pudding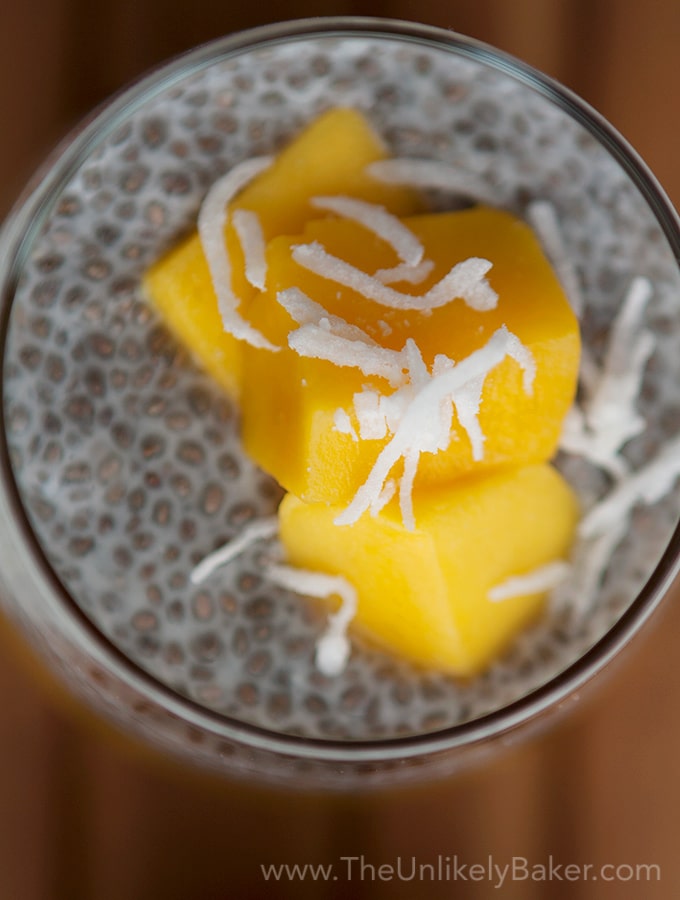 Now all you have to do is put everything together. It's really as simple as stir, wait, combine and enjoy. Now what can be easier? Then you can spend the rest of your time chilling and doing nothing. It is summer after all.
Mango Chia Pudding – Just 4 Ingredients!
With only 4 ingredients, nothing can be easier to make than this mango chia pudding. Just stir, let sit, layer and enjoy. So delicious and good for you!
Ingredients
1/2 cup chia seeds
2 cups (500 ml) unsweetened almond milk
Honey to taste
2 cups (500 ml) mango puree (about 4-6 ripe mangoes)
Instructions
In a medium bowl, stir 1/2 cup chia seeds, 2 cups almond milk and honey. Let it sit for 10 minutes.
Go back to your mixture and break apart any clumps that may have formed with a fork. Stir again. Transfer to an airtight container and chill overnight.
When you're ready to serve, layer with mango puree in a serving glass. Garnish with your favourite toppings like coconut and nuts.
Notes
Whether you sweeten your mango puree is up to you. We usually leave it as is because the chia mixture is already sweetened with honey.
https://theunlikelybaker.com/mango-chia-pudding/
This delicious recipe brought to you by www.TheUnlikelyBaker.com | (c) 2016-2017
Happy chilling!
Did you try this mango chia pudding? I'd love to hear from you in the comments section below.
How is your summer so far? Here are the other recipes in our No-Bake Summer Series:
And let's get social! Find me on Facebook, Pinterest, Instagram, Twitter, Google+ and Flipboard.
Or subscribe so you don't miss a recipe. I promise I don't spam (I hate spam too).
Do you want to improve your food photography, monetize your blog or start your very own food blog? Check out my Blogging Resources.