Baked apple turon is a delightfully delicious twist on the popular Filipino snack, turon or banana lumpia. Made with gorgeous Ontario apples and baked instead of fried, it's a healthier alternative and made with an ingredient we all love.
Disclosure: This Baked Apple Turon post is sponsored by Ontario Apple Growers but all photos, words and opinions are mine. Thank you for supporting the brands and organizations that support me!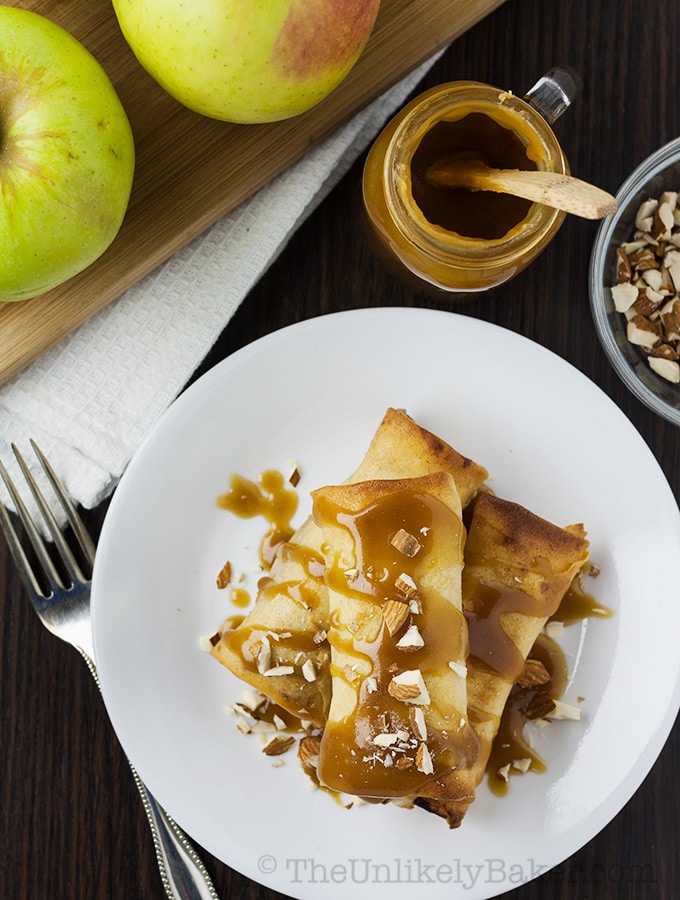 Welcome to the second week of January everyone! How has 2018 been so far? I've been back to work and back to blogging for a week now and I must say I still sing Christmas carols in my head (and maybe out loud teehee). How are those resolutions coming along?
Us? We don't do resolutions anymore. We've crossed over to goals and creating new habits. Last year we were determined to live healthier so we started doing CrossFit and eating healthier. So while we still eat our fair share of cookies (I mean, cookies!), we also eat more proteins and ancient grains and bake instead of fry most dishes (yay for me, The Unlikely Baker lol).
Like these baked apple turon (the word "turon" loosely translates to fried spring rolls…but filled with bananas). I am so happy how they turned out. Instead of deep-frying them in oil just like how turon is traditionally made, we decided to bake them. Apples are super healthy (an apple a day…) and we wanted to stay true to that.
We've had to experiment a little to get them crispy like a proper turon and I'm happy to report we did it! Read on to find out how.
How to make turon crispy in the oven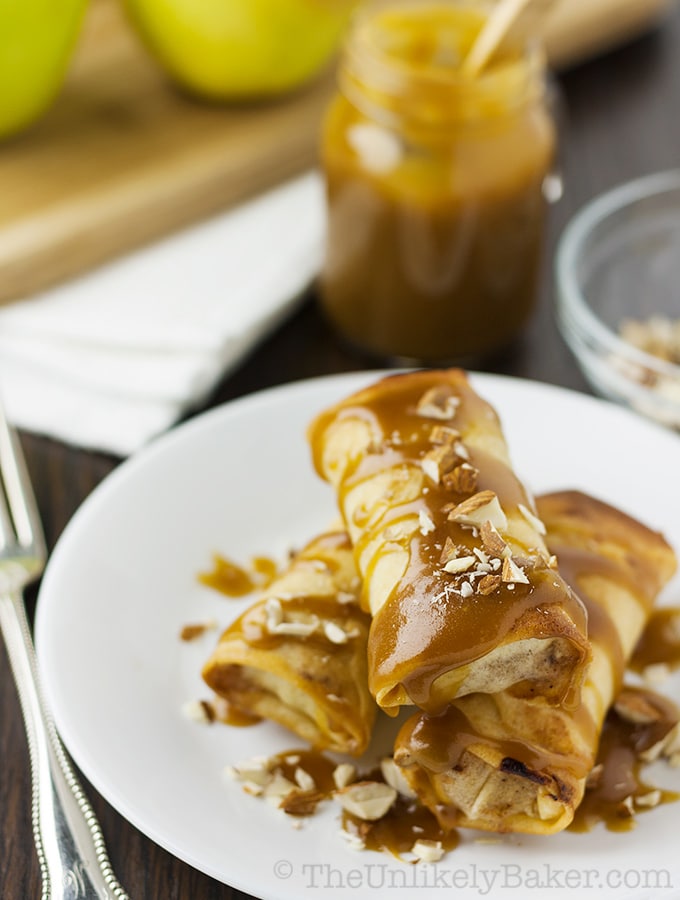 We've found that there are three key things to making baked apple turon crispy:
Brush the whole turon with melted butter. Get into every nook and cranny of that turon.

Place the turon on an oven-safe wire rack which you then place on a baking sheet lined with parchment paper. This is necessary because if you just place the turon directly on the baking sheet, the bottom will become very soggy.

Turn the turon halfway during baking so that the bottom gets the chance to turn golden brown too (and remember,

brush with butter!)
How to wrap turon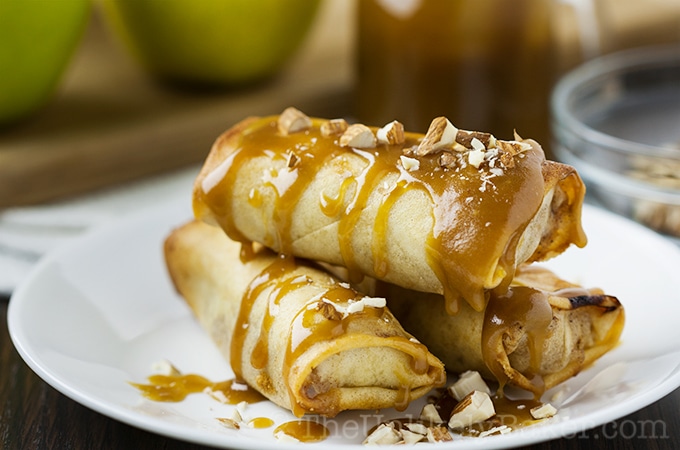 Properly wrapping turon (or any spring roll for that matter) is important too. You don't want the filling bursting out during cooking. Red's a turon wrapper ninja so I took photos of her in action. See the recipe for step-by-step pictures.
Baked apple turon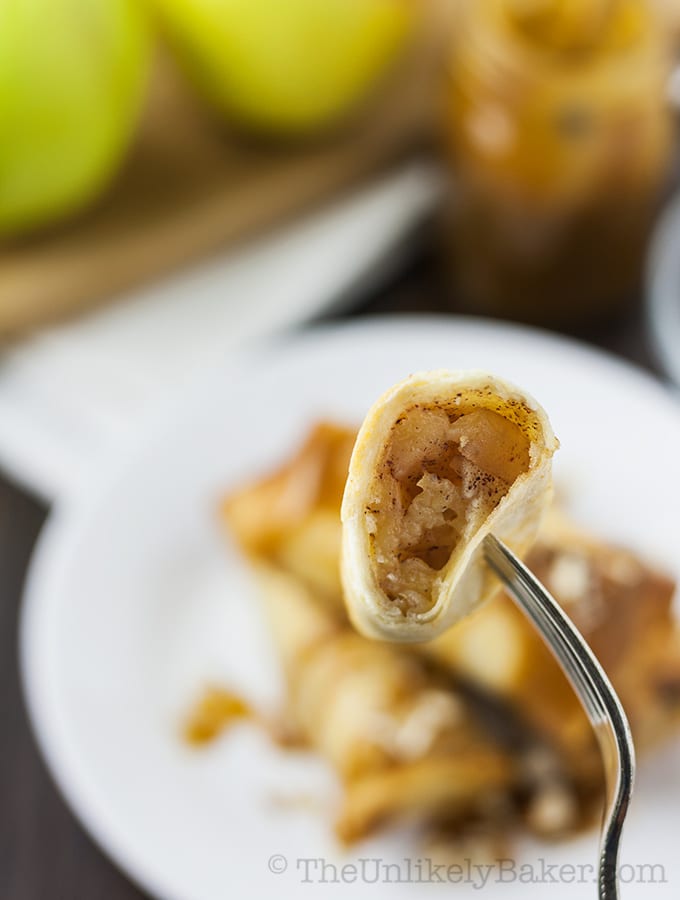 In my last apple recipe – Easy Refreshing Apple Buko Salad – I chose empire apples for their tartness and crispness. This time, I knew I wanted something a little sweeter but still crispy – I didn't want the filling to fall apart while baking. So I went with golden delicious apples.
I love this handy apple usage guide – it helps you pick the perfect apple for your needs!
I also always make sure to look for the Foodland logo when I'm buying apples. It tells me I'm getting Ontario apples and I only want the best!
Optional fixings
(Side note: I had to google how to spell "fixings" and uncovered a whole debate about fixins vs. fix-ins vs. fixin's vs. fixings! Who knew? Anyway).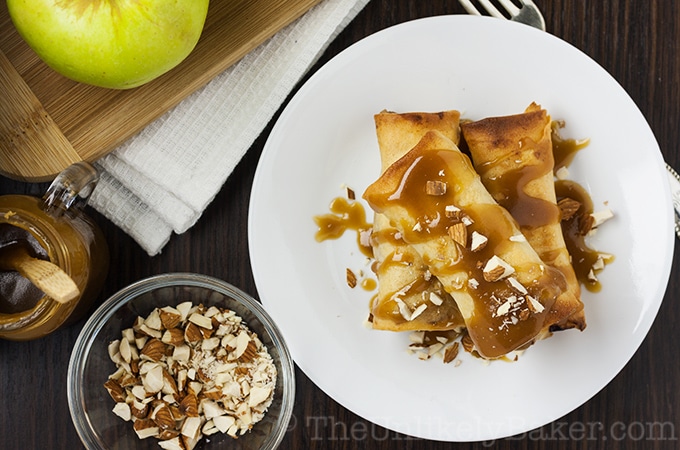 Baked apple turon is great on its own but if you want an extra special treat (had a bad day at work?), you can drizzle them with salted caramel sauce and top them with chopped almonds. Flavour heaven!
Hope you enjoy these as much as we do!
Related: How to Take Stunning Food Photos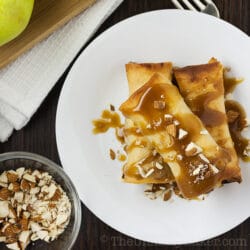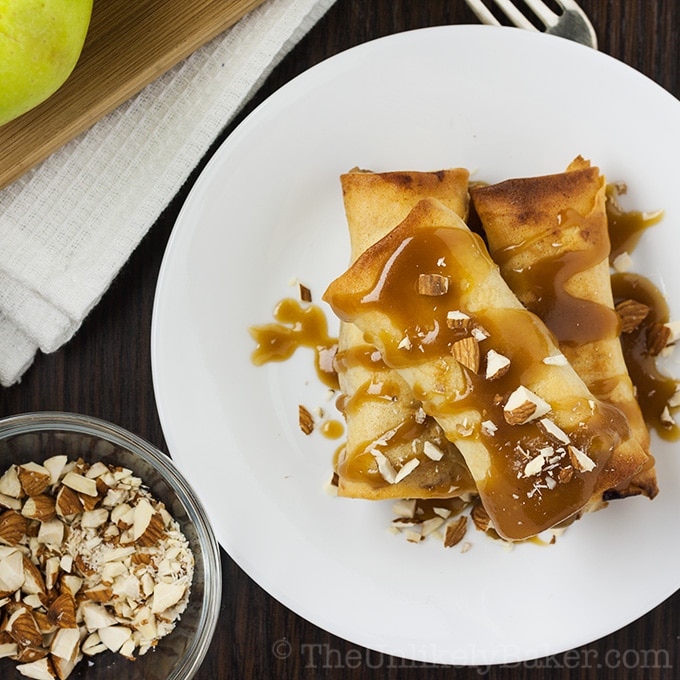 Baked Apple Turon
Baked apple turon is a delightfully delicious twist on the popular Filipino snack, turon or banana lumpia. Made with apples and baked instead of fried, it's a healthier alternative and made with an ingredient we all love.
Ingredients
¼

cup

granulated sugar

1

tsp

ground cinnamon

2

Golden Delicious apples

cored and sliced (see note 1)

14

pcs

8x8 spring roll pastry wrapper

(see note 2)

¼

tsp

cornstarch

dissolved in 1/4 cup water

¼

cup

unsalted butter

melted
Instructions
Preheat oven to 425F. Line a baking sheet with parchment paper. Place an oven-safe wire rack on top of the parchment paper. Set aside.

In a large bowl, combine 1/4 cup sugar and 1 tsp cinnamon. Toss the apples in the cinnamon sugar and let sit for 10 minutes.

Put a spring roll wrapper on a flat surface and place 5-6 pieces of apples near the bottom.

Fold the bottom corner once.

Take one side and fold it into the middle of your turon. Make sure to wrap the apples snuggly.

Take the other side and fold.

Fold the turon upwards again and dab some cornstarch water on the remaining wrapper on top. This helps seal the turon.

Place the turon on your prepared baking sheet. Brush with melted butter and bake for 10-15 minutes or until golden brown.

Then carefully turn each turon over, brush with more butter and continue baking for another 10-15 minutes until nice and golden. You can serve the turon immediately. Optionally, you can drizzle them with salted caramel sauce and sprinkle with chopped almonds before serving.
Notes
You want to slice the apples the same size as much as possible. Think: thick french fries.
You can find spring roll wrappers in the frozen section of your supermarket. Thaw according to package instructions prior to using.
Nutrition
Calories:
59
kcal
Carbohydrates:
7
g
Fat:
3
g
Saturated Fat:
2
g
Cholesterol:
8
mg
Sodium:
6
mg
Potassium:
27
mg
Sugar:
6
g
Vitamin A:
115
IU
Vitamin C:
1.2
mg
Calcium:
4
mg
Iron:
0.1
mg
Nutritional information are estimates only.
Happy baking!
Did you make baked apple turon? What's your favourite apple snack? I'd love to hear from you in the comments section below.
I love apples. You do, too? Awesome! Here are more apple recipes for you:
Easy Refreshing Apple Buko Salad
Apple Galette
Salted Caramel Apple Cheesecake with Pecan Crisp Topping
And let's get social! Find me on Facebook, Pinterest, Instagram, Twitter, Google+ and Flipboard.
Or subscribe so you don't miss a recipe. I promise I don't spam (I hate spam too).
Do you want to improve your food photography, monetize your blog or start your very own food blog? Check out my Blogging Resources.