This kiwi crumble is unlike any crumble you've had before – made with gold kiwi, toasted coconut and cardamom, it's bursting with tropical flavours you might as well be lounging by the beach, preferably under a coconut tree, most definitely not thinking of work.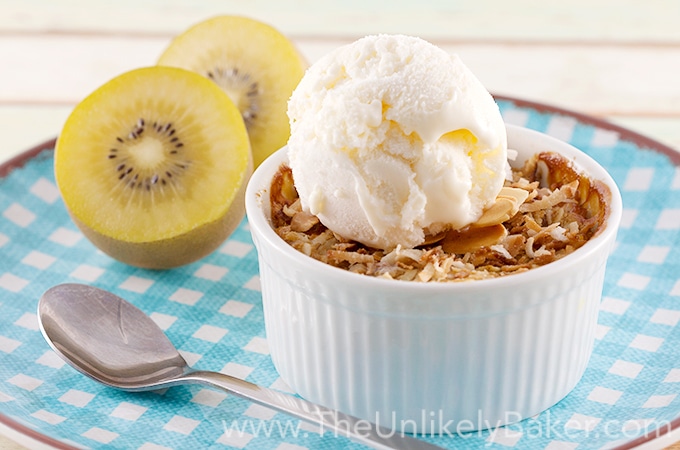 I grew up in Manila where it's summer approximately 300 days of the year so I love the heat and the sunshine. The Philippines is an archipelago too so you can get to a beach in an hour and enjoy the ocean breeze without much hassle (except of course the infamous Manila traffic).
I now live in Toronto where I'm always cold (I get teased about it all the time too!) so when summer rolls along, I am beside myself with glee.
Not your usual crumble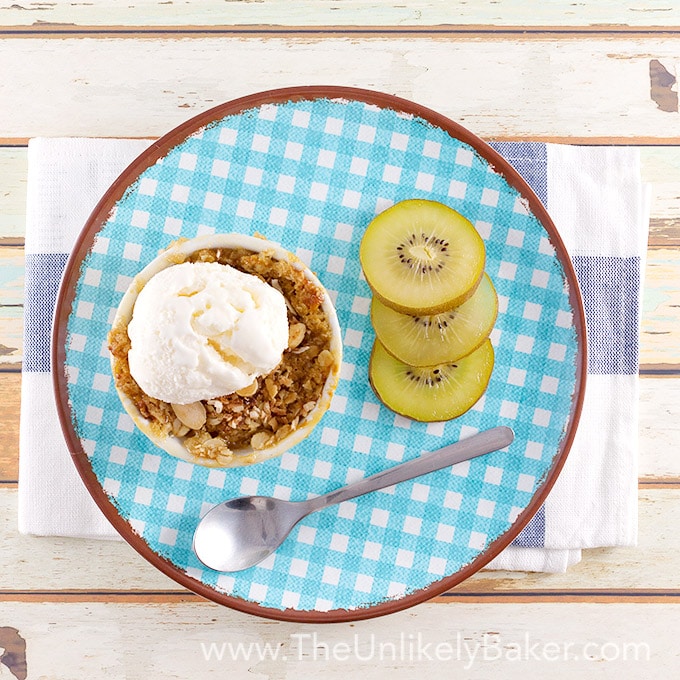 This kiwi crumble is everything I love about summer. It's made with sunny, golden Zespri SunGold Kiwifruit – which is unique not only because it's not green but also because it's not your usual crumble fruit.
Then it's filled with tropical flavours like cardamom and coconut which always remind me of the tropics. And finally it's topped with ice cream so it's an awesome summer treat.
Kiwifruit is a super fruit
Kiwifruit on its own is already an amazing snack. It's packed with vitamins C, E, potassium and fibre. You just cut it in half, scoop out all the deliciousness with a spoon, and enjoy!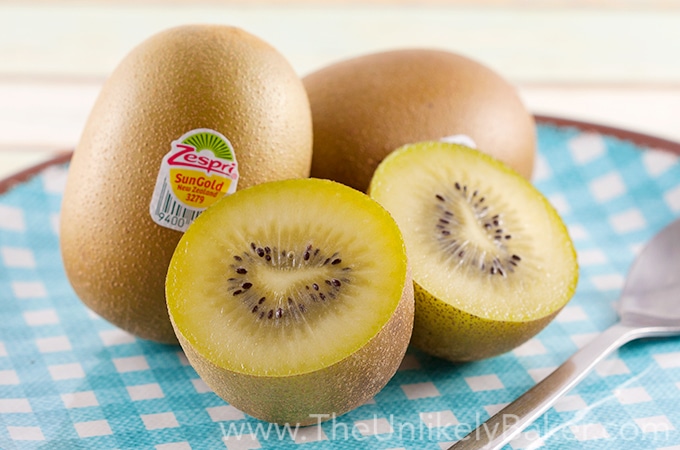 And in case you're wondering, SunGold kiwifruit is sweeter than a green kiwifruit and tastes like a mango and a strawberry – isn't that just fantastic? And that unique flavour makes it an awesome fruit to bake with as well.
[clickToTweet tweet="This tropical kiwi crumble is summer in a ramekin!" quote="This tropical kiwi crumble is summer in a ramekin!"]
Kiwi crumble
In this crumble, the kiwi takes on a creamy consistency with wonderfully crunchy seeds. Its unique flavour complements the cardamom and toasted coconut crumble perfectly and, topped with vanilla ice cream, makes for a lovely summer dessert.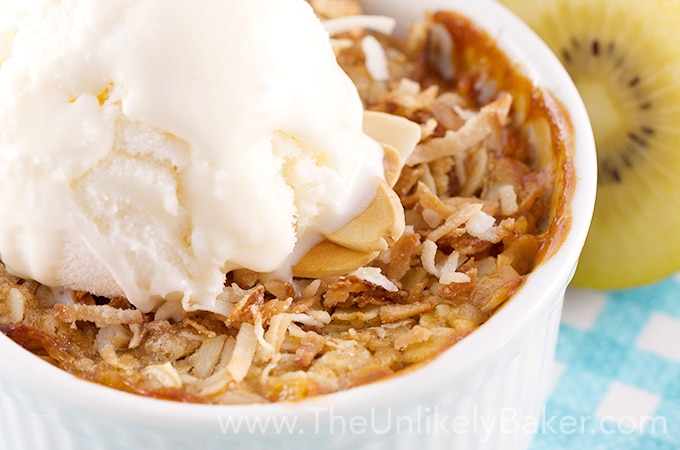 So go and get yourselves some Zespri SunGold Kiwifruit (it's available in your local supermarkets from May to October…that means now!) and let this tropical kiwi crumble jazz up your summer.
Disclosure: This post is sponsored by Zespri Kiwifruit but all photos, words and opinions are mine. Thank you for supporting the brands that support me!
This kiwi crumble is unlike any crumble you've had before. Made with gold kiwi, toasted coconut & cardamom, it's bursting with tropical flavours.
Ingredients
For the Crumble:

1/2 cup all purpose flour
1/2 cup packed brown sugar
1/4 teaspoon ground cardamom
1/4 teaspoon Kosher salt
1 cup rolled oats
1/2 cup cold unsalted butter, cubed
For the Fruit:

1 3/4 cups Zespri Sungold kiwifruit (approximately 4 kiwis), cut in half, scooped out and roughly chopped
1 tablespoon granulated sugar
For the Topping:

1/4 cup shredded coconut, toasted
1/4 cup sliced almonds, toasted
Vanilla ice cream (optional)
Instructions
Preheat oven to 350F. Set 4 ramekins on a baking sheet covered with parchment paper and set aside.
In a small bowl, combine 1/2 cup flour, 1/2 cup sugar, 1/4 teaspoon cardamom, 1/4 teaspoon salt and 1 cup rolled oats. Add the 1/2 cup cubed butter and using your hands, combine the butter into the flour mixture until the mixture becomes lumpy and crumbly (pieces the size of chickpeas are OK); don't over mix. Set aside.
In another bowl, mix 1 3/4 cups kiwifruit with 1 tablespoon granulated sugar and evenly divide into your 4 ramekins. Press the kiwis gently to the bottom. Then evenly divide your crumble to top the kiwis. Bake for 30-45 minutes or until the tops are golden brown and the juices are bubbling.
Take out of the oven and sprinkle with toasted coconut and almond. Cool slightly, top with ice cream then serve.
https://theunlikelybaker.com/tropical-kiwi-crumble/
This delicious recipe brought to you by www.TheUnlikelyBaker.com | (c) 2016-2017
Happy baking!
Did you make kiwi crumble? Tell me about it in the comments section below. I'd love to hear from you. Have you had gold kiwi before?
The Turon (Banana Lumpia) is another fantastic summer snack. So is the no-bake Strawberry Refrigerator Cake. Give it a go!
And let's get social! Find me on Facebook, Pinterest, Instagram, Twitter, Google+ and Flipboard.
Or subscribe so you don't miss a recipe. I promise I don't spam (I hate spam too).
Do you want to improve your food photography, monetize your blog or start your very own food blog? Check out my Blogging Resources.