Aloha burger – juicy cheeseburger topped with grilled pineapple and crispy bacon. Add honey mustard sauce and what you have is an aloha burger recipe that's almost as good as Jollibee's!
(Looking to add sides to your barbecue party? Try these grilled shishito peppers. They're ready in 10 minutes!)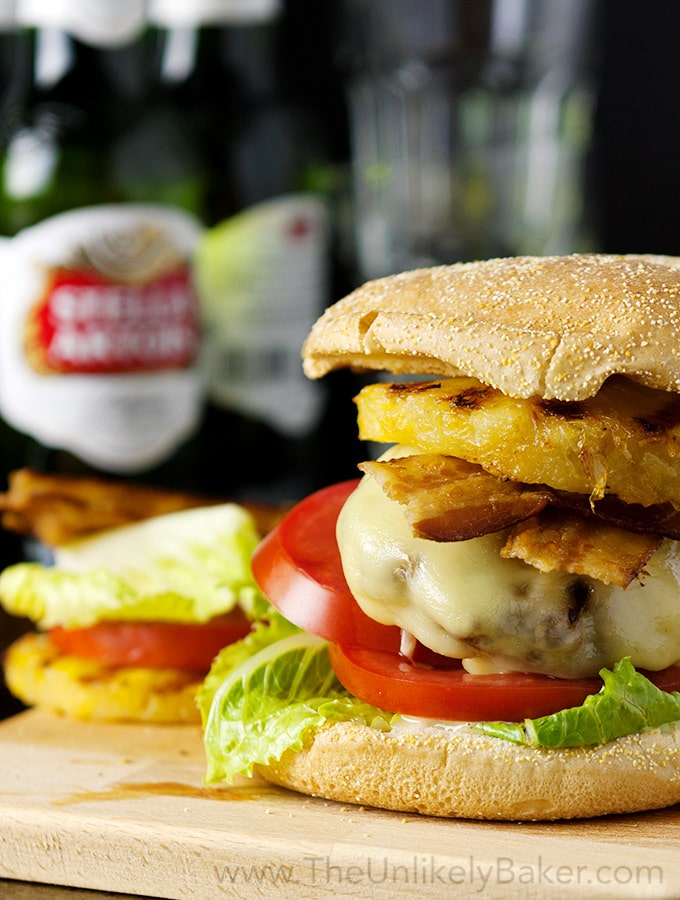 Are you familiar with Jollibee? Ask any of your Filipino friends and watch their faces brighten up like it's Christmas LOL. Even Anthony Bourdain got on the Jollibee train.
Jollibee is a popular Filipino burger chain but it's more like a rite of passage for every Filipino child – at one point in your life your parents will bring you to Jollibee where you will get your first taste of the glorious Yum Burger and Jolly Spaghetti, which you will end up loving for the rest of your life.
Over the years they've come up with delicious innovations (Jolly Hotdog, anyone?) but by far my favourite is the Amazing Aloha. It's their Champ Burger but made more amazing (see what they did there?) with pineapple and bacon bits on top.
Fourth of July and Canada Day are right around the corner which means it's BBQ time! So we thought why not re-create the aloha burger recipe? It's not exactly the Amazing Aloha but it is dang amazing.
Aloha burger patty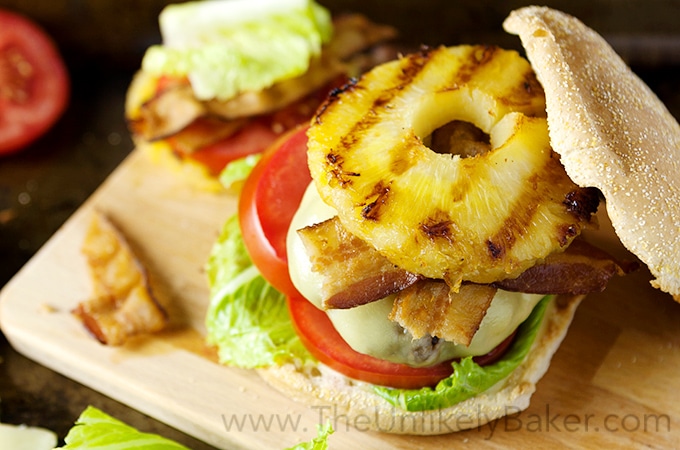 Jollibee's burger patty recipe is a highly guarded secret so we turned to Red's equally delicious recipe. It's simple, straightforward and you probably already have all the ingredients sitting in your pantry!
Already got a favourite burger recipe? You can use that too.
Grilled pineapple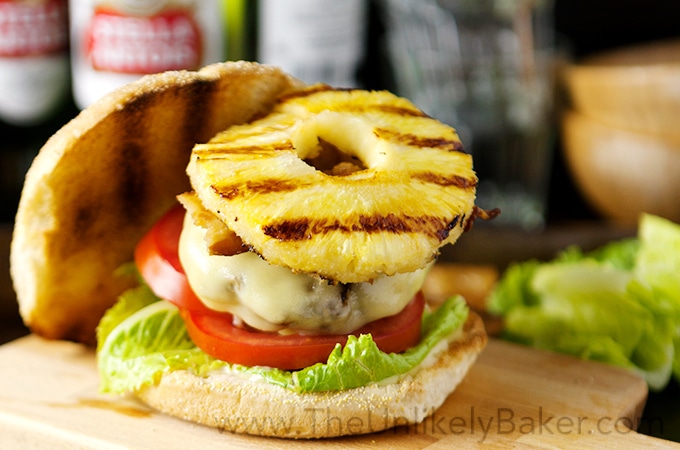 Because I think the grilled pineapple is the star of this show. It makes the burger extra juicy and flavourful. And it's certainly a unique addition to your burger stack.
Worried about the sweetness? Don't be. You have the crispy bacon to give you the boost of salt you need. And we all know bacon makes everything better.
Put them all together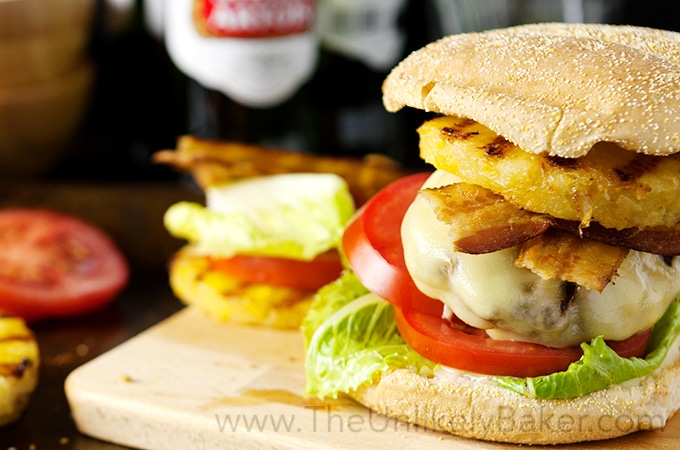 Take all the components together and what you have is cheeseburger on epic tropical mode.
Juicy burger, melted gooey cheese, grilled pineapple, crispy bacon, honey mustard sauce, and fresh vegetables all packed in between your burger bun. Life is good!
Have a great BBQ weekend!
Fourth of July and Canada Day (hey, we're turning 150 years old this year!) are big BBQ weekends so if you're bored of the same old, give this aloha burger recipe a try and make your tastebuds sing.
And if you're looking to get a taste of a popular hoagie roll sandwich out of New York City's bodegas, give this chopped cheese from Hilda's Kitchen Blog a try.
Happy grilling!
Did you try this aloha burger recipe? I'd love to hear from you in the comments section below.
This is the second recipe in our No-Bake Summer Series. Check out last week's Strawberry Mango Banana Smoothie.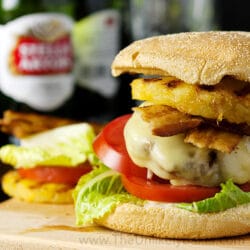 Aloha Burger Recipe (Jollibee Copycat, Almost!)
Juicy cheeseburger, grilled pineapple, crispy bacon. Add honey mustard sauce & what you have is an aloha burger recipe that's almost as good as Jollibee's!
Ingredients
For the Honey Mustard Sauce:
Assembly:
Burger buns

Sliced pineapples

grilled (see notes)

Bacon

cooked until crispy

Sliced cheese

pick your favourite, we like Swiss and cheddar

Lettuce

Tomatoes

Mayonnaise

optional
Instructions
For the Burger Patties:
Warm your grill to high heat, according to manufacturer's instructions.

In a large bowl, mix all ingredients until fully incorporated (see notes). Divide into approximately ¼ pound (113 grams) portions and shape the patties. Place on your hot grill until cooked to your liking.
For the Honey Mustard Sauce:
Stir all ingredients together in a small bowl and set aside.
Assembly:
Get the bottom half of your burger bun and spread about a teaspoon (or more, up to you) of honey mustard sauce.

Then proceed to layer the lettuce, tomatoes, burger patty, cheese (see notes), bacon (1-2 strips, or as many as you want!) and pineapple.

Top with the other half of your burger bun. Add mayo if desired.
Notes
To ensure you've seasoned your burgers to your taste, before grilling the whole batch take a golf ball size portion, fry then taste. Adjust as necessary.
Total grill time depends on how many burgers you can fit on your grill. For us, a batch of burgers is done in 12-15 minutes.
Start grilling your pineapples when your burgers are close to being done.
We like to put cheese on top of close-to-cooked burgers while they're still on the grill so they melt on the patties themselves but you can also just place unmelted cheese on top of the burgers as you're assembling them.
Nutrition
Calories:
315
kcal
Carbohydrates:
3
g
Protein:
20
g
Fat:
24
g
Saturated Fat:
9
g
Cholesterol:
81
mg
Sodium:
496
mg
Potassium:
323
mg
Fiber:
1
g
Sugar:
2
g
Vitamin A:
26
IU
Vitamin C:
1
mg
Calcium:
23
mg
Iron:
2
mg
Nutritional information are estimates only.
Tried this recipe? Leave a star rating today!
Also tag @iamtheunlikelybaker I'd love to see your creations.