Grilled shishito peppers are fast becoming everyone's favourite appetizer. Mild, smokey and sweet, they are easy to prepare and even easier to eat.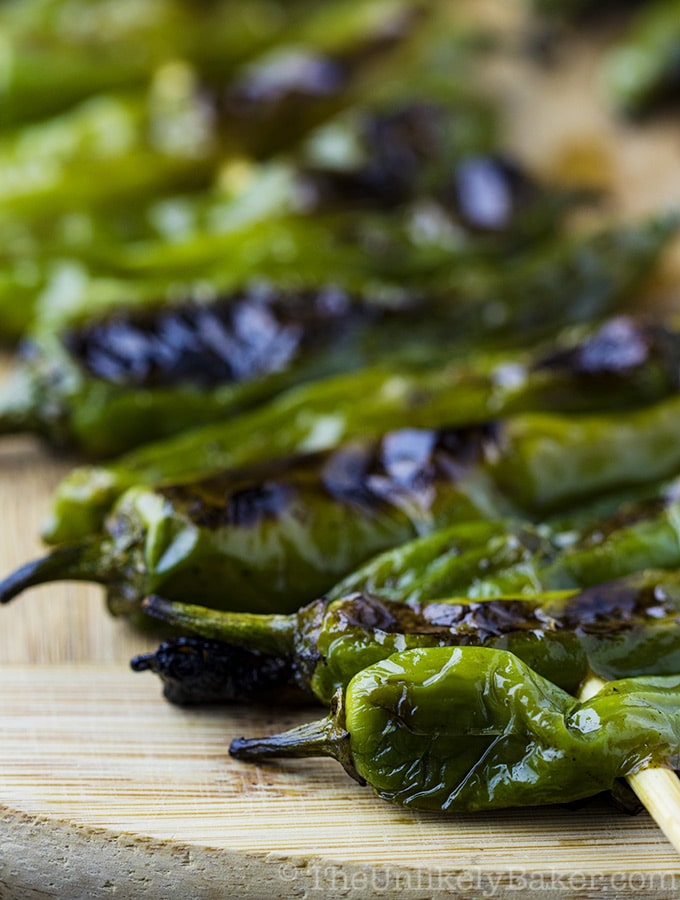 Just like that, 2 months have gone by and our no-bake summer series is over.
They are not kidding when they said time flies! Seems like only yesterday when we were enjoying fresh strawberry cheesecake mousse.
Summer is far from over though (I am planning a peaceful protest, anyone with me?) and there's lots of BBQ-ing and grilling still to be done.
Like these grilled shishito peppers. We've been munching on them all season long and they are the best thing ever.
What are shishito peppers?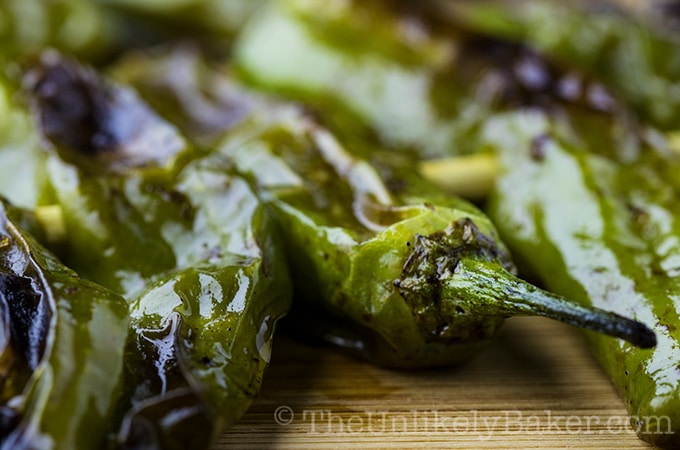 Shishito peppers
are fairly new to the foodie world. They started popping up in restaurant menus and food blogs only a few years ago.
At about 3 inches long, bright shiny green, slightly wrinkly with thin skin, they originated from Japan but are most often mistaken for Spanish padron peppers
You'll find them in your farmer's markets in the summer until fall though they're usually available year round at our local Asian supermarket. They're pre-packaged and ready to go.
What do shishito peppers taste like?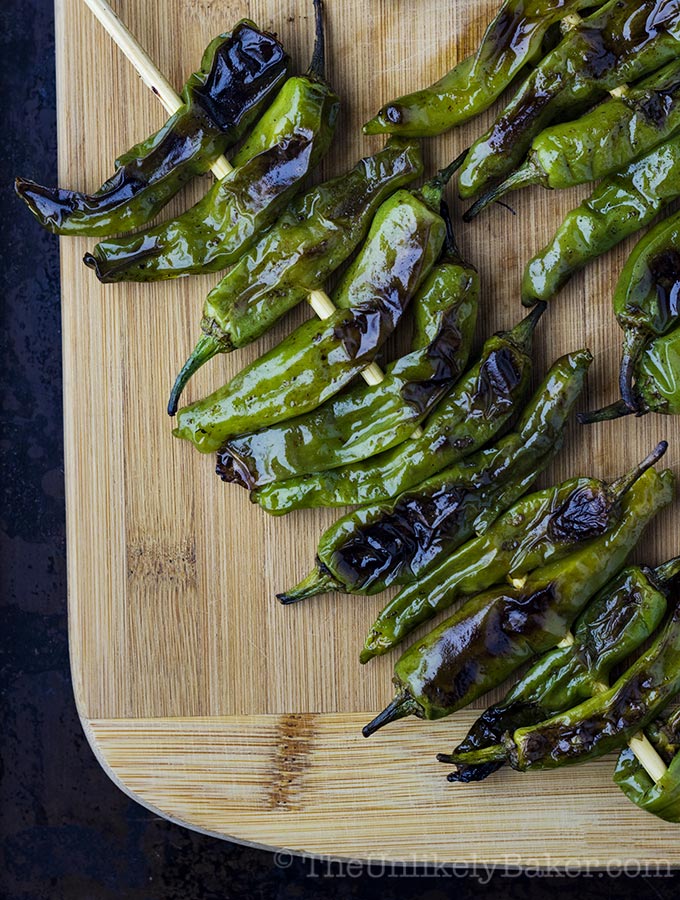 I'd like to say delicious and addicting and end there but that's not very helpful is it lol.
These peppers look hot but they're actually not. On the other hand, they're mild, slightly smokey, almost sweet.
Be warned though: what I find the most unique about them is that only 1 out of a handful is hot. How fun is that? Shishito pepper roulette anyone?
If you're the lucky (or unlucky, depends on how you feel about spicy!) one who gets the hot pepper, you're in for quite the surprise. And you will for sure come back for more.
Maybe it's one of the reasons why shishito peppers have become the newest darling of the food world and everyone's newest favourite appetizer. It's great with beer and also works well as a side dish (we recently tried them with ribs…yum).
(Looking for scorching hot peppers? Chiltepin pepper should be right up your alley!)
How to grill shishito peppers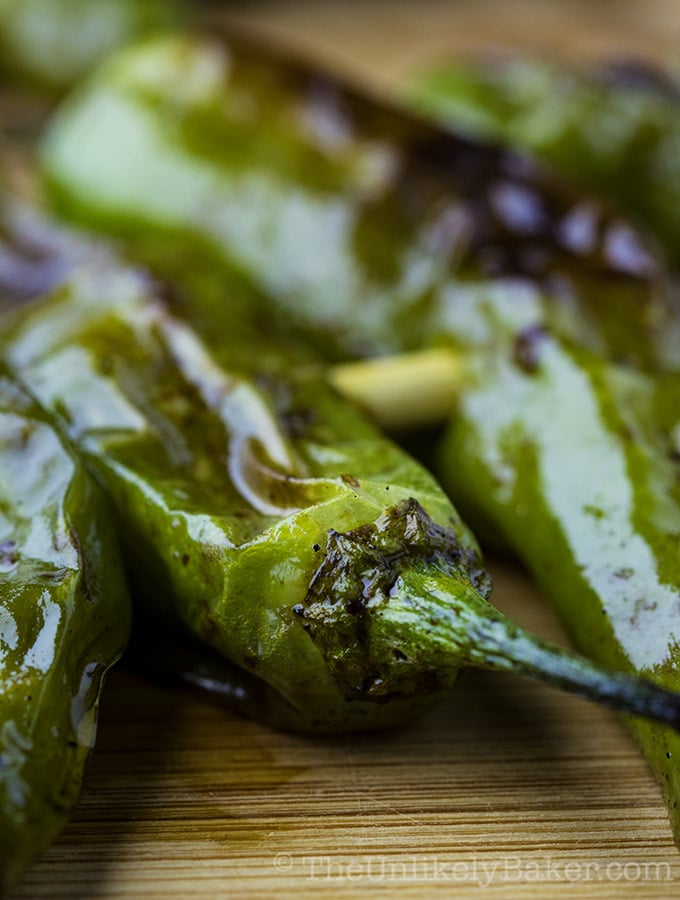 We love to grill them and it's the easiest (but most delicious) thing ever.
The only "difficult" thing about it is we skewer the peppers so we can flip them quicker and easier but you can skip that step if you want and just get to grilling.
What you do is take some peppers and toss with some olive oil
, sesame oil
and soy sauce
. Grill on high about 5 minutes on each side or until you see the skin on some peppers starting to blister.
Take off the grill, season with salt, enjoy. How easy is that?
You can dip them in aioli or ranch. We just eat them whole (minus the stem). Pure, simple, delicious.
Other delicious grilling recipes that are not meat
Looking for delicious things to grill this summer other than meat?
Try everyone's favourite grilled corn on the cob. This one is smothered in chili butter and sprinkled with parmesan cheese. Yum!
For dessert, try grilling some peaches then topping them mascarpone cream and drizzling them with salted caramel sauce. The most amazing BBQ dessert.
And add more veggies to your menu with these grilled veggie skewers.
And don't forget to check out this epic collection of summertime drinks.
While summer is not over (let's enjoy these precious last few weeks!) we're going back to regular programming starting next week.
And I have a delicious sweet-tart dessert for you that would help us stretch this glorious season for as long as we can.
In the meantime, grill some shishito peppers. It will become your new favourite too!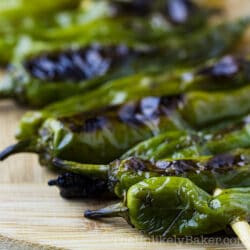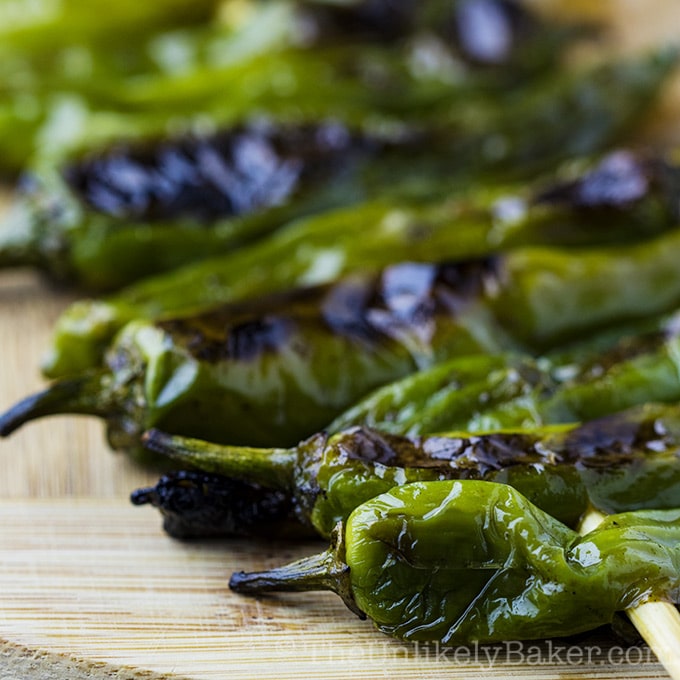 Grilled Shishito Peppers
Mild, smokey and sweet, grilled shishito peppers are easy to prepare and even easier to eat. Just toss in oil, grill and enjoy.
Instructions
In a medium bowl, toss shishito peppers in 1 tbsp olive oil, 1 tbsp sesame oil and 1 tbsp soy sauce.

Grill on med-high heat for about 5 minutes on each side or until the peppers start to blister.

Remove from heat, season with salt and serve immediately.
Notes
Optional: skewer the peppers so they are easier to flip on the grill. See video.
Nutrition
Calories:
75
kcal
Carbohydrates:
2
g
Fat:
7
g
Saturated Fat:
1
g
Sodium:
253
mg
Potassium:
108
mg
Sugar:
1
g
Vitamin A:
210
IU
Vitamin C:
45.6
mg
Calcium:
6
mg
Iron:
0.3
mg
Nutritional information are estimates only.
Tried this recipe? Leave a star rating today!
Also tag @iamtheunlikelybaker I'd love to see your creations.
Happy grilling!
Have you tried shishito peppers? What's your favourite way to enjoy them? I'd love to hear from you in the comments section below.