Elevate summer's favourite vegetable and BBQ staple! This grilled corn on the cob with chili butter is sweet, salty with a delightful kick at the end. You won't have grilled corn any other way again.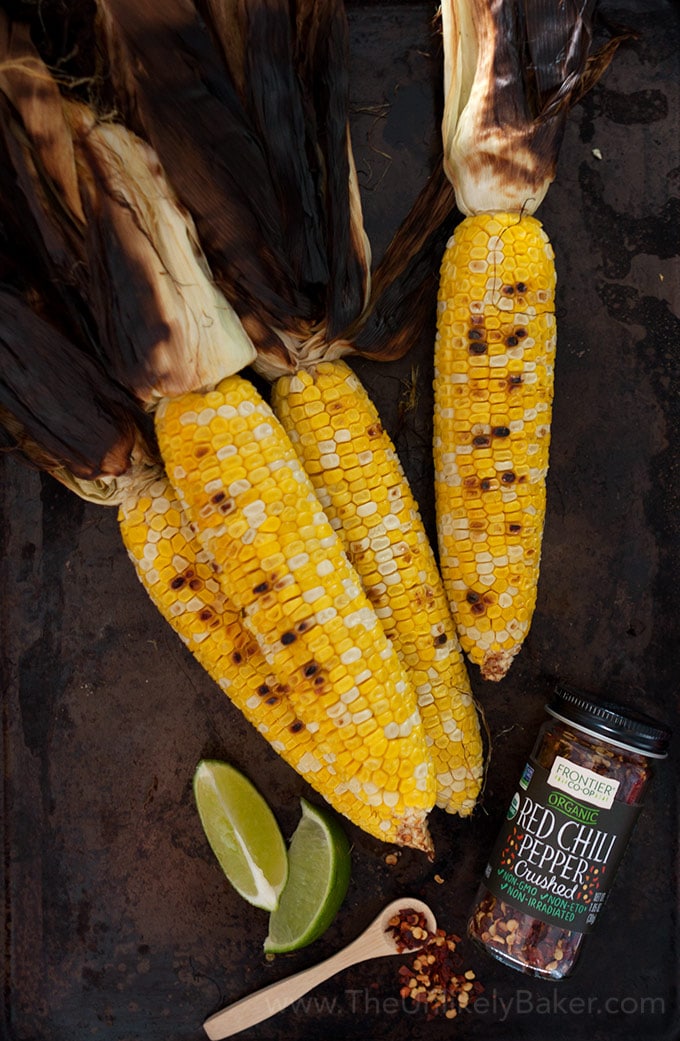 (Disclosure: This post is sponsored by Frontier Co-op but all photos, words and opinions are mine. Thank you for supporting the brands that support me!)
BBQ season is well underway and we are absolutely loving it. We've been drinking our fair share of avocado milkshakes and orange smoothies!
We recently bought an electric grill
– every year we plan on buying one and every year we put it off thinking we'll buy a proper one when we move to a house with a backyard.
That went out the window when we saw (and smelled) one of our neighbours grilling one day so we finally gave in. And holy smokes we've been barbecuing our heads off ever since.
While we love burgers (specifically, aloha burgers…so good!) and ribs as much as the next condo dweller, we adore grilled vegetables.
Which is why I am very happy to be working with Frontier Co-op for this recipe. They are a company that is committed not only to product quality but to sustainability and ethical trade as well.
I especially love their Organic Crushed Red Chilli Peppers. It works so well in pizzas, scrambled eggs and yes, grilled vegetables!
And it makes this grilled corn on the cob so amazing you won't go back to regular grilled corn again.
How to grill corn: husk on or husk off?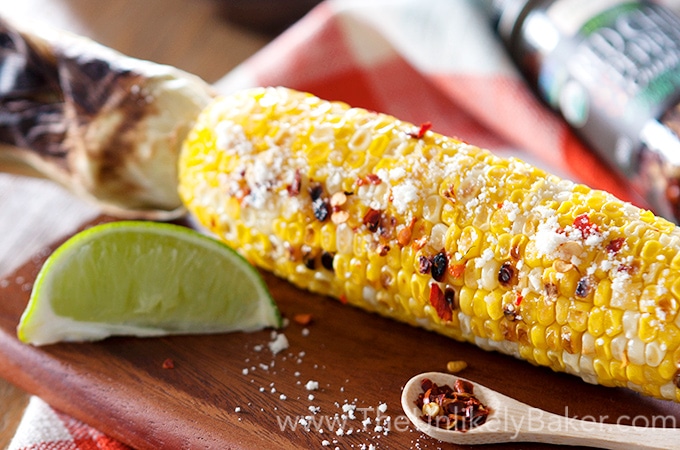 Different people grill corn differently.
We like to grill the corn in the husk until it's cooked, remove the husk, then put it back on the grill for a few minutes for those rustic grill marks. We get juicy, lovely grilled corn every time.
Some people remove the husk and then grill. Some people like to boil the corn first, then grill. Whatever works for you.
How to make chili butter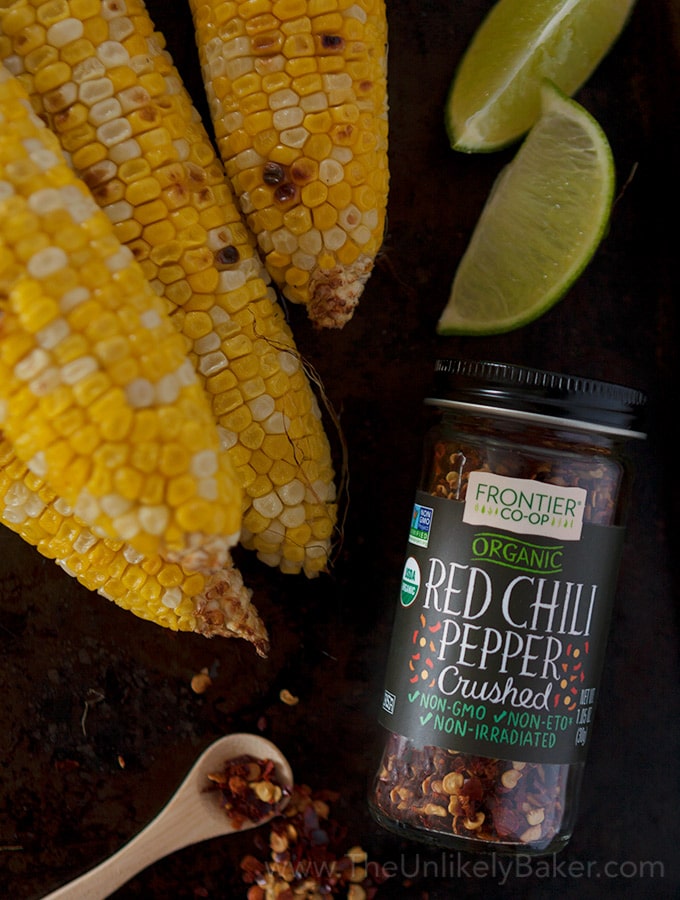 Because what makes this grilled corn amazing is the chili butter.
It's quick and easy: mix melted butter and Frontier Co-op's Organic Crushed Red Chili Peppers before you even start your grill. Allow time for the flavours to really combine.
Your chili butter solidified? No worries. Just 10 seconds in the microwave, a quick stir and you're back in business.
Simple delicious side dish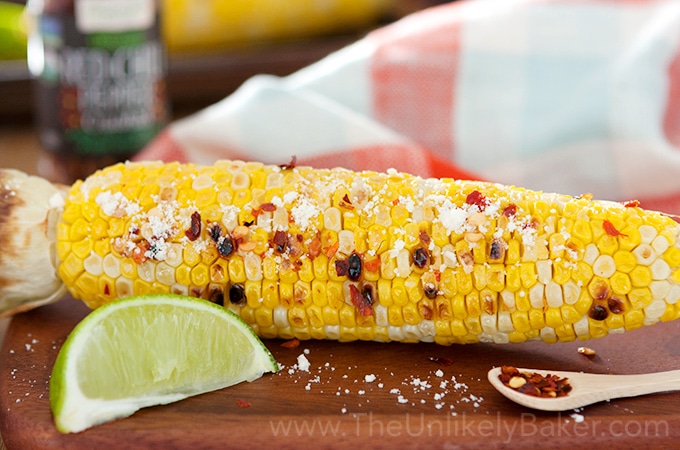 Brush your chili butter on your corn. Finish it off with some fresh lime juice, grated parmesan cheese and more crushed red chili peppers.
What you'll have is a simple but absolutely delicious side dish that might just steal the BBQ show!
And crushed red chili peppers don't just work wonders on grilled corn. We've tried it on grilled romaine lettuce and grilled bell peppers and it's awesome too!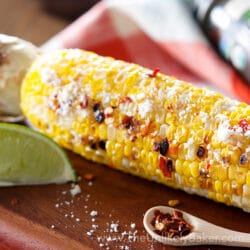 Grilled Corn on the Cob with Chili Butter
This grilled corn on the cob with chili butter is sweet, salty with a delightful kick at the end. You won't have grilled corn any other way again!
Ingredients
½

cup

salted butter

melted

1

tbsp

Frontier Co-op Organic Crushed Red Chilli Peppers

plus more for sprinkling

6

ears

sweet corn

we prefer to keep them in the husk when grilling

1

pc

lime

grated parmesan cheese for sprinkling
Instructions
Stir ½ cup melted butter and 1 tablespoon crushed chili peppers until combined. Set aside.

Set your grill to medium-high heat and grill corn until cooked (it takes us about 30 minutes for 6 ears of corn).

Brush a generous amount of chili butter on each cooked corn. Squeeze fresh lime juice on top and sprinkle with parmesan cheese and more crushed chili peppers. Enjoy while warm.
Notes
If your butter solidifies, simply microwave for about 10 seconds and stir.
We grill corn in the husk, remove the husk then put the corn back on the grill for a few minutes per side to get grill marks. You don't have to do it this way. Grill corn however way you're used to grilling corn.
Nutrition
Calories:
140
kcal
Carbohydrates:
1
g
Protein:
1
g
Fat:
16
g
Saturated Fat:
10
g
Cholesterol:
41
mg
Sodium:
157
mg
Potassium:
26
mg
Fiber:
1
g
Sugar:
1
g
Vitamin A:
868
IU
Calcium:
9
mg
Iron:
1
mg
Nutritional information are estimates only.
Tried this recipe? Leave a star rating today!
Also tag @iamtheunlikelybaker I'd love to see your creations.
Happy grilling!
Did you try this grilled corn on the cob with chili butter? I'd love to hear from you in the comments section below.