Avocado milkshake – a unique way to enjoy your favourite nutrient-rich avocado. No greens or other fruit mixed into this drink; just pure, creamy, delicious avocado goodness.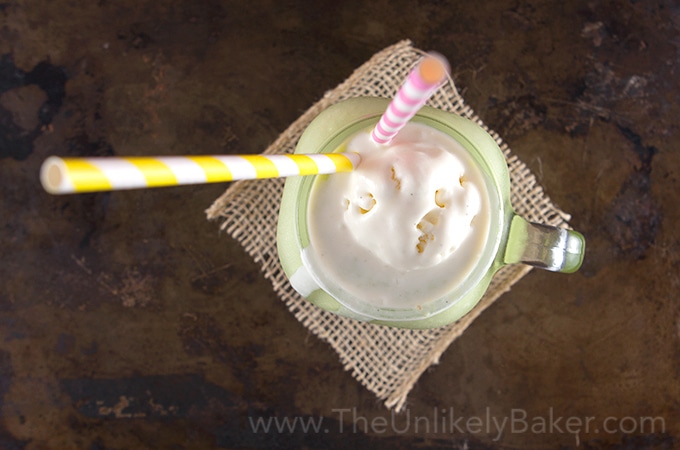 How do you like your avocados? I grew up eating them like a mango or a kiwi – just slice and scoop out the flesh. Sometimes I dip it in sugar like strawberries. Sometimes I dunk it in milk…like Oreos.
Is that weird? I noticed that not a lot of people do that here. Instead, they use avocado as an ingredient in savoury dishes. It's used in baking sweets too but typically to add moisture and not for the flavour. It's used in smoothies but usually mixed in with kale or other greens.
In the Philippines we grew up drinking avocado milkshake. Not avocado and something else. Just avocado. Also weird? Try it and I promise you'll be hooked!
The avocado milkshake
Making an avocado milkshake cannot be simpler. Just blend avocado, ice, milk and vanilla ice cream. Yes, ice cream! BTW, have you ever had avocado ice cream? It's delicious. And it shows you yet another way the sweet avocado is adored in the Philippines. But I digress.
Thick, rich and creamy, this avocado milkshake is dessert you can slurp!
Click To Tweet
Not your typical smoothie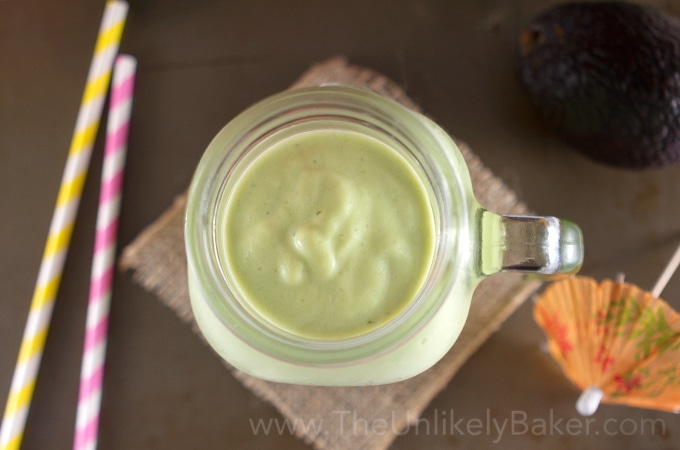 And while this may be considered a smoothie, it's really a milkshake. There are no nasty tasting stuff in here that the avocado or the milk tries to mask. And though I won't ever call this an after work-out drink or a breakfast smoothie, I mean, feel free. It has fruit! And it is refreshing, rich and thick, dessert-like and just delicious.
Avocado Milkshake (Filipino Recipe)
Avocado milkshake - a unique way to enjoy avocado. No greens or other fruit mixed into this drink; just pure, creamy, delicious avocado goodness.
Ingredients
1 pound ripe avocado (about 2 medium-sized pieces), sliced, pitted and the flesh scooped out
1 cup milk
1/4 cup condensed milk
1 cup ice cubes
2 scoops vanilla ice cream (ready-made or you can make your own)
Instructions
Put everything in a blender and blend until smooth.
Serve immediately (we top it with another scoop of ice cream).
https://theunlikelybaker.com/avocado-milkshake-filipino-recipe/
This delicious recipe brought to you by www.TheUnlikelyBaker.com | (c) 2016-2017
Happy blending!
Did you make avocado milkshake? How did you like it? Tell me about it in the comments section below. I'd love to hear all about it.
This is the last recipe in our No-Bake August. Hope you enjoyed our summer baking break! And in case you missed them:
Check back in on Wednesday, we're ending our no-bake month with a bang – I have a fabulous round-up of more no-bake treats for you from some of the best food bloggers. Perfect as summer winds down and for the upcoming Labour Day long weekend too!
And let's get social! Find me on Facebook, Pinterest, Instagram, Twitter, Google+ and Flipboard.
Or subscribe so you don't miss a recipe. I promise I don't spam (I hate spam too).
Do you want to improve your food photography, monetize your blog or start your very own food blog? Check out my Blogging Resources.