These banana buttermilk pancakes are light, fluffy and delicious! Topped with candied walnuts and maple syrup, they're a wonderful start to the day.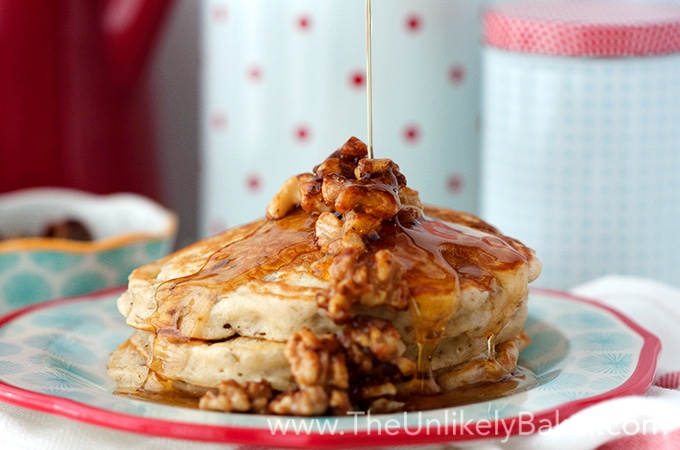 Do you know that Jack Johnson song, Banana Pancakes? That's my song. Waking up slow is the very definition of me in the morning. (Some people say that song is about something else but I run a family friendly blog here so we will ignore those people lol!)
Some days though, we get hit by the pancake bug and we are suddenly up at a respectable hour expected of responsible adults on a Saturday, fussing in our kitchen making pancakes. And this is one of our favourites. Light, fluffy and so good! Throw in some candied walnuts and let me tell you, you'd become a morning person too.
Freeze = banana buttermilk pancakes everyday
Pancakes are usually a weekend treat because of how long they take to prepare. Nobody seems to have that kind of time on a Monday morning.
But what I love about these pancakes is they freeze really well. This recipe is good for about a dozen pancakes so we freeze whatever we can't finish that day (so that's 2 pieces haha)…much like how we do it with these scones:
Just put the pancakes in a large Ziploc bag (I put parchment paper between the pancakes so they don't get stuck together) and stick the bag in the freezer.
So on hectic weekday mornings, we just microwave a piece straight out of the freezer for 15 seconds or so and it's good as new. Still fluffy and still delicious!
Happy Mother's Day!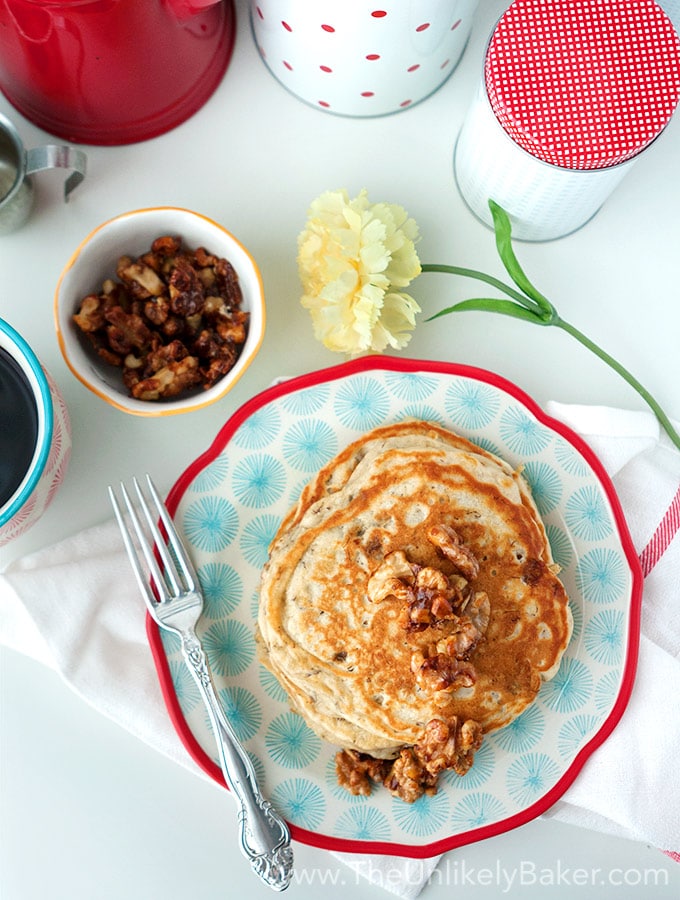 These pancakes are also a lovely treat for the moms in your life on Mother's Day (or everyday, really). If you're thinking of a special brunch or even breakfast in bed, add banana buttermilk pancakes to your spread!
[clickToTweet tweet="Rise and shine! Start the day smiling with these banana buttermilk pancakes. Recipe here >> " quote="Rise and shine! Start the day smiling with these banana buttermilk pancakes."]
Candied walnuts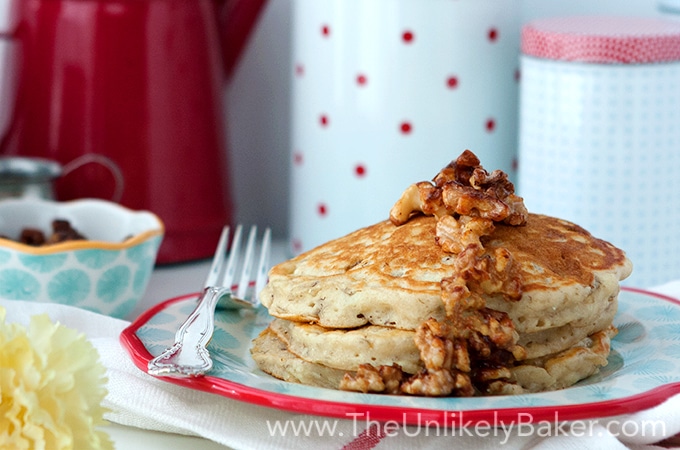 And can we talk about those candied walnuts for a second? They are so good I eat them on their own. As topping to these pancakes though, they are amazing.
So this weekend, get up early and reward yourself with banana buttermilk pancakes. They will make you feel great about being up before noon!
Of course, who said pancakes are just for breakfast and brunch? Go ahead and make these pancakes at midnight. They will be just as delicious.
Banana Buttermilk Pancakes with Candied Walnuts
These banana buttermilk pancakes are light, fluffy and delicious! Topped with candied walnuts and maple syrup, they're a wonderful start to the day.

Notes
You can substitute dairy milk for almond milk.
This recipe yields 12-16 pancakes, depending on how big you make them.
You can make the candied walnuts up to 3 days ahead - just store in an airtight container. No need to refrigerate.


Ingredients
For the Pancakes:
3 cups (384 grams) all purpose flour
2 tablespoons granulated sugar
3 teaspoons baking powder
1 1/2 teaspoons baking soda
1 teaspoon salt
2 cups (500 ml) buttermilk, room temperature
1/2 cup (125ml) almond milk, room temperature (see notes)
3 large eggs, room temperature
1 cup mashed ripe bananas (about 2-4 bananas)
1/4 cup (57 grams) unsalted butter, melted and slightly cooled
Oil for frying (I used coconut oil)
For the Candied Walnuts:
1 cup walnuts (you can chop them but I didn't bother)
1/4 cup (50 grams) granulated sugar
1 tablespoon unsalted butter
Instructions
For the Pancakes:
In a large bowl, combine 3 cups flour, 2 tablespoons sugar, 3 teaspoons baking powder, 1 1/2 teaspoons baking soda and 1 teaspoon salt. Set aside.
In a separate bowl, whisk 2 cups buttermilk, 1/2 cup almond milk, 3 eggs, 1 cup mashed bananas and 1/4 cup melted butter. Set aside.
Put a medium sized pan on your stove over medium heat. You know it's ready when small amounts of water sprinkled over it evaporates immediately. At this point, you can pour your buttermilk mixture into your flour mixture and gently stir. Do not over do it - it doesn't have to be a smooth mixture. You want a coarse batter with bits of flour remaining.
Put a little oil on your pan and start dropping your pancake mixture about 1/3 cup at a time. Cook about 3 minutes per side, or until golden brown.
Serve warm topped with candied walnuts and maple syrup.
For the Candied Walnuts:
Prepare a baking sheet by lining it with parchment paper. Set aside.
Using a skillet over medium heat, stir all ingredients together until sugar is melted and all walnuts are coated (4-5 minutes). Make sure to stir constantly so your sugar doesn't burn.
Transfer mixture to your baking sheet and spread evenly so the walnuts don't stick together. Wait for the sugar to cool and harden (1-2 minutes) before serving.
© 2021 This delicious recipe brought to you by www.TheUnlikelyBaker.com | (c) 2016-2017
Happy cooking!
Did you make banana buttermilk pancakes? I'd love to hear from you in the comments section below.
Got extra buttermilk? Here's an amazing collection of ways to use leftover buttermilk.
And let's get social! Find me on Facebook, Pinterest, Instagram, Twitter, Google+ and Flipboard.
Or subscribe so you don't miss a recipe. I promise I don't spam (I hate spam too).
Do you want to improve your food photography, monetize your blog or start your very own food blog? Check out my Blogging Resources.