Light, fluffy and full of the warm, cozy flavours of fall, these pumpkin buttermilk pancakes are sure to become a breakfast favourite! Top with candied pecans, drizzle with maple syrup, enjoy with your favourite cup of coffee or tea.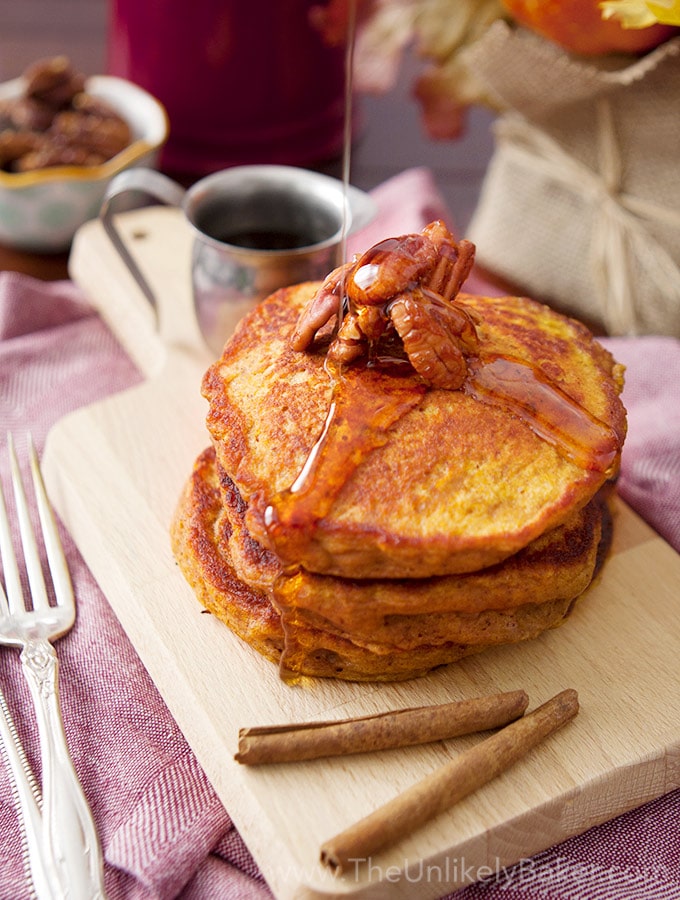 Fall has arrived at last. I know it's technically been fall for more than a month now but we've been enjoying above seasonal temperatures the last few weeks it feels more like summer. It's been so warm that Red felt weird about drinking pumpkin spice latte lol.
But I think our little (wonderful) Indian summer is over. So let's bask in everything fall, shall we? Starting with these super fluffy pumpkin buttermilk pancakes.
It's your favourite weekend breakfast and brunch treat packed with your favourite fall flavours. Add candied pecans and maple syrup to the mix and you have pancakes you'd want to eat all year round!
But first, candied pecans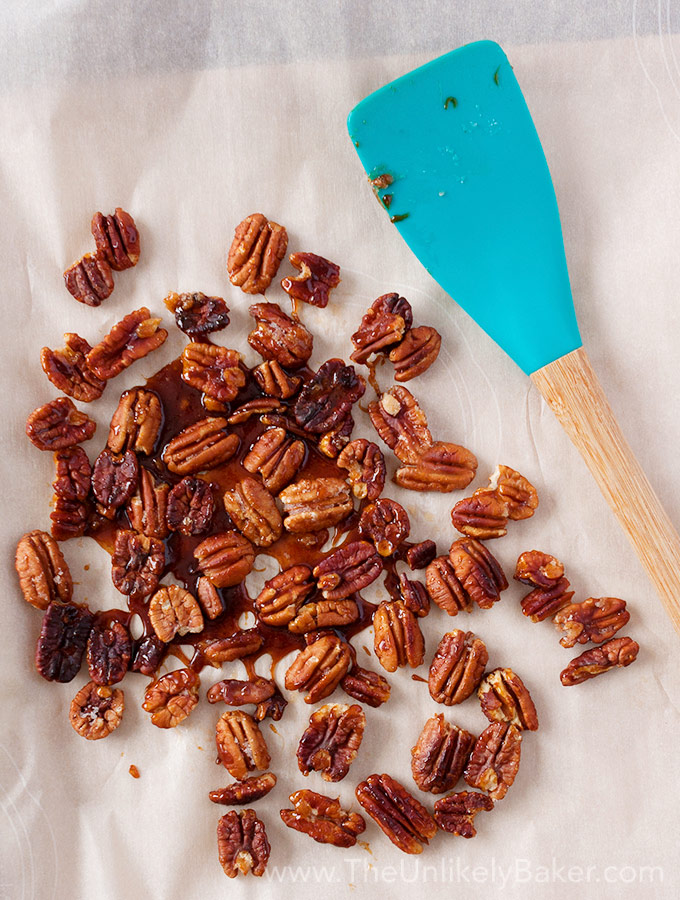 Let's talk about those candied pecans first though. You may wonder if you really need to make them. Yes. Yes, you do. They bring crunch and excitement to the pancakes! They are delicious and takes no time all.
Plus, they are amazing on their own – snack on them, put them in your salad, add them to cakes or cupcakes.
Related: Banana Buttermilk Pancakes with Candied Walnuts
Secret to fluffy pancakes
Now on to the pancakes. As the official Pancake Maker at home, I've found that there are two secrets to soft, fluffy pancakes:
Combine your wet and dry ingredients at the last minute, just when you're ready to fry them. I know some recipes ask you to chill the batter but I've found that resulted to flatter pancakes for me.

Do not over mix the batter. You don't want a smooth batter but a lumpy one. Again, I know other recipes suggest mixing the batter in a blender but I prefer to do it by hand so I have more control.
Experiment! I would love to see how yours go.
Related: 22 Delicious Ways to Use Leftover Buttermilk
Pumpkin buttermilk pancakes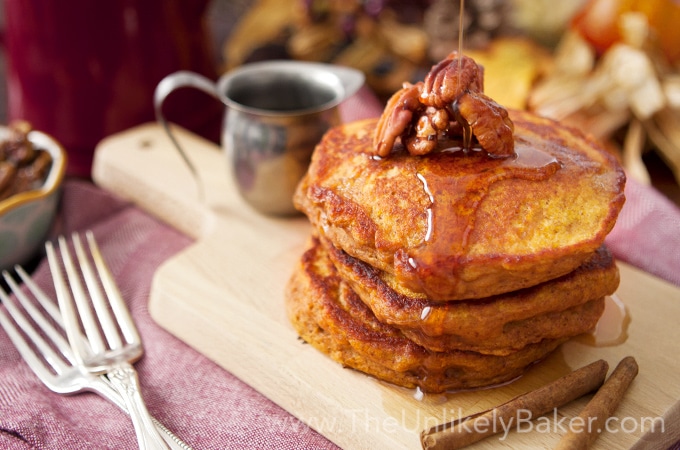 These pumpkin buttermilk pancakes are the bomb if I say so myself. They are light and fluffy and just tastes very fall-y, you know?
And they freeze well too. Just let them cool completely then transfer to a Ziploc bag, separated by parchment paper so they don't stick together. A quick minute in the microwave and they're good as new! You don't even need to thaw them. And I swear they taste better and better everyday.
Related: Classic Buttermilk Scones
Have a wonderful morning!
So this weekend, make a batch of pumpkin buttermilk pancakes, top them with as much candied pecans as you like and drizzle with golden maple syrup. It's a great way to start the day. These would be lovely to serve on Thanksgiving morning too!
Pumpkin Buttermilk Pancakes with Candied Pecans
Light, fluffy and full of the warm, cozy flavours of fall, these pumpkin buttermilk pancakes are sure to become a breakfast favourite!
Ingredients
For the Pumpkin Buttermilk Pancakes:

1 3/4 cups (224 grams) all purpose flour
3 tablespoons granulated sugar
1 1/4 teaspoons baking powder
1/2 teaspoon baking soda
2 tablespoons ground cinnamon
1 teaspoon ground cloves
1 teaspoon ground ginger
1/4 teaspoon ground allspice
1/2 teaspoon salt
1 cup (240 grams) pumpkin puree (I used canned)
1 1/2 cups (360 ml) buttermilk, room temperature
2 large eggs, room temperature
Oil or butter for frying (I used a combination)
Maple syrup and candied pecans for serving (recipe follows)
For the Candied Pecans:

1 cup (90 grams) roughly chopped pecans
1/4 cup (50 grams) granulated sugar
1 tablespoon unsalted butter
Instructions
For the Pumpkin Buttermilk Pancakes:

In a large bowl, whisk all dry ingredients until combined. Set aside.
In another bowl, whisk all wet ingredients until smooth. Set aside.
Put a medium sized pan on your stove over medium heat. You know it's ready when small amounts of water sprinkled over it evaporates immediately. At this point, you can pour your buttermilk mixture into your flour mixture and gently stir. Do not over mix - you want a coarse, lumpy batter with bits of flour remaining.
Put a little oil or butter (or a combination) on your pan and start dropping your pancake mixture about 1/3 cup at a time. Flatten slightly with a spoon or the bottom of your cup. Cook 2-3 minutes per side, or until golden brown.
Serve warm topped with candied pecans and maple syrup.
For the Candied Pecans:

Prepare a baking sheet by lining it with parchment paper. Set aside.
Using a skillet over medium heat, stir all ingredients together until sugar is melted and all pecans are coated (4-5 minutes). Make sure to stir constantly so your sugar doesn't burn.
Transfer mixture to your baking sheet and spread evenly so the pecans don't stick together. Wait for the sugar to cool and harden (1-2 minutes) before serving.
https://theunlikelybaker.com/pumpkin-buttermilk-pancakes-candied-pecans/
This delicious recipe brought to you by www.TheUnlikelyBaker.com | (c) 2016-2017
Happy cooking!
Did you make pumpkin buttermilk pancakes or the candied pecans? I'd love to hear from you in the comments section below.
Love breakfast? Here are other delicious recipes to start the day with!
And let's get social! See the sidebar (if on your desktop) or the bottom of this page (if on your mobile) to see how we can connect.
Or subscribe so you don't miss a recipe. I promise I don't spam (I hate spam too).
Do you want to improve your food photography, monetize your blog or start your very own food blog? Check out my Blogging Resources.