Never run out of buttermilk recipe ideas again! Here are 101 recipes that use buttermilk, from dessert to dinner and everything in between.
(Have other leftover ingredients? Check out and bookmark this collection of recipes for leftover egg yolks and leftover egg whites. This list of leftover ricotta recipes is a reader favorite too!)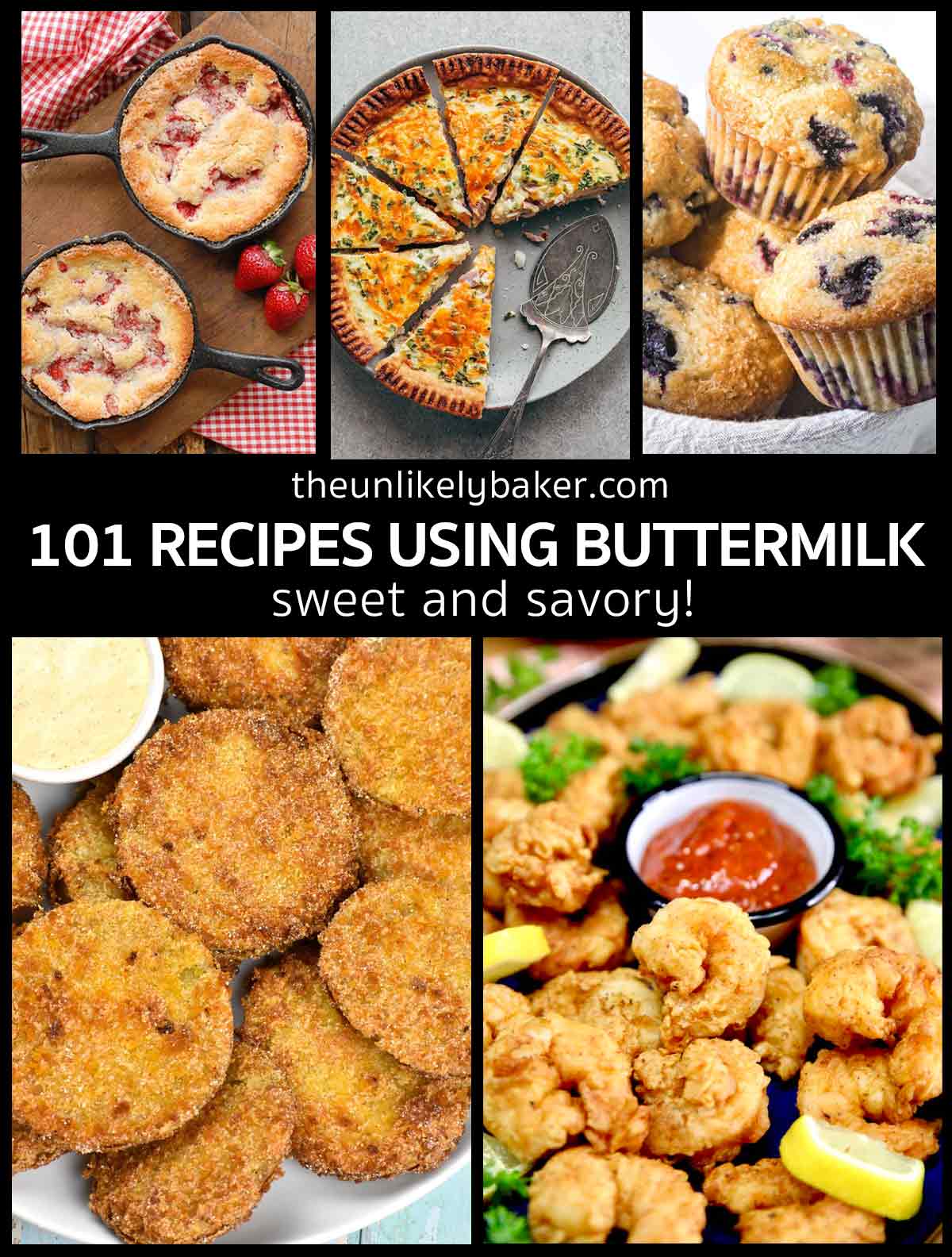 I've always wondered why buttermilk is sold in 1L cartons. Is it the same where you are?
Most recipes only need 2 cups (500ml) at the most so I used to always end up with way more buttermilk than I need.
I've since switched to using buttermilk powder (see FAQs for more info on how to use buttermilk powder) but in case you're looking for recipes for your leftover buttermilk, you've come to the right place!
There's a whopping 101 leftover buttermilk recipes in this collection and it will continue to grow as I find and add more to the list.
From sheet cakes to good old buttermilk biscuits, fried green tomatoes to crispy fried chicken, ice cream to classic cornbread, find the recipe you're looking for here.
So go ahead and explore, bookmark this page, and cook up delicious meals with that leftover buttermilk!
BUTTERMILK FAQs
What is buttermilk?

Buttermilk is fermented milk. It's thicker and lumpier than milk and has a slightly tangy, acidic taste.

Bakers love using it in cakes and other baked goods because its tangy flavor provides a nice balance against the sweetness and its acidity helps break down protein, which results to fluffier, lighter textures.

Cooks use it in savory dishes too.
How do I make homemade buttermilk?

To make homemade buttermilk, combine a cup of milk with a tablespoon of vinegar or lemon juice.

Stir then allow the mixture to sit for about minutes.
How do I use powdered buttermilk?

Powdered buttermilk is so easy to use and has a way longer shelf life than regular buttermilk.

You can use it in its powdered form in some recipes.

To reconstitute, add 1 tablespoon buttermilk powder to ½ cup of water. Stir until fully incorporated and allow the mixture to rest for about 5 minutes before using.


This may differ by brand though; make sure to check the packaging of your buttermilk powder for specific instructions.
Enjoy!
What is your favorite recipe that uses buttermilk? I'd love to hear all about it!
And be sure to bookmark and save this page for easy reference.