These are the best, must-try Filipino dessert recipes from creamy leche flan to sweet treats or traditional kakanin like rice cakes, from everyone's favourite ube halaya to the smoothest maja blanca. Find your favourite Filipino dessert here.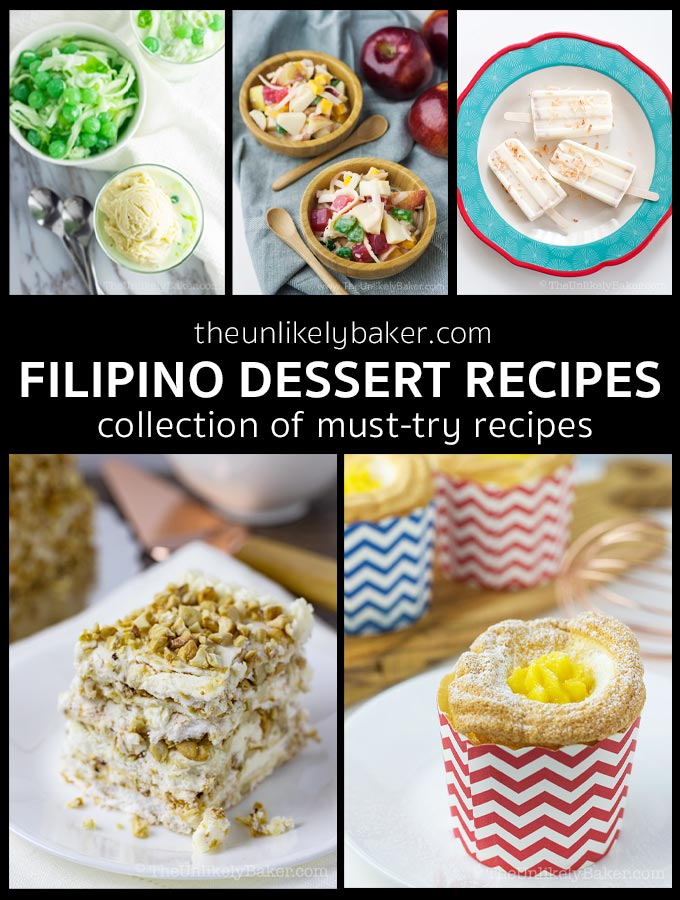 Since the Philippines is a land of rice and coconut trees, Filipino dessert recipes usually include glutinous rice or rice flour, coconut meat, and coconut milk or cream.
We also love our evaporated milk and condensed milk; a lot of people didn't use to own refrigerators so canned milk was the preferred type of milk because it lasted longer.
And have you tasted condensed milk? Nectar from the gods I tell ya.
Filipino desserts are either very simple to make with just a few ingredients that you toss together. Or highly elaborate that need several steps and several hours of prep. And they're all in here.
Go through this collection of the best pinoy desserts. Try one, try all. Enjoy!
Another popular Filipino dessert is halo-halo.
It's a dessert made of crushed or shaved ice, toppings like leche flan, sweet beans, ube halaya, sago or tapioca, and coconut, then drizzled with evaporated milk.
Some even top their halo halo with ice cream! It's really the ultimate summertime treat.
You don't need a recipe to make halo-halo at home. Just put your favourite things in it and make it your own.
Here's a video I found on YouTube where you can see how easy and simple it is to make one.
Hope you enjoy these delicious desserts recipes. If you ask me what the most popular is, I really can't tell you because I love them all!
Happy baking and cooking!
Did you make any of these recipes? Which one did you like best? I'd love to hear from you in the comments section below.
And let's get social! Find me on Facebook, Pinterest, Instagram, Twitter and YouTube.