Bourbon pecan pie bars – your favourite pecan pie bite-sized! Enjoy the sweet, boozy, delicious flavours of pecan pie minus all the challenges of making one.
(Can't get enough of pecan desserts? Try pecan pie cheesecake bars. Caramel butter pecan topping, creamy cheesecake layer, graham cracker pecan cookie base. Delicious!)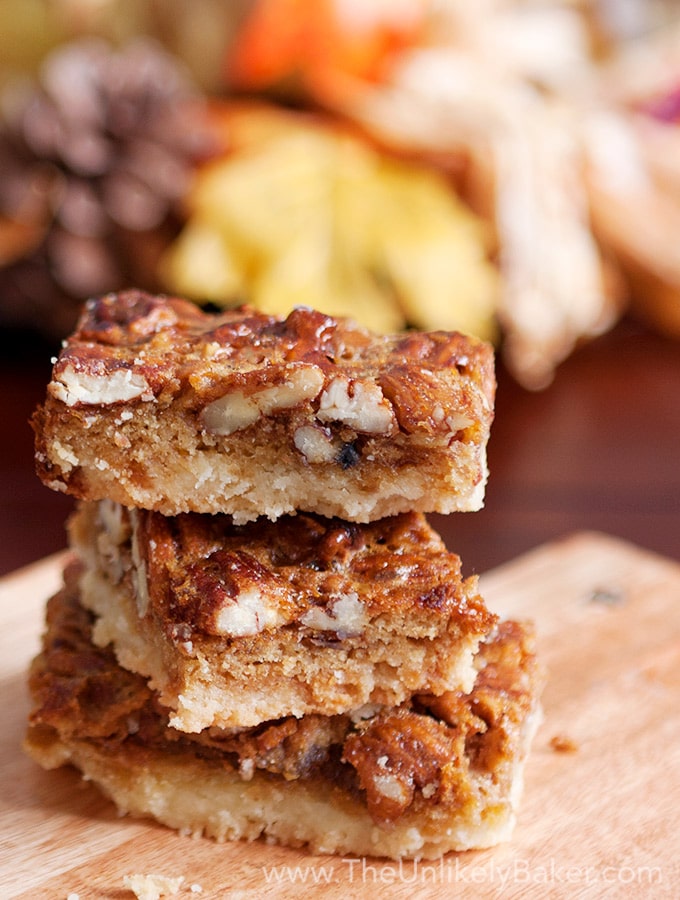 It's November and the holiday baking season is in full swing. Technically however, the baking frenzy at our house started early because Canadian Thanksgiving happens in October (lots of people are surprised to know this!).
American Thanksgiving is coming up though and to celebrate with my American friends, from now until then I will share some amazing desserts that are not only delicious but also a breeze to make.
Let's start with these bourbon pecan pie bars. The name says it all – boozy, sweet, nutty (i.e. tasting like nuts and not insane…though, can also mean insanely good)! And you can make them quicker than you can say pie.
Shortbread crust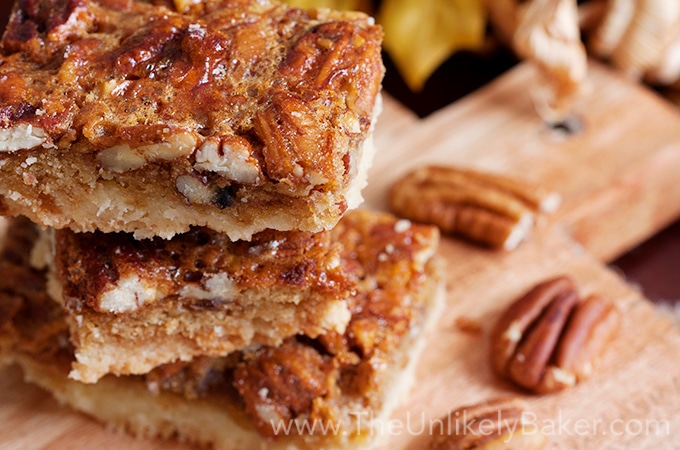 The crust I used here is the same crust I used for my favourite lemon bars. It's tender but sturdy enough to hold the filling on top. It's also the right amount of sweetness to complement the bourbon pecan topping.
Related: Pumpkin Pecan Muffins with Pecan Streusel Topping
Scrumptious golden syrup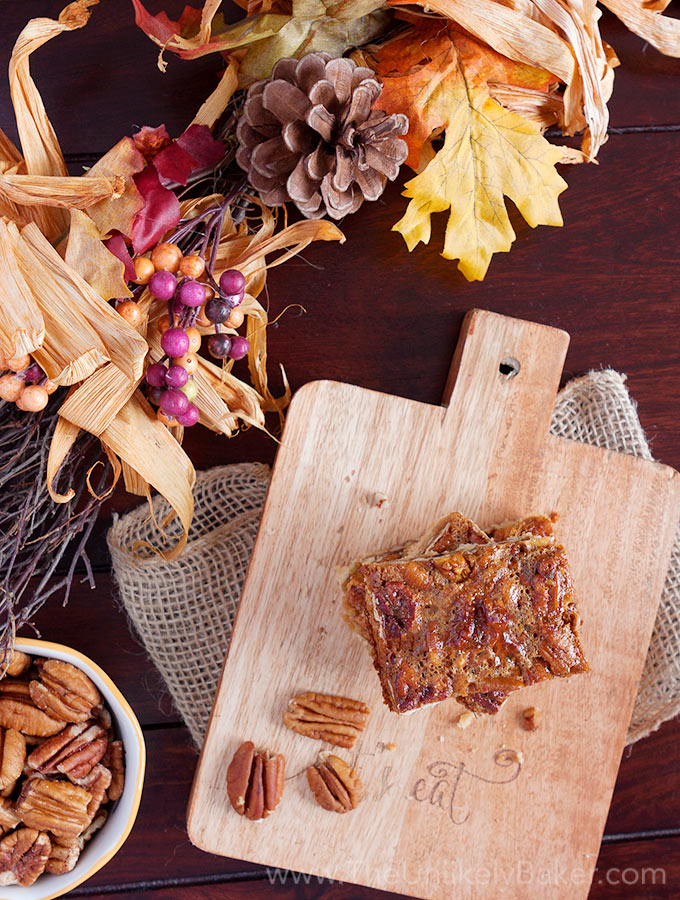 Next I used golden syrup
instead of the usual corn syrup. Have you heard of it? I first tasted it when I made my treacle tart and oh my word I was hooked. It is fantastic.
I think it's more widely known in the U.K. and not so much in North America but it is available.
It has a very distinct taste. It's sweet but doesn't taste like honey or maple syrup. It's a little hard to describe suffice it to say it is good.
You can use corn syrup in this recipe but if you get the chance, grab a bottle of golden syrup you won't regret it!
Bourbon or no bourbon?
You can also choose to leave out the bourbon here but it's the holidays! I say go for it.
It adds to the awesomeness of every bite. It won't be so boozy that you'd get drunk but I promise it will be yummy.
Related: Grilled Peaches with Mascarpone Cream & Bourbon Salted Caramel Sauce
Bourbon pecan pie bars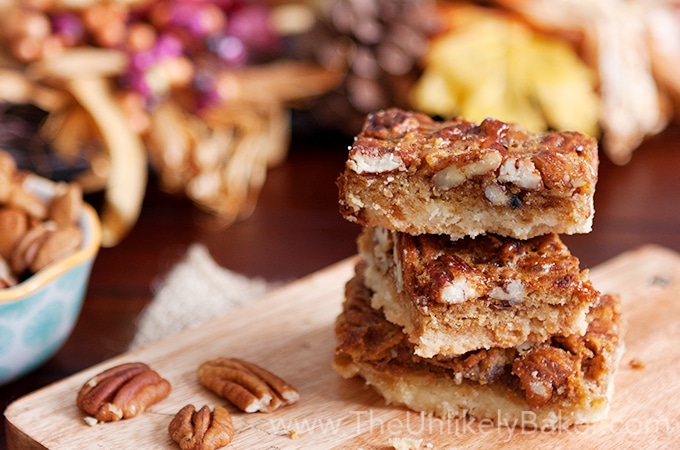 And did I mention this is a breeze to make? Watch the video and see how easy!
You have no pie crust to worry about – no chilling, no rolling, no crimping. You can enjoy all the goodness of pecan pie without all the hassle.
So this Thanksgiving, serve some bourbon pecan pie bars and spend more time with your guests instead of in the kitchen!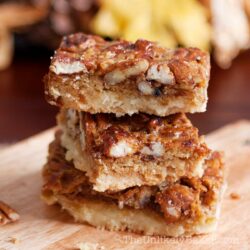 Bourbon Pecan Pie Bars with Shortbread Crust
Bourbon pecan pie bars – your favourite pecan pie bite-sized! Enjoy the sweet, boozy, delicious flavours of pecan pie minus all the challenges of making one.
Ingredients
For the Shortbread Crust:
For the Bourbon Pecan Pie Topping:
Instructions
For the Shortbread Crust:
Preheat oven to 350F. Prepare a 9×13 inch baking pan by lining it with parchment paper with a slight overhang on each side. Set aside.

Using a handheld electric mixer or a stand mixer fitted with the paddle attachment, beat all ingredients until it resembles a coarse meal. Do not over beat. You'll know you're done when no big chunks of butter remain.

Press evenly and firmly onto the bottom of your pan (make sure the crust is packed tightly and evenly so you won't have to deal with a possible seeping situation later).

Bake for 20 minutes or until the edges start turning a light golden brown.

Take out of the oven while you work on your filling. Do not turn oven off.
For the Bourbon Pecan Pie Topping:
Put all ingredients in a large bowl except the pecans. Stir until thoroughly combined. Add the pecans and stir.

Transfer onto your prepared crust and bake for 30-35 minutes or until a toothpick inserted close to the edge comes out with minimal dry crumbs. Cool in the pan before slicing into bars.
Notes
The yield depends on how big you slice the bars. These are very rich so a little goes a long way. We've found slicing them into 40 squares results to perfect bite-size pieces but you can slice them bigger if you like.
In the ingredient list above, I put 2 cups of pecans but feel free to add more. I usually use between 2 and 2 ½ cups of nuts to cover my whole pan.
We store leftovers in a covered container in the fridge. It is absolutely delightful chilled!
Nutrition
Calories:
152
kcal
Carbohydrates:
18
g
Protein:
1
g
Fat:
8
g
Saturated Fat:
3
g
Cholesterol:
13
mg
Sodium:
74
mg
Potassium:
33
mg
Fiber:
1
g
Sugar:
12
g
Vitamin A:
145
IU
Vitamin C:
1
mg
Calcium:
8
mg
Iron:
1
mg
Nutritional information are estimates only.
Tried this recipe? Leave a star rating today!
Also tag @iamtheunlikelybaker I'd love to see your creations.
Happy baking!
Did you make pecan bars? I'd love to hear from you in the comments section below.