Jump to recipe
Brazo de Mercedes is a traditional Filipino dessert that consists of a soft and pillowy meringue roll filled with sweet and sticky egg custard.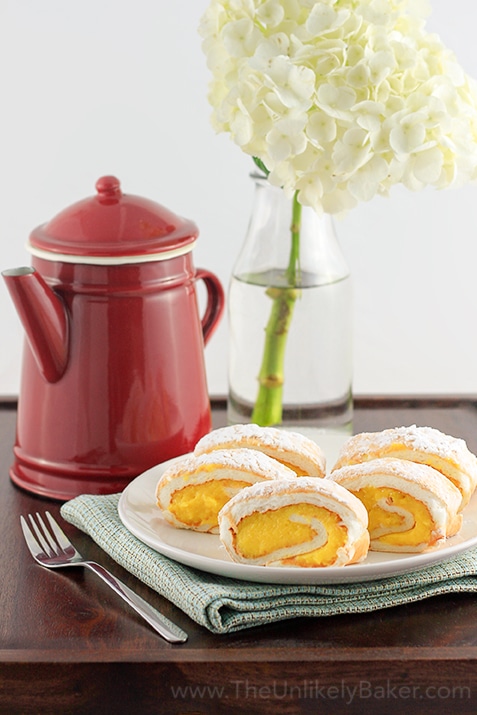 We all have those moments – big and quiet ones – that change everything. For me, it was craving Brazo de Mercedes so bad it got me off my lazy behind and start baking. So I thought it appropriate my first post be about that.
The Baking Begins
I was craving Brazo de Mercedes for weeks but I wasn't really doing anything about it except whine (shame on me, I know).
Understand that before any of this, all I can do is re-heat food in the microwave (and call places for delivery). So going from that to making this relatively complex cake from scratch is almost impossible (I wanted to say "ridiculous" but that might be too harsh).
Took me 2 (I think it was 3 but who's counting?) tries but when I finally got it, that was it. There was no looking back.
What is Brazo de Mercedes?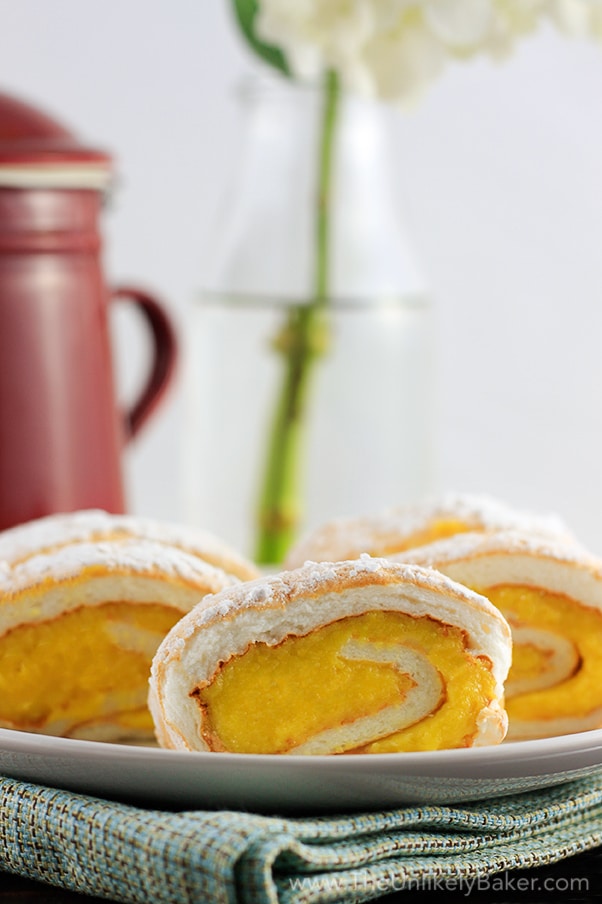 Brazo de Mercedes is a soft and pillowy meringue roll filled with sweet and sticky egg custard. It is quintessentially Filipino – it's what you have on the dinner table when you're celebrating something.
And Filipinos are always celebrating something. So I grew up eating it and I've always associated it with happy, family gatherings.
And there I was, thousands of miles away from family, craving this cake. It was driving me insane.
Not So Simple Plan
I scoured the Internet for the simplest Brazo de Mercedes recipe I could find (one has to be realistic about one's skill set after all) but quickly realized this was not going to be a simple undertaking at all. There was the custard, then the meringue, then the assembly.
But 40 eggs, steely determination and maybe some tears later, I have this fantastic cake that not only tastes great but also reminds me of home. Now I have a recipe I can rely on so that I can make this cake whenever the craving hits (minus the tears).
Tips for a Successful Meringue
I've made Brazo de Mercedes several times and what is still a hit or miss for me is the height of the meringue. I would love for it to be at least an inch thick but despite my best effort, I am only able to achieve this 50% of the time.
I follow all these tips for a successful meringue every time:
Use room temperature egg whites and make sure there is no speck of egg yolk in it
Make sure all the tools used to make the meringue are dry and grease-free
Don't over beat the egg whites; stop as soon as stiff peaks are reached
Handle the meringue gently when spreading onto baking pan
Bake/use immediately
The recipe is awesome. I just need to work on my technique. Any other ideas?
Brazo de Mercedes
Brazo de Mercedes is a traditional Filipino dessert that consists of a soft and pillowy meringue roll filled with sweet and sticky egg custard.

Ingredients
For the meringue:
10 egg whites, room temperature
1/2 teaspoon cream of tartar
3/4 cup granulated sugar
For the custard:
10 egg yolks
1 300ml can of condensed milk
1 teaspoon vanilla extract
1 tablespoon lime juice
For dusting:
1/2 cup confectioner's sugar
Instructions
For the meringue:
Pre-heat oven to 350F.
Prep your baking pan by covering it with parchment paper and lightly greasing the parchment paper. Set aside. (My baking pan is 17.25 x 11.5 x 1 inches.)
Using a stand mixer (a handheld electric mixer would work too - even mixing it by hand - it would just take more time…and stamina) with the whisk attachment, whisk the 10 egg whites until foamy (The Kitchn has a great visual guide on what this is supposed to look like. See my

Baking Cheatsheet

below for the link).
Add 1/2 teaspoon cream of tartar and whisk until soft peaks form.
Gradually (slowly and in small quantities at a time - do not dump all the sugar in) add the 3/4 cup sugar and whisk until you reach stiff peak stage.
Transfer the meringue (yes, this is now meringue!) to your lined and greased baking sheet and spread evenly. Handle lightly. (

Brazo de Mercedes

traditionally has a zigzagged surface and you can achieve this by levelling the top of your meringue with a decorating comb. If you don't have one, you can use a fork. Or you can skip this step altogether.)
Bake the meringue in your pre-heated oven for 20 minutes or until the top part turns a light brown.
While that's baking, you can work on your custard.
For the custard:
In a medium heavy-bottom saucepan (don't turn on the stove yet), beat the 10 egg yolks before adding all the condensed milk.
Mix them thoroughly then start cooking over low-medium heat.
Stir often so you don't end up with scrambled eggs. I won't lie, this process takes me a long time (seems longer when you're constantly stirring; just think of it as a mini-workout) but you really need to watch your custard.
When you see that your mixture is starting to take shape and form into clumps, add the 1 teaspoon of vanilla and the 1 tablespoon of lime juice (lime juice helps cut through all that sweet condensed milk).
When you've reached custard consistency (thick but still spreadable), turn off the stove, remove pan from heat and set aside.
Assembly:
By this time (and we are multi-tasking here), the meringue should already be done, removed from the oven and cooled slightly so let's start assembly.
While the meringue is still a little warm, dust the top with confectioner's sugar. Make sure to cover the whole meringue otherwise it will stick once you roll it (this will make sense later, read on).
Place another piece of parchment paper on top of the dusted meringue, then cover that with another baking pan (ideally the same size as the one your meringue is on). You now have a meringue-baking pan sandwich.
This step is tricky - I do it slowly and deliberately but others do it quickly. Just follow your gut - flip your meringue sandwich so that your bottom baking pan is now your top baking pan.
Remove the top baking pan (which is the pan you baked the meringue on - confused yet?) and carefully remove the parchment paper.
Spread the custard evenly.
Roll the meringue inward while also gently removing the other parchment paper you placed on top of the confectioner's sugar. Nothing should stick; the confectioner's sugar should see to that.
Cut the edges (these are the uneven bits) and serve.
© 2022 This delicious recipe brought to you by www.TheUnlikelyBaker.com | (c) 2016-2017
(This recipe adapted from Panlasang Pinoy.)
Happy baking! Did you make Brazo de Mercedes? Tell me how it went in the comments section below. I'd love to hear all about it.
Here are more Filipino desserts you might like:
And let's get social! Find me on Facebook, Pinterest, Instagram, Twitter, Google+ and Flipboard.
Or subscribe so you don't miss a recipe. I promise I don't spam (I hate spam too).
Do you want to improve your food photography, monetize your blog or start your very own food blog? Check out my Blogging Resources.