Rich chocolate cupcakes topped with smooth and creamy peanut butter frosting. Take a bite and discover the peanut butter surprise inside!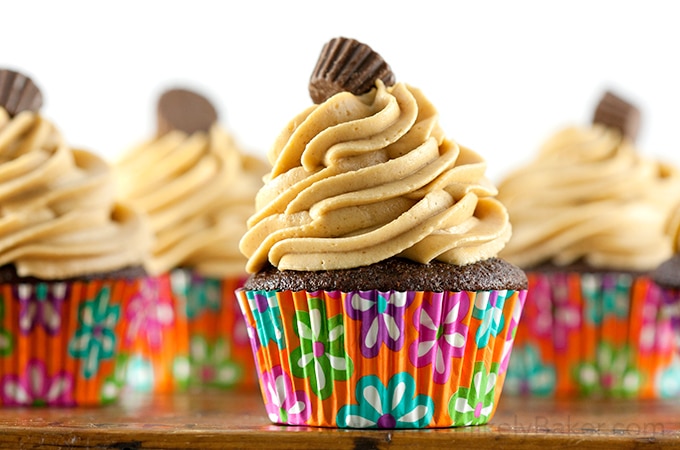 By default, 99% of people already love chocolate cupcakes.
This version is moist and dense and packed with rich, chocolate flavour.
Put velvety smooth peanut butter frosting on top and people get excited.
But put a Reese's peanut butter cup inside the cupcakes and they go all out crazy.
The key is keeping it a secret. Then watch them as they take their first bite and discover the fun surprise waiting for them inside. This is a great recipe to up your cupcake game.
Happy Halloween (sort of)
It's just me and Red at home. I bake, Red cooks.
She says it's difficult to cook for two so tonight's dinner becomes tomorrow's packed lunch and perhaps tomorrow night's dinner too.
We're fine with that; we've learned to implement a really efficient system that results in the least amount of food wasted (not wanting to give up your Costco membership does that to you but that's beside the point).
My point is, it's March and we have leftover Reese's peanut butter cups from Halloween (yes, from October) that we need to deal with (if you've read my previous posts, you might remember a similar situation that resulted to amazing Chewy Double Chocolate Chunk Cookies).
The solution? (Stop buying in bulk if you're a two-person household? Funny.)
Use them in chocolate cupcakes. You can't go wrong with chocolate and peanut butter.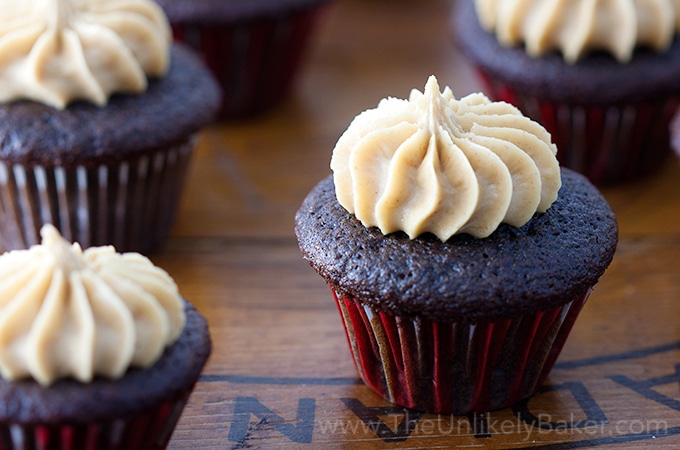 Chocolate + Peanut Butter = Win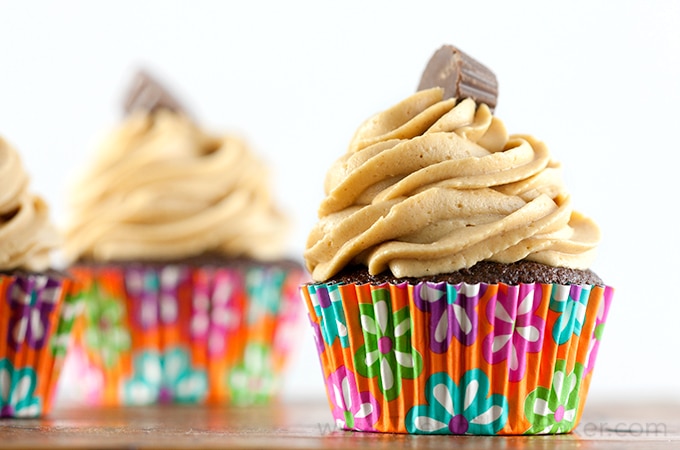 The last time I served these chocolate cupcakes with peanut butter frosting, our guests loved them and wanted to bring extras home.
Of course I was secretly tickled pink (not so secret anymore!).
Chocolate cupcakes and peanut butter just do that to people, eh? It's like we're wired to like it. This really is one of my favourite recipes. I do have a bone to pick with it though.
The Sinking Chocolate Predicament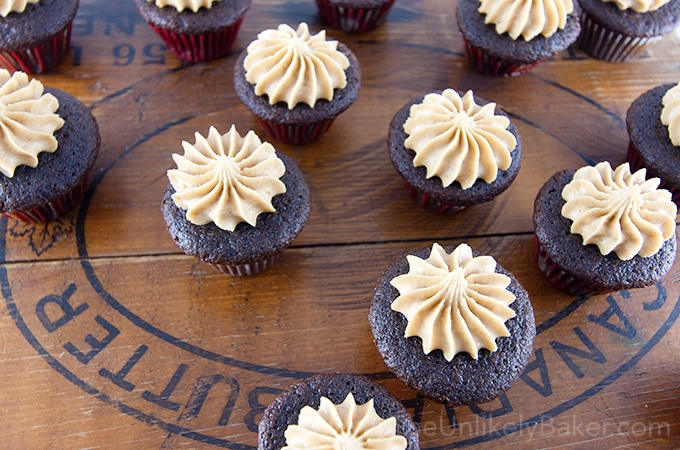 I've made this cupcake several times and it's always been a hit. What I can't figure out yet is how to make the peanut butter cup magically float in the middle of the cupcake.
The original recipe says to place the chocolate in the cupcake liners before putting the batter in so I knew the first time I made this that the chances of the chocolate floating up was slim to none.
So the next time, I tried putting a little batter in first, then the chocolate. Nope.
Then I tried putting all of the batter then pressing the chocolate in the middle. Nope.
Then I tried putting the chocolate on top of the batter (not pressing it in, just letting it sit there). Nope.
Rejected again! The chocolate just keeps sinking to the dang bottom.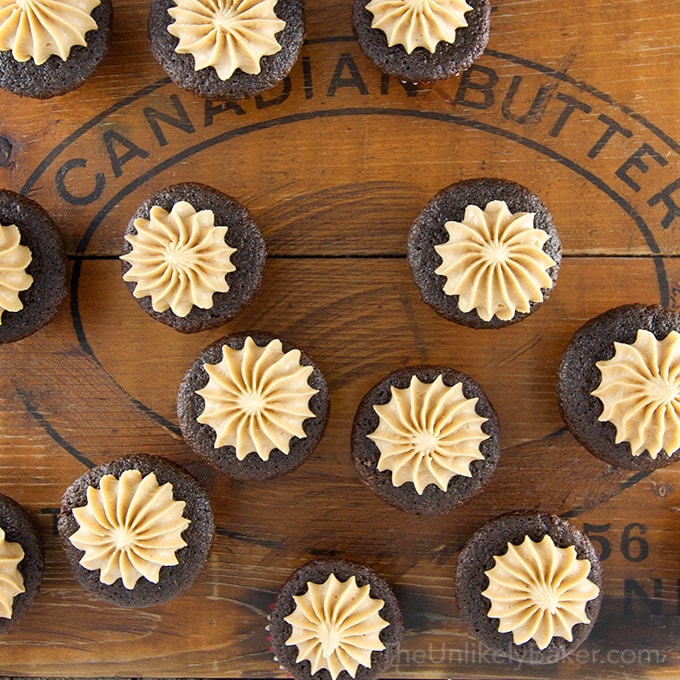 It doesn't affect the taste at all though. I just thought how lovely it would be to bite into the cupcake and have a little chocolate surprise in the middle and not the bottom.
Perfecting these chocolate cupcakes with peanut butter frosting
Anyway, I have two more things to try:
Freezing the chocolate before placing it on top of the batter (I don't know the science behind this but at this point I'll try anything) or,
Just simply carving a hole in the middle of the cooked cupcake and placing the chocolate there (I don't know how I feel about this though…I kind of like the slightly melted chocolate inside).
How do you do it?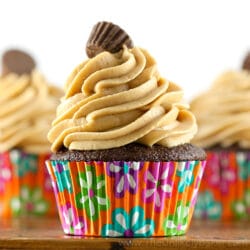 Chocolate Cupcakes with Peanut Butter Frosting
Rich chocolate cupcakes topped with smooth and creamy peanut butter frosting. Take a bite and discover the peanut butter surprise inside!
Ingredients
Cupcakes:
1 ½

cups

all purpose flour

½

cup

unsweetened

natural cocoa powder

1

tsp

baking soda

¼

tsp

salt

½

cup

coffee

lukewarm

½

cup

buttermilk

room temperature

½

cup

unsalted butter

room temperature

1 ½

cups

granulated sugar

2

pcs

large eggs

room temperature

2

tsp

vanilla extract

Reese's Minis or Miniatures Peanut Butter Cups

unwrapped, see note
Instructions
Chocolate Cupcakes:
Preheat oven to 375F. Prepare your pan by lining with cupcake liners and putting a peanut butter cup in each. Set aside.

In a medium bowl, whisk together 1 ½ cups flour, ½ cup cocoa powder, 1 teaspoon baking soda and ¼ teaspoon salt. Set aside.

In another bowl, stir together your ½ cup coffee and ½ cup buttermilk. Set aside.

Using an electric hand mixer or a stand mixer fitted with the paddle attachment, cream ½ cup butter and 1 ½ cups sugar until light and fluffy.

Add eggs one at a time making sure each one is incorporated well.

Add 2 teaspoons of vanilla and continue to stir until combined. Remember to scrape the sides and the bottom of your bowl.

Add a third of your flour mixture into your butter mixture and mix well. Then add half of your buttermilk/coffee mixture. Add in another third of your flour, the rest of your buttermilk and finally the rest of your flour. Make sure to beat well after each addition.

Pour the batter evenly into your baking cups until they are about ⅔ full.

Bake for 10-20 minutes or until a toothpick inserted in the centre comes out clean (my mini cupcakes were done in 10 minutes while my regular cupcakes were done in 15).

Cool in the pans for 10 minutes then transfer to a wire rack to cool completely before frosting.
Peanut Butter Frosting:
Using a handheld electric mixer or a stand mixer fitted with the paddle attachment, cream 2 cups peanut butter, ½ cup butter and 2 teaspoons vanilla until smooth.

Add ¼ teaspoon salt and ¼ cup heavy cream and continue beating until well combined.

Gradually add the 2 cups confectioner's sugar (about ½ cup at a time) and beat until you get a smooth and fluffy consistency.
Notes
Reese's Minis work best for mini cupcakes, and the miniatures work best for standard/regular-sized cupcakes

This recipe yields 24 standard size or 48 mini cupcakes.
Nutrition
Calories:
328
kcal
Carbohydrates:
34
g
Protein:
7
g
Fat:
20
g
Saturated Fat:
8
g
Polyunsaturated Fat:
3
g
Monounsaturated Fat:
8
g
Trans Fat:
1
g
Cholesterol:
25
mg
Sodium:
201
mg
Potassium:
190
mg
Fiber:
2
g
Sugar:
25
g
Vitamin A:
282
IU
Vitamin C:
1
mg
Calcium:
23
mg
Iron:
1
mg
Nutritional information are estimates only.
Tried this recipe? Leave a star rating today!
Also tag @iamtheunlikelybaker I'd love to see your creations.
(This recipe adapted from Gimme Some Oven)
Happy baking!
Did you make these chocolate cupcakes with peanut butter frosting? Tell me how it went in the comments section below. I'd love to hear all about it.
Want to try a different kind of cupcake? Try these Limoncello Cupcakes with Limoncello Cream Cheese Frosting. They are fabulous.