Champorado or Filipino chocolate rice porridge is a traditional Filipino breakfast. Made with sticky rice and pure cacao tablets, it's rich, creamy and very chocolatey; just the kind of boost we need in the morning!
(If you love starting your day with chocolates – who doesn't? – you'll love these Chocolate Ricotta Muffins with Walnuts & Chocolate Chips or these Super Chocolatey Double Chocolate Waffles.)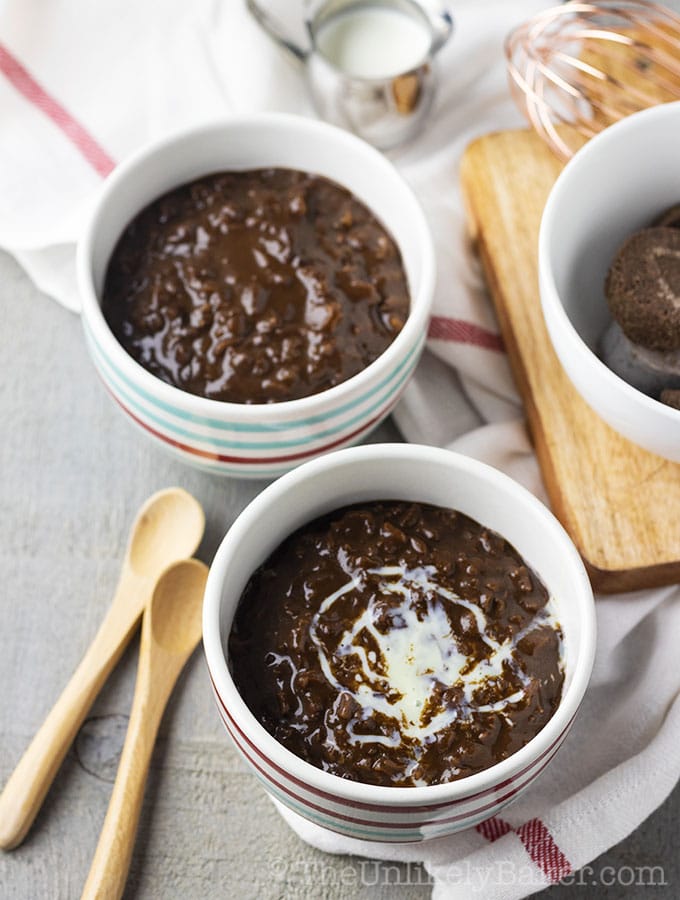 I grew up eating champorado (pronounced exactly as it's spelled: champ-o-ra-do) or Filipino chocolate rice porridge. It's traditionally eaten for breakfast, though I also eat it for mid-morning snack, afternoon snack, dinner and even dessert! (I eat like a hobbit lol).
There are a lot of variations of champorado now (e.g. made with oatmeal or cocoa powder) but my favourite is still the kind my grandmother makes – sticky or glutinous rice + tablea (the same cacao tablets used for tsokolate or Filipino hot chocolate).
It's rich, very chocolatey Filipino comfort food. Perfect for these chilly winter mornings. But really, it's a great start to the day, any season!
How do you make champorado?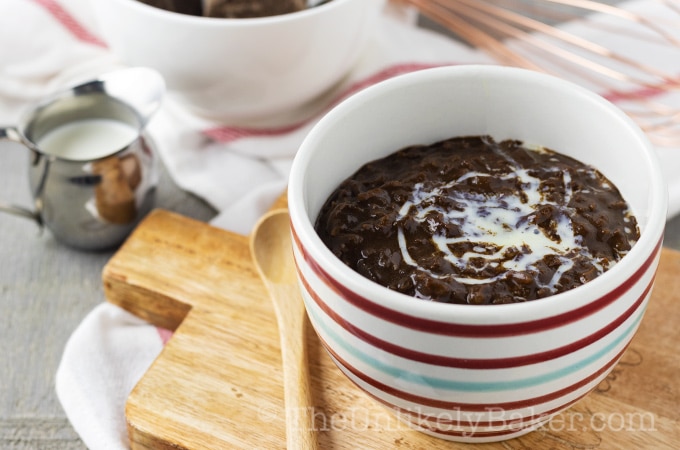 Luckily, champorado is so easy to make. It doesn't take much time at all in the morning.
You simply boil water, add the tablea, add rice and sugar, cook and serve warm. That's it!
We usually serve it topped with milk and with salty fish on the side (if we can find salty fish or tuyo here. Otherwise, bacon will do too!).
Related: Chocolate Peanut Overnight Oats
How to cook champorado using tablea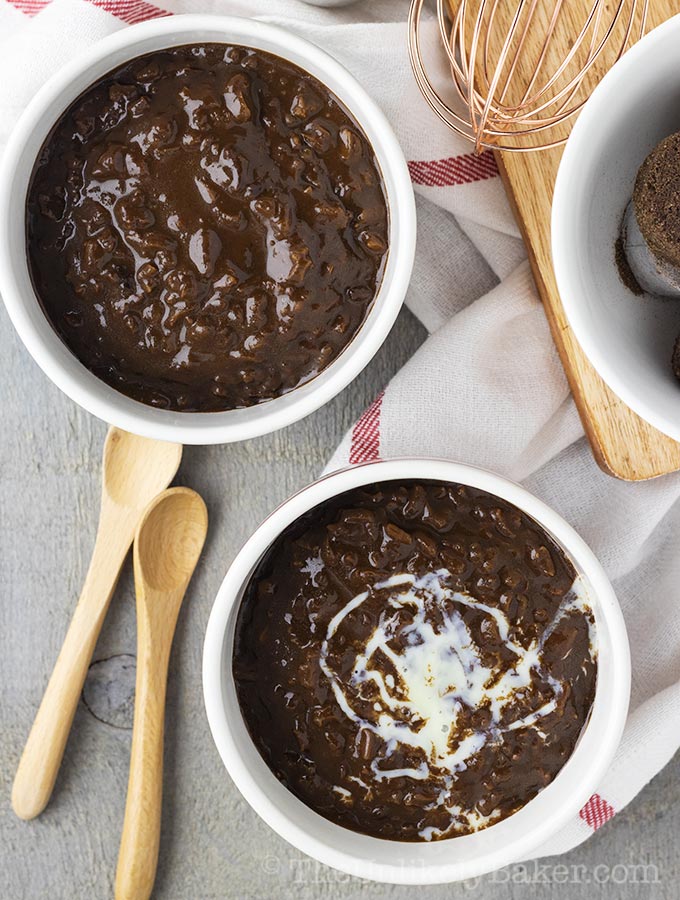 This site contains affiliate links. As an Amazon Affiliate, I earn commission from qualifying purchases. See Terms of Use for more information.
Tablea
are pure cacao balls or disks popular in the Philippines. They are typically dissolved in boiling water or hot milk by beating them with a batidor or wooden whisk
.
I don't own a batidor so what I do is roughly chop the tablea before mixing them in water or milk. This helps dissolve them faster and results to a smoother mixture.
Tablea are available sweetened or unsweetened. When making tsokolate, I use sweetened tablea. For champorado, I use unsweetened.
But if you can only find sweetened tablea no worries. You can still make champorado, just adjust (or altogether omit) the sugar in the recipe.
What kind of rice is used for champorado?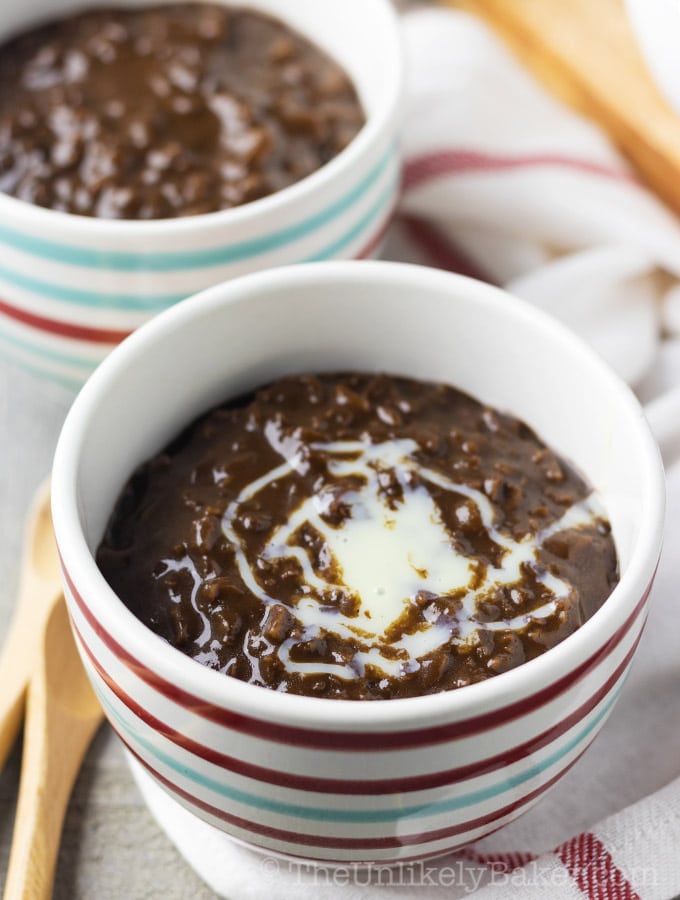 As for the rice – ideally you should use sticky or glutinous rice
to get thick, creamy champorado. They're usually available in Asian supermarkets and I've seen them in our local supermarkets too.
If you can only find regular rice, opt for white rice. Just watch that it doesn't break apart or get too mushy the longer you cook it.
Related: The Ultimate List of Breakfast Ideas
Other breakfast ideas
There you have it. Chocolate + rice = sweet chocolate rice porridge. If there ever was an excuse to eat chocolate for breakfast, this is it!
Though whether you eat champorado for breakfast or snack or dessert, it's delicious. Hope you try it.
Here are other breakfast ideas for you to explore:
Related: How to Take Delicious Food Photos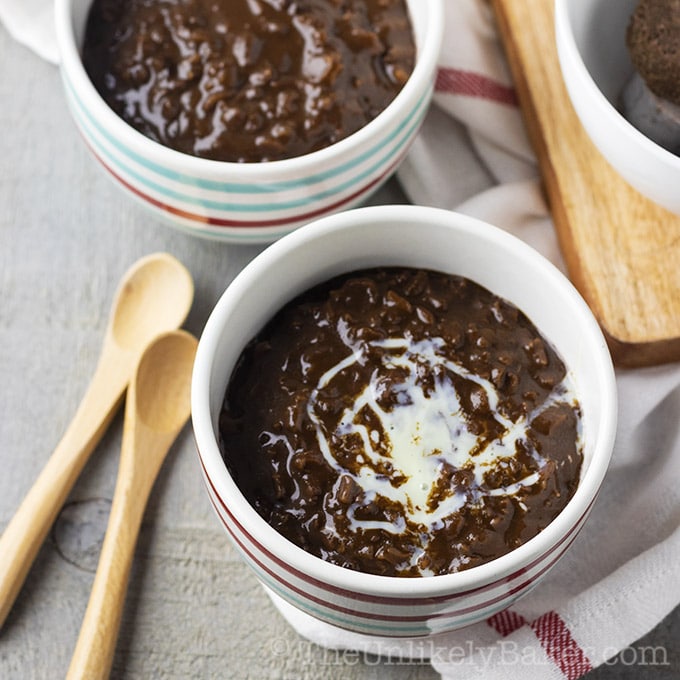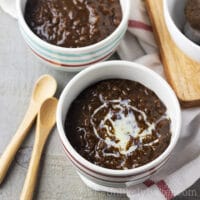 Champorado Recipe (Filipino Chocolate Rice Porridge)
Champorado or Filipino chocolate rice porridge is a traditional Filipino breakfast. Made with sticky rice and pure cacao tablets, it's rich, creamy, chocolatey.
Print
Pin
Rate
Ingredients
5

cups

water

5

pcs

tablea

unsweetened, roughly chopped

1

cup

glutinous or sticky rice

1/2

cup

brown sugar

packed

milk

for topping
Instructions
In a medium saucepan, boil 5 cups of water. Add 5 pcs roughly chopped tablea and stir until dissolved.

Add 1 cup glutinous or sticky rice and 1/2 cup brown sugar and stir. Bring down to a simmer and cook until the rice is cooked through and until the mixture reaches the consistency of porridge (15-20 minutes, see notes). Stir occasionally.

Serve warm, topped with milk (optional).
Notes
Keep in mind that the champorado will continue to thicken as it cools. So once the rice is cooked, even if your mixture is looking a little soupy, best to remove from heat. The rice will continue to absorb some of that liquid as it sits.
Happy cooking!
Did you make champorado (Filipino chocolate rice porridge)? I'd love to hear from you in the comments section below.
And let's get social! Find me on Facebook, Pinterest, Instagram, Twitter and Flipboard.
Or subscribe so you don't miss a recipe. I promise I don't spam (I hate spam too).
Do you want to improve your food photography, monetize your blog or start your very own food blog? Check out my Blogging Resources.