There is only one basic granola recipe you need to remember. Master this and you can mix and match your favourite ingredients for countless homemade granola possibilities!
(A fan of grab-and-go breakfast that's also good for you? You'd love these Healthy Superfood Breakfast Cookies!)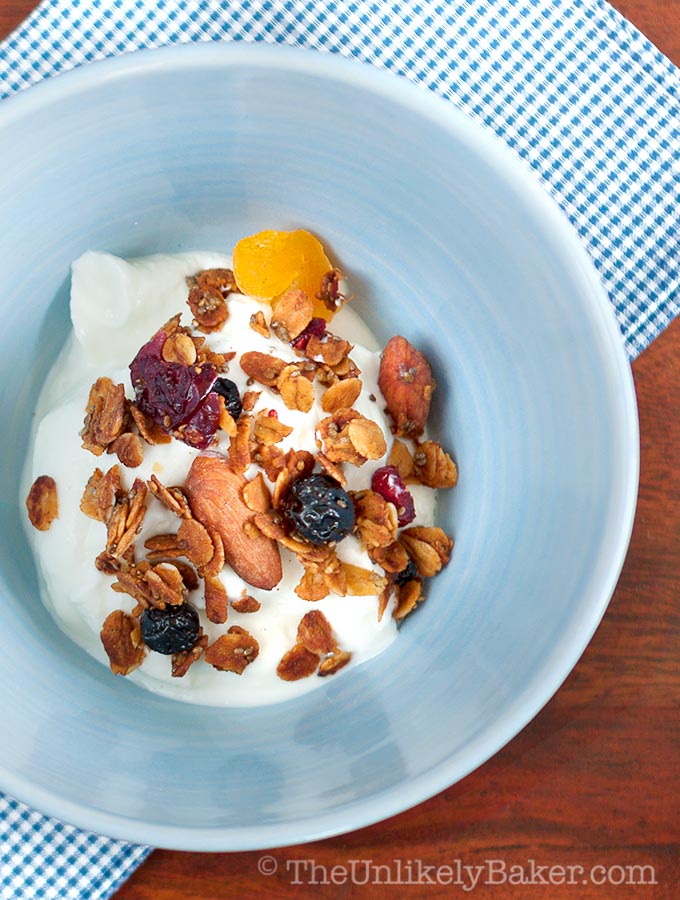 When I learned how to bake, I realized that I can make at home a lot of the stuff we purchase at the store. And that homemade is way better tasting than ready-made.
For example, we don't buy these things anymore; I just make them!
I'm adding granola to that list. We haven't bought granola (or cereal!) in a very long time.
And what's great is that this is almost a non-recipe. It's a simple basic formula that is fully customizable so that you can make perfect granola each time.
One basic granola recipe you need to remember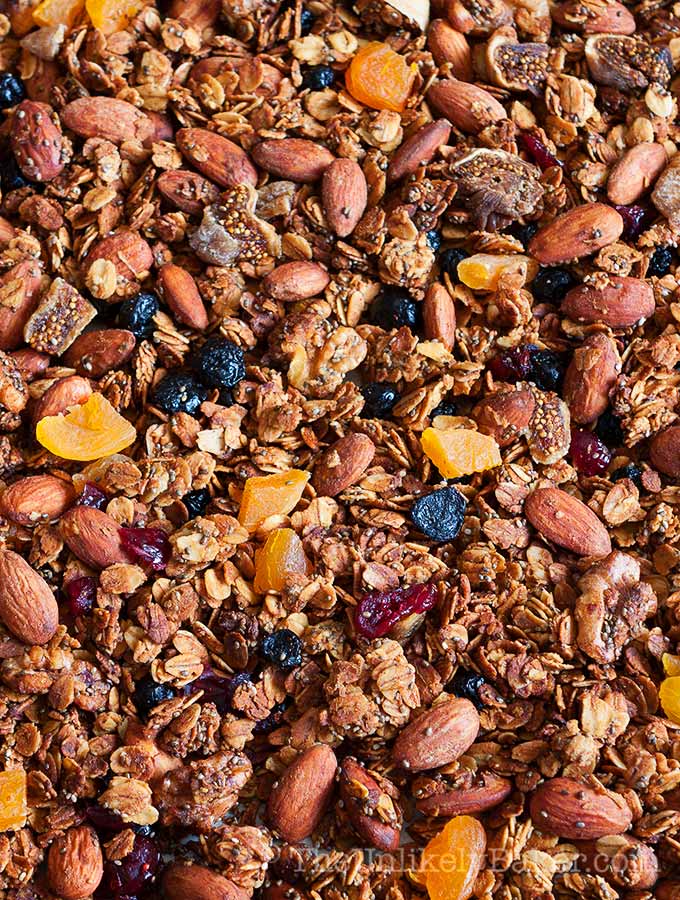 The magic formula is this: 1 cup wet ingredients to 6 cups dry ingredients. That's it!
There's this great video on Epicurious where they explain that it doesn't even have to be actual measuring cups. It can be a bowl, a coffee mug, whatever. Just whatever you use, the magic number is 1:6.
Related: How to Make No-Churn Ice Cream
What to use to sweeten granola
To sweeten my granola, I usually stick with honey or agave syrup
though a lot of times I put peanut butter too (I am so tempted to put Nutella or cookie butter
– maybe someday I will!).
I know a lot of you are into almond butter
and I'm sure that will work too.
Related: Soft and Chewy Cookie Butter Blondies
Do you put oil in granola?
In case you're wondering if you need to add oil to your homemade granola, the answer is yes. Otherwise, you would end up with a very dry batch.
I always put olive oil. Tastes great too.
Tips for success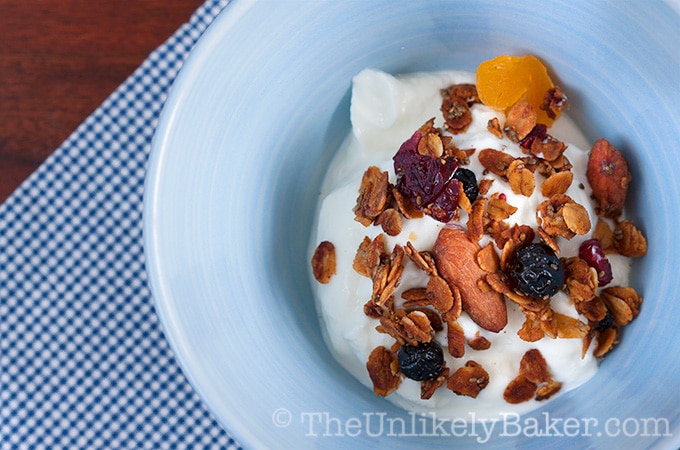 I've tried and tested this basic granola recipe countless times with different ingredients. And while I encourage you to go crazy and creative, here are my guidelines for a fantastic batch of granola every time:
Use rolled oats – not quick-cooking oats – as your base. Quick-cooking oats would brown quicker than the rest of your ingredients. We don't want burnt granola, yes?
Don't use less than 3 cups of rolled oats. I tried more and less and 3 was the magic number for me.
If you're using dried fruit (and you should!) like cranberries, blueberries or fig, don't bake them. Add them after you remove the baking sheet from the oven while the granola is still warm. Otherwise, they would turn really tough and hard.
If you're using chocolate chips (and again, highly recommended!), add them once the granola is cool. If you add them when the granola is still warm they will melt and disappear (unless melted chocolate is the goal? Then go for it!)
Add an egg white. I tried batches without (there are times when I don't have extra and I didn't want to waste an egg yolk) and while it did not affect the taste, the granola turned out less crispy, looser and just overall less shiny.
Granola variations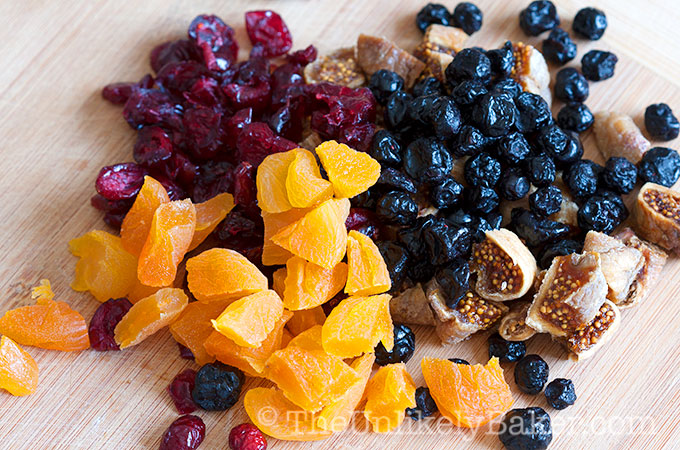 I love granola experiments (the recipe I share here is just one of the combinations I use). You put in your favourite things so what comes out is your favourite granola. We sprinkle it over yogurt, drench it in milk, snack on it like popcorn.
So go and experiment! Find what your favourite granola combo is and never buy ready-made granola again.
Related: The Ultimate List of Breakfast Ideas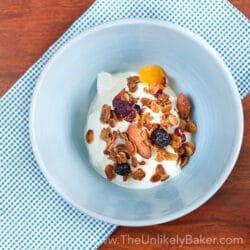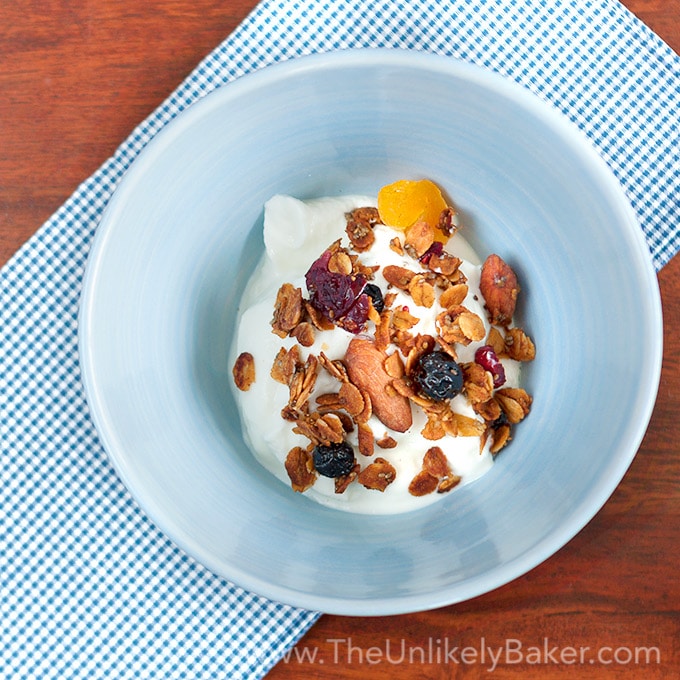 Basic Granola Recipe
One basic granola recipe, countless delicious granola possibilities! This is the only granola recipe you will ever need.
Ingredients
Wet Ingredients:
⅓

cup

honey

⅓

cup

olive oil

egg whites

from 1 large egg

1

tbsp

vanilla extract

peanut butter to round off your 1 cup

see notes
Instructions
Preheat your oven to 300F. Prep a baking sheet by lining it with parchment paper. Set aside.

In a large bowl, whisk all your wet ingredients together. Add your rolled oats and nuts and stir until everything is evenly coated. Add seasoning and give the mixture a final stir.

Transfer and spread evenly on your baking sheet. Bake for 15 minutes, then stir to ensure everything is baking evenly. Bake for another 15 minutes and stir again. Finally bake for another 10-15 minutes until crisp and golden brown.

Take out of the oven and add the rest of your ingredients. Stir and allow to cool completely before adding your chocolate chips, if using. Transfer to an airtight container.
Notes
When measuring your wet ingredients, you don't even have to be exact. Sometimes I just take a measuring cup, put my wet ingredients in and stop when I reach 1 cup.
Because the recipe doesn't have to be exact, I did not provide weight equivalents for the ingredients.
Seasoning doesn't count as part of your dry ingredients.
Like I mentioned in the post, this is just one of the many variations you can make. Go and experiment with your favourite ingredients.
Nutrition
Calories:
341
kcal
Carbohydrates:
35
g
Protein:
8
g
Fat:
20
g
Saturated Fat:
2
g
Sodium:
6
mg
Potassium:
315
mg
Fiber:
6
g
Sugar:
14
g
Vitamin A:
105
IU
Vitamin C:
0.1
mg
Calcium:
88
mg
Iron:
2.3
mg
Nutritional information are estimates only.
Tried this recipe? Leave a star rating today!
Also tag @iamtheunlikelybaker I'd love to see your creations.
(Recipe adapted from Epicurious)
Happy baking!
Did you take this basic granola recipe for a test run? Tell me about it in the comments section below. I'd love to hear all about it. What's your favourite combination?
And let's get social! Find me on Facebook, Pinterest, Instagram or Twitter.