Jumpstart your day with delicious and healthy matcha overnight oats. The unique taste of matcha is complemented perfectly by white chocolate chips for a breakfast treat that you can prep ahead and grab as you go.
(Love overnight oats? Check out these Raspberry White Chocolate Overnight Oats or these Chocolate Peanut Butter Overnight Oats.)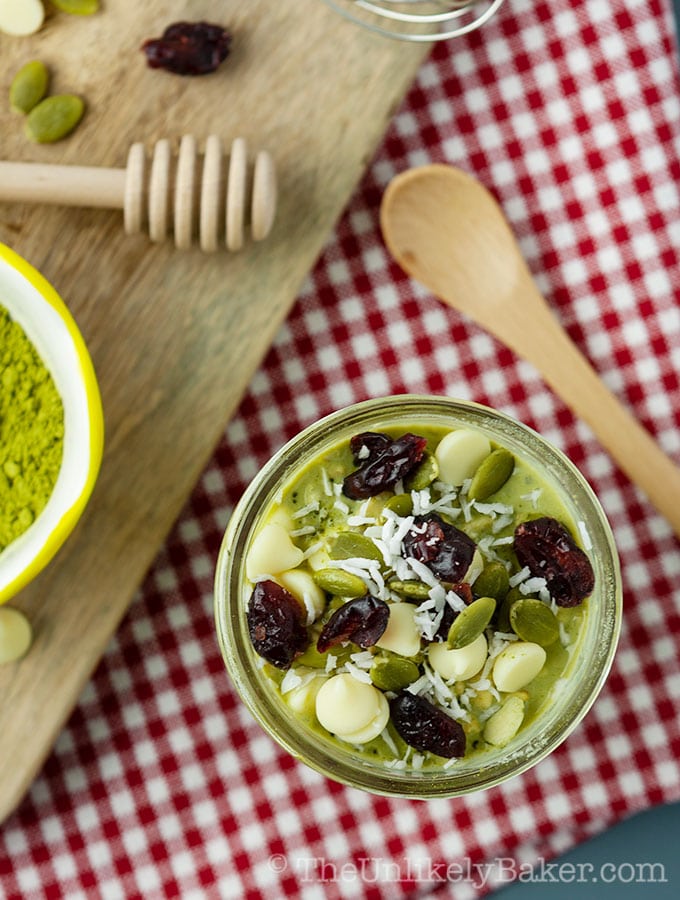 Hello everyone! Hope you had a fabulous holiday season. Here we are, at the start of yet another year. Very exciting!
I must admit, I'm one of those people who tend to overeat overindulge lose all self-control go crazy enjoy the holidays.
With all the baking that I do for Christmas, plus all the parties, and did I already mention the baking? It's frankly very hard to say no to another slice of cheesecake.
So every January, I usually…make amends…by starting off with something a little healthier. If you'll remember last year, it was those super easy and tasty Superfood Breakfast Cookies.
This year, let's start the year right with these healthy matcha overnight oats, just as easy and delicious!
What is matcha?
This site contains affiliate links. As an Amazon Affiliate, I earn commission from qualifying purchases. See Terms of Use for more information.
First off, what is matcha
? Matcha is finely ground powder made from green tea leaves. It's popularity is relatively new here but it's been around in Asia (specifically Japan) for centuries.
In fact, the Japanese tea ceremony revolves around the ceremonial preparation and presentation of matcha (factoid of the day, you're welcome).
What does matcha taste like?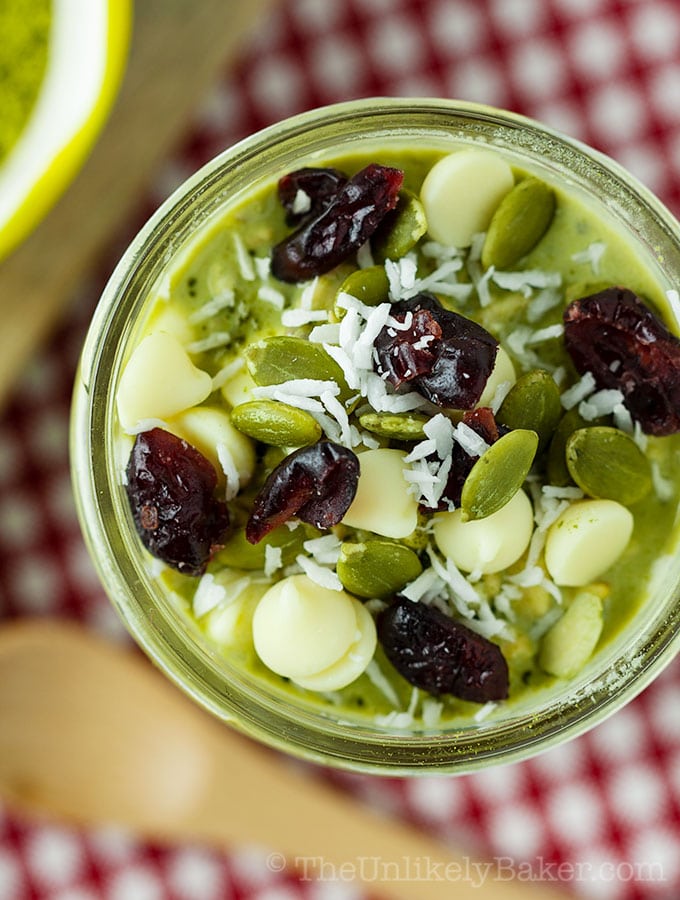 If you've had green tea
(typically in ready-to-steep sachets) before, matcha tastes very similar but a little stronger.
Some brands taste more bitter and a bit grassier than others so a lot of people prefer to mix it with something sweet (think: matcha green tea latte
).
For these matcha overnight oats, I mixed matcha with unsweetened almond milk
but sweetened the mixture with honey. For kicks I added white chocolate chips
– goes really great with that matcha flavour (and let's face it, I love white chocolate).
Related: No-Bake Raspberry White Chocolate Tart (with video)
Health benefits of matcha
Matcha has caffeine so that's something to keep in mind if you're planning to drink a cup in the evening to chill and relax. Regardless, it's filled with "a concentrated amount of antioxidants, which may reduce cell damage and prevent chronic disease."
You can read more about the health benefits of matcha here.
That it's packed with stuff that's good for me is just an added bonus to be honest. I just love the way it tastes!
Related: Healthy Homemade Snacks for Work and School
How to make matcha overnight oats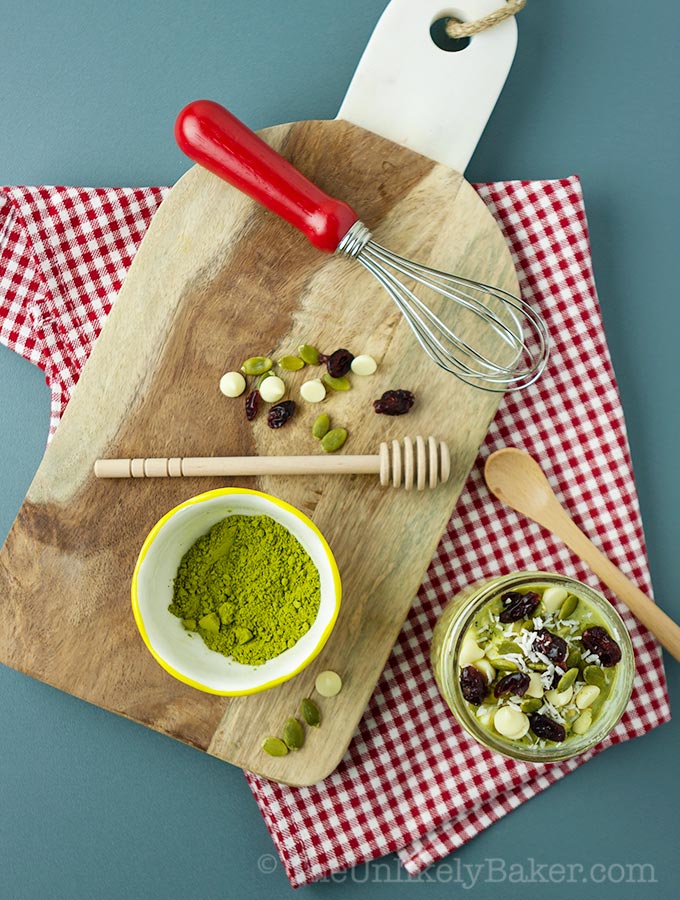 This site contains affiliate links. As an Amazon Affiliate, I earn commission from qualifying purchases. See Terms of Use for more information.
We eat matcha overnight oats regularly and never get tired of it. And it's so easy to prep! Just mix all ingredients in a bowl then transfer to individual containers (we like to use small mason jars
).
The next morning, we just top it with things like goji berries
, dried blueberries
, almonds
, coconut
and yes, chocolate chips
! It's so good and it keeps us full until lunch.
This recipe is also fully customizable (for example, you can switch up the kind of milk you use and you can control the level of sweetness) so each serving is the perfect one for you.
Related: Classic Buttermilk Scones
Other make-ahead breakfast ideas
We usually make a double batch of this recipe and it lasts us the whole work week.
If you're looking for other delicious make-ahead breakfast ideas, check these out:
I also compiled the Ultimate List of Breakfast Ideas for you.
Related: How to Take Delicious Food Photos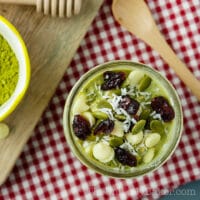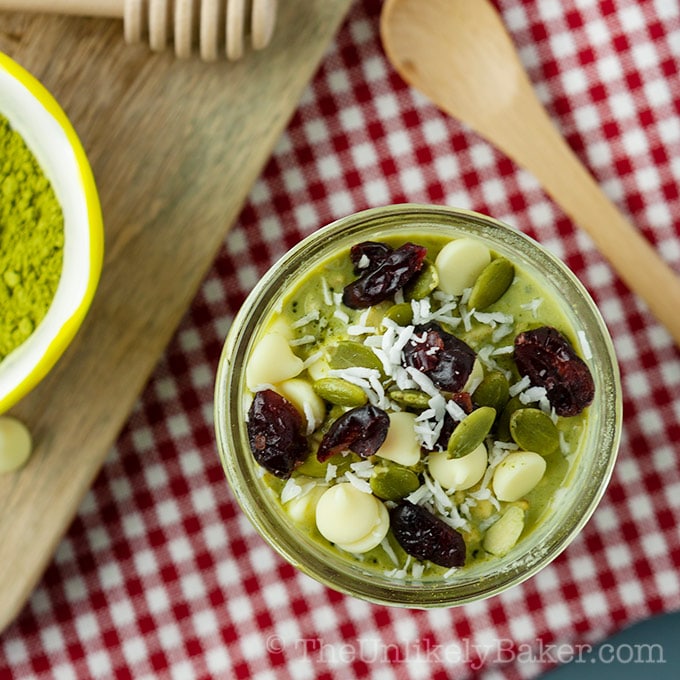 Matcha Overnight Oats with Chia and White Chocolate Chips
Start your day with delicious and healthy matcha overnight oats. Matcha is complemented perfectly by white chocolate chips for a special breakfast treat.
Print
Pin
Rate
Total Time:
8
hrs
15
mins
Ingredients
1 1/2

cup

unsweetened almond milk

see note

1

tsp

matcha powder

see note

1 1/2

cup

rolled oats (or old-fashioned oats)

1

tbsp

chia seeds

1/2

cup

white chocolate chips

pinch

salt

1/2

cup

Greek yogurt

1

tsp

vanilla extract

honey

to taste

your favourite toppings

optional
Instructions
In a medium bowl, whisk 1 1/2 cup almond milk and 1 tsp matcha powder until the matcha is dissolved. Set aside.

In a large bowl, stir 1 1/2 cup rolled oats, 1 tbsp chia seeds, 1/2 cup white chocolate chips and a pinch of salt until combined. Stir in 1/2 cup Greek yogurt, 1 tsp vanilla extract and honey until fully incorporated.

Transfer into individual containers (see note) and chill overnight. They will be ready to eat the next morning. Optional: top with dried fruit, nuts or more chocolate!
Notes
You can use dairy milk or any kind of unsweetened milk instead of almond milk. You can also use maple syrup or agave instead of honey.
When buying matcha, make sure to buy the high-quality kind. Here's a great guide.
The number of servings largely depends on the size of your individual containers. We use 250-ml/8-oz mason jars and get 5 jars that are about 3/4 full out of this recipe.
Alternatively, you can opt to refrigerate the whole batch of oats and just scoop what you need into a bowl. Just make sure to store the oats in an airtight container and return to the fridge.
Have a wonderful morning!
Did you make matcha overnight oats? I'd love to hear from you in the comments section below.
And let's get social! Find me on Facebook, Pinterest, Instagram, Twitter and Flipboard.
Or subscribe so you don't miss a recipe. I promise I don't spam (I hate spam too).
Do you want to improve your food photography, monetize your blog or start your very own food blog? Check out my Blogging Resources.