Raspberry white chocolate overnight oats are the perfect make-ahead breakfast for mornings when you need to get up and get going in a hurry!
(Are you a fan of overnight oats? Try chocolate peanut butter or matcha with chia seeds!)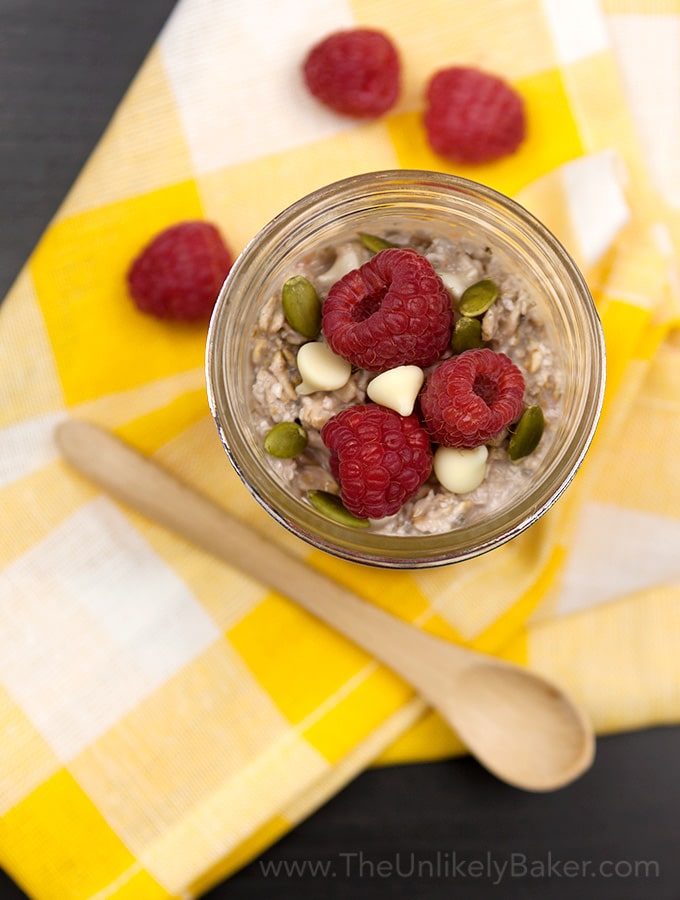 (Disclosure: This shop has been compensated by Collective Bias Inc and its advertiser. All opinions are mine alone. #CanadianTire #QuakerState #CollectiveBias)
Oh summer, how I love you. It really is my favourite season. It means bike rides and picnics and hours and hours spent outdoors in the sun. It also means road trips!
I know we're doing the dreaded bye-bye-summer countdown now but I'm sure we can squeeze in one more trip!
So I thought today I'd give you a glimpse of what goes into our road trip planning. It involves a delicious breakfast treat so come and take a trip with us!
But first, the car!
The first thing we take care of is the car. There is nothing worse than a car breaking down in the middle of nowhere so we always make sure it's oiled and ready to go.
And doing your own oil change is easier than you think! The first thing you need to make sure of is getting the right kind of oil for your car (it should be in your owner's manual) and in our case, it's the Quaker State® Advanced Durability™ Motor Oil.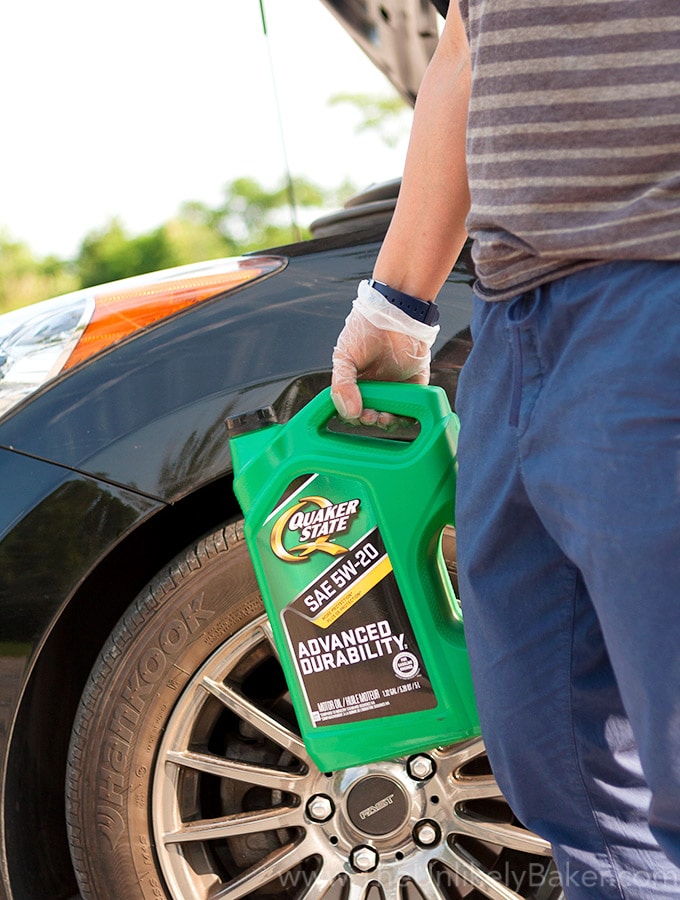 We know very little about cars so we like to buy time-tested and proven brands like Quaker State. We drive more confidently knowing it's what's running through our vehicle.
We grab them from our local Canadian Tire. While we're there, we get other supplies for the trip like coolers and Ziploc bags and paper towels. They have everything. (I get a lot of my baking supplies from them as well, like pans, parchment paper and measuring cups. My trusty stand mixer is from Canadian Tire too!)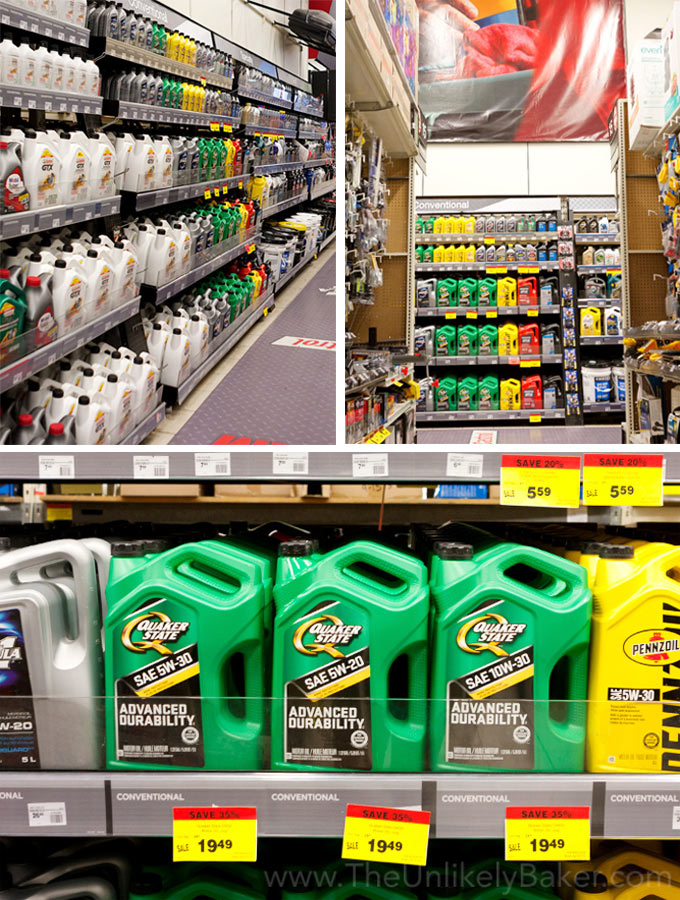 What to pack
Next, we do a lot of Googling to see what we can expect in terms of weather, dining options and activities. We (by "we" I mean "I" lol) then create an excel spreadsheet with different tables per day, per category, to make sure we don't forget anything (are you judging me yet haha).
This enables us to pack light and only what we need. We very rarely pack shoes we don't need or come home with clothes we didn't get to wear.
Grab and go breakfast – raspberry white chocolate overnight oats
Finally, we figure out what we're eating for breakfast the day we leave.
We like everything ready the night before so we have a relaxing start to our journey. You'd be surprised how many people take this for granted and waste precious minutes figuring out what to eat or in line at the drive-thru.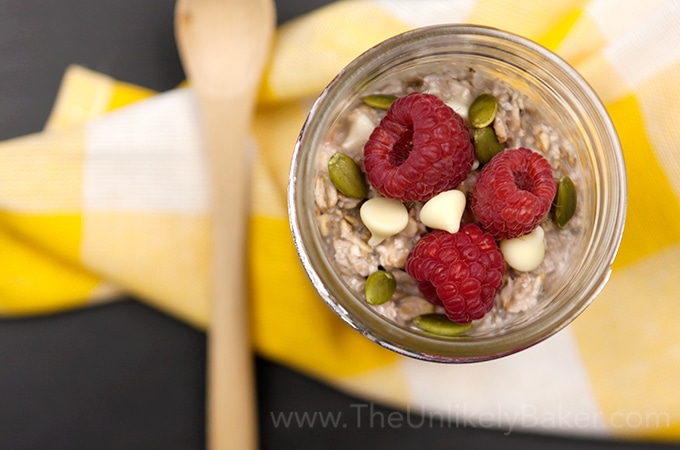 In our case, we love overnight oats. Lately we've been making batches and batches of raspberry white chocolate overnight oats (if you prefer blueberries, make some delicious blueberry overnight oats instead).
Just make it the night before, transfer to individual containers (we use mason jars which we bought from Canadian Tire too! They really are made for life in Canada, eh?) and chill.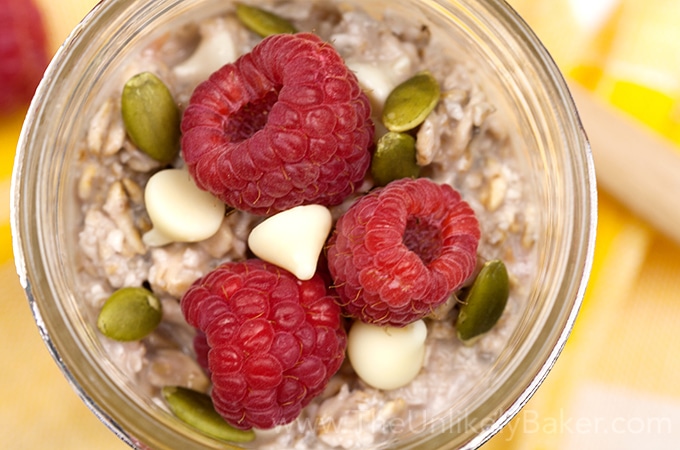 The next morning, we just grab one from the fridge and go. It's quite filling too so you don't need to worry about your next hunger pit stop until a few hours into your trip.
Go and enjoy the open road!
A trip well planned is, well, awesome! Car oiled. Everything packed. Breakfast ready. Now all you need to do is go on your adventure.
We have several more days of summer left and I hope you enjoy every last minute of it!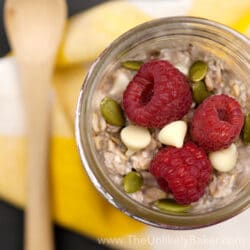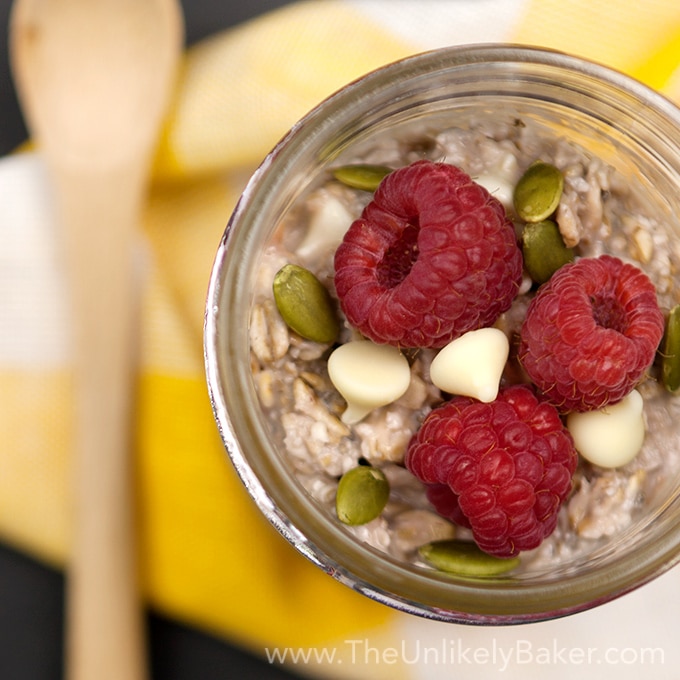 Raspberry White Chocolate Overnight Oats
Raspberry white chocolate overnight oats are the perfect make-ahead breakfast for mornings when you need to get up and get going in a hurry!
Instructions
In a large bowl, combine 2 cups rolled oats, 1 tablespoon chia seeds, 1 teaspoon vanilla, ½ cup white chocolate chips and a pinch of salt. Set aside.

Blend 1 ½ cups almond milk and 1 cup fresh raspberries until smooth.

Pour your raspberry milk mixture into your oats and stir until well incorporated. Taste and add honey to your liking.

Transfer the oats into individual airtight containers and chill overnight.

You can transfer the oats to a bowl and garnish with your favourite toppings or eat directly from the container!
Notes
Be sure to use rolled oats and not instant oats. Instant oats tend to get too mushy.
Once you've added the almond milk and mixed all ingredients together, you can more or less already tell if the oats are the consistency you want. If you want them runnier, add a little bit more milk. If you want them sturdier, add a little bit more oats. Just remember that chia seeds absorb liquid as they soak.
Nutrition
Calories:
256
kcal
Carbohydrates:
36
g
Protein:
6
g
Fat:
9
g
Saturated Fat:
3
g
Cholesterol:
3
mg
Sodium:
116
mg
Potassium:
214
mg
Fiber:
5
g
Sugar:
12
g
Vitamin C:
6.3
mg
Calcium:
164
mg
Iron:
1.8
mg
Nutritional information are estimates only.
Tried this recipe? Leave a star rating today!
Also tag @iamtheunlikelybaker I'd love to see your creations.
Bon voyage!
Did you try this raspberry white chocolate overnight oats? Where are you off to this Labour Day weekend? I'd love to hear from you in the comments section below.