No baking is needed to make this stunning and delicious crepe cake with whipped chocolate mascarpone cream. Light, airy and with impressive layers, nobody would ever suspect it's this easy to make!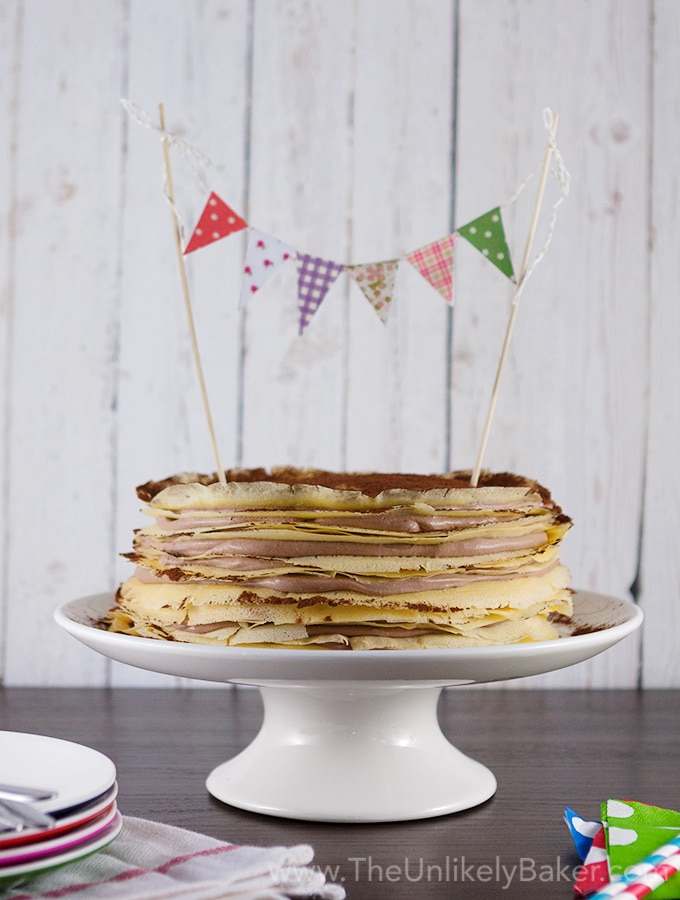 What would you do if you had a birthday in the family but you weren't in the mood to bake a cake? STOP. Don't even consider buying a ready-made cake. Make a layer cake instead! It's no-bake, easy and looks gorgeous. Tastes phenomenal too! Your birthday celebrant will be delighted.
Make the crepes
This site contains affiliate links. As an Amazon Affiliate, I earn commission from qualifying purchases. See Terms of Use for more information.
I'll admit, there's a learning curve to making perfect crepes. Those that are just the right thickness – not too thin that you can see through them and not too thick that they're more pancake than crepe. Crepes that flip as one and don't tear before your eyes.
The secret? Practice (I'd say patience too but I'm not really known for it lol). And you must be willing to have 2-3 sacrificial crepes that will break and/or burn. This allows you to learn how hot your pan becomes, how long you need to cook the crepes for, the best flipping technique that works for you.
Do you need a crepe pan
? I'm sure it will make things easier but we don't own one and a non-stick pan
worked just fine. And even if some of your crepes do break, just stuff them in the middle. Nobody would ever know!
Make the whipped chocolate mascarpone cream filling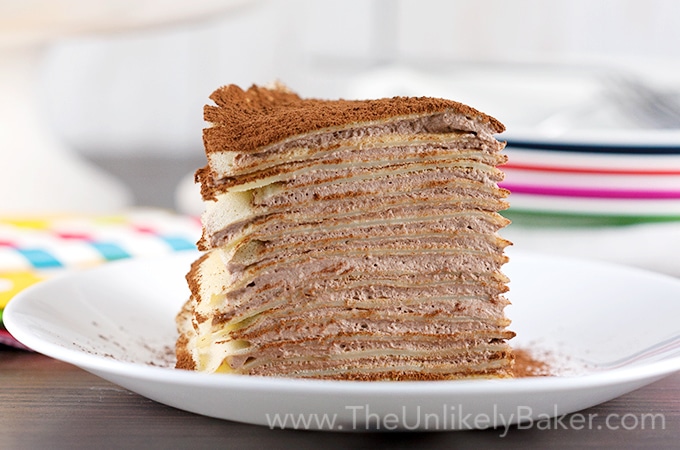 Once your crepes are cooling, you can prepare your filling. This part is just combine, beat and spread.
You have the option of eating the whipped chocolate mascarpone cream out of the bowl; I swear it tastes just like ice cream! (Speaking of ice cream, have you seen my recipe for Roasted Cherry Choco Chip Ice Cream? It has video! And no, you don't need an ice cream maker to make it.)
[clickToTweet tweet="Get ready to impress w/ this stunning delicious crepe cake w/ whipped chocolate mascarpone cream" quote="Get ready to impress with this stunning and delicious crepe cake with whipped chocolate mascarpone cream!"]
Put them together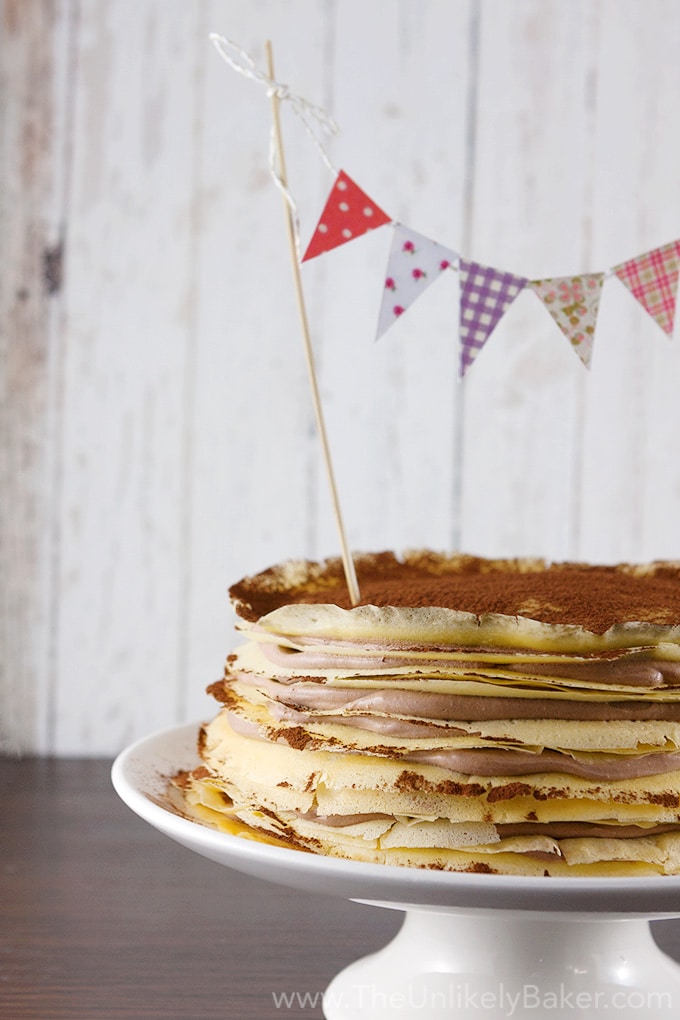 But if you are determined to make your crepe cake, you will step away from the bowl and you will begin assembly as soon as your crepes are cool (ensure they are cooled completely; otherwise your filling will melt and slide off the side).
This part's easy too. And fun. Put your first crepe on your cake or serving dish. Spread filling. Repeat.
You just need to remember two things:
Try to spread an equal amount of whipped chocolate mascarpone cream in between crepes so your layers look even.

Put the next crepe directly on top of the previous one so your cake doesn't end up looking lopsided. I'm not very tall so I like using a step stool which enables me to look straight down on the crepes as I layer my cake; looking at the cake from the side or at an angle is sometimes deceiving (though a leaning crepe cake is still delicious).
I thought about trimming the sides so it's all even and more cake-like but I decided to keep it as is for a more rustic look. Then I just dusted the top with cocoa powder and I am done!

If you're wondering about the cake topper, visit my tutorial on how to make mini cake buntings. It's a nice little craft project.
Enjoy!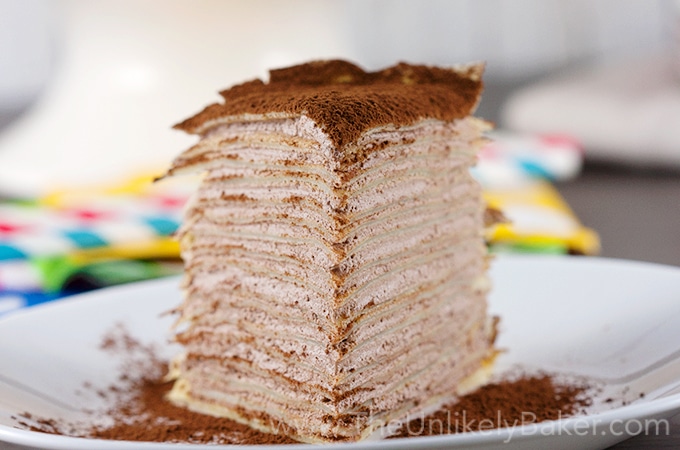 Then all that's left is chilling the cake before serving it. And with that first slice, just bask in the admiration of your eager cake-eaters as they get their first look at your 15-layer (maybe even more!) cake.
So whatever you're celebrating, celebrate with this crepe cake with whipped chocolate mascarpone cream. It's glorious.
Crepe Cake with Whipped Chocolate Mascarpone Cream
Light, airy and with stunning layers, nobody would suspect it's positively easy to make this delicious crepe cake with whipped chocolate mascarpone cream.

Notes
This recipe makes about 15-20 7 to 8-inch crepes. I used a 10-inch pan. The yield will change depending on the size of the pan you use, how many "sacrificial crepes" you have and how thin/thick your crepes are.
Depending on how many crepes you make, you may need to double the filling.
See the blog post for tips on making crepes and layering.

Ingredients
For the Crepes:
1 1/2 cups all purpose flour
1/4 cup granulated sugar
1/4 teaspoon salt
4 large eggs, room temperature
2 1/2 cups milk, room temperature
1/4 cup unsalted butter, melted and cooled
For the Filling:
1 cup heavy cream, chilled
2 tablespoons granulated sugar
1 teaspoon vanilla extract
1/4 cup cocoa powder (I used Dutch processed cocoa powder)
1 8 oz (or 227 grams) tub of mascarpone cheese
Instructions
For the Crepes:
Put all ingredients in a blender and blend until smooth. Transfer to a bowl and cover with plastic wrap. Chill for an hour.
When you're ready to make crepes, heat your non-stick pan and pour about 1/4 cup batter into it. Gently swirl the batter around the pan to make sure it's even. Once the bottom turns a light golden brown (takes about 2 minutes for me), flip and cook the other side for half the time.
Transfer to a plate and repeat. Let the crepes cool completely before you work on your filling.
For the Filling:
Chill the bowl and whisk you're going to use to beat the cream for about 15 minutes before using it. When you're ready, whisk 1 cup heavy cream, 2 tablespoons sugar, 1 teaspoon vanilla and 1/4 cup cocoa powder until you reach soft peaks.
Add the mascarpone cheese and continue beating until you reach medium peaks.
For the Assembly:
Place your first crepe onto your cake or serving dish. Dollop a generous amount of filling (how much depends on the size of your crepes) and spread evenly. Repeat until you've gone through all your crepes.
Sprinkle the top with cocoa powder. Chill at least 1 hour before serving.
© 2021 This delicious recipe brought to you by www.TheUnlikelyBaker.com | (c) 2016-2017
Happy crepe-ing!
Did you make this crepe cake with whipped chocolate mascarpone cream? I'd love to hear from you in the comments section below.
Click here for the rest of our No-Bake Summer Series recipes.
Love chocolate? Here are more recipes for you:
And let's get social! Find me on Facebook, Pinterest, Instagram, Twitter, Google+ and Flipboard.
Or subscribe so you don't miss a recipe. I promise I don't spam (I hate spam too).
Do you want to improve your food photography, monetize your blog or start your very own food blog? Check out my Blogging Resources.