Lemon sugar crepes – soft and airy French crepes drizzled with fresh lemon juice and sprinkled with sugar. So simple but so delicious. A great way to brunch!
(Fan of a lemony brunch? Try making some lemon buttermilk scones. They're a reader favourite!)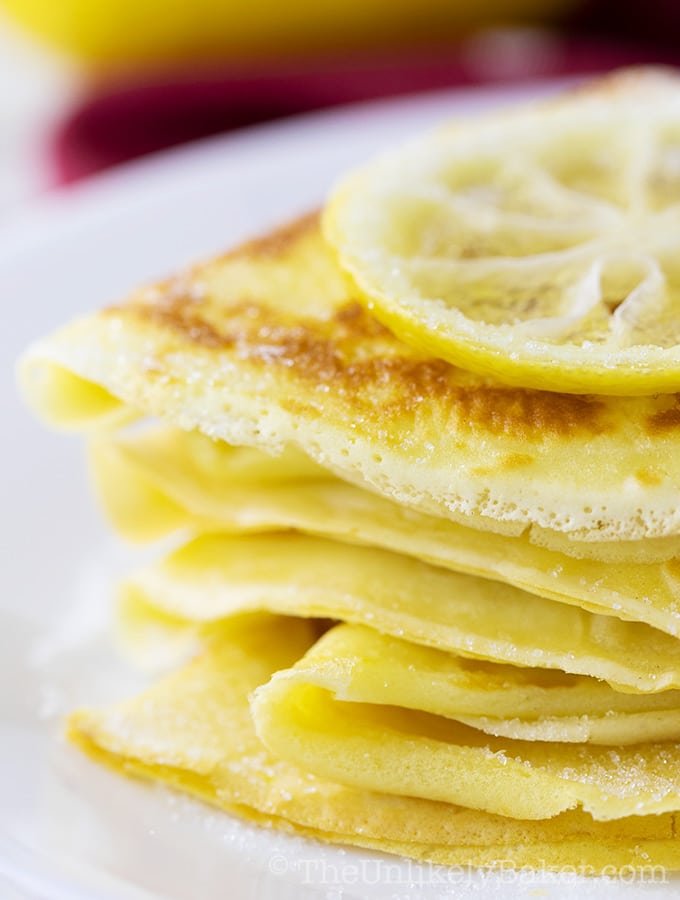 Crepes are technically pancakes. But unlike pancakes which we like thick and fluffy, crepes are thin, light and airy. Crepe batter doesn't have baking soda or baking powder in it to make it rise.
Crepes also tend to be less sweet than pancakes. So they're the perfect base for all your creative breakfast and brunch ideas!
I love all crepes but my favourite is the simplest one – lemon and sugar. Hope these crepes become your favourite too.
How to cook the perfect crepe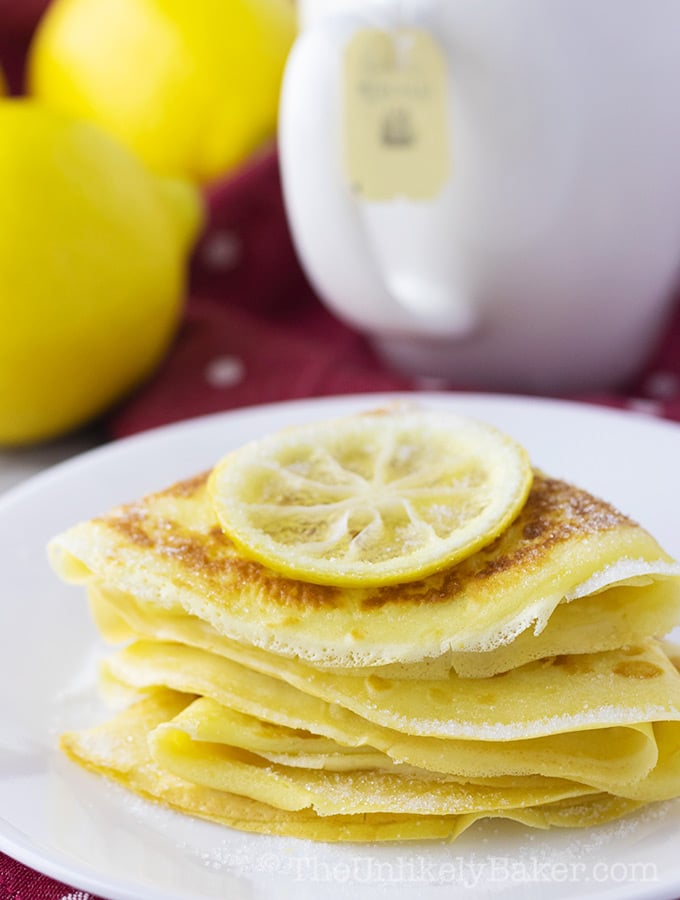 Making crepes doesn't need to be hard or intimidating. Though I'll admit that there is a learning curve to making perfect crepes.
And I'm referring to those crepes that are just the right thickness – not too thin that you can see through them and not too thick that they're more pancake than crepe. Crepes that flip as one and don't tear before your eyes.
So before we get into the recipe (if you're already a crepe ninja and want to skip these tips simply scroll to the bottom), let me share some of the things I've picked up along the way:
Use a blender. When making pancakes, I'm very careful not to over mix my batter. So I whisk it by hand and make sure it's more coarse than smooth. When making crepes though, you want a smooth, lump-free batter. Which is why I always use my blender – I just put all ingredients in a blender and blend until smooth.
Rest your batter. It's also important to chill your batter for about an hour to allow the gluten in it to "relax". Which results to light, airy, delicate crepes.
Use the right pan. You don't necessarily need a crepe pan (I don't, but that would be lovely!), a non-stick pan will work just fine. What's important is that your pan evenly distributes heat.
Swirl the pan. You know how professional chefs swirl the pan around on cooking shows? We need to do that for our crepes so that the batter coats our pan evenly.
Watch the crepes. Best not to walk away while your crepes are cooking. Wait too long to flip them and you'll end up with crunchy edges or worse, burnt crepes. Flipping too early will tear them. So watch your batter – the perfect time is when the edges are starting to turn a light brown and the middle portion is starting to turn matte.
Practice, practice, practice. There will always be 1 or 2 (or 3!) sacrificial crepes in the beginning that won't be perfect. Don't give up! In time, you'll learn how hot your pan becomes, how long you need to cook the crepes for and the best flipping technique that works for you.
You can also learn how to make crepes with pancake mix from Sues over at We Are Not Martha if that's more up your alley!
How to make lemon sugar crepes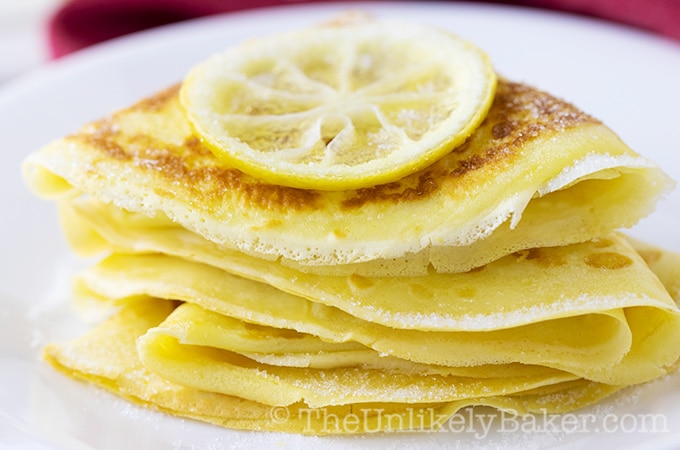 Now that we are master crepe makers, we can start on this sweet crepe recipe. And nothing can be simpler.
Just gather all your ingredients, blend, chill and cook. Seriously, that's it!
To serve, squeeze some fresh lemon juice on your crepes, sprinkle some sugar and enjoy. Try sprinkling lemon sugar instead of regular sugar for an extra lemony kick!
I like to fold my crepes into triangles (like the photos) but you can also serve them flat or rolled.
Ingredients
To make these crepes, you would need:
All purpose flour

Granulated sugar

Salt

Large eggs

Milk

Unsalted butter

Lemon juice and zest
You probably have all these ingredients in your pantry right now, eh?
Cooking tools
You don't need any special tools to make crepes either. Like I said, it would be great if I had a crepe pan and a crepe spreader but I don't and I do just fine.
All I use when I make crepes are:
My trusty 10-year old blender

A regular non-stick pan

A plastic spatula for flipping
I also use a wooden reamer to juice the lemon and a microplane zester for the lemon zest.
Can I make crepes ahead of time?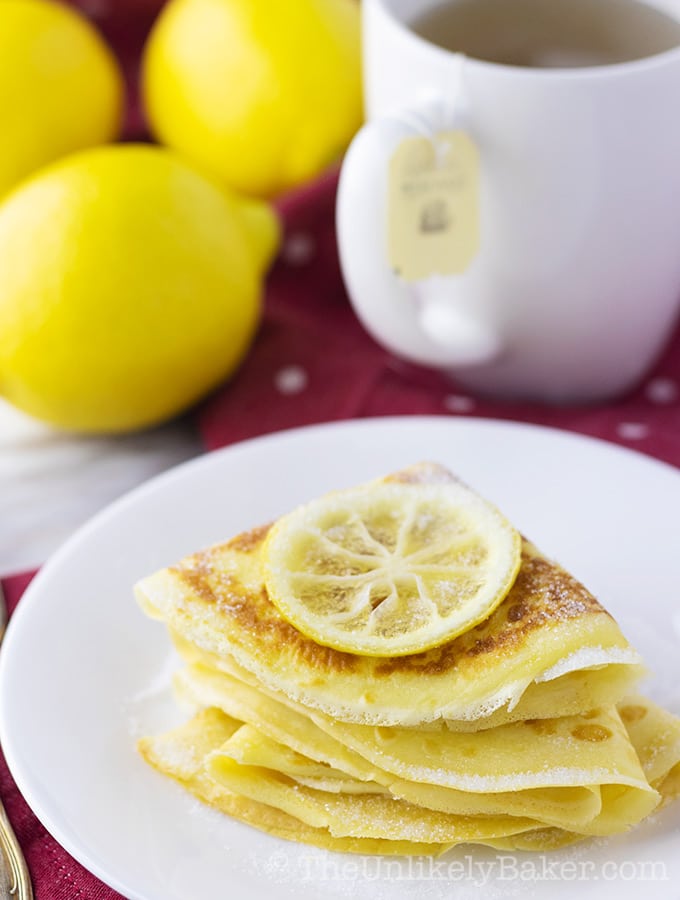 Another great thing about crepes (as if we needed more reasons to like them lol!) is how they freeze well (like these delightfully easy and delicious classic buttermilk scones).
All you need to do is stack the completely cooled crepes in between pieces of parchment or wax paper and store in a Ziploc bag or another freezer-safe container. They will last up to a week in the fridge and up to a month in the freezer.
Then if the craving hits, simply take a crepe out and reheat in the microwave for 15-20 seconds. Simple!
Easy and delicious make-ahead breakfast recipes
With this recipe you can make a batch of lemon crepes this weekend, freeze them and have lemon sugar crepes any day of the week!
If you like eating special weekend breakfast treats on a weekday but you just don't have time to make them, you'll love these recipes. You can make them ahead and just reheat on busy mornings.
Start the day with sunshine on a plate with these light, fluffy and delicious lemon ricotta pancakes.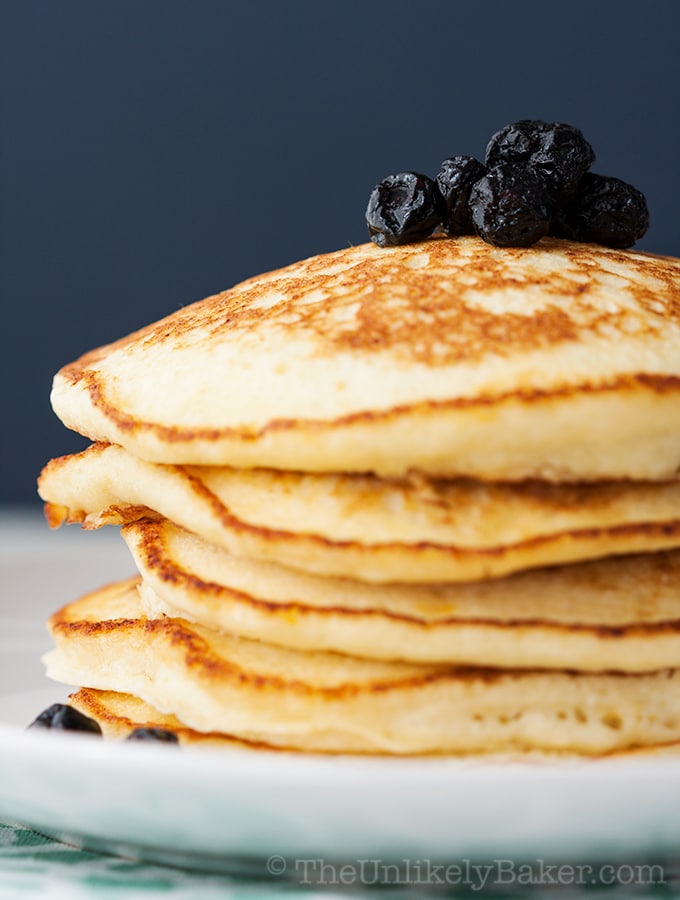 If you're craving for chocolate, these super chocolatey waffles are crunchy outside, fluffy inside and have double the chocolate.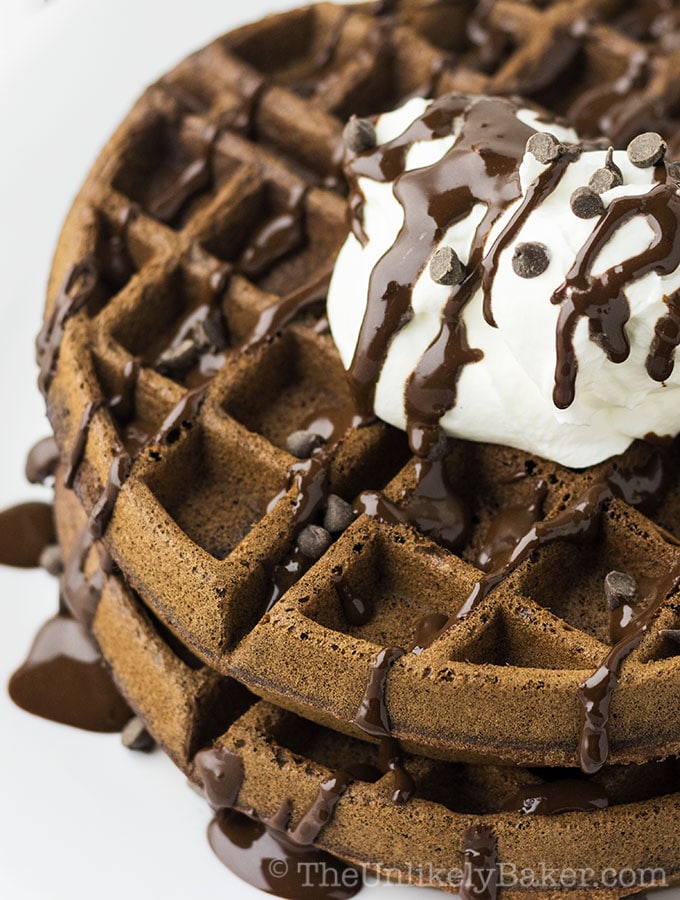 If you're a fan of overnight oats, you would love these delicious and healthy matcha overnight oats. The unique taste of matcha is complemented perfectly by sweet white chocolate chips.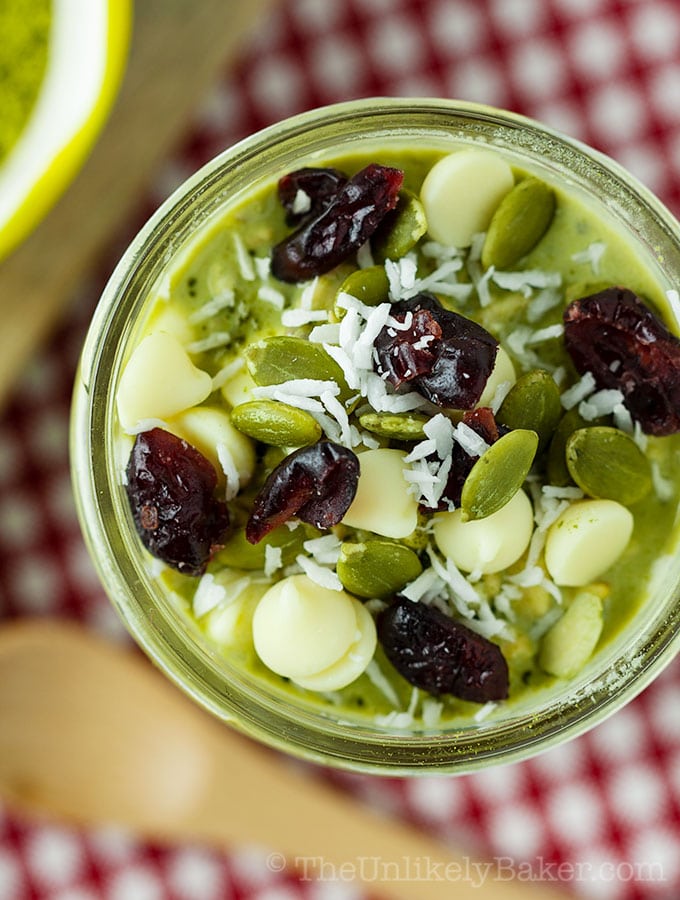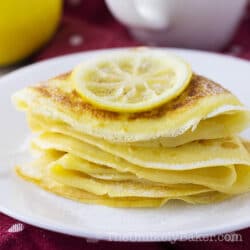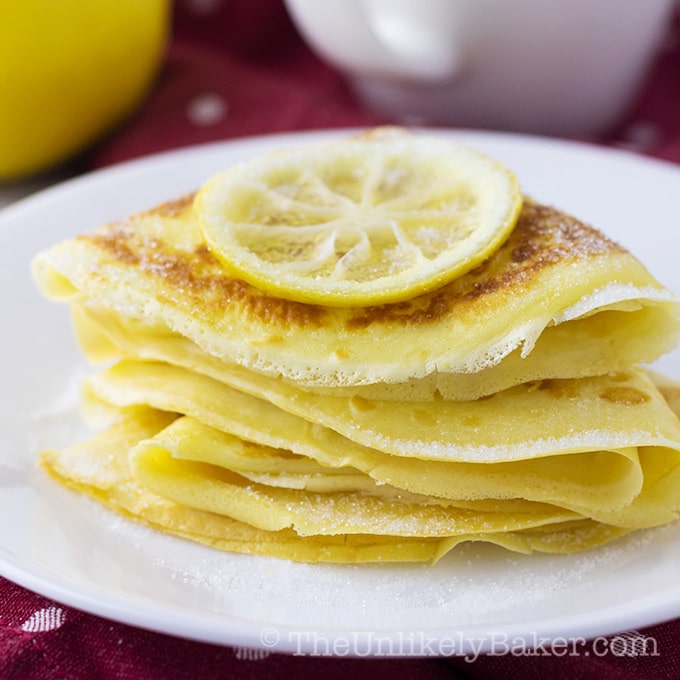 Lemon Sugar Crepes Recipe
Lemon sugar crepes – soft and airy French crepes drizzled with fresh lemon juice and sprinkled with sugar. So simple but so delicious. A great way to brunch!
Ingredients
For the lemon crepes:
¾

cup

all-purpose flour

2

tbsp

granulated sugar

pinch

salt

zest from a lemon

1 ¼

cup

milk

room temperature

2

pcs

large eggs

room temperature

2

tbsp

unsalted butter

melted and cooled
Instructions
Put all ingredients in a blender and blend until smooth. Chill for an hour.

When you're ready to make crepes, heat your crepe or non-stick pan (see notes) and pour about ¼ cup batter into it. Gently swirl the batter around the pan to make sure it's even.

Once the edges turn a light golden brown (takes about 2 minutes for me) and the middle starts to lose its shine, flip and cook the other side (see post for tips on how to cook crepes).

To serve, squeeze some fresh lemon juice on each crepe and sprinkle with sugar. Best served warm (see post on how to freeze leftover crepes).
Notes
The yield will change depending on the size of the pan you use, how many "sacrificial crepes" you have and how thin/thick your crepes are. I use an 8-inch pan that results to 6-inch crepes.
Make sure your pan is hot enough otherwise, the crepes will stick. I usually start cooking my crepes on medium heat and adjust while I'm cooking to make sure the pan doesn't get too hot.
Nutrition
Calories:
83
kcal
Carbohydrates:
11
g
Protein:
2
g
Fat:
3
g
Saturated Fat:
2
g
Cholesterol:
10
mg
Sodium:
14
mg
Potassium:
50
mg
Fiber:
1
g
Sugar:
4
g
Vitamin A:
120
IU
Calcium:
36
mg
Iron:
0.4
mg
Nutritional information are estimates only.
Tried this recipe? Leave a star rating today!
Also tag @iamtheunlikelybaker I'd love to see your creations.
Happy cooking!
Did you try this sugar lemon crepe recipe? I'd love to hear from you in the comments section below.