These double chocolate waffles are super chocolatey and fantastic for breakfast or as a decadent dessert or as dessert for breakfast! Double the chocolate, double the fun.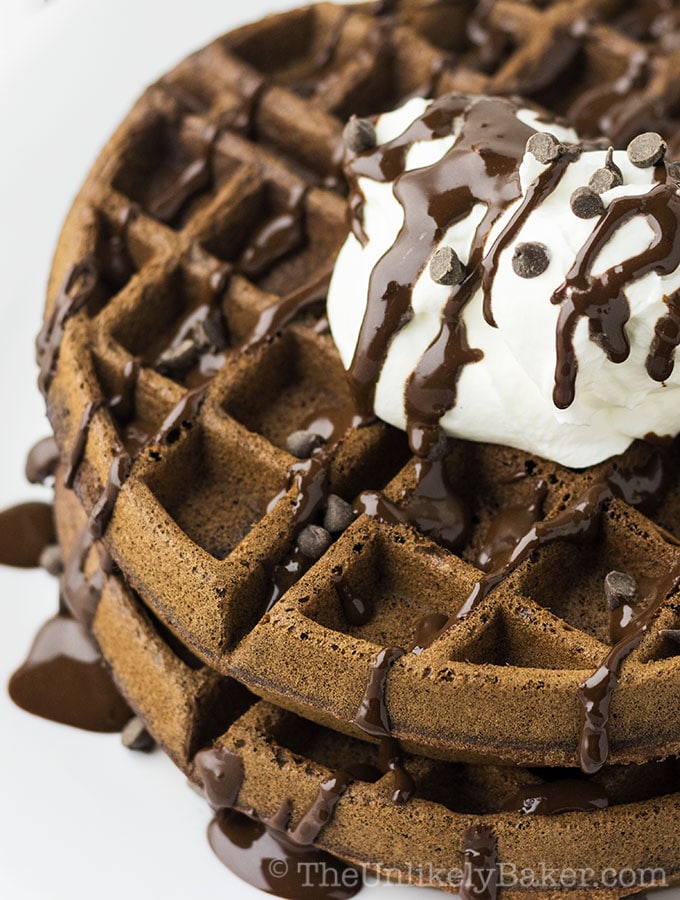 Last Christmas (remember when I shared my recipe for Light Fluffy Lemon Ricotta Pancakes?), I mentioned that I wish I had a proper waffle maker. And guess what….now I have one! And I love it so far.
It's one of those vertical ones
and although that limits my ability to experiment (hash brown scrambled bacon waffles), it cooks evenly and perfectly each time. And it doesn't take up a lot of counter space. Highly recommended!
Anyway, naturally, we've been going waffle crazy since I got it.
Happily the little booklet that came with the machine has lots of recipes in it and all I've been doing is tweaking it here and there to our liking.
Here's the first one I've perfected – double chocolate waffles.
Crunchy outside. Nice and fluffy inside. Serve with homemade whipped cream. Drizzle with chocolate sauce. Sprinkle with more chocolate chips. Smile.
Smooth batter vs. coarse batter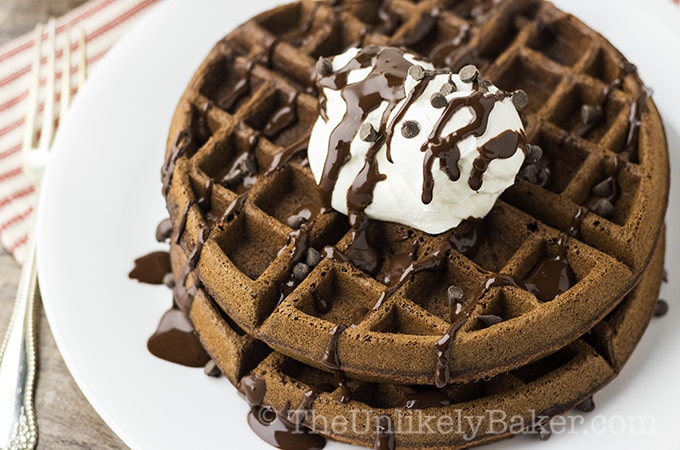 I found that there are two kinds of waffle recipes out there – smooth batter vs. coarse batter. When I make pancakes (check out my Pumpkin Buttermilk Pancakes with Candied Pecans and Banana Buttermilk Pancakes with Candied Walnuts), I always go for a coarse, lumpy batter.
But because of the kind of waffle maker
I have, I need a smooth batter so it flows smoothly into the spout.
It's worked wonderfully so far. I just make sure I don't overwork the batter while stirring it – gently stirring until it's smooth is the way to go.
My recommendation if you have a different kind of waffle maker? Follow your machine's instructions.
Related: 22 Delicious Ways to Use Leftover Buttermilk
Double chocolate waffles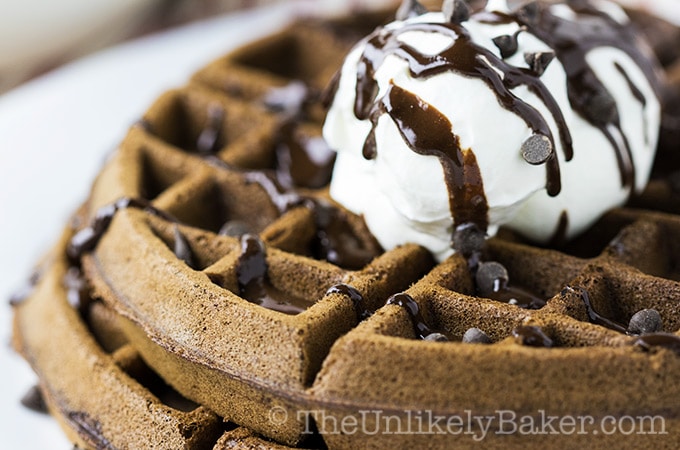 These waffles have double the chocolate in them – cocoa powder
and chocolate chips. We serve them with chocolate syrup
and more chocolate chips though. Does that make them quadruple chocolate waffles? Mind blown.
So for you chocoholics out there. This one's for you. Enjoy!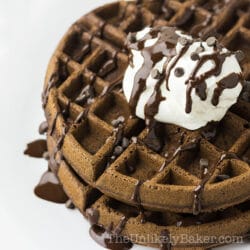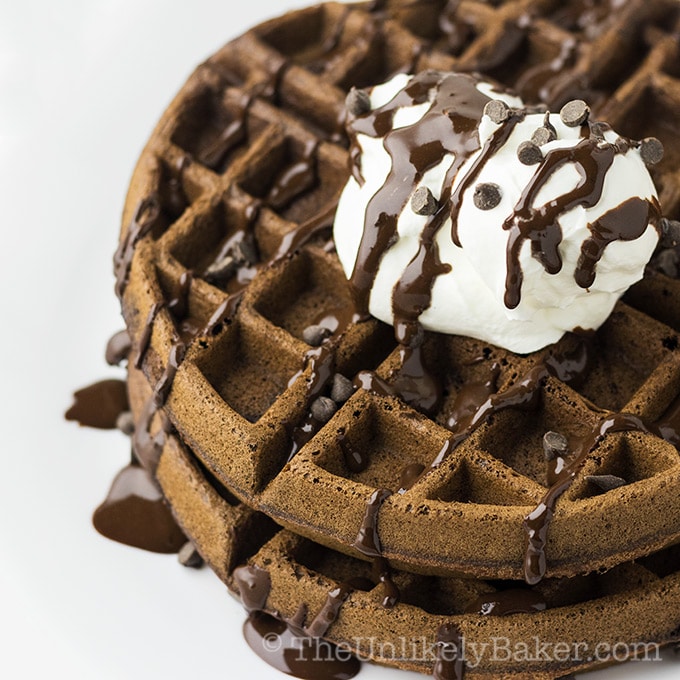 Super Chocolatey Double Chocolate Waffles
These double chocolate waffles are super chocolatey and fantastic for breakfast or as a decadent dessert or as dessert for breakfast! Double the chocolate, double the fun.
Instructions
In a large bowl, whisk 2 cups all purpose flour, 2 tbsp cornmeal, ½ cup sugar, ⅔ cup cocoa powder, 2 teaspoons baking powder, ½ teaspoon baking soda, ½ teaspoon salt and ½ teaspoon cinnamon until combined. Set aside.

In another bowl, whisk 2 ½ cups buttermilk, 2 eggs, 1 tsp vanilla extract and ⅓ cup canola oil until smooth and incorporated.

Add your wet ingredients to your dry ingredients and gently stir until smooth. Fold in ½ cup chocolate chips.

Cook according to your waffle maker instructions. Top with whipped cream, drizzle with chocolate syrup and sprinkle with more chocolate chips. Best served warm (see note 3).
Notes
You can substitute with vegetable or any flavourless oil.
I used mini chocolate chips because I have a vertical waffle maker that has a spout but standard-size chocolate chips should be fine if you have a regular waffle maker.
These waffles freeze well. Just place leftovers in a Ziploc bag (put parchment paper between each waffle so they don't stick together) and freeze. Then when you're ready to eat them, microwave for a few seconds to thaw then toast until crunchy.
Nutrition
Calories:
514
kcal
Carbohydrates:
70
g
Protein:
10
g
Fat:
23
g
Saturated Fat:
7
g
Cholesterol:
13
mg
Sodium:
410
mg
Potassium:
589
mg
Fiber:
5
g
Sugar:
27
g
Vitamin A:
165
IU
Calcium:
217
mg
Iron:
4.4
mg
Nutritional information are estimates only.
Tried this recipe? Leave a star rating today!
Also tag @iamtheunlikelybaker I'd love to see your creations.
Happy waffle making!
Did you make double chocolate waffles? I'd love to hear from you in the comments section below.
And let's get social! Find me on Facebook, Pinterest, Instagram or Twitter.