These easy cheddar biscuits are exceptionally delicious, simple to make, and ready in less than 15 minutes. Plus your kitchen will smell wonderful. Now who wouldn't want that?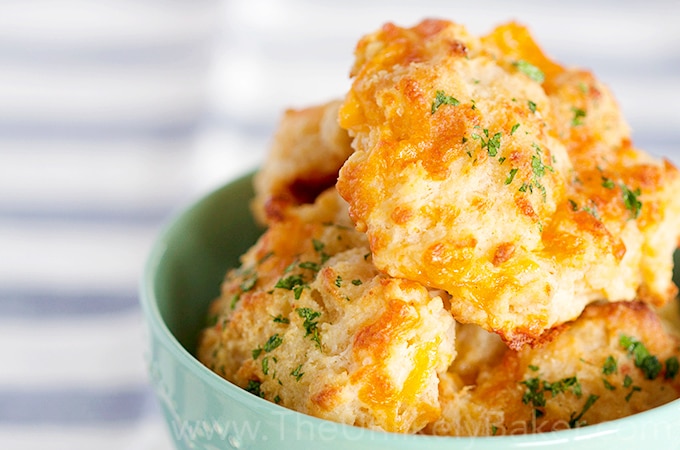 Red Lobster was the first restaurant I ate at when I first arrived in Canada all those years ago so I'm weirdly sentimental about it. I rarely go now but I will never forget their cheddar biscuits which, ironically, is my favorite out of all the things in their menu.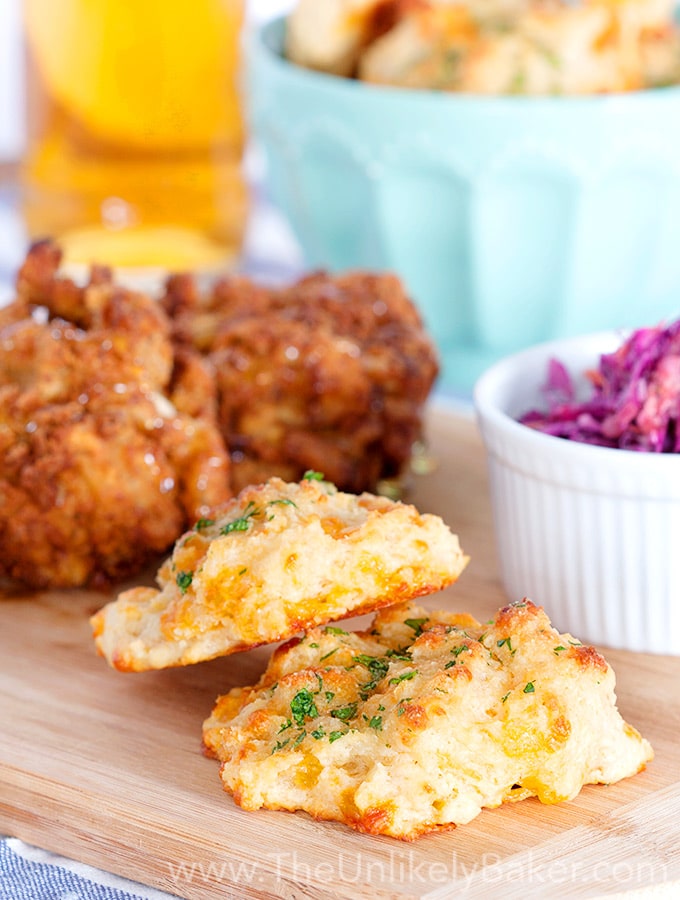 The good news? I've learned to make them at home and not only do they taste great and are the easiest thing to make; they also fill our home with that wonderful freshly baked bread smell. Let's get baking!
Easy cheddar biscuits part 1
When we saw that they started selling the box mix, we bought one immediately. You just add cheese and water and you can have a batch of really tasty biscuits in a matter of minutes. They tasted good and I think we paid less than $5 for a box so it's a good deal too. We just weren't comfortable with the amount of sodium in it.
Easy cheddar biscuits part 2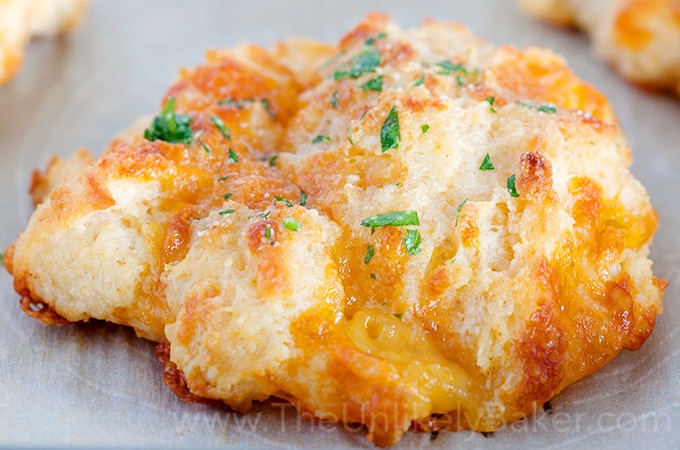 So I set out to discover how to make them myself. There are lots of recipes out there so there's no reason not to make these mouth-watering biscuits yourself. It's just a matter of picking a recipe with the right combination of spices that you think will suit your palate and then go for it. Then there's no turning back. You'll want cheddar biscuits all the time.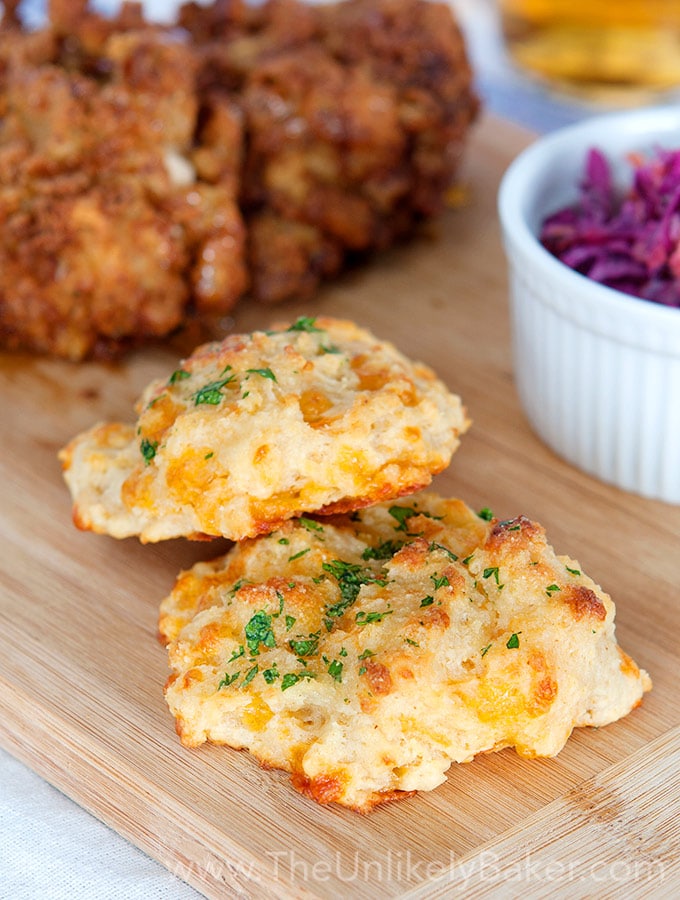 And these biscuits are bursting with flavour. They're great as a side (that chicken in the picture is Red's interpretation of Pioneer Woman's awesome buttermilk chicken), as a snack, even for breakfast (I slather some butter on them – drool).
That freshly baked bread smell
And that smell! I always say nothing beats the aroma of freshly baked bread filling your kitchen (and in our case, our tiny condo) and this particularly smells fantastic. The smell alone is addicting.
So go get to it. Bake some easy cheddar biscuits and relish its cheesy, mouth-watering goodness.
Easy Cheddar Biscuits (Red Lobster Copycat)
These easy cheddar biscuits are exceptionally delicious, simple to make, and ready in less than 15 minutes. Plus your kitchen will smell wonderful.

Notes
This recipe is on the garlicky side which works because we usually eat them with honey chicken (and we like garlic). So the sweetness balances the garlic-ness. If you plan to eat this with something less sweet, I'd suggest to lessen the garlic a tad bit.
I've found these biscuits keep well. You can leave them out on the counter in an airtight container for up to a week (if they last that long!). Just toast (or in my case because I'm lazy – microwave) to re-heat.

Ingredients
For the Biscuits:
2 cups all purpose flour
1 tablespoon granulated sugar
1 tablespoon baking powder
2 teaspoons garlic powder
1/2 teaspoon salt (we used kosher salt)
1/4 teaspoon cayenne pepper
1 cup buttermilk, room temperature
1/2 cup unsalted butter, melted
1 1/2 cups shredded cheddar cheese (the sharper the flavour, the better)
For the Glaze:
3 tablespoons unsalted butter, melted
1 tablespoon chopped fresh parsley
1/2 teaspoon garlic powder
Instructions
Preheat oven to 450F and prep your baking sheet by lining it with parchment paper. Set aside.
In a large bowl, stir the 2 cups flour, 1 tablespoon sugar, 1 tablespoon baking powder, 2 teaspoons garlic powder, 1/2 teaspoon salt and 1/4 teaspoon cayenne pepper until combined.
In another smaller bowl, whisk 1 cup buttermilk with 1/2 cup melted butter. Pour this into your dry ingredients and stir until sticky and evenly moist. Fold 1 1/2 cups of cheese.
Drop a heaping 1/4 cup of dough into your baking sheet making sure to leave at least half an inch gap around each biscuit so they don't stick together.
Bake for 10-12 minutes or until golden brown.
While your biscuits are baking prepare your glaze by stirring 3 tablespoons melted butter, 1 tablespoon parsley and 1/2 teaspoon garlic powder in a small bowl. Brush this mixture on top of the biscuits as soon as they are out of the oven.
You can eat and enjoy the biscuits immediately. This recipe yields 10-12 biscuits.
© 2021 This delicious recipe brought to you by www.TheUnlikelyBaker.com | (c) 2016-2017
(This recipe adapted from Damn Delicious.)
Happy baking!
Did you make these easy cheddar biscuits? Tell me about it in the comments section below. I'd love to hear how it went. What's your favourite biscuit combo? If you're looking for a sweet biscuit, try these buttermilk scones.
And let's get social! Find me on Facebook, Pinterest, Instagram, Twitter and Google+. Or subscribe so you don't miss a recipe (if you missed the pop-up form, there's another form at the bottom of this page).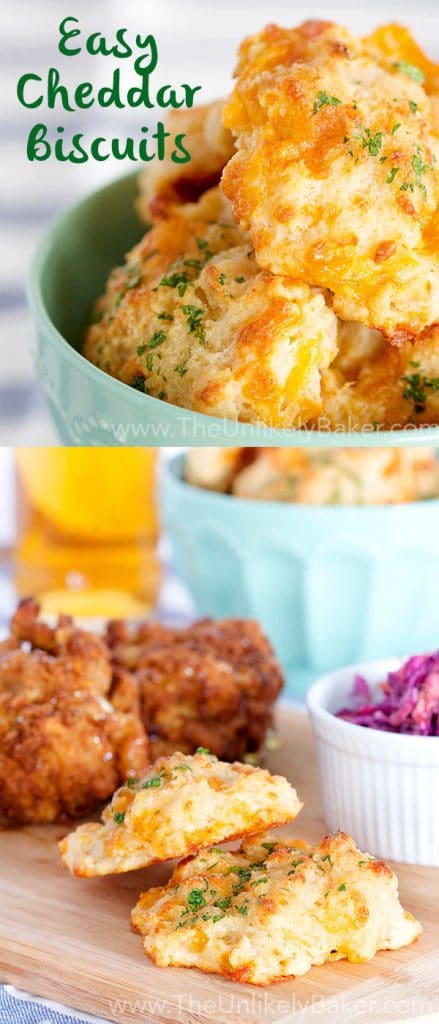 Do you want to improve your food photography, monetize your blog or start your very own food blog? Check out the awesome resources at the bottom of this page (they are affiliate links).
The products below are affiliate links too – these are products that I actually use and/or think are cool. If you click on them and subsequently make a purchase, please know that I will earn a small percentage from Amazon – at no additional cost to you. (See Terms of Use for more info on privacy and how we collect/use collected data on this site.)