Looking for an everyday cake? This easy yogurt cake is it. Easy to make, even easier to eat! Dress it up with whipped cream and your favourite fruits or eat it plain with your morning coffee. It's a treat we deserve every day of the week.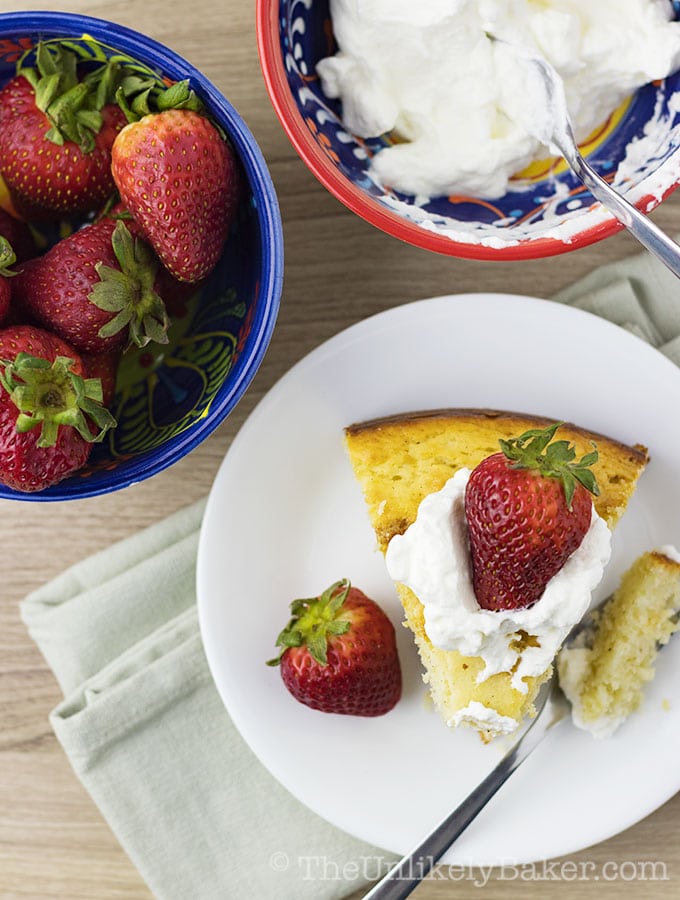 Hello everyone! How are you? We are inching closer to summer and you know what that means on TUB…our No Bake Summer Series!
We're turning our ovens off again this year and spending as much time outside as we can while still devouring everything dee-licious.
We're not quite there yet though so today we are doing a little baking but I promise you, this is the easiest cake ever. Just whisk, stir, pour and bake.
Dress it up or down, it's delightful.
Perfect recipe for leftover yogurt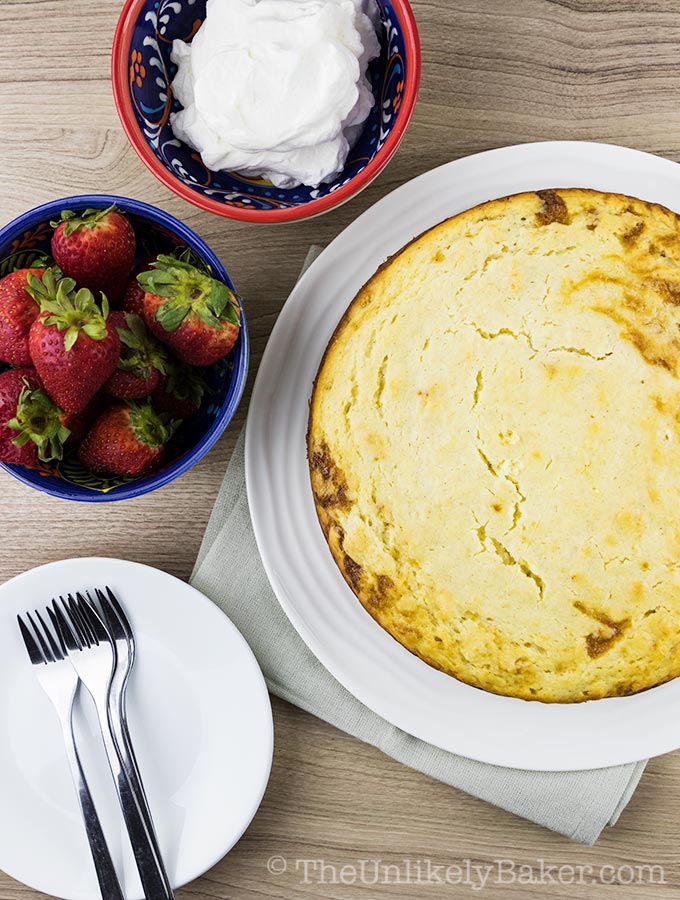 Like a lot of the recipes here, this easy yogurt cake is a result of that sad tub of yogurt nobody wanted. Background: we consume ridiculous amounts of Greek yogurt at home. And we always buy a particular brand.
But one time this other, non-Greek yogurt brand went on sale and who can resist a sale? (Evidently not me). So we tried it and realized we miss our old yogurt. So this tub of yogurt sat at the back of the fridge.
Related: Greek Yogurt Popsicles (3 Flavours!)
Yogurt is great for baking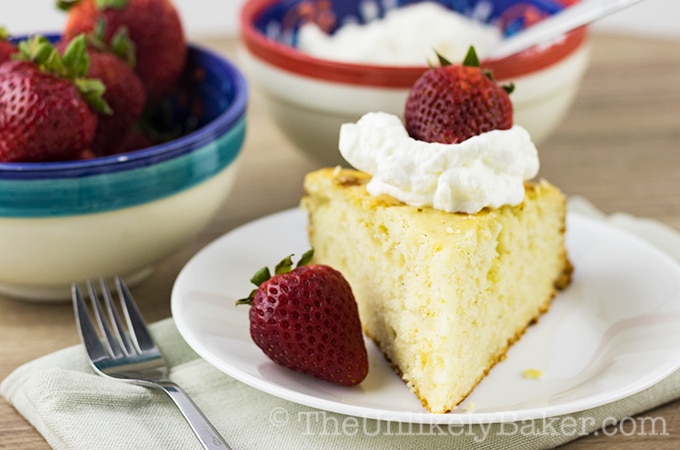 Fortunately, yogurt is an excellent dairy to use in baking. Not only does it add that characteristic tang, yogurt also reacts with baking soda to encourage leavening.
It also adds richness to your cakes and brings with it all the healthy stuff that you already love about it to your baked goods.
For this recipe, I used plain, full fat yogurt. If you're looking for a recipe that uses Greek yogurt, try my recipe for White Chocolate Blackberry Muffins instead.
Easy yogurt cake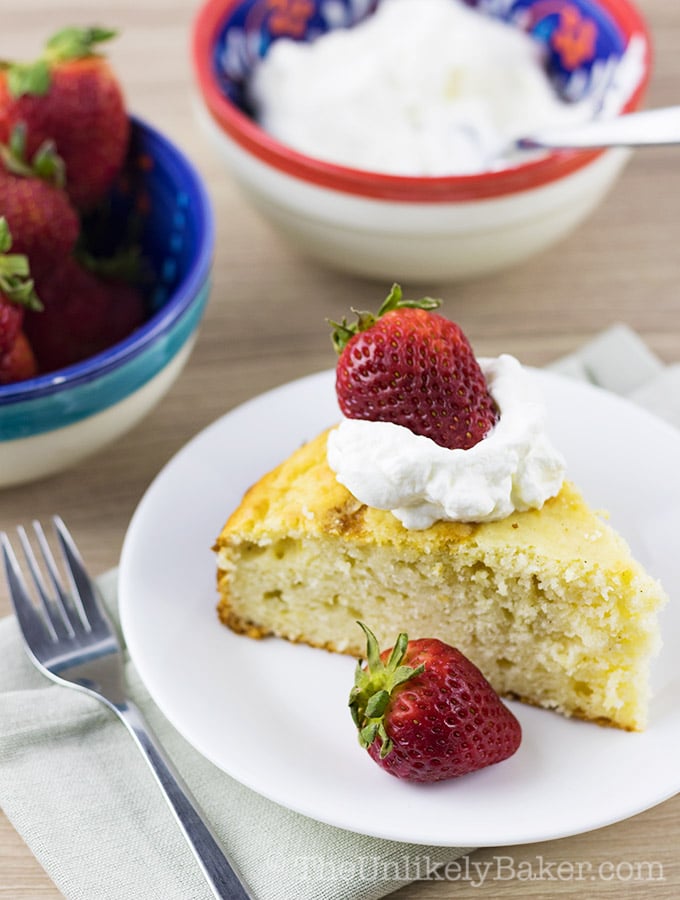 This is really the easiest cake ever. No mixers, no fancy techniques. Just a bowl, a whisk and a pan. As is common in baking, not over-stirring the batter is important but that's about it.
The texture of this cake is similar to pound cake. It's dense, soft and not too sweet. It's fabulous in the morning with your cup of coffee.
It keeps really well too. It should be OK out on the counter for 1-2 days wrapped in cling wrap. You can also keep it in the fridge and it will keep for up to 5 days. A quick 10-15 seconds in the microwave and you'll have soft, moist yogurt cake again.
Related: Magic Custard Cake Recipe
Strawberries and cream
Want to go crazy? Top it with whipped cream and strawberries (or your favourite fruit) like I do and you have a cake worthy of company. And really, now it's strawberry shortcake isn't it?
This cake has become one of our favourites and I hope it becomes one of yours too!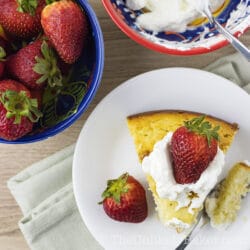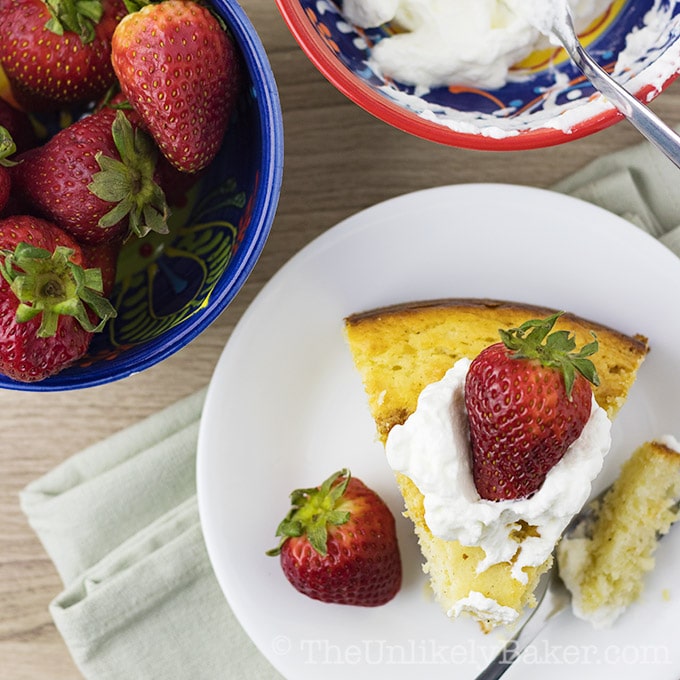 Easy Yogurt Cake
Looking for an everyday cake? This easy yogurt cake is it. Easy to make, even easier to eat! It's a treat we deserve every day of the week.
Instructions
Preheat your oven to 350F. Lightly grease the sides of a 9-inch springform pan and line the bottom with parchment paper. Set aside.

In a large bowl, whisk all wet ingredients together until fully incorporated. Then add all the dry ingredients and gently stir just until combined and no big patches of flour remain. Do not over stir.

Transfer batter to prepared pan and bake 45-50 minutes or until a toothpick inserted in the centre comes out with minimal (but not wet) crumbs (see note).

Cool in pan for about 5 minutes then carefully run a small knife around the edges of the pan before releasing. Transfer to a wire rack to continue cooling.

You can serve the cake at room temperature or a little warm.

Optional: top with whipped cream and strawberries or your favourite fruit.
Notes
Check the cake midway through baking and cover with aluminum foil if it's getting too brown on top. Continue baking until done.
Nutrition
Calories:
471
kcal
Carbohydrates:
64
g
Protein:
6
g
Fat:
20
g
Saturated Fat:
2
g
Cholesterol:
7
mg
Sodium:
286
mg
Potassium:
114
mg
Fiber:
1
g
Sugar:
33
g
Vitamin A:
45
IU
Vitamin C:
0.2
mg
Calcium:
62
mg
Iron:
0.4
mg
Nutritional information are estimates only.
Tried this recipe? Leave a star rating today!
Also tag @iamtheunlikelybaker I'd love to see your creations.
Happy baking!
Did you make this super easy yogurt cake? I'd love to hear from you in the comments section below.