Soft and light chiffon cake frosted with the fluffiest whipped mango cream frosting. This mango chiffon cake is a joy to eat and perfect for summer.
(Love mango cakes? Try this reader favorite mango float recipe, you don't even need to bake it!)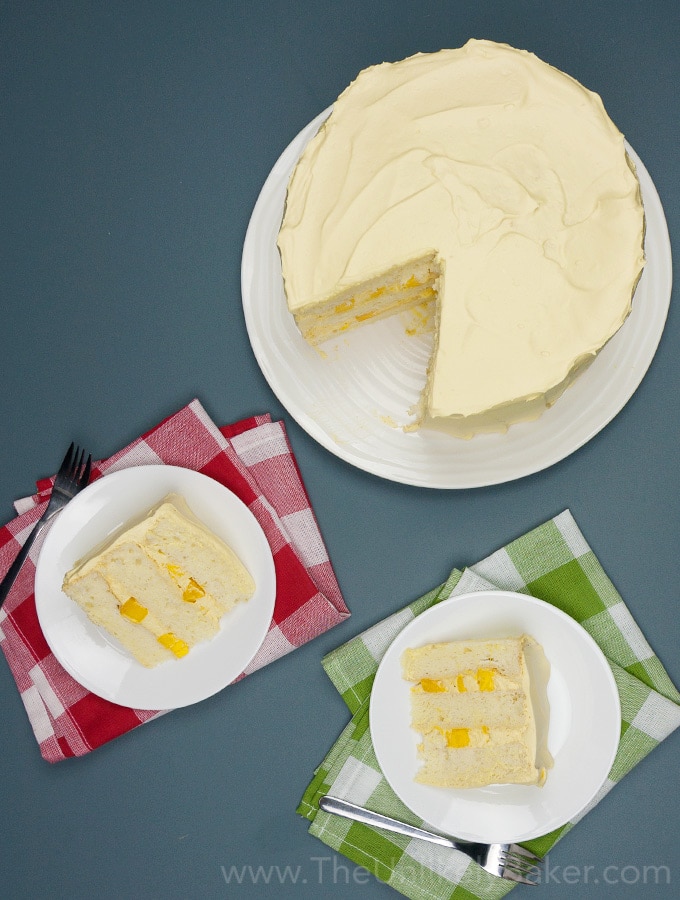 It's a gorgeous day as I'm typing this – it's warm, the sun is out, not a cloud in the sky.
I know it's not summer yet (technically next week it will be *happy dance*) but today is such a lovely day, perfect for this mango chiffon cake – soft, light and frosted with the most delightful whipped mango cream frosting.
A Filipino mango chiffon cake copycat, sort of
There's this mango chiffon cake from home that I wanted to recreate but for the life of me I could not remember exactly what it tasted like. I knew the cake base was probably vanilla chiffon and the frosting was mango but that was it.
All I was sure of was it was delicious and it was a cake my family and I loved (you know how Filipinos love mango, check out my No Bake Mango Cheesecake – it has video!).
First, the chiffon cake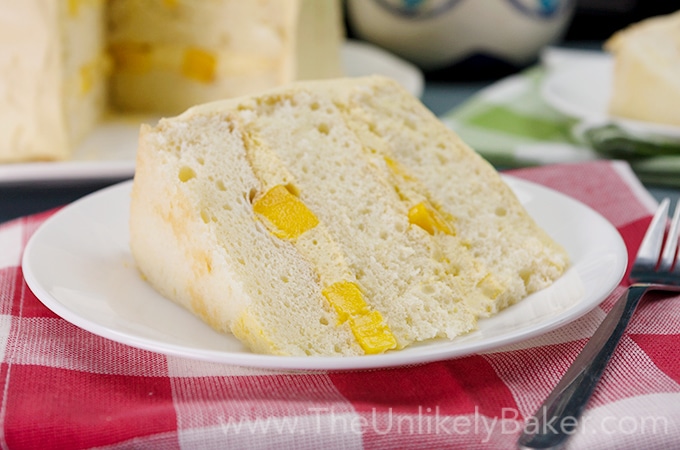 So I proceeded to make the chiffon cake first.
The recipe I used is based on a recipe from the book Joy of Cooking
and it is amazing.
Very soft, light as air and not overtly sweet. I could have eaten it on its own but I was a homesick girl on a mission (hard to stop homesick girls on a mission).
Next, the mango frosting
I knew I needed a frosting as light as this cake; something that won't bring it down.
I immediately thought of doing a whipped cream frosting but the weather being as warm as it was, I didn't want it going all creepy-snowman-melting on me.
Stabilized whipped cream frosting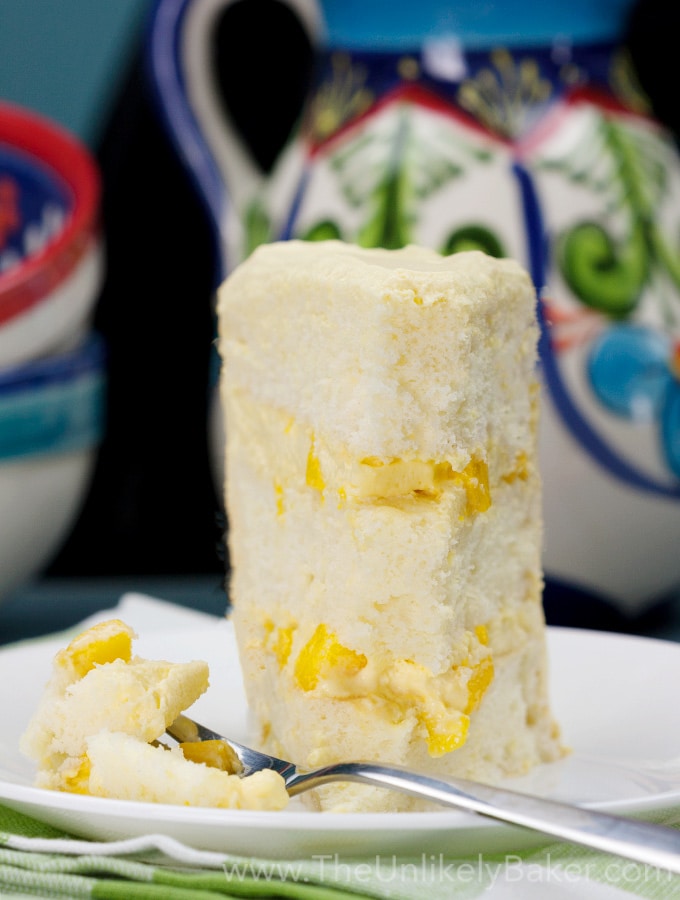 So I decided to stabilize the cream with some gelatine.
I've read this is the secret weapon pro bake shops use so I did it. The first batch was not as silky as I'd like and didn't go on as smoothly but my second try was a winner.
I found that gradually adding the gelatine into the whipped cream in a steady stream was key.
And keep whipping that cream!
You would end up with incredible frosting that's smooth, a dream to frost and pipe with, and could stand the warm summer weather way better than regular whipped frosting.
It's a show stealer of a frosting, this one.
Related: How To Make Your Own Whipped Cream
Mango chiffon cake, TUB-style
The resulting cake is so good.
You know how we usually give most of my baked goods away? Did not happen with this cake. Nope. We kept and ate it all. Not ashamed. That was how good it was!
I may never know if this tastes like the cake of my childhood but I don't know if I care that much anymore. Because it is phenomenal. Try it, you will not be disappointed.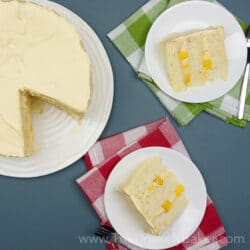 Mango Chiffon Cake with Whipped Mango Cream Frosting
Soft and light chiffon cake frosted with the fluffiest whipped mango cream frosting. This mango chiffon cake is a joy to eat and perfect for summer.
Ingredients
For the Whipped Mango Cream Frosting:
Assembly:
Flesh from 2 ripe, sweet mangoes

chopped
Instructions
For the Chiffon Cake:
Pre-heat your oven to 325F and line the bottom of 3 9-inch round pans with parchment paper. Do not grease.

In a large bowl, whisk 2 ¼ cups cake flour, 1 ¼ cups sugar, 1 tablespoon baking powder and 1 teaspoon salt until combined. Set aside.

Using a handheld electric mixer or a stand mixer with the paddle attachment, beat 5 egg yolks, ¾ cup water, ½ cup canola oil, 1 teaspoon lemon zest and 1 teaspoon vanilla on high speed until smooth and creamy (about a minute). Set aside.

Using a handheld electric mixer or a stand mixer with the whisk attachment (if using the same mixers, ensure they are clean, dry and grease-free), beat 8 egg whites and ½ teaspoon cream of tartar on medium speed until you reach soft peaks (about 1-2 minutes). Then switch to high speed and gradually add ¼ cup sugar. Beat until the egg whites are very stiff and dry (about 5 minutes).

Whisk your egg yolk mixture into your flour mixture until smooth and incorporated.

Then fold your egg whites into your batter in thirds. Gently fold until each addition is incorporated.

Transfer the batter equally into your 3 pans and bake for 30 minutes or until the top springs back when lightly pressed and a toothpick inserted in the centre comes out clean.

Run a sharp knife along the sides of each cake and allow to cool in the pan for 10 minutes. Then unmold and transfer to a wire rack to cool completely.
For the Whipped Mango Cream Frosting:
Pour 1 packet of unflavoured gelatine into ¼ cup cold water. Do not stir. Let sit for 10 minutes to allow it to bloom.

In the meantime, using a handheld electric mixer or a stand mixer fitted with the whisk attachment, whip 2 cups heavy cream, 2 tablespoons sugar and 2 teaspoons vanilla on medium high speed until you reach soft peaks.

Get your gelatine and microwave for 10 seconds. Whisk until smooth (it shouldn't be warm to the touch). With the mixer still on, gradually pour it in a steady stream into your whipped cream. Continue whipping until the gelatine is incorporated.

Add 1 cup mango puree and whip the cream until you reach stiff peaks or you get the consistency you want.
Assembly:
Take about a cup of your whipped frosting and combine with your chopped mangoes. Divide the mixture into two.

Evenly spread half of the mixture on top of the first cake layer. Put on the next cake layer and spread the rest of the mixture on top of that. Put the last cake layer on and proceed to cover the rest of the cake with whipped frosting and decorate as desired.

Chill for at least 3 hours before serving.
Notes
I used store-bought mango puree. If you're making your own, you can use a blender or food processor to puree about about 4 mangoes then strain to ensure the smoothest mixture.
Nutrition
Calories:
429
kcal
Carbohydrates:
49
g
Protein:
4
g
Fat:
24
g
Saturated Fat:
9
g
Cholesterol:
58
mg
Sodium:
214
mg
Potassium:
210
mg
Sugar:
30
g
Vitamin A:
820
IU
Vitamin C:
8.2
mg
Calcium:
75
mg
Iron:
0.3
mg
Nutritional information are estimates only.
Tried this recipe? Leave a star rating today!
Also tag @iamtheunlikelybaker I'd love to see your creations.
(Chiffon cake recipe adapted from Joy of Cooking
.)
Happy baking!
Did you bake mango chiffon cake? I'd love to hear from you in the comments section below.