Chewy double chocolate chunk cookies that will satisfy your chocolate cravings – soft, succulent and chocolatey with huge chunks of dark chocolate.
(Love chocolate? Check out these Super Chocolatey Double Chocolate Waffles, these Very Chocolatey Chocolate Crinkles or this Chocolate Cake with Chocolate Fudge Frosting.)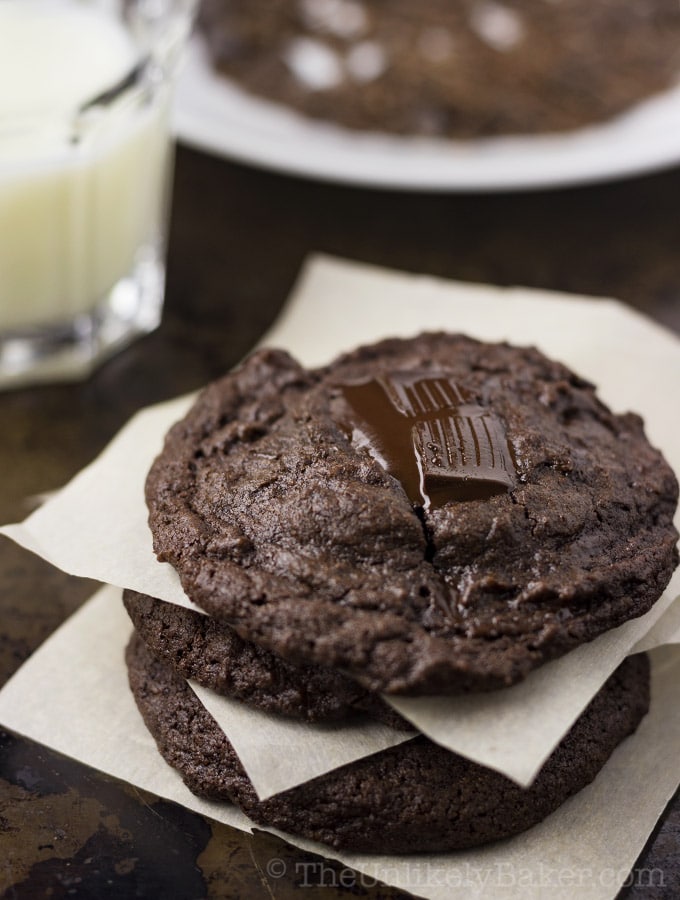 I have a very specific cookie preference. First, I want them soft and chewy. Like they're always freshly baked.
And if they're chocolate chip, I want them to be very chocolatey. No middle of the road for me. Those teeny tiny chocolate chips just won't do.
I want my cookies to have giant chunks of chocolate in them (so I guess me liking chocolate chip cookies is not entirely accurate. Anyway).
If you're hard-core like me, you will love this chewy double chocolate chunk cookie recipe.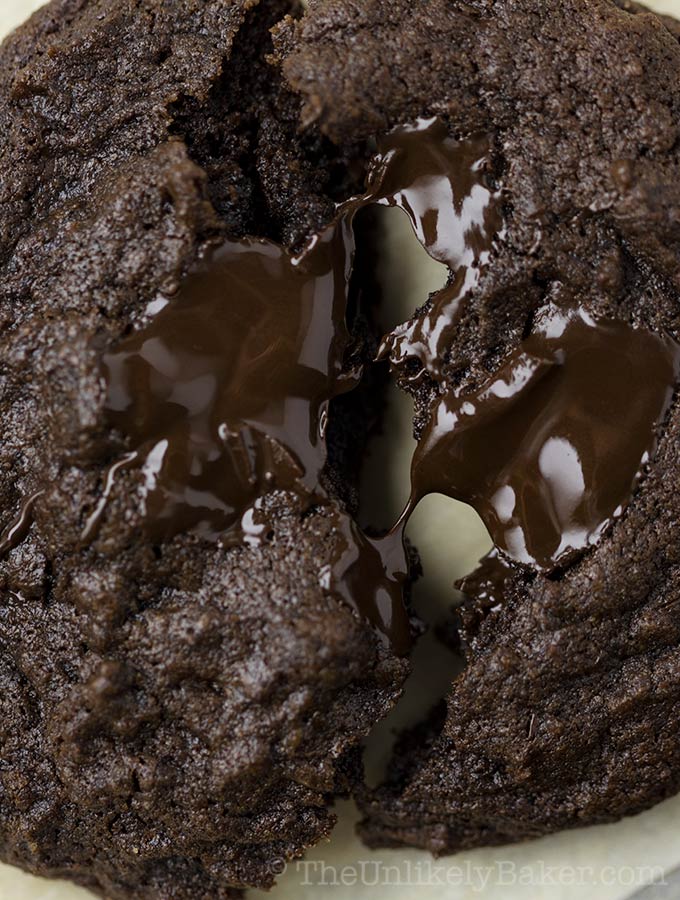 When I was first learning to bake cookies, I was always disappointed about how much they spread and how they are more often crispy than chewy (though nothing wrong with crispy cookies).
Over time, I've learned that for perfectly chewy cookies:
Always use room temperature ingredients. No way around this one (and this is true for 99.9% of baking).
Correctly measure ingredients. I love my kitchen scale. If you don't have one, here's a great illustration of how to correctly measure flour by volume.
Make sure your oven temperature is accurate too. Invest in a simple oven thermometer. They are inexpensive and you may be surprised at how off your oven temperature is.
Do not grease your cookie sheet. This will prevent your cookies from spreading and thinning out. I usually just line with parchment paper or use my Silpat mat.
Space the cookies evenly apart. So in case they do spread a little, they don't become one massive cookie (though again, nothing wrong with a massive cookie!)
It also helps to use a cookie scoop. This gives you evenly sized cookies that bake evenly.
Under baking cookies is better than over baking them. The residual heat from your baking pan will continue to cook the cookies as they cool. So consider the baking time on the recipe more as a suggestion. Check your cookies a few minutes before and decide if they need to be taken out earlier.
Some recipes also require you to chill your dough before baking, especially if the batter is very soft and sticky), like these Soft and Chewy Ginger Molasses Cookies.
Storage and shelf life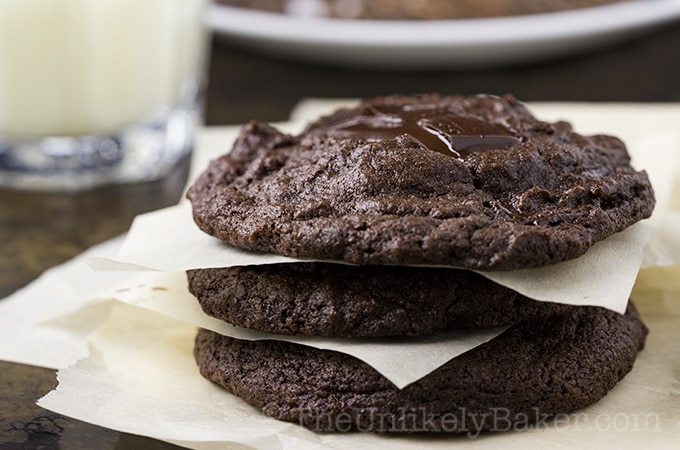 So you've baked the perfect batch of chewy double chocolate chip cookies. How do you keep them that way?
I keep my cookies in an airtight cookie jar
and to keep them nice and soft, I place a piece of white bread in there with them. The cookies absorb the moisture from the bread, helping keep them chewy longer.
I've heard other bakers put an apple wedge instead of bread. I haven't tried this method though, I'm afraid the apple flavour will infuse my chocolate chip cookies with apple flavour! Have you tried it?
Related: Chocolate Cupcakes with Peanut Butter Frosting (and a surprise centre!)
Double chocolate

in every bite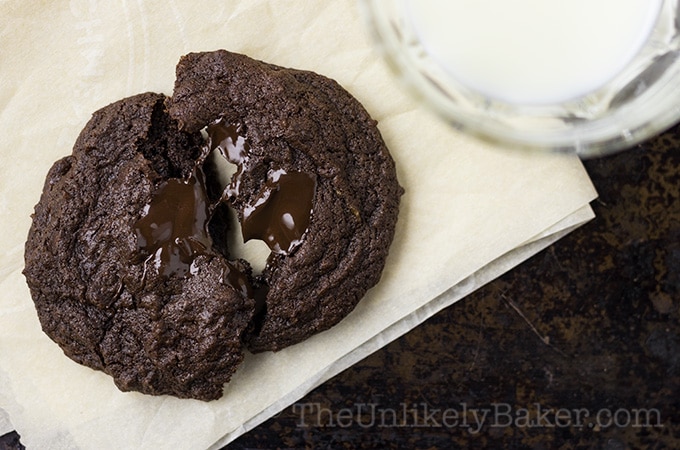 These chewy double chocolate chunk cookies though, these are special. I actually like to place them in a ziploc bag and chill them in the fridge. They stay wonderfully chewy and are lovey chilled!
And every bite just bursts with chocolate flavour. There's cocoa powder
in the batter and chunks of dark chocolate
all throughout. It'll make the chocolate lovers in your life very, very happy.
Quick and easy to make too. Check out the video!
Related: How to Make Homemade Chocolate Bark
Looking for more cookie recipes for holiday cookie swaps? Check these out: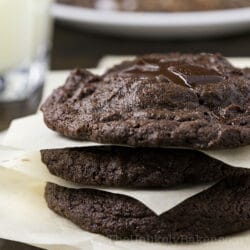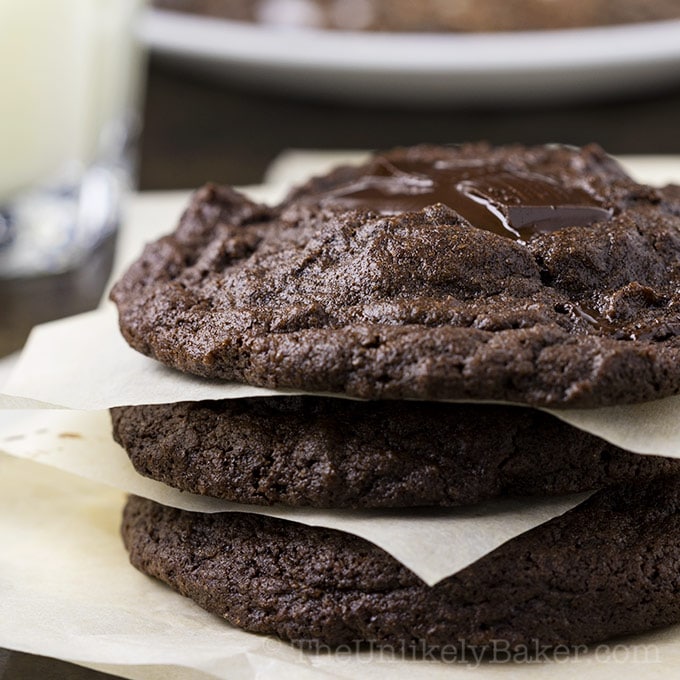 Chewy Double Chocolate Chunk Cookies (Video)
These chewy double chocolate chunk cookies will satisfy your chocolate cravings – soft, succulent and chocolatey with huge chunks of dark chocolate.
Instructions
Preheat oven to 350F. Line a cookie sheet with parchment paper and set aside.

In a large bowl, whisk 1 cup flour, ⅓ cup cocoa powder, ¼ tsp baking soda, ¼ tsp baking powder and a pinch of salt until incorporated. Set aside.

Using an electric handheld mixer or a stand mixer fitted with the paddle attachment, beat ½ cup butter, ¾ cup brown sugar, 1 egg and 1 tsp vanilla extract until combined. The mixture will look a little grainy and that's OK.

Pour your flour mixture into your butter mixture and gently stir until combined. Fold your chocolate chunks until evenly distributed.

Scoop a heaping tablespoon of cookie batter and place on your prepared cookie sheet, making sure there's at least 1-2 inches of space around each cookie. Take a piece of chocolate chunk and place it on top of each cookie while slightly flattening your cookie (don't flatten too much because it will spread on its own).

Bake for 8-10 minutes or until just set (see note 1)

Cool your cookies on the cookie sheet until they are sturdy enough to move to a cooling rack to cool completely (see note 2).
Notes
It is better to under-bake than over-bake these cookies so check at about 6 minutes and decide. See the post for more tips.
Don't move the cookies from the cookie sheet too early – they will fall apart. Don't wait too long either though because they will continue cooking on the warm cookie sheet.
I used a 1.5 TBSP cookie scoop and ended up with 15 cookies.
Try these cookies chilled, the next day!
Nutrition
Calories:
188
kcal
Carbohydrates:
22
g
Protein:
2
g
Fat:
10
g
Saturated Fat:
6
g
Cholesterol:
16
mg
Sodium:
27
mg
Potassium:
128
mg
Fiber:
1
g
Sugar:
13
g
Vitamin A:
195
IU
Calcium:
25
mg
Iron:
1.9
mg
Nutritional information are estimates only.
Tried this recipe? Leave a star rating today!
Also tag @iamtheunlikelybaker I'd love to see your creations.
Happy baking!
Did you make chewy double chocolate chunk cookies? I'd love to hear from you in the comments section below.