Chewy double chocolate chunk cookies that will satisfy your chocolate cravings – soft, succulent and chocolatey with huge chunks of dark chocolate.
(Love chocolate? Check out these Super Chocolatey Double Chocolate Waffles, these Very Chocolatey Chocolate Crinkles or this Chocolate Cake with Chocolate Fudge Frosting.)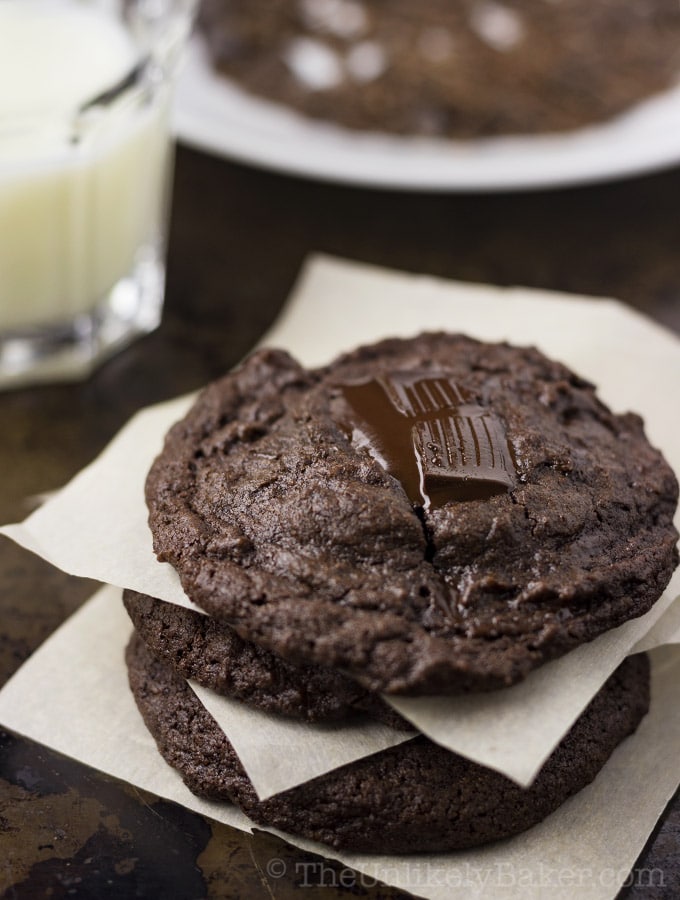 I have a very specific cookie preference. First, I want them soft and chewy. Like they're always freshly baked.
And if they're chocolate chip, I want them to be very chocolatey. No middle of the road for me. Those teeny tiny chocolate chips just won't do.
I want my cookies to have giant chunks of chocolate in them (so I guess me liking chocolate chip cookies is not entirely accurate. Anyway).
If you're hard-core like me, you will love this chewy double chocolate chunk cookie recipe.
Tips for perfectly chewy cookies every time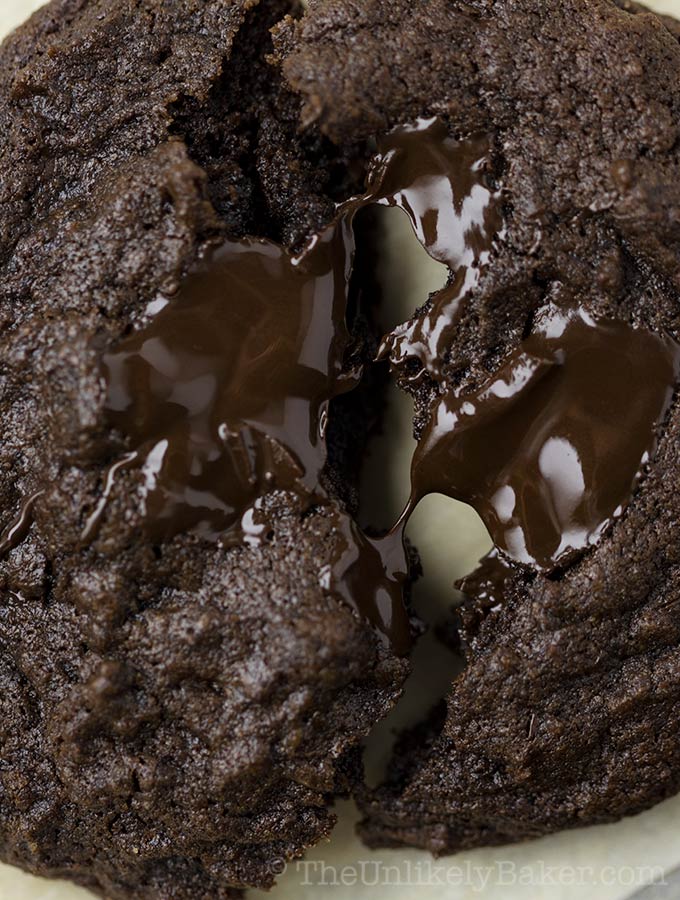 When I was first learning to bake cookies, I was always disappointed about how much they spread and how they are more often crispy than chewy (though nothing wrong with crispy cookies).
Some recipes also require you to chill your dough before baking, especially if the batter is very soft and sticky), like these Soft and Chewy Ginger Molasses Cookies.
How to store chewy double chocolate chip cookies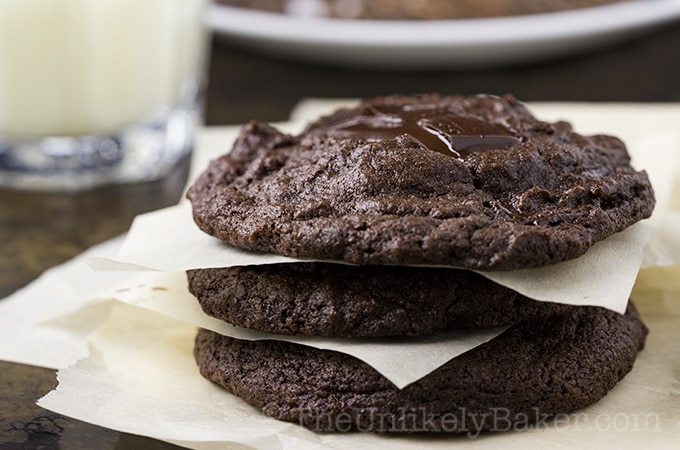 So you've baked the perfect batch of chewy double chocolate chip cookies. How do you keep them that way?
I keep my cookies in an airtight cookie jar
and to keep them nice and soft, I place a piece of white bread in there with them. The cookies absorb the moisture from the bread, helping keep them chewy longer.
I've heard other bakers put an apple wedge instead of bread. I haven't tried this method though, I'm afraid the apple flavour will infuse my chocolate chip cookies with apple flavour! Have you tried it?
Related: Chocolate Cupcakes with Peanut Butter Frosting (and a surprise centre!)
Chewy double chocolate chunk cookies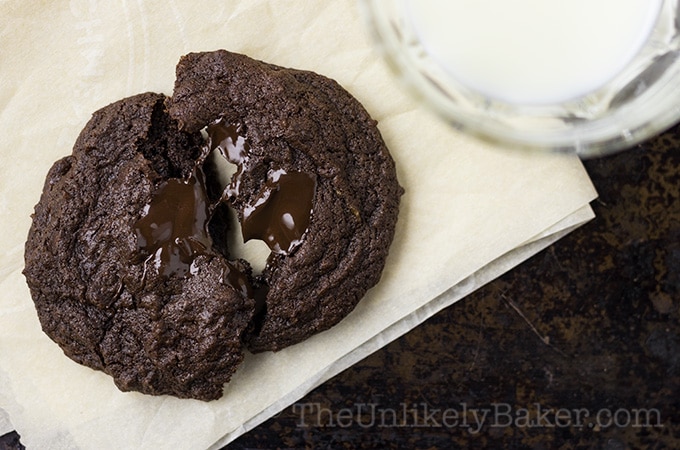 These chewy double chocolate chunk cookies though, these are special. I actually like to place them in a ziploc bag and chill them in the fridge. They stay wonderfully chewy and are lovey chilled!
And every bite just bursts with chocolate flavour. There's cocoa powder
in the batter and chunks of dark chocolate
all throughout. It'll make the chocolate lovers in your life very, very happy.
Quick and easy to make too. Check out the video!
Related: How to Make Homemade Chocolate Bark
Holiday cookie swap recipes
Looking for more cookie recipes for holiday cookie swaps? Check these out:
Happy baking!
Did you make chewy double chocolate chunk cookies? I'd love to hear from you in the comments section below.
And let's get social! Find me on Facebook, Pinterest, Instagram, Twitter and Flipboard.
Or subscribe so you don't miss a recipe. I promise I don't spam (I hate spam too).
Do you want to improve your food photography, monetize your blog or start your very own food blog? Check out my Blogging Resources.