Strawberry rhubarb galette is a delicious way to celebrate spring! Quick and easy to make. Enjoy a slice faster than you can say pie! Perfect with ice cream.
(Love rhubarb? Make some rhubarb chia pudding. Another easy and delicious rhubarb treat! This rhubarb crumble from Savoring the Good looks delicious too!)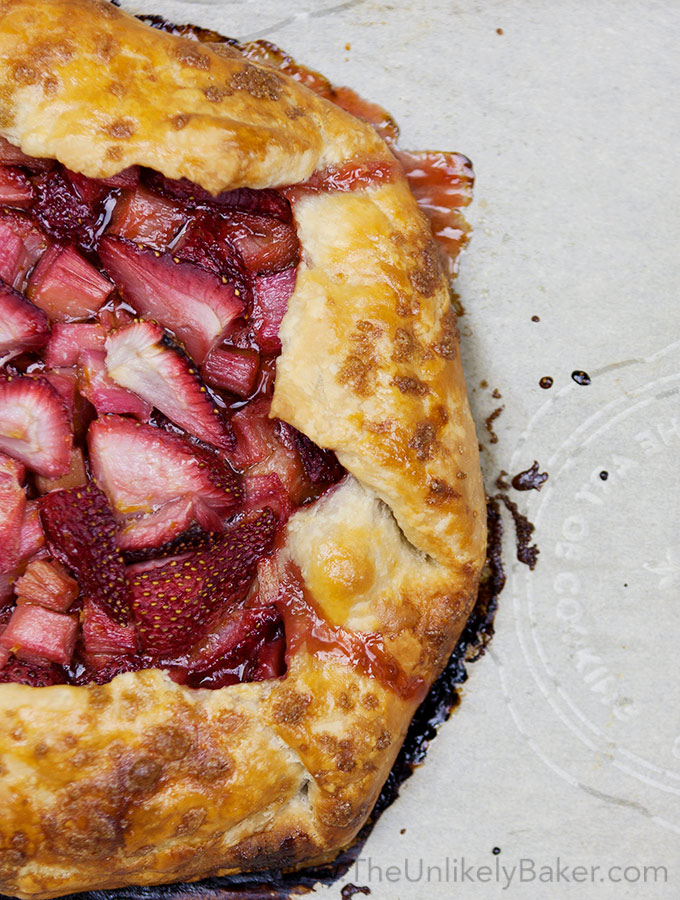 Despite the less than ideal (ok, mostly horrible) weather we've been having (we had frost warnings not too long ago), it is technically spring and I know that's true because I've started to see rhubarb pop-up at our local grocer. And rhubarb always means spring, regardless of what it looks like outside!
So I grabbed a bunch and thought I'd make a pie but the lazy baker in me won again so I made a galette instead.
I love galettes. I make a lot of apple galettes in the fall and mini cherry galettes in the summer. Quicker and easier to make than pie but just as delicious!
And this strawberry rhubarb galette is no exception.
How to handle rhubarb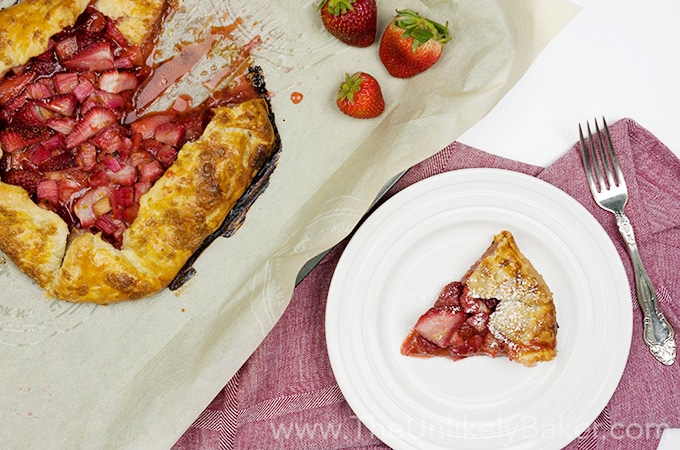 Since rhubarb only appears for a very short time in the spring, I don't get to work with it often enough. So I needed to arm myself with information about it (food geek alert):
Rhubarb is a vegetable (when I first bought it I thought it smelled a lot like celery) but I don't think people care about that as it's typically prepared like fruit and used mainly in sweets and desserts.
Its leaves are toxic so they are usually sold with leaves already cut off. If you chance upon ones with leaves, cut them off right away before you use or store them.
Want to enjoy rhubarb off-season? Great news: rhubarb freezes beautifully. Just wash, cut into ½ to 1 inch pieces, let dry thoroughly (very important step!), and put in freezer bags. They last up to a year (sweet!).
Perfectly sweet and tart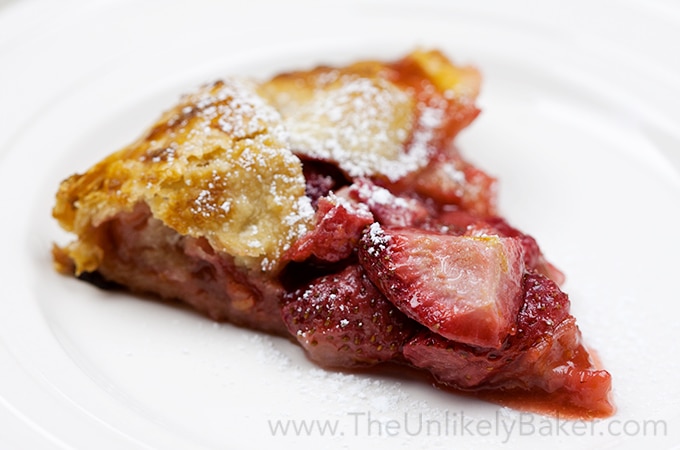 But no, rhubarb is not sweet. In fact, it's very tart. You cannot eat it raw (well, you can but you might not want to) so it's usually cooked with lots of sugar to balance out the tartness.
This galette is more on the tart side (I find it's perfect paired with ice cream or sprinkled with confectioner's sugar) but you can totally adjust the amount of sugar to suit your tastes.
Rhubarb and strawberry is a classic combo
Sweet strawberries help balance out that tartness too. And this is why you see rhubarb paired with strawberries a lot of the time.
They are a match made in spring heaven!
And it's so easy to put together. Watch the video instructions and see just how easy. I made my own crust but you can use ready-made ones and make the process that much quicker.
So grab some rhubarb, make a galette and let's celebrate spring together!
Looking for more ways to work with rhubarb? Here are more rhubarb recipes for you to explore.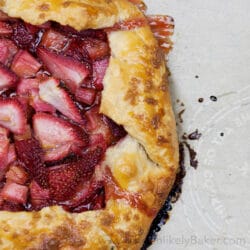 Strawberry Rhubarb Galette
Strawberry rhubarb galette is a delicious way to celebrate spring! Quick and easy to make. Enjoy a slice faster than you can say pie! Perfect with ice cream.
Ingredients
2

cups

quartered strawberries

1 ½

cups

sliced rhubarb

½ inch thick

½

cup

granulated sugar

see notes

1

tsp

vanilla extract

1

tbsp

lemon zest

2

tbsp

cornstarch

Pie dough

homemade or store-bought that can be rolled out into a 12-inch circle (about ⅛-inch thick)

1

tbsp

unsalted butter

cold and diced

1

pc

egg

mixed with 1 tablespoon water

Demerara sugar

for sprinkling, you can also use turbinado sugar
Instructions
Preheat your oven to 400F and prepare a baking sheet lined with parchment paper.

In a large bowl, mix 2 cups quartered strawberries, 1 ½ cups sliced rhubarb, ½ cup sugar, 1 teaspoon vanilla extract, 1 tablespoon lemon zest and 2 tablespoons cornstarch. Stir gently to ensure that the strawberries and rhubarb don't turn to mush. Set aside.

Turn your pie dough onto a lightly floured surface and roll out into a 12 inch circle (about ⅛ inch thick). Carefully transfer dough to your baking sheet.

Spoon filling into the middle of the dough ensuring you leave a 2 inch border all around (be careful not to spoon too much of the juice else your galette will be very runny).

Fold the dough over the filling and slightly pinch where the overlaps occur. See video for guide on how to fold your galette.

Dot the filling with butter and brush the edges of the galette with egg wash. Sprinkle demerara sugar and bake until the fruit filling is bubbling and the crust is golden brown (about 45 minutes).

Serve galette warm. Optionally, you can sprinkle with confectioner's sugar or top with vanilla ice cream.
Notes
You may need to add more sugar depending on how sweet or tart you want your galette to be. ½ cup results to a galette that's more on the tart side.
Nutrition
Calories:
116
kcal
Carbohydrates:
24
g
Protein:
1
g
Fat:
2
g
Saturated Fat:
1
g
Cholesterol:
6
mg
Sodium:
3
mg
Potassium:
161
mg
Fiber:
2
g
Sugar:
19
g
Vitamin A:
89
IU
Vitamin C:
32
mg
Calcium:
34
mg
Iron:
1
mg
Nutritional information are estimates only.
Tried this recipe? Leave a star rating today!
Also tag @iamtheunlikelybaker I'd love to see your creations.
Happy baking!
Did you make strawberry rhubarb galette? I'd love to hear from you in the comments section below.