Pianono is the Filipino version of the Swiss roll or jelly roll cake. The traditional pianono is filled with butter and sugar but you can find different kinds to satisfy all your cravings — cakes with custard filling, with yema filling and even dulce de leche. Delicious with coffee in the morning or as an afternoon snack.
(Fan of roll cakes? Try Brazo de Mercedes, a pillowy meringue roll filled with rich custard, Ube Roll Cake, tender ube cake with whipped cream cheese frosting, or this classic Vanilla Swiss Roll filled with light whipped cream.)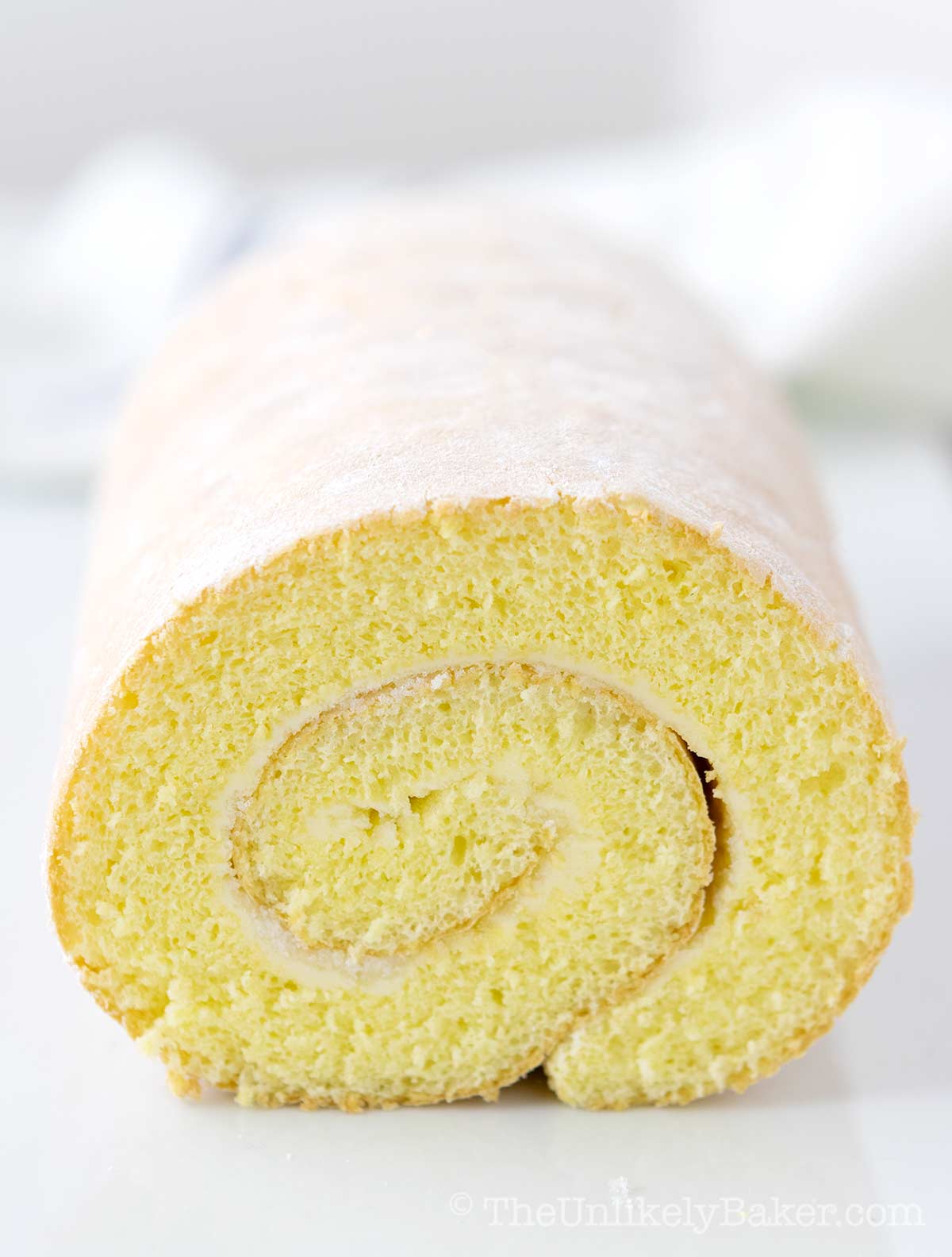 Pianono or pianono roll cake is a popular Filipino snack, although you can also find similar treats in Spain, South America, Cuba and Puerto Rico.
In the Philippines, it's available in most local bakeries, usually sold in individual slices, and although it's called a cake, it's considered more like bread or an everyday sweet snack than a dessert cake that you serve at celebrations.
You can trace its origins to pionono, small pastries from Santa Fe in Grenada, Spain. It's named after Pope Pius IX's Spanish name, "Pio Nono".
You can read all about the cake's delicious history here.
Why this recipe works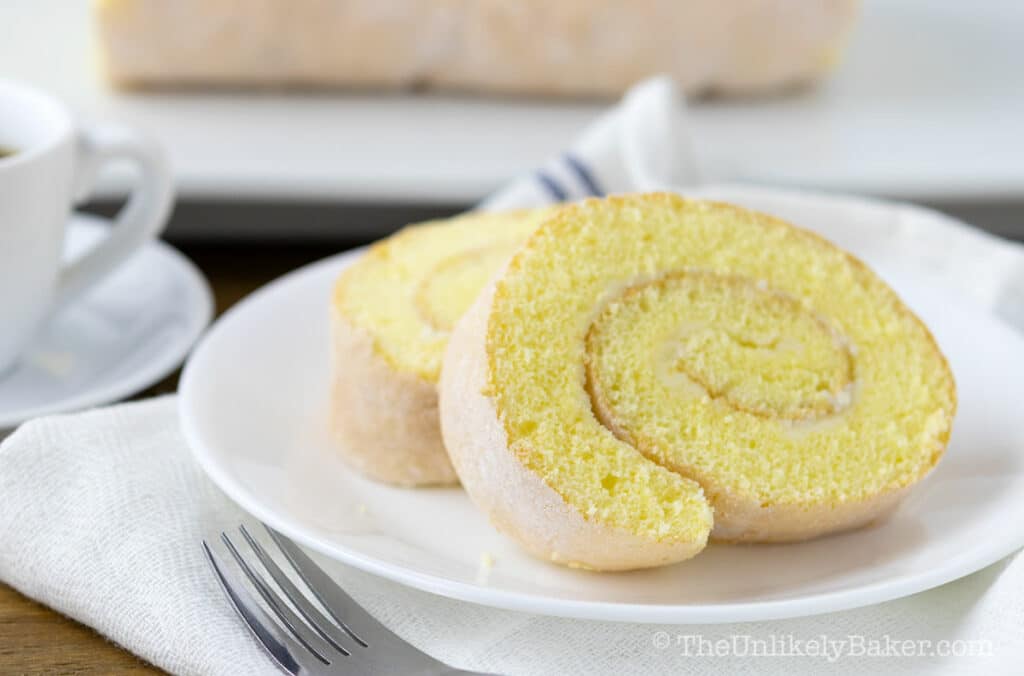 Pianono is a childhood favourite and I love baking it. From the soft and fluffy sponge cake roll to the butter and sugar filling — it's simple, delicious and tastes just like the ones from home.
You'll enjoy making this recipe too because:
It has simple easy-to-find ingredients. You probably already have them in your pantry, like flour, baking powder, sugar, salt and eggs.
The recipe is easy to follow. I give lots of tips to help you get that perfectly firm but tender cake texture that won't break when you roll it.
You can customize the filling. Go the traditional route with butter and sugar or fill it with whatever you like, from coco jam to Nutella. You can even flavour the cake itself. For example, add ube extract for ube pianono or coffee to make a mocha roll.
Ingredients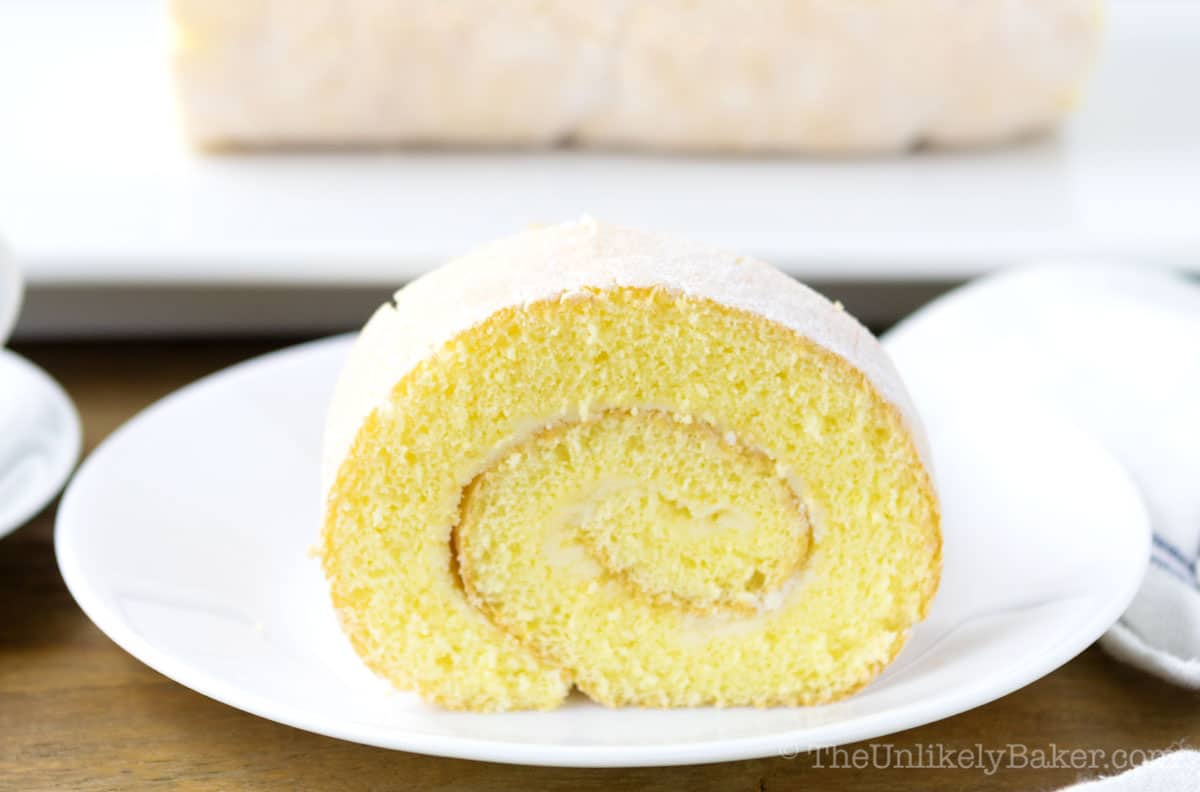 Like I mentioned above, this pianono recipe uses pantry staples but I do want to make notes about some of the ingredients:
Cake flour — I use cake flour here to achieve a more tender and lighter texture. If you only have all-purpose flour, you can still use that but note that it's not a 1:1 substitution. You'll need to add cornstarch into the mix. Here's a great reference on how to make your own.
Confectioner's sugar — Note that we use confectioner's sugar (also sometimes called icing sugar or powdered sugar) to dust the pianono before rolling it. This is different from granulated sugar or white sugar. If you don't have confectioner's sugar, you can make your own by adding 1 tablespoon of cornstarch to every cup of sugar and blending or pulsing it in the food processor until the sugar is powdery.
Room temperature eggs — Remember to use room temperature eggs. This is especially important when making the meringue. Cold eggs make it harder to achieve stiff peaks.
Baking tools
Electric mixer — I use an electric mixer to whisk my eggs. You can always whisk eggs (yolks or whites) by hand; I just don't have the patience or arm strength for it lol.
Kitchen scale — I always recommend using a kitchen scale when measuring ingredients, especially when baking. It leads to better and more consistent results.
Oven thermometer — An oven thermometer is essential for me too. I have two hanging in my oven at all times to ensure I'm baking at the correct temperature every time.
How to make the cake batter (with step-by-step photos)
Now that we have that covered, let's get baking.
First you'll want to whisk your egg yolks on high speed for a minute. Then gradually add sugar until the mixture is pale and thick.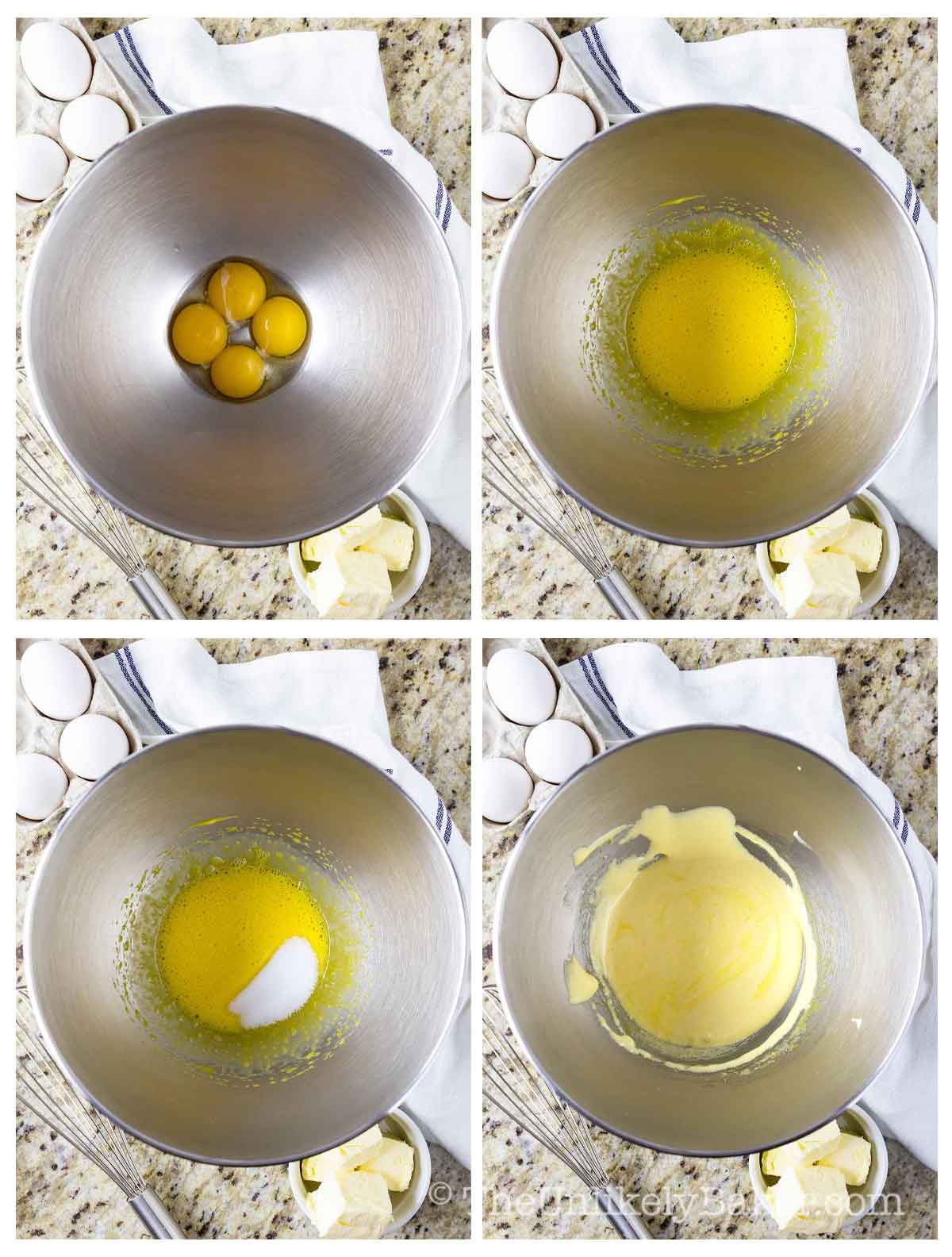 Switch to low speed and add flour gradually. Beat until smooth and incorporated.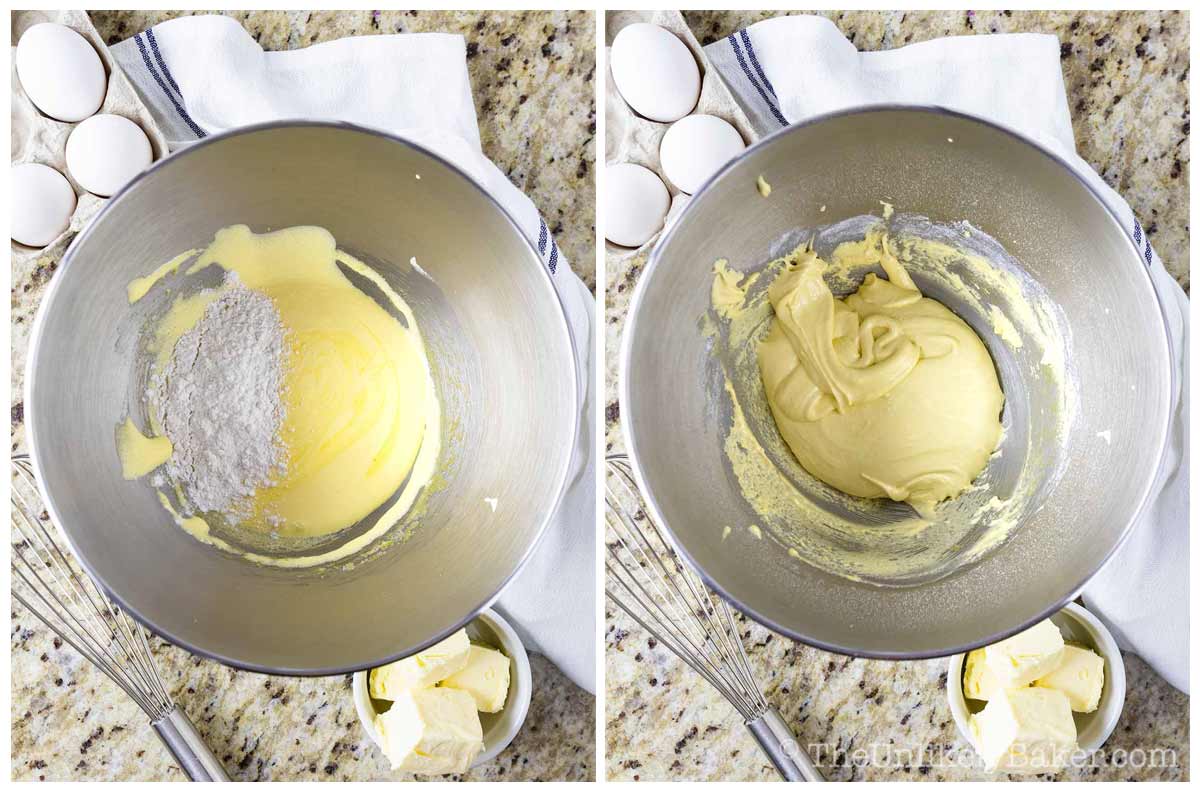 Set that aside while you work on your meringue. Beat egg whites and cream of tartar until frothy. Then gradually add sugar until you get medium-stiff (but not dry) peaks.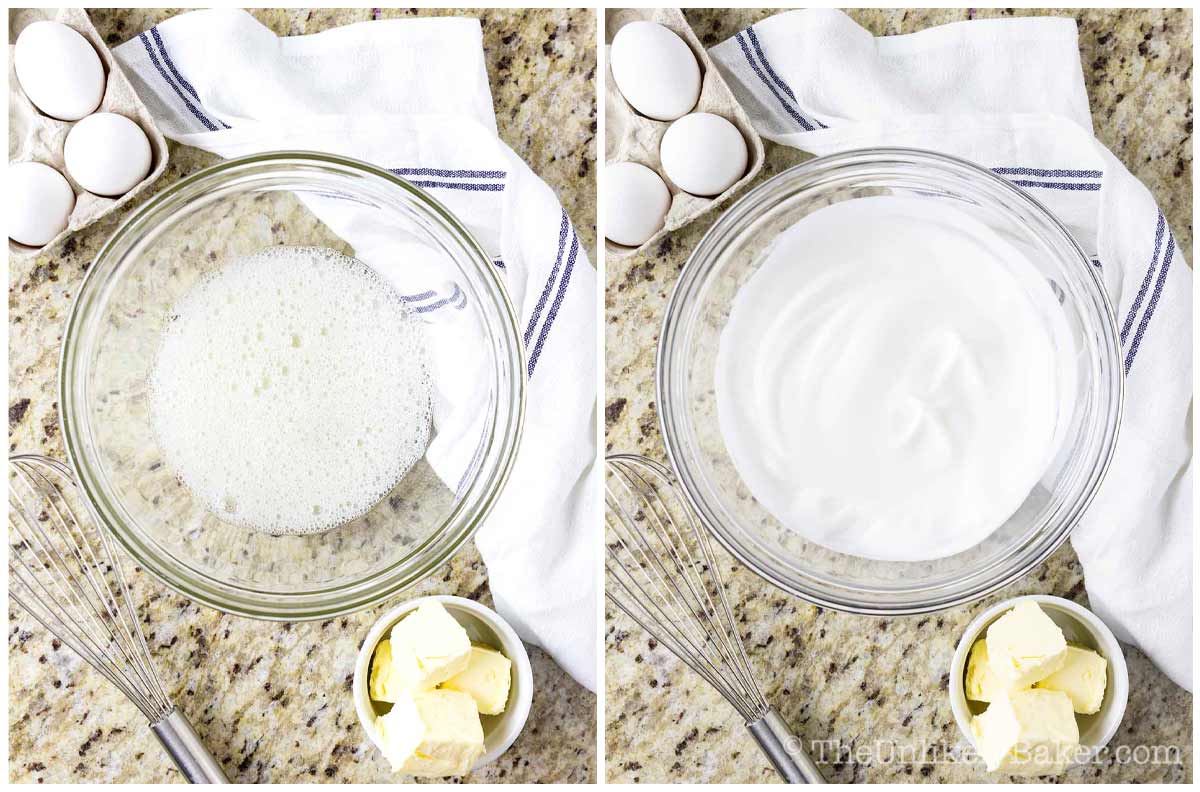 Fold about a cup of your meringue to your batter to lighten it; then fold the rest in until well blended.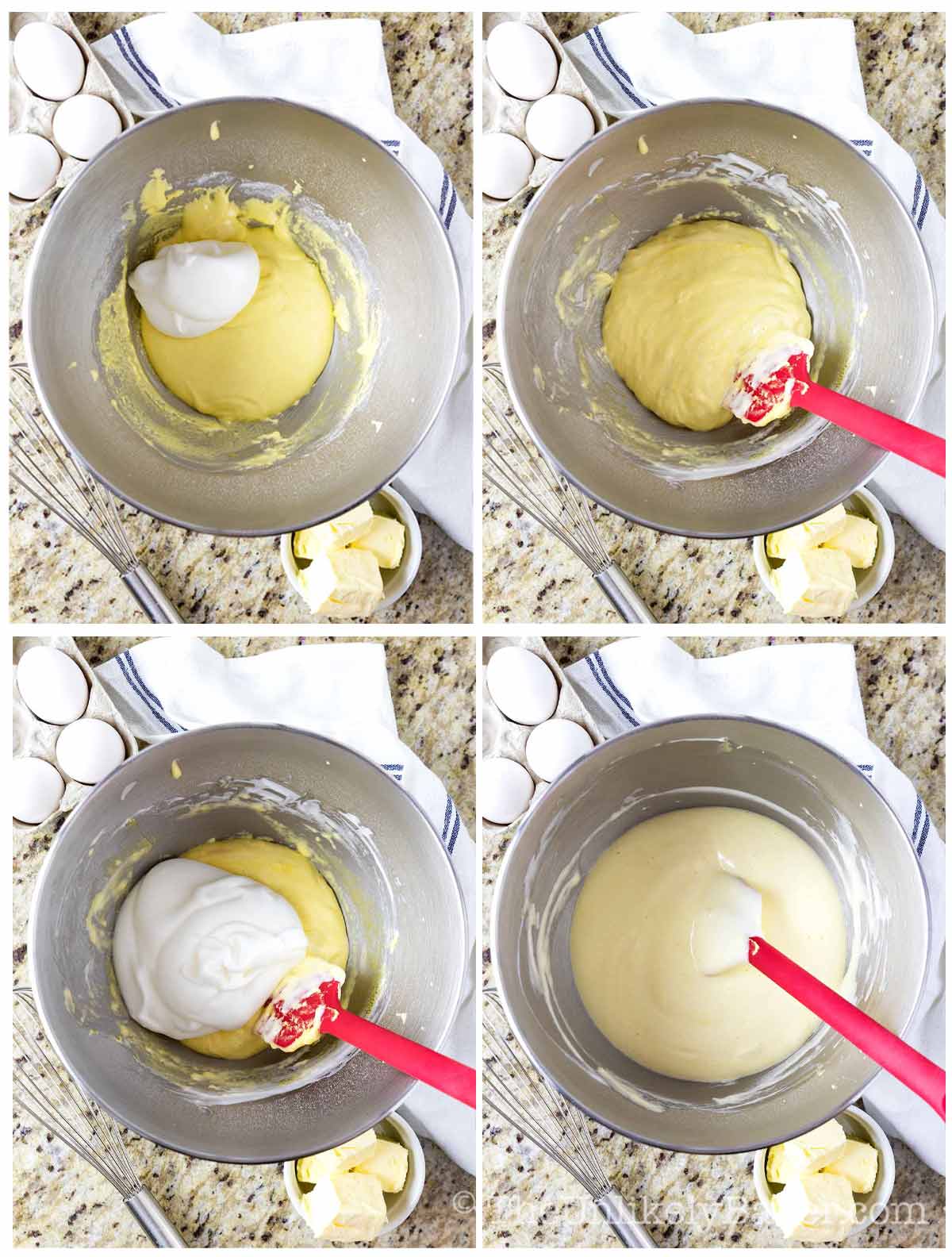 Transfer the cake batter to your prepared pan, spread evenly, and bake at 375F for 10-15 minutes or until it springs back when lightly pressed. If parts of the cake sticks to your finger, you need to bake it some more.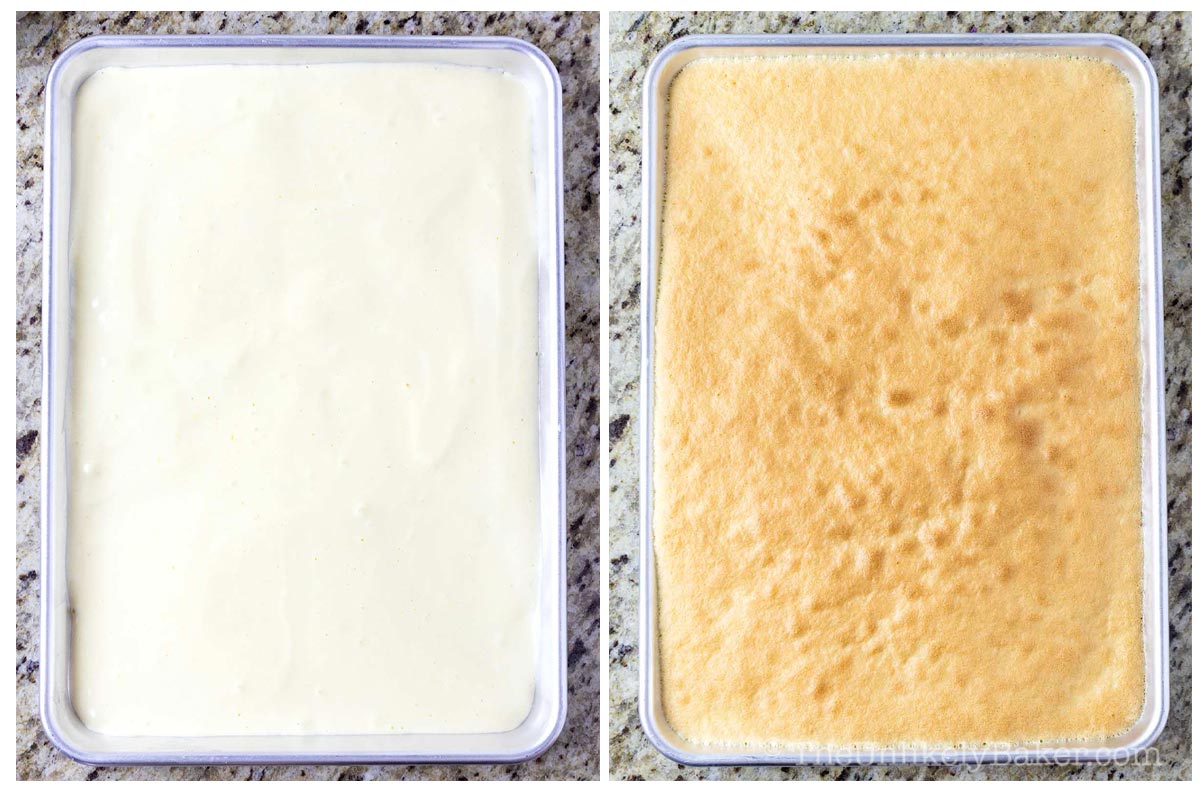 How to roll and fill (with step-by-step photos)
While the cake is still warm, run a thin sharp knife around the edges of the pan to release it, sprinkle the cake with confectioner's sugar, cover with a clean kitchen or tea towel, then flip.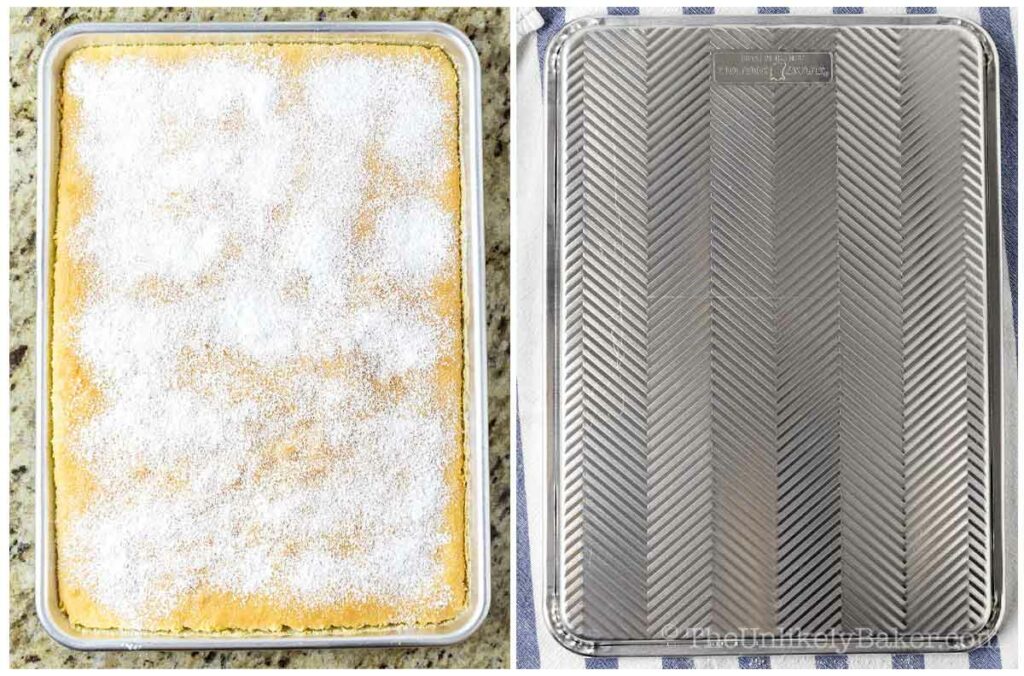 Lift pan, peel off parchment paper and gently roll the cake. Place it on your counter seam side down and allow it to cool completely.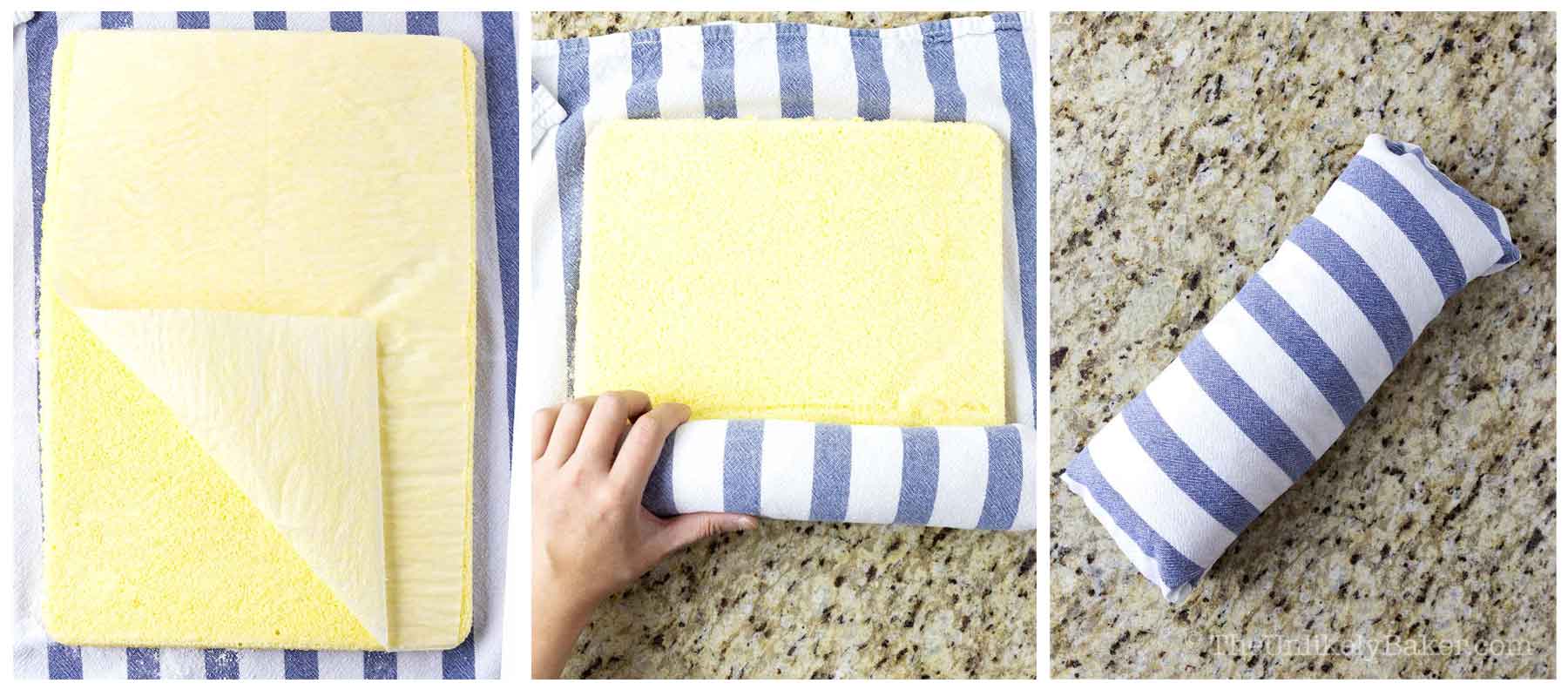 When ready, gently unroll the cake, spread softened butter, and sprinkle granulated sugar. Re-roll and refrigerate at least an hour before serving.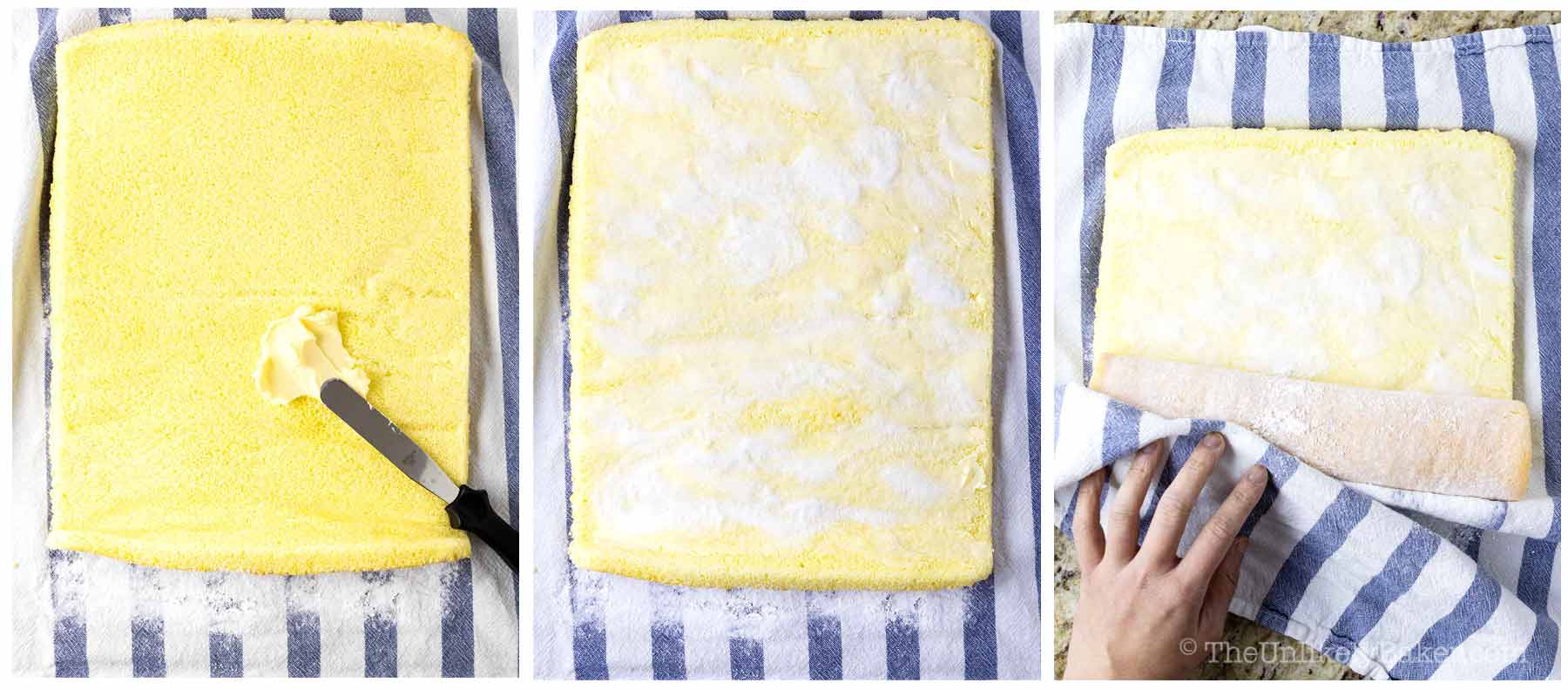 Baking tips
Bake perfect pianono rolls every time by following these tips.
Making meringue
Meringue is tricky but do these and you'll be a meringue master in no time.
Use room temperature egg whites. It's easier to separate the eggs while they're cold so do that with eggs straight from the fridge then keep the whites on your counter and allow them to come to room temperature.
Make sure there is no speck of egg yolk in your egg whites. Best to separate the eggs in a different bowl then transfer the whites to the bowl you're using to make the meringue.
Make sure your whisk and bowl are dry and oil-free. For good measure, I wipe them with a paper towel dipped in vinegar before using. Also avoid using a plastic bowl because they can hide traces of oil that's hard to remove.
Beat your egg whites on low-medium speed. Using my KitchenAid stand mixer, I go no higher than speed 3 when making meringue. This takes longer but makes the meringue more stable. Over beating the whites or beating them too quickly results to big air bubbles that tend to burst, resulting to deflated meringue.
Handle the meringue gently. You don't want to fold all of the meringue into your batter because you'll end up over mixing it. So lighten the batter first by adding about a cup of meringue into it, before adding the whole batch. Then fold gently to retain that light and airy texture.
Rolling the cake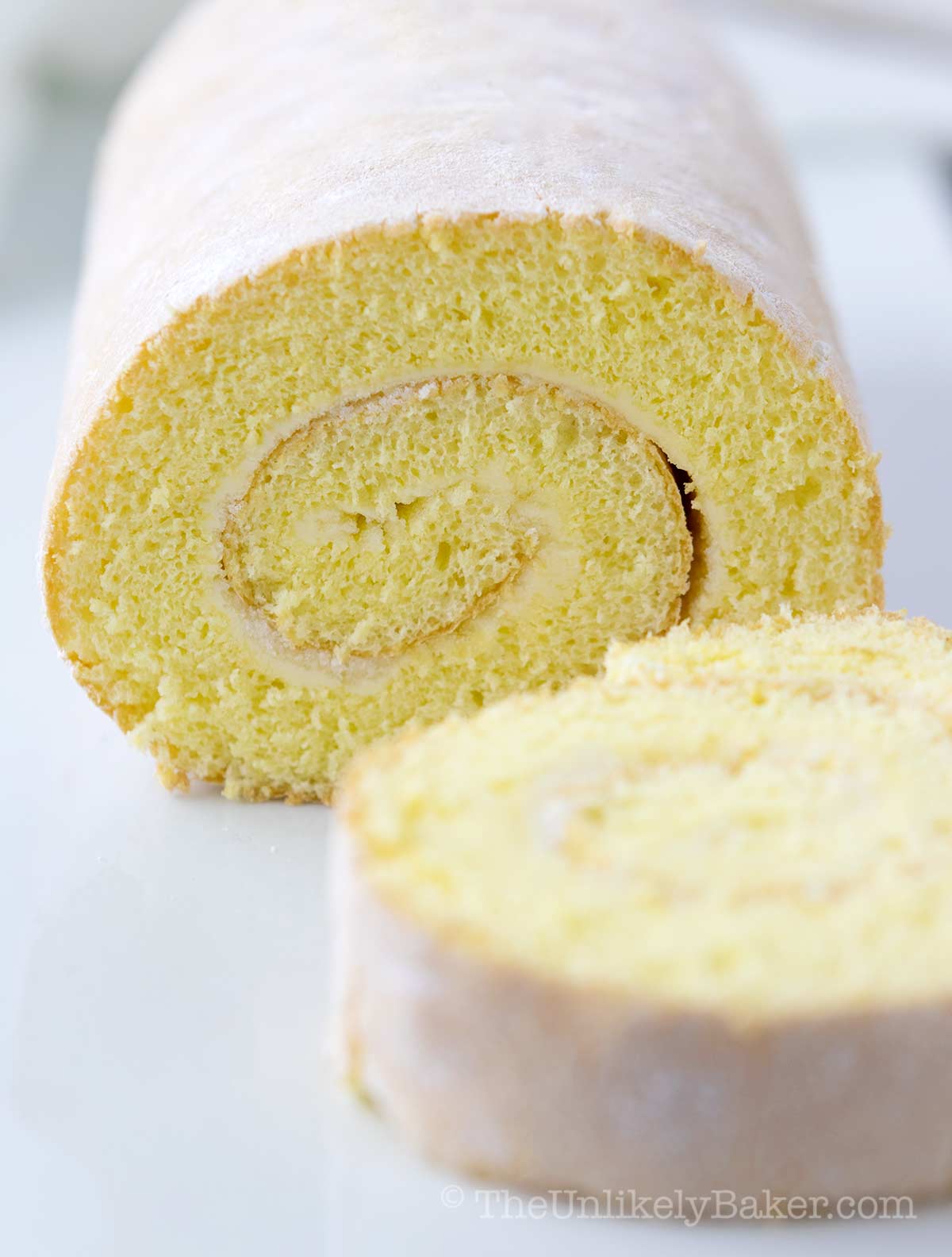 Rolled cakes are notorious for cracking when rolled. But we can take some steps to increase the chances of a crack-free cake.
Don't over bake. You want a cake that's nice and moist with a tender texture. A dry pianono will almost certainly crack when rolled. Remember that baking time differs per oven so it's always good to check before the suggested time to see how much longer you need to go.
Roll the cake while it's still warm. I usually do this within 2 minutes of taking the pan out of the oven.
Use a kitchen towel to roll the cake. A towel is soft and flexible, helps to absorb moisture while cooling, and easier to handle than parchment paper.
Handle gently. When rolling the pianono, you want it rolled tightly to keep its shape, but try not to press or squeeze too hard.
Did your pianono still crack? No worries. It adds to the charm and it will still be delicious.
Storage and shelf life
Pianono is best eaten within 3 days of baking (while still wrapped).
Once unwrapped, best to eat the same day. You can serve it chilled or at room temperature.
Frequently asked questions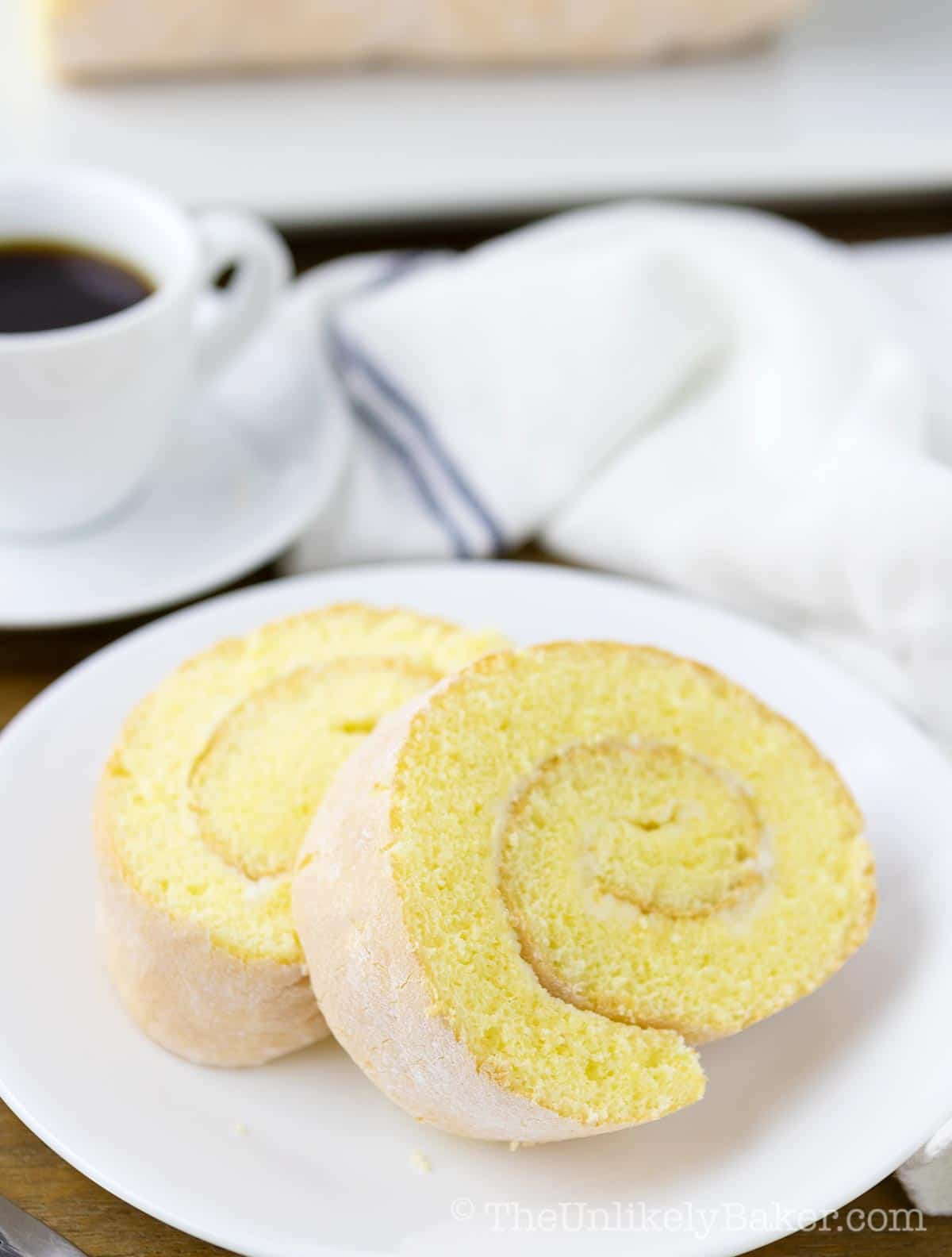 Why did my cake deflate?

Some deflation is normal and even expected but if your cake deflates by a lot, it's most likely due to unstable meringue. See tips on how to work with meringue above.
Why did my cake crack when I rolled it?

There are several factors that contribute to rolled cakes cracking.

– Over-baking. Remember that the pianono starts off as a very thin cake so it only takes 10-15 minutes to bake. Check it sooner and watch closely — once it turns a light golden brown and the top springs back when gently pressed, it's done.

– Not rolled soon enough. This cake is best rolled while it's still warm and pliable. It's more likely to crack when it has cooled and already firmed up.

– Pressed too hard. Remember to handle the cake gently when rolling. Press or squeeze too hard and it might crack and break.

See tips above for a crack-free cake.
Can I use parchment paper or wax paper instead of a kitchen towel to roll the cake?

You can, but I don't recommend it.

A kitchen towel is ideal because it's softer, more flexible and the cake is less likely to stick. It will also absorb some of the moisture coming from the cooling roll.

If you want to use parchment or wax paper, ensure that you've dusted the cake thoroughly with confectioner's sugar before flipping.
Can I use all purpose flour instead of cake flour?

I prefer to use cake flour instead of all purpose flour to achieve a lighter, less dense cake. But if it's not available, you can substitute all purpose flour. See the ingredients section for more details.
What can I substitute for cream of tartar?

I always use cream of tartar when making meringue but there are acceptable substitutes like lemon juice and vinegar. Check this out to find out more.
Can I use margarine instead of butter for the filling?

You can absolutely use margarine instead of butter. I think the pianono of my childhood was actually filled with Star Margarine instead of butter, which was more expensive.
Filipino cake recipes
Love to bake Filipino cakes? Check these out and make your celebrations extra special.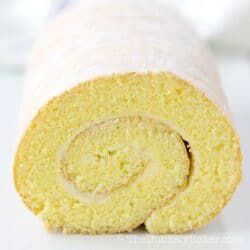 The Best Pianono Roll Cake (Easy Recipe)
Pianono is the Filipino version of the Swiss or jelly roll cake. Soft fluffy cake with butter sugar filling. So good and easy to make!
Instructions
Preheat oven to 375F. Grease the bottom of a 10×15 inch jelly roll pan and cover with parchment paper. Leave the sides un-greased. Set aside.

In a small bowl, whisk cake flour, baking powder and salt until well blended.

In another bowl using a handheld electric mixer or a stand mixer fitted with the whisk attachment, whisk egg yolks on medium-high speed for 1 minute.

Gradually add sugar until the mixture is pale and thick (2-3 minutes).

Switch to low speed and gradually add the flour mixture. Beat until smooth and incorporated.

In another bowl using clean beaters or whisks, beat egg whites and cream of tartar on low-medium speed until frothy.

Add sugar a little at a time until you reach medium-stuff (but not dry) peaks.

Fold about a cup of your meringue into your cake batter to lighten it.

Then proceed to add the rest of the meringue and gently fold until well blended.

Transfer batter into prepared pan and spread evenly.

Bake for 10-15 minutes or until golden brown and the top springs back when gently pressed.

Bring the cake out of the oven and run a thin sharp knife around the edges.

Sprinkle with confectioner's sugar, cover with a clean kitchen or tea towel and carefully flip.

Remove the pan, peel off the parchment and roll. Place seam side down on your counter and allow to cool completely.

When ready, unroll the cake, spread softened butter, sprinkle sugar and re-roll. Chill at least an hour before serving.
Notes
The yield depends on how thick or thin you slice the cake. Estimated nutrition values are based on 8 slices.
If you don't have a jelly roll pan, you can also use a 9×13 inch baking pan.
Make sure you use softened butter that can be spread easily. Either salted or unsalted butter works.
You may need more granulated sugar for sprinkling to ensure the whole surface of the pianono is covered.
See post for lots more baking tips, FAQs and step-by-step photos.
Nutrition
Calories:
243
kcal
Carbohydrates:
34
g
Protein:
2
g
Fat:
12
g
Saturated Fat:
7
g
Polyunsaturated Fat:
1
g
Monounsaturated Fat:
3
g
Trans Fat:
1
g
Cholesterol:
36
mg
Sodium:
249
mg
Potassium:
70
mg
Fiber:
1
g
Sugar:
25
g
Vitamin A:
362
IU
Calcium:
22
mg
Iron:
1
mg
Nutritional information are estimates only.
Tried this recipe? Leave a star rating today!
Also tag @iamtheunlikelybaker I'd love to see your creations.
Happy baking!
Did you make this Filipino Swiss roll? I'd love to hear from you in the comments section below.
And let's get social! Find me on Facebook, Pinterest, Instagram, Twitter and YouTube.