Tsokolate or Filipino hot chocolate is unadorned. No whipped cream, marshmallows or sweet syrups to hide behind. Made with just milk and tablea or cocoa tablets, it is what chocolate purists dream of. It's quick, easy, delicious and sure to lift your spirits!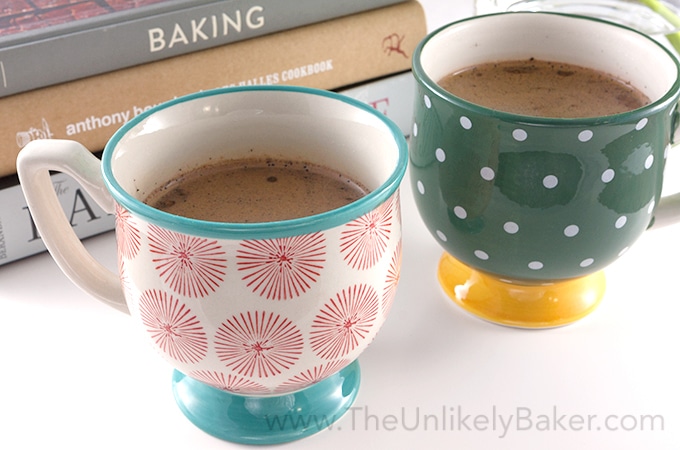 Over the holidays we saw a slew of incredible hot chocolate drinks invade our screens, all of them equally luxurious and divine. Some had marshmallows on top of whipped cream on top of ice cream on top of brownies. They were amazing!
That's what the holidays are for after all. Once a year we reward ourselves with delightful things that we can then dream about the whole year.
This is not that kind of hot chocolate though. Filipino hot chocolate or tsokolate (pronounced cho-coh-lah-teh) is simple, muted, like that hug you need on a particularly dreary winter day, after a nasty time at work, when all you want to do is sit and read a book (preferably a cookbook with nice photos).
Winter chill
[clickToTweet tweet="Tsokolate or Filipino hot chocolate – sure to lift your spirits on a dreary winter day!" quote="Tsokolate or Filipino hot chocolate – sure to lift your spirits on a dreary winter day!"]
Last weekend we heard words like "arctic air", "extreme cold weather alert" and "icy road conditions" thrown around. There was not much snow where I was but the temperature dipped to -20C (-4F). You'd think living in Canada all these years I'd be used to this by now but understand that I grew up in the tropics so I always find myself feeling personally offended by winter (I mean, the wind hurts me face!).
Enter tsokolate. Now that makes me feel better about my eyeballs feeling cold.
Filipino hot chocolate all year
Truth be told, I drink hot chocolate all year. Yes, even in the summer. Weird? I think not. It's chocolate, it's delicious, and I drink it somewhere air-conditioned.
I mean, why do coffee drinkers get their hot coffee all year and I'm judged when I have my hot chocolate? Why am I getting so angry? I blame winter lol.
Tsokolate tablea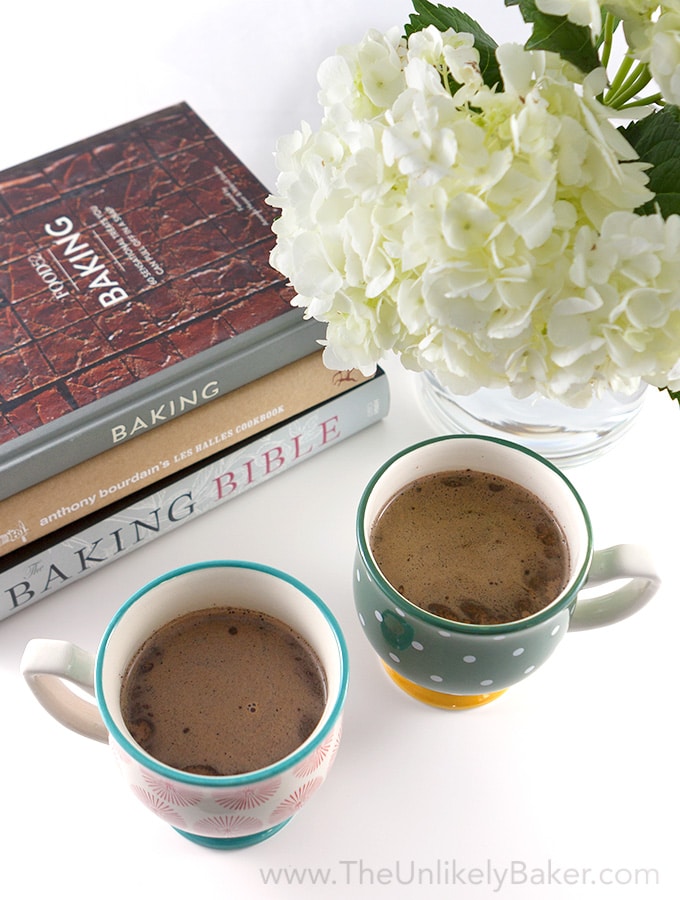 Anyway, back to this tsokolate recipe – there really is nothing simpler. The hardest part is getting hold of good quality tablea (here's an example
of what they look like). I bought mine in Manila when I went home last October but you can also find good ones in Filipino or Asian stores (and there's always Amazon).
Some are better than others (i.e. chocolatier and purer) but your recipe testing is sure to be a delicious one!
Whisk away
Tsokolate is traditionally made by whisking the tablea in milk with a batidor or wooden whisk that kind of looks like a honey dipper but more intense. Imagine little Filipino grandmas beating the life out of a tablea with a batidor they probably inherited from their own grandmas. Now those are epic tsokolate.
Sadly, I don't have a batidor so I just use a normal whisk
and an immersion blender
. Not to worry, it results to a lovely mug of hot chocolate just the same.
Be warned though: no matter how vigorously you whisk you will get some bits of cocoa in your drink – tsokolate is traditionally slightly gritty (I love that about it) but you can strain your hot chocolate if you prefer a smoother drink
Perfect with ensaymada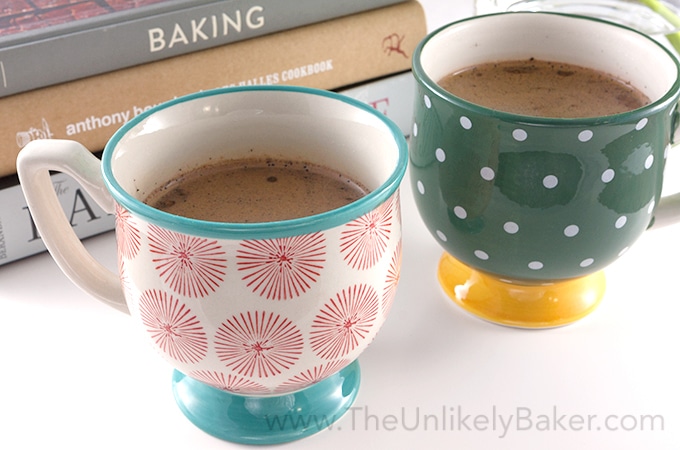 Remember that easy ensaymada recipe I shared last week? Tsokolate would be perfect with that! Make both and treat yourself to an afternoon of Filipino treats.
Though tsokolate is great at breakfast too (pancakes anyone?) and, of course, at night when you're winding down after that nasty day I was talking about earlier.
Whenever you decide to have your mug of Filipino hot chocolate, you're sure to feel better about your day. Let's get through winter together!
How to Make Tsokolate (Filipino Hot Chocolate)
Tsokolate or Filipino hot chocolate is unadorned. No whipped cream, marshmallows, syrups. Just milk and cocoa tablets. Pure cocoa dream.
Ingredients
5 tsokolate tablea (see notes)
2 1/2 cups evaporated milk
Instructions
Using a medium saucepan, dissolve 5 tsokolate tablea in 2 1/2 cups evaporated milk on medium heat by whisking vigorously with a balloon whisk (see notes).
Once the tablea have almost completely dissolved, transfer to mugs. Serve warm.
Notes
The tablea I get is usually sweetened so there is no need for sugar or other sweeteners in this drink. They are available unsweetened though and it's very bitter. Check before purchasing.
You also have the option of using an immersion blender - once the tablea is soft and about 50% dissolved, remove from heat and blend. Reheat before serving.
https://theunlikelybaker.com/tsokolate-filipino-hot-chocolate/
This delicious recipe brought to you by www.TheUnlikelyBaker.com | (c) 2016-2017
Happy whisking!
Did you make tsokolate (Filipino hot chocolate)? Tell me about it in the comments section below. I'd love to hear all about it.
Apart from ensaymada, tsokolate would also go great with:
If you're looking for another winter drink, check out this recipe for Turmeric Golden Milk.
And let's get social! Find me on Facebook, Pinterest, Instagram, Twitter, Google+ and Flipboard.
Or subscribe so you don't miss a recipe. I promise I don't spam (I hate spam too).
Do you want to improve your food photography, monetize your blog or start your very own food blog? Check out my Blogging Resources.