Imagine crunchy and buttery shortbread crust, soft apples drenched in melted caramel and cinnamon, topped with a crispy oat crumble, and then drizzled with more melted caramel. These salted caramel apple crumble bars are phenomenal and a great way to use that extra Halloween candy.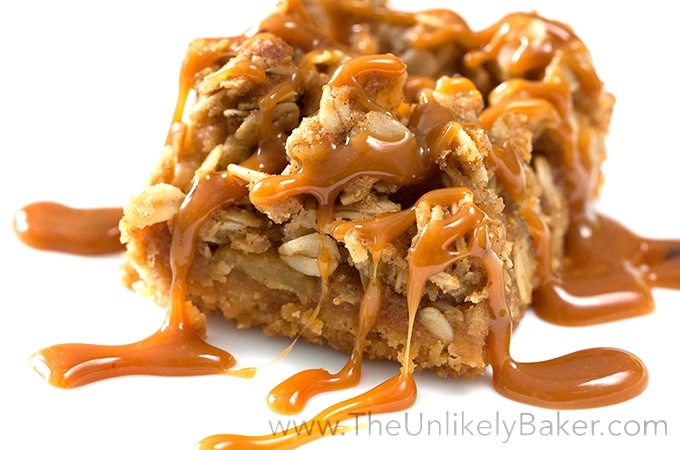 Halloween is upon us. Who are you going as? My default is a zombie because I'm lazy lol. I would love to go as Eleven from Stranger Things, I could totally pull that off. Anyway.
I don't have any spooky treats for you but what I do have is a great idea to use up any Halloween candy you might have lying around after October 31.
This recipe uses Kraft Classic Caramels
. I usually make my own salted caramel sauce but my co-worker Momma C (who is a baker extraordinaire) introduced me to these little squares of heaven. She just melts them with milk (in my case I used half and half) to make caramel sauce so I figured I need to try that!
And because I'm a little obsessed with apples lately (have you seen my apple crumble coffee cake and my rustic apple galette recipes?), what better way than to incorporate them into another apple recipe? And shut the front door these salted caramel apple crumble bars are awesome.
Crunchy and crispy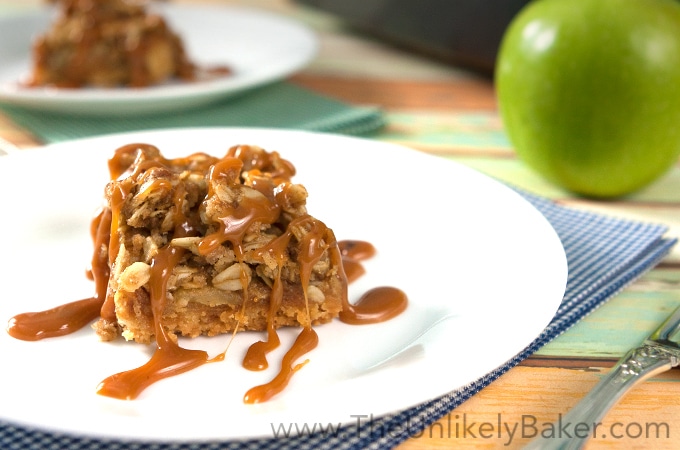 Truth be told, I prefer soft and chewy bars and cookies. But I will make an exception for these bars.
They are wonderfully crunchy and crispy! The soft apples sandwiched between the crunchy shortbread crust and the crispy oat crumble provides delightful texture.
Caramel candy as sauce
I learned 2 things when using these caramel candies for making caramel sauce. One: they harden faster.
But don't worry. You can just zap them in the microwave for 20 seconds or so, stir and you'll have lovely caramel sauce again.
Two: they are stickier. But that is not a bad thing at all. In fact it's a great thing.
It worked so well with these bars that I don't think I will sub my homemade sauce for this particular recipe. The bars – already crispy and soft to begin with – take on another layer of texture (stickiness!) for one amazing bite.
[clickToTweet tweet="Shut the front door these salted caramel apple crumble bars are awesome http://wp.me/p78RTV-rk" "rel=nofollow" quote="Shut the front door these salted caramel apple crumble bars are awesome!"]
Salted caramel apple crumble bars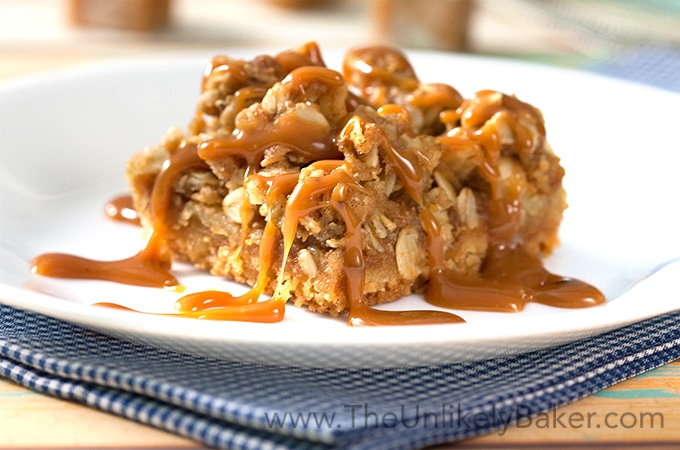 These bars are so easy to do too. Make and bake the crust, put chopped apples on top, pour caramel sauce, top with oat crumble, then bake again.
Before you know it your kitchen will be smelling of caramel apples and, to borrow from Martha Stewart, that's a good thing!
Crunchy Salted Caramel Apple Crumble Bars
Imagine buttery shortbread crust, cinnamon apples, crispy oat crumble, salted caramel. These crunchy salted caramel apple crumble bars are phenomenal.
Ingredients
For the Shortbread Crust:

1 1/2 cups all purpose flour
1/2 cup unsalted butter, room temperature
1/4 cup granulated sugar
1/8 teaspoon salt
1 egg yolk
1/2 teaspoon vanilla extract
For the Apple Filling:

2 Granny Smith apples, peeled, cored and roughly chopped
20 caramel squares
2 tablespoons half and half
1/4 teaspoon salt
For the Oat Crumble:

1/2 cup all purpose flour
1/4 cup packed brown sugar
1 cup rolled oats
1/4 teaspoon salt
1/4 teaspoon ground cinnamon
1/2 cup unsalted butter, melted and cooled
Instructions
Preheat oven to 400F. Lightly grease a 9x9 inch baking pan and set aside.
Using a handheld electric mixer or a stand mixer fitted with the paddle attachment, beat 1 1/2 cups flour, 1/2 cup butter, 1/4 cup sugar, 1/8 teaspoon salt, 1 egg yolk and 1/2 teaspoon vanilla on low speed until it resembles a coarse meal.
Press to the bottom of your pan and bake for 10-15 minutes or until it turns a light golden brown. Remove and let cool. Don't turn the oven off; switch the oven temperature to 350F.
While the crust is baking, melt 20 caramels in a heavy bottomed pan over low heat. When they are almost completely melted, add 2 tablespoons half and half and 1/4 teaspoon salt. Stir to incorporate and remove from heat.
Next turn to your oat crumble: simply mix all ingredients together in a medium bowl.
Arrange chopped apples on top of baked crust. Drizzle with caramel sauce. Then top with oat crumble mixture. Bake for 30-45 minutes or until the apples are tender and the crumble is crisp and golden brown.
Cool in the pan before cutting into squares. Drizzle with more caramel sauce if desired.
https://theunlikelybaker.com/crunchy-salted-caramel-apple-crumble-bars/
This delicious recipe brought to you by www.TheUnlikelyBaker.com | (c) 2016-2017
Happy baking! Check back in on Wednesday for more ideas on what to do with your extra Halloween candies and chocolates.
Did you make salted caramel apple crumble bars? Tell me about it in the comments section below. I'd love to hear all about it. What's your favourite apple dessert?
If you're into salted caramel, here are other recipes you might like:
And let's get social! Find me on Facebook, Pinterest, Instagram, Twitter, Google+ and Flipboard.
Or subscribe so you don't miss a recipe. I promise I don't spam (I hate spam too).
Do you want to improve your food photography, monetize your blog or start your very own food blog? Check out my Blogging Resources.