All the apple recipes you need – from apple bread for breakfast to apple salad for lunch and apple cheesecake for dessert. Let's explore the best and the most delicious sweet and savoury apple recipes.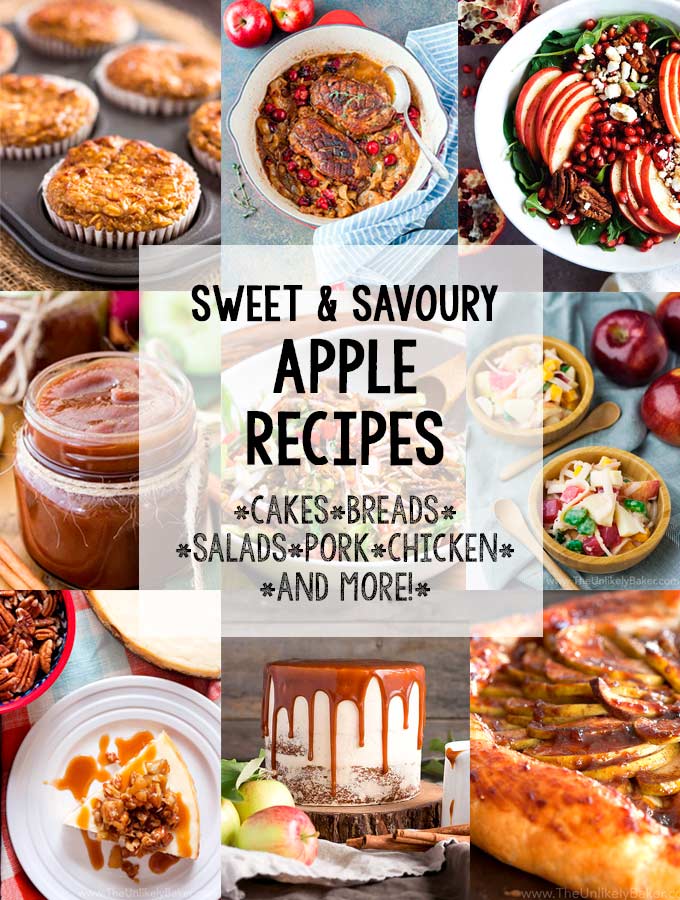 (Looking for pumpkin? Check out this delicious collection of 29 Unique Pumpkin and Squash Recipes.)
Fall is in full swing and although pumpkin is usually the main attraction, I love apples too (in fact, I think I prefer it!). I know we can get it year-round but there's just something about apples in the fall, eh?
So today, apples are in the spotlight in our quarterly round-up. I'm featuring the best, the tastiest, the most scrumptious apple recipes from some of my favourite food bloggers.
What can you make out of apples?
So what can you make out of apples anyway? A lot. Seriously. And I'm not just talking about apple pies (although I have all the apple pie and tart recipes you will ever need here too).
Some of my personal dessert favourites from the blog include:
And at Christmastime, we usually have this Easy Refreshing Apple Buko Salad on the table:
But there's so much more to discover! Explore the whole wide world of apples below.
Apple Recipes for Breakfast
Apples are great for breakfast. Try this Apple Crumble Coffee Cake (with video):
Or pick a favourite from these delicious apple cakes and breads (cake for breakfast, how great is that?):
Apple oats and muffins are a great way to start the day too:
And can we take a moment to thank the heavens for the deliciousness that is apple butter?
Here are more apple breakfast recipes for you:
Apple Recipes for Lunch and Dinner
For lunch or dinner, this Apple Bulgur Pilaf with Turkey and Walnuts is a great, one-pan option.
Apples are great with other kinds of meat, too. Just look at these gorgeous dishes:
If you want to keep it light, apple and salads are friends:
Still can't decide? Let me make it that much more difficult for you lol!
Apple Snacks
If an apple snack is what you're after, treat yourself to Baked Apple Turon with Salted Caramel Sauce. It's a take on the Filipino banana lumpia or turon and it's delicious!
Or try these goodies:
These cookies and bites are perfect for lunch boxes as well:
Apple Desserts
Let's face it though. Desserts are where apples shine. Just look at these two:
Not in the mood for cake or cupcakes? Not to worry, everyone likes apple crumbles and crisps:
Is your sweet tooth ready? Because here are more apple deliciousness coming your way:
Apple Pies and Tarts
And would it really be a proper apple round-up without apple pie and tart? (No, it would not.) Let's start with these exquisite tarts:
Then we can bake good old fashioned apple pie the way mom made it.
You can even make apple hand pies so you don't have to share!
Whatever you end up making, I'm sure it will be delicious. And healthy. They don't say an apple a day for nothing!
Enjoy fall and I hope you get your fill of wonderful apples. Happy apple season!
Related: How to Take Delicious Food Photos
What apple recipe will you make first? Do you have a favourite? I'd love to hear from you in the comments section below.
And let's get social! Find me on Facebook, Pinterest, Instagram, Twitter, Google+ and Flipboard.
Or subscribe so you don't miss a recipe. I promise I don't spam (I hate spam too).
Do you want to improve your food photography, monetize your blog or start your very own food blog? Check out my Blogging Resources.