Do you watch Criminal Minds? Then you're in for a treat. This is based on David Rossi's carbonara recipe!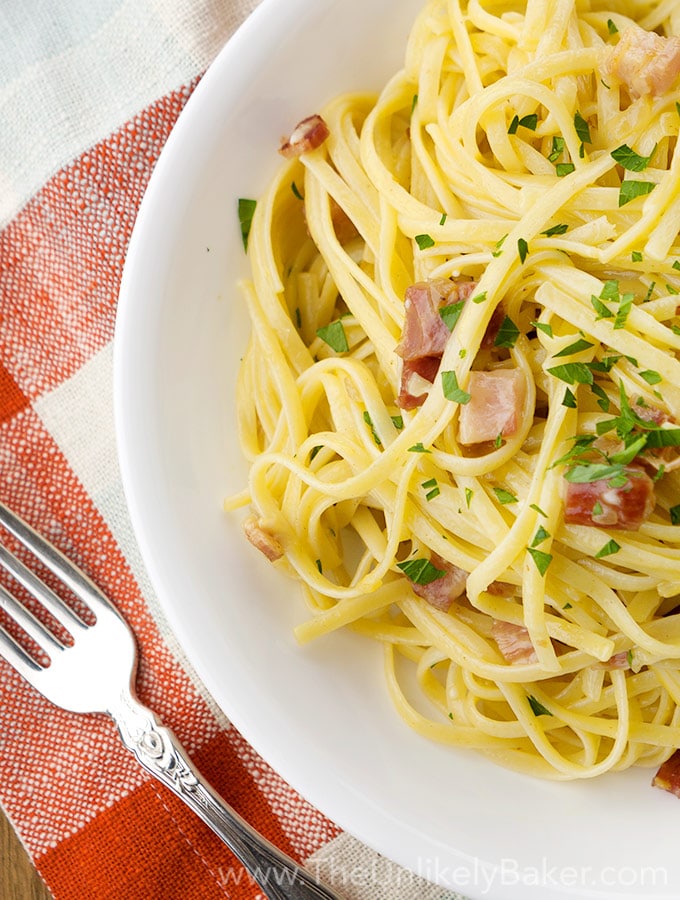 Remember that episode where Rossi had the team over at his house and taught them how to cook carbonara (how geeky do I sound right now)? I've always wanted to make that and after a significant amount of searching I found a recipe in a French fan page that they claimed was from Joe Mantegna himself (yes, I may have too much time on my hands).
I've since tweaked it here and there and it is fabulous! No cream, just eggs, pancetta and lotsa cheese. And guess what else? I cooked it! Not Red, me. (Ok, I may have had some help with chopping, slicing and such.)
It's practically the only thing I can cook (insert: big proud smile right here). So let's step into the world of BAU for a moment and bask in the deliciousness that is this carbonara.
The Great Egg Challenge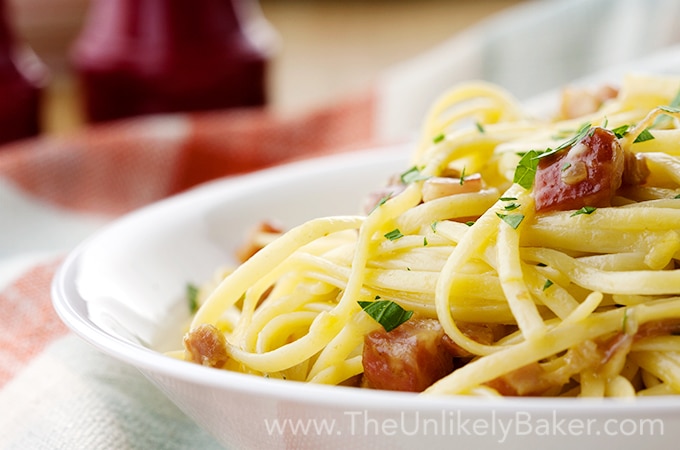 Egg yolks (and not cream) are what make traditional carbonara dreamy and creamy. The first few times I made this I ended up scrambling the eggs; you guys know I have raw egg issues (check out my Eggless Key Lime Pie) so I was eager to pour the eggs into the hot pan and let them sit a little to cook.
What I've found is the residual heat from the pasta/pan will cook them so have no fear. And you shouldn't let the egg mixture sit at all; you need to quickly toss the pasta so the egg mixture coats everything and doesn't turn into a scrambled mess.
Keep some of that pasta water
Also, don't throw away the pasta water. I did the first time – I know, rookie mistake. What you want to do is pour about a quarter cup into your pasta, continue mixing until you get the creaminess you want (not too much though, we don't want it soupy).
[clickToTweet tweet="Creamy carbonara made with eggs, pancetta and lotsa cheese. Quick, easy and delicious! Recipe >>" quote="Creamy carbonara made with eggs, pancetta and lotsa cheese. Quick, easy and delicious!"]
Love for June
Once you've done that you'll have this amazing dish that's so quick to prepare it's perfect for those busy weeknights. It's so good too it's great for when you have company over.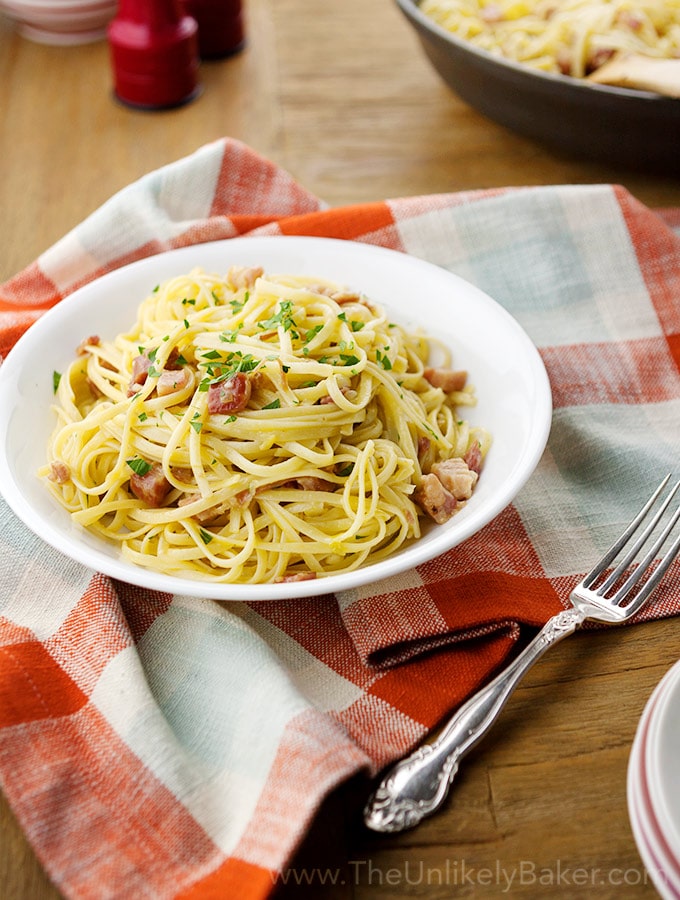 Personally, this is a great recipe for me to start off June. Apart from December (Christmas!), June is my favourite month – summer starts, Father's Day (hey, this is great for Father's Day!), Pride (Rainbow Cake anyone?), Red's birthday (remember this London Fog Cake?), my grandpa's birthday and…my birthday!
David Rossi's carbonara recipe
Filipinos always have pancit on their birthday (or any celebration) because it signifies good fortune and long life but as I cannot cook pancit (maybe someday),  Rossi's carbonara will have to be my birthday noodles for now.
Hope you give it a try, whether you're a fan of Criminal Minds
or not (this past season was weird TBH). It is awesome and hey, if I can cook it you absolutely most definitely can!
David Rossi's Carbonara Recipe (Copycat)
Are you a Criminal Minds fan? This is based on David Rossi's carbonara recipe from that episode where he had the team over and gave them cooking lessons!
Ingredients
1 pound (450 grams) pasta (you can use your favourite pasta: spaghetti, fettuccine, linguine or bucatini)
1/2 pound (220 grams) pancetta, diced
1 cup chopped onions
Olive oil for frying
1/2 cup (50 grams) grated Parmigiano-Reggiano or Parmesan cheese
1/2 cup (50 grams) grated Pecorino Romano cheese
4 egg yolks from large eggs
Salt and pepper to taste
Chopped parsley for serving
Instructions
Cook 1 pound pasta until al dente. While that's cooking, in a large pan on medium heat cook 1/2 pound diced pancetta and 1 cup chopped onions in olive oil until pancetta is browned and onions are soft.
Combine your cheese then pour half of it with your 4 egg yolks. Beat lightly until combined.
At this point your pasta and pancetta should be ready. Drain the pasta (reserve some of the pasta water) and transfer into your pan. Remove from heat.
Pour your egg mixture into the pan and toss the pasta until coated. Pour about 1/4 cup pasta water in your pan and continue tossing until you get the creaminess you want. If you need to put more pasta water, do so a little at a time so your pasta doesn't get too runny.
Add the rest of your cheese and toss some more. Season with salt and pepper as needed. Serve with chopped parsley.
https://theunlikelybaker.com/david-rossis-carbonara-recipe/
This delicious recipe brought to you by www.TheUnlikelyBaker.com | (c) 2016-2017
Happy cooking!
Did you try David Rossi's carbonara recipe? I'd love to hear from you in the comments section below.
Planning a party? Add these to your party menu!
And let's get social! Find me on Facebook, Pinterest, Instagram, Twitter, Google+ and Flipboard.
Or subscribe so you don't miss a recipe. I promise I don't spam (I hate spam too).
Do you want to improve your food photography, monetize your blog or start your very own food blog? Check out my Blogging Resources.